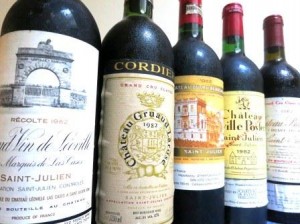 Just say the words 1982 Bordeaux, and it brings a smile to any Bordeaux lovers face.  1982 Bordeaux remains a historic vintage for two reasons.  Most importantly, the wines, with time have earned a reputation for quality and style.  It was also the vintage that propelled the career and fame of Robert Parker, the world's most important wine critic.  Thanks to the non-stop writing of Parker, who was the only American critic to embrace the vintage, by the time the wines were in bottle, the wines and Robert Parker were already on the path to greatness.
How are 1982 Bordeaux wines with 30 years of aging? It depends on the wine, the provenance and the expectations of the taster.  The truth is, across the board, not every wine lived up to its early promise. But the top Bordeaux wine from 1982 continue to offer, sumptuous, rich and often opulent tasting sensations.
In the Medoc, clearly the best wines come from St. Julien and Pauillac.  The best of these wines continue to positively evolve and display great, rich Bordeaux character. In fact, at the top end, some of these wines are still not fully mature! This article focuses on the best 1982 St. Julien wines.
1982 Leoville Las Cases does not resemble a 30 year old Bordeaux wine in the color, bouquet or maturity level.  It's also probably the least consistent wine of the vintage.  In the worst cases, the wine remains stubbornly tannic and displays a slight austere character. The best examples offer aromatics packed with earth, cassis, tobacco, cedar and cigar ash.  Fortunately, this bottle was one of the better examples!  Big, powerful and full bodied, the wine is packed with layers of ripe, earthy blackberries and cassis. Depending on the provenance, this wine has the structure and stuffing to continue to age and develop. 96 PTS
1982 Gruaud Larose – This is the wine to buy.  It continues to improve with every passing year. It has everything you could ask for in a Bordeaux wine.  It's packed with truffles, cigar box, smoke, leather, gravel, cassis, black cherry and forest floor scents.  Everything is in perfect balance with the perfect amount of ripe fruit, tannin and acidity that is only made better by the intense, expansive, long, mouth filling finish. 98 Pts
1982 Ducru Beaucaillou is packed with explosive, spicy aromatics, cedar wood, truffle and wet earth.  Intense, rich and powerful, the wine offers soft, round textures and a silky, cassis and spice box finish. 96 Pts
1982 Leoville Poyferre offers a beautiful, intense perfume filled with truffles, Cuban cigars, ash, earth, Asian spice, cedar wood and black with red fruits. On the palate, the wine is rich and sensuous, ending with a lush, mocha and cassis filled finish. This is drinking perfectly today. 96 Pts
1982 Branaire Ducru is fully mature and just starting to fade a bit.  Still, there is a lot of charm in this medium bodied wine its ripe dark cherry, tobacco, spice and earthy personality. Elegant and refined in character, there is no reason to hold this wine any longer. 90 Pts
I'll follow up with tasting notes on 1982 Pauillac in a few weeks. Feel free to share comments on these wines.