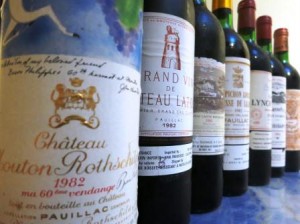 1982 Bordeaux Wine Vintage Summary with harvest information, vintage characteristics, buying tips and links. If you are seeking more in-depth information on anything and everything related to the Bordeaux wine region please see the: All About Bordeaux Wine Guide
1982 Bordeaux wine is a historic year for a myriad of reasons.  It was the first true vintage of the modern age ushering in a new style of Bordeaux wine. It was a long time coming. Not since 1961, 21 years earlier, had wines of this consistent level of quality been produced. 1982 Bordeaux wine is also the vintage famous for launching the career of the world's most successful wine critic, Robert Parker. Parker's non stop, exuberant praise of 1982 Bordeaux wine earned him the respect of a new generation of wine lovers that continued for more than 4 decades.
The vintage conditions that created 1982 Bordeaux wine were close to perfect from start to finish. Flowering took place in warm, sunny and dry conditions. July was hot, sunny and dry. August cooled down a bit , but that was quickly followed by an explosion of heat that lasted almost 21 days. That blast of heat worked like magic. The Merlot was perfect, but the Cabernet Sauvignon and Cabernet Franc were not quite there.  At that point Bacchus intervened and delivered the perfect amount of rain for two days, which allowed the Cabernet's to fully ripen.
Interestingly, the 1982 Bordeaux harvest officially began September 13. That is the exact same date the 1945 Bordeaux harvest started as well! All this produced a historic Bordeaux vintage that remains revered today. Once the wine had finished fermentation, it was easy to see that 1982 Bordeaux wine was packed with layers of dense, rich, ripe, fresh fruit, opulent, sensuous textures and purity that had not been seen for decades.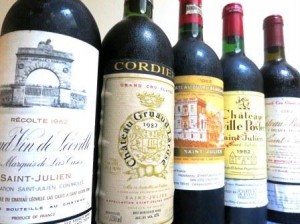 Close to 30 years after the vintage, most wines from Pomerol and St. Emilion are mature. Interestingly, Pomerol was much more successful than St. Emilion.   In fact, the wine of the vintage, Chateau Lafleur came from Pomerol! It's also important to note that at the time, St. Emilion was not the progressive appellation it is today. Pessac Leognan, with the notable exceptions of Chateau Haut Brion, La Mission Haut Brion and La Tour Haut Brion was not successful.  Margaux was also not consistent.  Only Chateau Margaux produced a stunning wine.  Conditions for the Medoc were perfect allowing several legendary wines to be produced.  The wines from Medoc will continue to age and evolve for decades. Chateau Latour is the wine of the Medoc.  Chateau Mouton Rothschild is close to the same level of quality. Chateau Lafite Rothschild is not developing well and is vastly overpriced. If you have the funds and want to experience 1982 Bordeaux wine at its best, you do not need to look at the First Growths. Chateau Pichon Lalande is the wine to buy. At its best, it's bottled decadence.
While the 1982 Bordeaux vintage was picture perfect for the red wines, the sweet white wine of Sauternes was not nearly as successful. The high September heat did not help the development of the much needed noble rot. The rains late in the month offered encouragement to the growers, but as that developed into a nonstop barrage of rain, what little botrytis developed, was eventually washed away.  However, the dry, white Bordeaux wine from Pessac Leognan was quite successful in the vintage.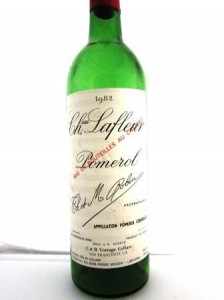 While there are many tasters that consider 1982 Bordeaux to be the best vintage of all time, is that really true? There are two important differences between 1982 Bordeaux wine and the best, modern day great Bordeaux years. First, you must consider the amount of tremendous wines being produced in the current top rated vintages. Perhaps 20 or 30 stunning examples were produced of 1982 Bordeaux wine. Of those, maybe 5 are true legends.  Today, with modern vineyard techniques and cellar management, the number of great wines produced in Bordeaux has more than tripled.
As an example, look at St. Emilion. In 1982, only Cheval Blanc was truly exceptional. Today, there are close to a dozen stunning producers in that appellation! Next, and of even more importance, when 1982 was produced, chateaux at that time were not green harvesting. Yields were much higher, selection was limited and second wines were barely considered. Yet, at their best, the top 1982 Bordeaux wines are stunning. If the selection employed by the chateau today was enforced in 1982, the wines would only be better! Those limitations speak volumes about how extraordinary a vintage 1982 really was.
As most 1982 Bordeaux wine is in its prime time, drinking window, the wines at the top can be expensive, especially the First Growths, Chateau Lafleur, Chateau Cheval Blanc and others. Yet there are several wines that offer immense pleasure for competitive prices, for wines of that quality. For example, Grand Puy Lacoste, Gruaud Larose, Leoville Poyferre, Latour a' Pomerol and others.  The following list of Bordeaux wines represent the wines offering a high ratio of price and quality for the vintage:  1982 Best Bordeaux wine for the money today
To read about other Bordeaux vintages from 1945 to today: Bordeaux Year to Year Detailed Vintage Reports & Guide 1945 to Today