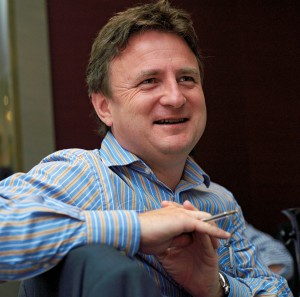 By Stephen Browett
2003 Bordeaux wine tasting was the theme as 16 of us sat down at 9.30 am last Friday to blind taste our way through the 100 top wines of the Medoc and Graves. Apart from assembling a comprehensive "who's who" of the left bank wines of Bordeaux, we had also put together an all-star tasting panel that included Jancis Robinson, James Suckling, Neal Martin and the vastly experienced Barry Phillips and Derek Smedley MW.
100 bottles of 2003 Bordeaux.
With the wines being served blind in flights by commune, we started in the South and worked our way North over the next seven hours. The first flight was Pessac-Leognan where we tasted the 12 top Bordeaux wines of the appellation with the exception of  Haut-Brion and  La Mission Haut Brion  which were held back for a later flight. Despite the wines being served in random order, the results of the scoring were almost a precise reflection of the price and reputations of the wines.  Pape Clement  and Smith Haut Lafitte  came out on top with Malartic Lagraviere  and Domaine de  Chevalier  just behind. The overall opinion on this flight was that 2003 is not a great vintage here and that all of these wines are ready to drink right now. Some of the lower scoring wines such as Bouscaut, Carbonnieux and de Fieuzal need drinking up sooner rather than later.
Flight number two was fascinating as the wines were all from the  Medoc were, again, served in a totally random order. This time the result didn't reflect prices but did reflect the geography of the Chateaux. Those in the Southern Medoc – Cantemerle   and  La Lagune  for example – showed badly whilst those further North (such as Sociando Mallet) did best. The winner of the flight was La Tour Carnet  , giving owner Bernard Magrez a double in the first two races.
Eyes down in the tasting room.
We then moved into Margaux with a total of 24 wines tasted. Leaving aside Chateau  Margaux itself, there were three outstanding wines in this commune with Malescot St. Exupery narrowly beating Du Tertre  and  Rauzan-Segla to first place. These Margauxs are all ready to drink now but did not score significantly higher than the Pessac-Leognans.
We then shifted up a gear as we sat down to judge a flight of the top twelve Saint Juliens and what a lovely flight this was. Even the wine in last place here nearly outscored all the 4 dozen wines that had come before. Not only were the St. Julien wines all very good, but they were amazingly consistent. Almost all of them bunched up in a narrow band of scores behind the shock winner – Chateau Gloria . This was a huge surprise as Gloria was the only wine in the flight that was not a classed growth. Nevertheless it received nearly every single taster's top score of the flight including 18 from me and 18.5 from Oliver East. This is a wonderful claret with a rich, sexy nose of cassis fruit and vanilla oak with hints of Asian spices. The palate is plump, smooth and seamless with wonderful depth. A gorgeous drink right now and over the next 10 years I'm sure. If you can find this anywhere at a half-decent price, snap it up. Also very impressive was the Bordeaux wine from Langoa Barton which tied with  Leoville Poyferre  and beat Leoville Las Cases .
Mark Ross and James Suckling, both enjoying their new jobs.

Then it was on to Pauillac  which was another 12 wine flight (The First Growths and their second wines were excluded). This was almost a mirror-image of the St. Julien flight, extremely consistent with some very plump and ripe Cabernet Sauvignon wines on show. However the clear winner was   Pichon Longueville Baron  (it is amazing how often the Baron wins blind tastings) with Pichon Comtesse de Lalande   and   Pontet Canet       fighting it out for second place. Pichon Baron 2003 is one of the few wines of the vintage that is not quite ready to drink. There are impressive layers of dense cassis fruit here with great opulence and even a bit of tannic structure (rare in 2003!).
We then had a flight of second wines but no prizes offered for guessing the winner of this one! Les Forts de Latour romped home. But, all credit to La Dame de Montrose which came in a close second well ahead of Carruades Lafite, Petit Mouton and Pavillon Rouge.
Phillip Schofield and Jancis Robinson.
The final commune flight was St. Estephe . As is widely known, 2003 is an exceptional vintage here. Even relatively minor properties such as Valrose received 16 points from the critics and there was a stunning performance from another Cru Bourgeois Chateau with  Meyney scoring an average 16.80 and a place in the day's top ten. It was, of course, no surprise that two heavyweights slugged it out for top spot in Saint Estephe.
Cos d'Estournel and Montrose   were easily identified by the panel and the winner on the day was the Cos. But these are two great wines and both were to end up in the top five wines of the day.
2003 First Growths

We finished off with the First Growths and they really did show their class. Haut Brion and Margaux undoubtedly made the best wines of their communes in 2003 but this is clearly a Northern Medoc vintage. The three Pauillac First Growths were a class apart (as they had been when this tasting was first staged in Southwold in January 2007). The outright winner (by almost a whole point) was Chateau Latour with a quite stupendous wine that is the equal of their great 2000 and 2005. In second place was  Mouton Rothschild  with Lafite Rothschild   in third. All three of these are outstanding wines but the canny buyer has to go for Mouton every time. At a third of the price of  Latour , and not much more than a quarter of the price of Lafite, this is as close to a bargain as there is in the First Growth Bordeaux market today.
Tom Parker keeps the scores.
The top 15 wines of the vintage (out of 100 tasted blind) were:
Latour 19
Mouton Rothschild 18.4
Lafite 18.1
Cos d'Estournel 17.8
Montrose 17.6
La Mission Haut Brion 17.5
Margaux 17.4
Pichon Baron 17.1
Gloria 17.1
Meyney 16.8
Pichon Lalande 16.7
Haut Brion 16.7
Pontet Canet 16.6
Lynch Bages 16.5
Beychevelle 16.4