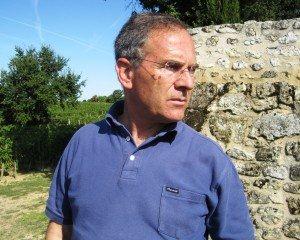 Surprisingly, Chateau Pavie Macquin is not owned by Nicolas Thienpont. The estate is the property of Benoit and Bruno Corre, Marie-Jacques Charpentier his grandchildern. Prior to 1998, the wines made here were not exciting. That changed in 1986 when Maryse Barre was helped by first Stéphane Derenoncourt who began working at the property in 1990. A few years later, in 1994, Nicolas Thienpont joined as well. Starting with the 1998 vintage, things rapidly began turning around for this Bordeaux wine producer. The 2005 remains the finest wine they have produced as of today.
This 15-hectare vineyard situated on the clay and limestone plateau features 9 different types of soil. The vineyards are located next to the hill of Mondot at an altitude of between 75 and 100 metres at its highest point. Troplong Mondot is west, Pavie is south and Pavie Decesse is in front.
Planted with 6,600 vines/ha, averaging almost 40 years of age with 80% Merlot, 18% Cabernet Franc, and 2% Cabernet Sauvignon. The vines are farmed organically. Progressive replanting is under way by way of complantation whereby individual vines are replaced one-by-one. This is done using the selection massale technique where the budwood is drawn from existing, qualitatively satisfactory, plants from within this St. Emilion vineyard.
After harvesting the fruit, starting with the 2009 vintage, the chateau employed the system of laser optical sorting (Vistalys). Next whole berries are moved to tanks by conveyor belt where they are fermented in 80% open-top oak, and 20% cement, tanks. Extraction was obtained through pigeages; macerations run between 30 to 35 days. Malolactic and aging on the lees for the first six months with no bâtonnage. Total aging time in barrel for this Bordeaux wine is about 18 months in 70% new oak barrels.