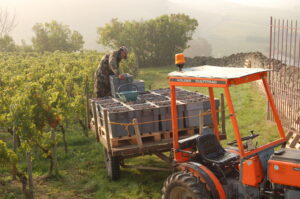 Chateau La Clotte, the insiders Bordeaux wine of St. Emilion,  will produce a concentrated wine in 2010, according to the owner Nelly Moulierac, who just started their harvest.
For the 2010 La Clotte Harvest, the chateau began picking merlot October 15. They are looking to finish with their cabernet franc by the end of October, or the first few days in November. Similar to 2008, this is a late harvest for this St. Emilion property. Nelly explains why.
"We decided to harvest as late as  possible in order to get phenolic maturity." What was the growing season like for you? "  The summers high temperatures brought a lot of tannins. The cooler September and October weather, with its occasional showers added balance, less alcohol, refinement of further development of aromatic potential."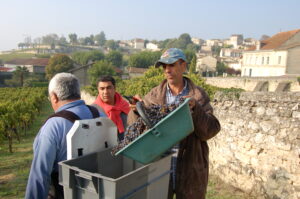 2010 is the driest vintage in memory. This level of draught can stop the grapes development. But as we learned in 2003, properties with a lot of limestone in their terroir can produce good wine. What happened at La Clotte?
"The drought, which may have compelled maturation to stop on some soils with gravel and sand, lead to a concentration of olfactory criteria on the skin thanks to our deep clayey-limestone soils."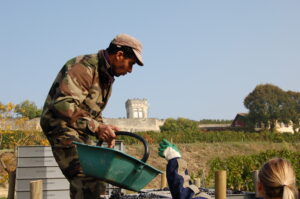 What does this mean for your 2010 Bordeaux wine? "This implies that 2010 is a vintage potentially very rich in tannins, anthocyanins and alcohol."
Have you made any changes to your cellars or in your vineyard techniques since 2009? "During the summer, we completely refurbished the tank room. The old tanks were replaced with stainless steel tanks in various sizes. These range from 10 to 30 hectoliters. How will you take advantage of your new tanks? "The small tanks allow us to harvest and vinify by plot. This is important because it lets us pick each plot at the perfect time."