Canon La Gaffeliere, Jonathan Maltus wine, dinner with the infamous Jeffrey Davies and Valandraud goes Vertical!
Sunday, June 22
No rest for the weary. Or is that wicked?  I've been much too busy to find time to be wicked, so weary it is. The day started off bright and early with a visit to Canon La Gaffeliere to taste with the always charming and dapper Count Stephan Neipperg. Neipperg's array of St. Emilion is truly impressive. Mondotte, Cannon La Gaffeliere, D'Aiguilhe & D'Aiguilhe Querre all performed superbly in 2005. To say Neipperg is on fire is an understatement.  With the assistance of Stephane Derenencourt, all Neipperg's wines have been getting better year after year.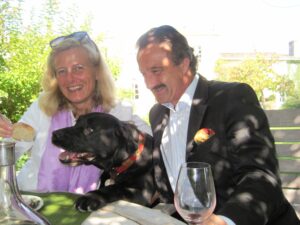 Most Chateaux are easy to find in St. Emilion.  Chateau Teyssier is not so easy. In fact, it's hard to find the first you visit. At least that is what I told myself as I got lost driving over to meet Jonathan Maltus. 
Maltus is a rebel and according to him, one with a cause. He successfully marches to the beat of his own drum when it comes to producing and marketing his wines. Not only in St. Emilion, but with the Colonial Wine Company in Australia's Barossa Valley and with an upcoming project in Napa. He is a smart, articulate and interesting man who is slowly but surely building his own wine empire. But how are his wines? We met at Chateau Tessier It is extremely modern, well built and features some of the best air conditioning in Bordeaux! A fact not lost on me as the temperatures were very hot.
The real fireworks produced by Maltus happen at Le Dome, which includes more Cabernet Franc than Cheval Blanc, Les Asteries, dominated by almost 85% Merlot and Laforge featuring over 90% Merlot.  Made in small quantities with a spare no expense attitude, they are also expensive. 
05 La Forge shows an oak, smoke and jammy black fruit nose. Rich, ripe and fun to drink with soft tannins and a black fruit, licorice and chocolate tinged finish. 2,000 cases produced. 91 Pts
05 La Carre, which means square in French, is anything but square. Black fruit with tropical accents make up the aromatics. This opulent wine has a lot to offer. 92 Pts
05 Les Asteries which includes some parcels that are close to 80 years old is a very ripe, rich, concentrated wine. Balanced and full of life, the sex pot of a wine is already approachable. 93 Pts
Les Asteries and La Carre are only about 100 yards apart, yet they are very different wines.
05 Le Dome opens with fresh herbs, ripe red and black fruits and new oak. Medium bodied without the weight of many 05's, this will appeal to some tasters more than others. 93 Pts
02 Le Dome has attention getting aromatics with its coffee. herb and new wood scents. Some green in the finish on the back of the mouth was noticed in the finish. 89 Pts
01 Le Dome with its herbal aromas and blasts of red and black fruit were a pleasure to smell. The wine is definitely open. Closer to medium bodied than full bodied, there is no reason to wait to open the elegantly styled St. Emilion. 91 Pts
96 Le Dome was the debut vintage for Le Dome. This is not the same wine as it was vinified in stainless steel and lacks the elegant, richer, more polished style of later vintages.
Jonathan Maltus, like most proprietors had a hard time picking out his favorite vintage of Le Dome. But, when asked a second time he replied, "02 for current drinking," adding "04 or 05 for the future."
Jeffrey Davies, one of the top Bordeaux Negociants  who clearly has his finger on the pulse on what's hot and happening, especially in St. Emilion and Laurent Vialette, a member of the GJE, who has one of the finest palates I've ever met were kind enough to invite me for dinner.
Ever since Jean-Luc and Murielle Thunevin visited me at my home in Los Angeles, I have been made to feel like a long, lost best friend or family member each time I visit. Friday night was no exception…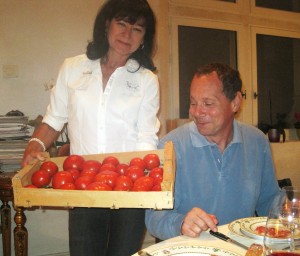 The night started with an extensive Valandraud vertical, 1999 – 2007, included verticals of Croix Labiere and Fleur Cardinale. That pre dinner tasting of approximately 25 bottles lasted at best, 25 minutes.
Valandraud, is the original St. Emilion garage wine that started it all back in 1992 remains one of the top wines of the area. Owners, Jean-Luc and Murielle Thunevin, one of the most fun and personable owners you would ever hope to meet remains passionate and committed to excellence. They got their start as merchants and Negociants, but their passion to enjoy great wine sparked their interest in not only making wine, but to endeavor to produce one of the top wines in all of St. Emilion. About 1,000 cases of this wine are produced every year.
07 Valandraud Blanc is made in extremely small quantities produced from approximately half Semilion and half Sauvignon Blanc from plots located near Belair in St. Emilion. Very fresh with a zesty lemon, lime quality and a lot of acidity.
07 Valandraud is high toned. Lots of freshness with round tannins and good ripeness for the vintage.
06 Valandraud according to Jean Luc marks a return to making a more plush, opulent style of Valandraud along with lower yields. Based on the fabulous 05 and very good 06, I can't wait to see what he does the next time nature cooperates. Oak, black fruit and exotic citrus accents mark the perfume. A long, spice filled finish ends with broad shouldered, but soft tannins. This will age well.
05 Valandraud kicks off with a blast of licorice and black fruit accented aromas. Very plush entry with an opulent, sexy Finnish of ripe blackberry and dark cherries. Polished, lush and sensuous. What more could you ask for? 95 Pts
03 Valandraud opens with coffee, mineral and roasted fruit. Already open for business, this will delivers a lot of pleasure. 91 Pts
02 Valandraud is earthy in character and the wine seems more structured than in other vintages. 90 Pts
01 Valandraud, like Murielle and many 01 Right Bank wines continues getting better with age. This rich, chocolate, licorice and ripe black, jammy fruit explosion is a wine for hedonists. Still young, this wonderful wine will get better with age. 94 Pts
Fleur Cardinale located next door to Valandraud has in a few short years become a hot wine. And why not? Combining quality with style and price it so people can easily afford it seems like a successful formula to me. The wine deserves to be a hit. The Decoster family, along with the help of the Bad Boy of St. Emilion Jean-Luc Thunevin are at the top of their game. If you have been reading the buzz on this hot property and you have not yet tasted this gem, grab a bottle. It is a star on the rise!
06 Fleur Cardinale with its black fruit filled perfume, round tannins and long chocolate tinged, black raspberry finish is one of the 06's that merit buying before the final scores are released. No, it is not at the level of the glorious 05, but it is well priced for a wine of this quality. It is another wine in 06 that is worth buying.
05 Fleur Cardinale rocks! Already approachable due to its plush, sexy style, this will get better over the next decade and offer pleasure for another ten years after that. Rich, sexy, plush, fat, ripe fruit, good concentration, opulent tannins, a long finish and great aromatics make this a stunning 05. While it will age, it is not a wine requiring extended cellar time. While nice now, a few years will add a lot to the wine. Prices for the 05 have almost doubled. Lucky buyers scoring this wine for $40 as futures did well! But, the wine is very good and is worth the current $70. 94 Pts
I managed to taste a vertical of Croix Labrie, one of the sexiest styles of wine being produced in St. Emilion today.
Croix de Labrie the 100% old vine Merlot is a sexy little stunner. And, the owner, Michel Puzio could not be nicer or genuine. With under 4 acres of vines, Puzio produces very little wine. But, if you like a lush, upfront style of St. Emilion, it is worth seeking out a bottle or two to check out.
06 Croix de Labrie was produced in a more structured style for the Chateau. Tannins are more abundant and the profile is a little beefier. The wine will not deliver the up-front style they are known for, but, it will be longer lived than most vintages.
05 Croix de Labrie pops from the glass with licorice, blackberry and oak notes. In the mouth, the wine is lush and feels ripe. The tannins are elegant and supple. If you are seeking an upfront sex pot of an 05 St. Emilion look no further, this is it. I would drink it in the first 15 years of life. 93 Pts
00 Croix de Labrie with its coffee, fennel, black fruit nose is a treat. The fruit is silk and velvet. Already showing well, this sexed up wine is a lot of fun to drink. 94 Pts
I would love to have spent more time with those wines, but the chef was ready to serve. Murielle, as always is the chef and I had not eaten since lunch.
 Murielle's famous, roasted, truffeled chicken accompanied by her amazing frites was calling my name. And trust me, that chicken and frites is so good, you want to answer that call!!!
The first wine served at the table was 90 Cristal, a very fine Champagne. The Cristal was paired with a mountain of caviar Lance Armstrong would of had trouble biking up!
God forbid we move to red wine at that point. With a sly smile, Jean-Luc hands me a shot glass and fills it with a high end, single vineyard Vodka written in Crylliac letters. I laughed, calling it a garage Vodka before downing my shot.
Next up, piles of Pata Negra sliced from an entire leg resting in the kitchen.
01 Pape Clement was served double blind. I guessed young Right Bank. Close but, no cigar. This delicious, complex and close to mature blended smoke, spice, tobacco and currants. 92 Pts
Roast chicken with truffles can only be paired with one dish to make it even better, mashed potatoes with truffles.
1990 Lynch Bages was so open and ripe, I guess Pomerol. The opposite of 89 in style, the very ripe, open Lynch Bages was singing loud and clear. 94 Pts
Double blind with cheese was a wine I guessed to be an old school, austere Pauillac from the 70's. So close, but still so far away.
52 Latour leapt into your nose with spicy Cabernet, truffles, leather and soy scents. Big mouth feel in an old school austere style served up a big juicy mouthfull of Cassis. The wine had that special, syrupy texture only found in old, mature wines. A perfect example of a wine that has proably not been moved much over the past, several decades. A long finish which kept getting better in the glass. 94 Pts
1845 Bual Madeira was an interesting wine. I guessed Madeira over 100 years old. Very good wine.
The final sip of the night paired with a light, fruit dish covered with fresh, vanilla beans was a rare, vintage Rhum. 92 JM De Medevil
By that point in the night, I was beat. My pillow was looking for me and it was heaven when we found each other. If I had tried counting to 10, I doubt I could have made it to 2.