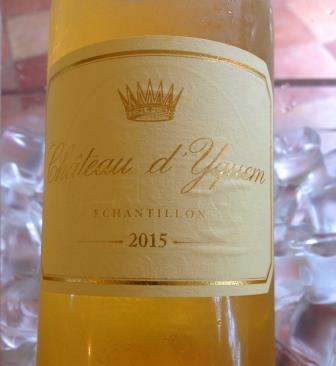 2015 Sauternes and 2015 Barsac wines are stunning! The sweet, white Bordeaux wines continue their non-stop run of producing great wine, vintage after vintage, making the region a contender for setting a record for the longest winning streak of any wine region in the world over the past 20 years.
Think about it. In the 1930's, there was only 1 great vintage, 1937. During the 1940's, you had at least 1945 and 1949. In the 1950's there was 1955 and 1959. The 1960's turned out only 1962 and 1967. The 70's were only marginally better with good wines in 1970 and 1971, and some great wines in 1975 and 1976. The 1980's began the golden age for golden wines with stellar performances in 1983, 1986, 1988 and 1989. The 1990's were good as well, with 1990, 1995, 1996 and 1997. But with the start of the sublime 2001 vintage, the region has never been more successful. Look at all these terrific vintages, 2001, 2003, 2005, 2006, 2007, 2009, 2010, 2011, 2013, 2014 and now 2015!
11 out of the past 15 vintages have allowed producers to make some the best wines in the history of their chateaux and appellation has to be a record. Sweet wine lovers have never had it so good. However that consistent, high level of quality has also become a problem for growers in the region. Why? Because wine lovers have reduced their level of consumption of sweet wines over the years. That drop in consumption has led to a glut in the market for these delicious treats.
It is too bad because these wines are of singular quality. The wines are the most labor intensive and expensive Bordeaux wine to produce. They offer instant drinkability and they can age and evolve as well as any red Bordeaux wine, or better. This has led to an increase of dry white Bordeaux from vines planted in the Sauternes region. Because AOC rules and law insist on a minimum sugar level in a wine to be labeled as coming from Sauternes, the dry white wines need to be sold as generic AOC Bordeaux wine.
This non-stop run of making great wines that are becoming ever increasingly difficult to sell is a dichotomy for sure. What made 2015 Sauternes such a great vintage?
Simply put, it is level of botrytis, phenolically ripe, pure fruits in beautiful, homogenous condition and perfect levels acidities experienced with 2015 Bordeaux growing season. Conditions were perfect during the harvest. While some estates began harvesting fruit for their dry white wine in August, picking for the sweet wines began in earnest around September 5. Most properties completed their harvest by the middle of October, with a few stragglers finishing up closer to November. You can read about the 2015 harvest and vintage in detail to give you a good idea on what took place during the growing season for the entire Bordeaux region: 2015 Bordeaux Vintage and Harvest Report
Also, if you want to read about 2015 red Bordeaux wines, please check out our detailed articles on more than 500 different wines from 2015: Tasting Notes and Ratings for the top 500 2015 Bordeaux wines.">
While I was not able to taste enough 2015 Sauternes to paint a full picture of the region, I loved the wines I managed to taste. Clearly, this is an extraordinary vintage for loves of sweet white wines. I preferred the lush qualities found in 2015 over the much more acidic 2014 vintage, as well as other recent years, for example, 2013 and 2011. It makes me thirsty just thinking about it.
In a bit of news, it is no surprise that once again, Chateau dYquem produced not only the wine of the Sauternes appellation, but a potential wine of the vintage. OK, I agree, that is not news. However, what might be newsworthy is that for the first vintage since 2000, the chateau might not offer the wine En Primeur, waiting until the wine is in bottle, to offer it for sale.
2015 Sauternes Tasting Notes and Scores…
2015 Bastor Lamontagne – The best vintage ever for Bastor Lamontagne, there is depth of flavor, sweet, ripe, honeyed fruits, freshness and more volume than previous vintages. With the renewed commitment from the new owners, you can expect this estate to continue making better wines. 89 – 91 Pts
2015 Clos-Haut-Peyraguey – Honeyed pineapple, papaya, mango, vanilla and apricot on the nose, the wine is sweet, rich, concentrated and powerful. There is a lot of sweet, fat honeyed fruit and botrytis in the mouth. 93 – 95 Pts
2015 Coutet – Concentrated, rich and deep, there is more than ample, perfectly ripe and over ripe, sweet, juicy, pineapples, apricot, vanilla, almond and honeysuckle all coated with flowery honey. But like all great sweet wines, it is the vibrant acidity that makes the wine interesting and keeps it fresh. 94 – 96 Pts
2015 de Fargues – Racy, with its acidity, the sweet, luscious tropical fruits, candied citrus and apricots coated in honey are made even better with the notes of honeysuckle and vanilla. 93 – 95 Pts
2015 Doisy Daene – The distinctive notes of honeysuckle, ripe and over ripe, juicy pineapple, apricot and white peach slathered in honey start things off. But its all that racy acidity that keeps this fresh, lively and vibrant, and allows you to go to more of this sweet, unctuous treat. 94 – 96 Pts
2015 Guiraud – A stunner in 2015, this is incredibly packed with fat, juicy, ripe and over ripe honeyed apricots, vanilla custard, pineapple, honey and candied citrus. Great balance between concentration, sweetness and blazing acidity with the ability to age and evolve for decades! 94 – 96 Pts
2015 La Tour Blanche – Loads of sweet, tropical fruit, apricot, orange rind and nectarine all coated with honey. Rich, sweet and fresh, the spice and vanilla in the end add to all that sweet, lush fruit. La Tour Blanche is one of the few Bordeaux chateaux that still includes a percentage of Muscadelle in the blend. 91 – 93 Pts
2015 Lafaurie-Peyraguey – From 65% Semillon and 35% Sauvignon Blanc, the wine smells great with its nutty, pineapple, vanilla and lemon custard aromatic profile. Fresh and zippy, the wine is rich, fat, sweet, and dense with the right amount of acidity to keep all that sweetness in check. 94 – 96 Pts
2015 Raymond Lafon – With loads of candied citrus, pineapple, mango, apricot and orange rind, there is a the perfect amount of honey dripping all over everything, paired with freshness and acidity so that the wine retains its freshness. 91 – 93 Pts
2015 Rayne Vigneau – With a strong floral note that adds to the candied orange, apricot and honey coated pineapples in the nose. Lush, sweet and rich, with a blast of acidity that really keeps this going. Over the past few years, this estate has really upped their game. 92 – 94 Pts
2015 Suduiraut – Made from 94% Semillon and 6% Sauvignon Blanc, the wine serves up a nose of honey, apricot, vanilla bean, roasted nut, flowers, papaya and orange. The wine is luscious, sweet, fat and fresh, with a long, intense, mouth filling finish. 95 – 97 Pts
2015 Yquem – Stunning in every sense of the word, the wine has an incredible level of sweetness; concentration of flavor, acidity and sweet honeyed, perfectly ripe and overripe tropical fruits. It is almost too much of a good thing. Note, I said almost! Yet, everything is in an amazing sense of balance and harmony. The finish must stay with you for at least 60 seconds or longer. Made from blending 80% Sauvignon Blanc and 20% Semillon, the wine reached 13.9% alcohol with a pH of 3.65 pH. The wine is incredibly sweet with 144 grams per liter of sugar, but this is all kept in check due to the 6.2 grams per liter of total acidities. The harvest took place from September 3, to October 21. They took 4 passes through the vineyards this year. 99 – 100 Pts
We are just about finished with our 2015 Bordeaux reports. You can expect a recap of the dry, white Bordeaux wines from Pessac Leognan, Graves, Bordeaux and assorted other regions and a summary of all the 2015 bordeaux wines we tasted.