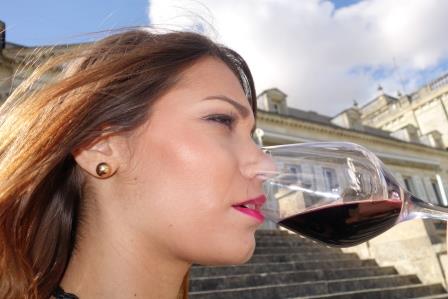 The wines produced in the 2014 St. Julien vintage can be quite good. They are not as consistent or deep as those found further north in Pauillac and St. Estephe. They are at times, fresher, brighter and offer more red fruits, higher levels of acidity and less concentration. Yet, 2014 St, Julien wines are also charming, elegant, polished and complex. As a generalization, 2014 Saint Julien wine are classic in style. But in this case, stating 2014 St. Julien wines are classic is not a pejorative term, it's a positive.
What took place that shaped the 2014 St. Julien vintage and its wines during the growing season and harvest? After a difficult, wet, cold, gloomy start to the 2014 Saint Julien vintage, things began to come together as August drew to a close. The perfect and much needed combination of hot, dry weather, warm, sunny days and cool nights saved the vintage. What looked like another moderate to poor vintage sprang to life by the time the Merlot began to be picked in September. Like most of the Medoc, after a quick bout of rain on September 17 and September 18, growers began picking their Merlot Monday, September 22. Due to the continuing Indian summer weathers, pickers were able to take their time. The majority of the Cabernet Sauvignon was harvested by October 18 under, warm, sunny conditions.
The extended hang time allowed the grapes to ripen. It's always important to keep in mind that each appellation and vineyard has their own terroir and micro-climate. With 2014 St. Julien, there is not the same level of homogeneous quality that you find as you travel further north in the Medoc. There are definitely some very fine wines, but it's more of a pick and choose vintage in the appellation, as the level of quality, the style and the amount of acidity in the wines varies from chateau to chateau with 2014 St. Julien wines. For a more detailed overview on the shaping of the 2014 St. Julien vintage and for the entire Bordeaux region, please read: 2014 Bordeaux Detailed Harvest and Vintage Summary
Depending on the prices, and once again, I hope the chateaux owners truly listen to the real level of demand in the marketplace from the people that actually buy the wine for their cellars, they will price the wines accordingly. OK, off my soap box and on to the wines. Chateau Beychevelle became the first Classified Growth to release their 2014 wine with a price of 42.20 Euros ex negociant, which comes out to an increase of 12% more than the 2013. Now, that is a big jump up. But as you will see when you read my note, the wine is really good and it's still fairly priced when compared with 2006 and 2008, especially when 2014 is a better wine. Gruaud Larose came out over one week later at 39.50 Euros, which was an increase of 18% over 2013, making it semi costly when measured against other recent vintages of Gruaud Larose. Pricing a wine can at times be a difficult endeavor. It's too soon to know how the market will react. But increases in price without substantial improvements in quality are not the blend the marketplace appears ready to accept. The two most anticipated 2014 St. Julien wines came out at the end of the campaign. Leoville Las Cases was offered at 96 Euros while Ducru Beaucaillou was priced sat 79.20 Euros.
This is the third of 9 articles we will be publishing on the best wines, wine makers and wineries that produced the top wines in the 2014 Bordeaux vintage. The articles will appear in semi-geographical order, moving from north to south in the Left Bank, followed by the Right Bank with Pomerol, St. Emilion and ending with the petits chateaux and satellite appellations we also cover. To read 2014 Bordeaux tasting notes from other appellations:
2014 Bordeaux Tasting Notes Tasting notes on 2014 Margaux should be published tomorrow morning, if all goes according to plan. And we all know how that can turn out.
The following wines were all tasted not blind in Bordeaux. Most were tasted at the various chateaux, other wines were tasted with a select group of negociants.
2014Beychevelle – This is a beauty. This wine possesses ample depth and intensity, setting a new standard of quality for Beychevelle. Dense, long and voluptuous, arousing the senses with a sweet kiss of sun-warmed currants and dark chocolate, this is by far the most concentrated, supple wine that the estate has ever produced. The finish really lingers with its layers of fruit. With 51% Merlot in the blend, it's the highest percentage of Merlot used in the history of the estate. That is paired with 39% Cabernet Sauvignon, 5% Cabernet Franc and 5% Petit Verdot. The wine reached 14.05% alcohol with a pH of 3.64. The Grand Vin represents 68% of the crop. 93 – 94 Pts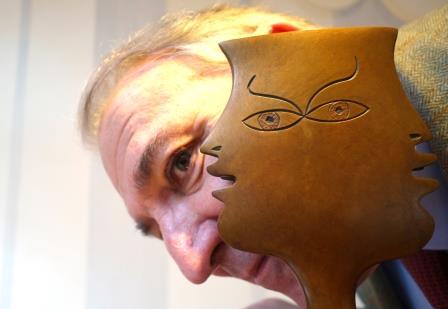 2014 Branaire Ducru – With the blossoms of a black raspberry bramble with a quick sift of white pepper, mocha and earth in the perfume, this wine is all about its elegant tannins, the finesse, freshness and purity of the sweet black and crisp, spicy red fruits. Produced from a blend of 65% Cabernet Sauvignon, 27% Merlot, 6% Petit Verdot and 2% Cabernet Franc. The wine reached 13.5% alcohol with a pH of 3.63. 92-93 Pts
2014 Ducru Beaucaillou – Deep, dark ruby with purple in its hue, this wine is brimming with smoke, espresso, blackberry, black cherry, licorice, earth, a whole spice box of aromatics and that's just the foreplay. The lush velour textured tannins, layers of dark berry liqueur and the lasting sensation of fresh, perfectly ripened fruit elevates this wine to the next level. This is the best wine of the appellation and once again, one of the top wines in the vintage. Produced from 90% Cabernet Sauvignon and 10% Merlot, the wine reached 13.5% alcohol with a pH of 3.81 and is aging in 100% new French oak barrels. 95-96 Pts
2014 Croix de Beaucaillou – Smoky, spicy and sweet, this smooth, fresh wine is packed with dark berries, a sprig of thyme and soft tannins. The wine will show well young or it can age for a decade. From a blend of 60% Cabernet Sauvignon, 35% Merlot and 5% Petit Verdot, the wine reached 13.25% alcohol and is aging in 60% new French oak barrels. 90-92 Pts
2014 Lalande Borie –Medium-bodied, soft and fresh, this wine has notes of blackberry and cocoa and is already showing its open personality. This should be ready to drink on release. 88-90 Pts
2014 du Glana – With coffee bean, plum and earth in the nose, this fresh, medium-bodied wine has a sweet, forward personality. 86-88 Pts
2014 Gloria – Filled with ripe boysenberry, deep chocolate, flowers and sweet black cherries, this wine treats the palate to lush, creamy tannins and a lengthy finish chock-a-block with fresh fruit. Produced from a blend of 60% Cabernet Sauvignon, 30% Merlot, 6% Petit Verdot and 4% Cabernet Franc, this wine should drink well early. 91-93 Pts
2014 Gruaud Larose – With a medium body and soft tannins, this wine is fresh, earthy and laced with crisp, crunch of fresh red and black fruits. 90-92 Pts
2014 Lagrange – With more softness than expected, this medium-bodied wine tastes like you're biting into a handful of fresh, juicy, ripe, crisp, red fruits with a spray of cassis on top. 88-90 Pts
2014 Langoa Barton – This medium/full-bodied wine is fresh and bright with red berry charm and ample, crisp tannins to age. Produced from a blend of 54% Cabernet Sauvignon, 34% Merlot and 12% Cabernet Franc, this wine reached 13.5% alcohol. 91-93 Pts
2014 Leoville Barton – With a sweet, ready note of vanilla and cherry, this wine features spicy, crisp dark red fruits and a fresh, bright, tannic finish. Blending 83% Cabernet Sauvignon, 15% Merlot and 2% Cabernet Franc, the wine reached 13.5% alcohol and is aging in 60% new, French oak barrels. 92-94 Pts
2014 Leoville Las Cases – With a deep, garnet hue, this full-bodied, concentrated, powerful wine starts off with cedar, earth and cassis. The firm, polished tannins leave your palate loitering about with spice and blackberry. This powerful, structured, bright, crunchy wine has a classic, fresh style. It's important to note that its ample tannins and classic demeanor will require over a decade—probably two— before it really begins to drink well. Produced from a blend of 79% Cabernet Sauvignon, 11% Cabernet Franc and 10% Merlot, the wine reached 13.8% alcohol with a pH of 3.49 and is now aging in 85% new French oak barrels. 95-96 Pts
2014 Clos du Marquis – This wine already exhibits cedar, earth and cassis with ripe, firm tannins and a spicy, fresh, clean and crispy finish. Blending 74% Cabernet Sauvignon, 22% Merlot and 4% Cabernet Franc, this wine reached 13.85% alcohol and will be aged in 50% new French oak barrels. 90-92 Pts
2014 Le Petit Lion de Marquis de Las Cases – Boasting tobacco, cassis and cherries, this wine possesses the backbone to age a bit. Blending 57% Merlot, 38% Cabernet Sauvignon and 5% Cabernet Franc, the wine reached 14.2% alcohol. 88-89 Pts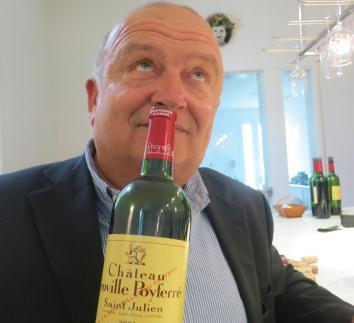 2014 Leoville Poyferre – Intense in hue with silky, bright tannins, this wine offers the palate an assortment of plump, ripe, dark-red skinned fruit and a long, lingering finish with distinctive depth, structure, balance and brightness in the end notes. Blending 60% Cabernet Sauvignon, 35% Merlot, 3% Cabernet Franc and 2% Petit Verdot, the wine reached 13.25% alcohol. 93-94 Pts
2014 Moulin Riche – Silky-smooth, this wine is easy to drink with medium-body, supple, red fruits and a whisper of licorice in the finish. 86-88 Pts
2014 Saint-Pierre – This wine makes a memorable first impression. Like a seductress whose essence haunts the room long after she has made her exit, this wine offers a heady and unforgettable bouquet of blackberry, dark cherry, espresso bean, earth and cocoa. Focused and structured to age, this wine rings with volume, length, character and freshness. It will be undoubtedly delicious after only a few years of aging. Produced from a blend of 78% Cabernet Sauvignon, 16% Merlot and 6% Cabernet Franc. 92-94 Pts
2014 Talbot – Forward in style with a nose of espresso, blackberry, dark cherry, cocoa and the woodsy aroma of terre-mere, this round-textured wine radiates an easy-to-like quality which is soft, fresh and clean. This is the best vintage for Talbot produced with the aid of the Stephane Derenoncourt team yet. 91-93 Pts