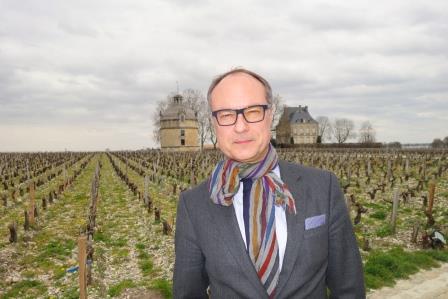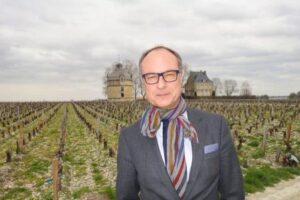 2014 Pauillac is the star appellation of the vintage! The majority of estates in the appellation produced very good wine. Price dependent, 2014 Pauillac deserves to be given a serious look. Note, I said price dependent. The wines are not yet on offer, so the need to purchase the wines En Primeur remains to be seen. With luck, if the chateaux listen to the true market demand, the wines will be priced correctly and could spark some interest and sales.
It took a while, but the first 1855 Classified 2014 Pauillac to be offered might help set an example in pricing to help the campaign. Duhart Milon came out at 42 Euros Ex-Negociant, which is a reduction of 12.5% from 2013. This was followed by Lynch Bages as they released their 2014 Lynch Bages at 60 Euros. Lynch Bages is reported to be one of the better selling 2014 Pauillac wines.
The stable of wines from Mouton were the first major releases from 2014 Pauillac to be offered for sale. 2014 d'Armailhac came out at €24 ex-negociant, which is 5% over what they charged in 2013. 2014 Clerc Milon was offered at €33.6 ex-negociant, which was 12% higher than what they charged in 2013. Chateau Mouton Rothschild took center stage as the first, First Growth in the 2014 campaign to be offered for sale. 2014 Mouton Rothschild was released for 240 Euros, which is 12% higher than the 2013 came out the at. But before jumping the gun on the price and its increase, it's important to note that the 2014 Mouton is still less than any other vintage of Mouton in the market today, except for 2013. Also, as you can see from my notes, 2014 Mouton Rothschild is a candidate for the wine of the vintage! Pichon Baron was the next major Pauillac estate to offer their wine, which was priced at 66 Euros, which was higher than anticipated as it jumped over the 2013 by 20%, making it an expensive wine to look at, when compared with recent back vintages for Pichon Baron. I really like the wine. But it's not an attractive offering as a future. Following today's releases, you can rest assured that the pace is really going to pick up in a day or so, once the market reacts to these offerings.
It was hoped that those early price reductions would inspire other chateau to also reduce prices, which would help their wines sell through to consumers, but that was not always going to be the case.
2014 Chateau Pontet Canet was next in line to come out, pricing their wine at 66 Euros, a 10% pop from 2013. A few minutes later, Chateau Lafite Rothschild became the last First Growth to offer their 2014 wine, pricing it at 288 Euros, the same price as their 2013. It was not the price that became an issue for negociants. It was the reduction in allocations for the First Tranche pricing. Some negociants reported reductions of up to 40% from previous vintages, asking sarcastically, why they their allocations were not reduced in a difficult vintage like 2013? All that being said, back vintages of Chateau Lafite Rothschild are expensive, so even at this price, there could be room for consumers, as future tranches are sure to be priced more expensively. 2014 Grand Puy Lacoste was offered 38.50 Euros, a large pop up of 23.5% over their 2013. But Grand Puy Lacoste is now a hot brand, and the wine is widely thought of as a really strong 2014 Pauillac, so it should sell.
This type of pricing should clearly inspire other chateau to offer their wines at a competitive price to make sure their wine reaches their customers. If that happens, (And I hope it does) the marketplace will also hopefully take a serious look at 2014 Bordeaux and open their wallets. The last week in April and the first week in May should be busy with a lot of activity.
Let's set price aside for the moment. Instead, for a change of pace, let's focus on the wines. 2014 Pauillac wines are stylish. The tannins have a silky quality. The Cabernet Sauvignon grapes ripened well, delivering richly textured, round, smooth wines that feel great on the palate with ample freshness, coupled with sweetness in the finish. 2014 Pauillac wines should age well. This was a vintage that was fun to taste in barrel. With that in mind, my instincts say, while the wines will age well, due to their supple character and style, most of the wines will not demand decades in the cellar before they become enjoyable. If you like your wines young, the majority of 2014 Pauillac wines could be enjoyed early, with decanting.
Where does 2014 Pauillac stand in relation to other recent vintages? It's behind the best years; 2010, 2009, 2005, 2003, 2000 and 1996 for most chateaux. Yet, when you think about it, that's still a rather lofty position for the vintage.
Nature was clearly kind to the 2014 Bordeaux vintage in the Left Bank, especially in the northern Medoc. The vintage becomes more inconsistent the further south you travel. In Pauillac, the Cabernet Sauvignon turned out great and for many estates, even though the quantity was small, so did the Merlot. This took place thanks once again thanks to the beautiful Indian summer conditions which bright close to 40 days of unabated warm days and cool nights that took place from in the Medoc from late August, through most of the harvest. Picking at the majority of chateaux for 2014 Pauillac took place from Monday, September 22, with the Merlot, and depending on the vineyard, continued until as late as October 18 for the Cabernet. It is quite unusual for Pauillac to spend close to one month for a harvest. That extended hang time is exactly what the grapes needed to produce wines at this level of quality. For more details on the growing season, harvest and general overview on what took place in shaping the 2014 Pauillac vintage, please read: 2014 Bordeaux Detailed Harvest and Vintage Summary
This is the second article in a series of 9 reports on the 2014 Bordeaux vintage. The articles are being published in geographical order, from north to south in the Medoc, followed by Pessac Leognan, ending with Pomerol, St. Emilion and finally Petit Chateaux and wines from the satellite regions. To read 2014 Bordeaux tasting notes from other appellations:
2014 Bordeaux Tasting Notes You can expect to see tasting notes on the 2014 St. Julien appellation published tomorrow. The following 2014 Pauillac wines were tasted in Bordeaux. None were tasted blind. The wines were tasted at the chateaux in most cases. However, some wines were also tasted at various negociants. This report was put together with the assistance of Audrey Lavin.
2014 d'Armailhac – This deep, ruby colored wine offers black raspberries and licorice in the nose. The fruit is sweet and spicy with a lush, black cherry finish. Blending 50% Cabernet Sauvignon, 36% Merlot, 12% Cabernet Franc and 2% Petit Verdot, the wine reached 13.8 alcohol. 89-91 Pts
2014 Clerc Milon – Tobacco and forest floor infused with a spray of cedar, the wine is soft, polished, medium-bodied, fresh, complex, elegant and approachable. There is length and a suave charm in the finish. Using 58% Cabernet Sauvignon, 29% Merlot, 11% Cabernet Franc, 1% Petit Verdot and 1% old vine Carmenere, the wine reached 13.5% alcohol with a pH of 3.5. 91-93 Pts
2014 Croizet Bages – Sweet and tart with plums, earth and tobacco on the forefront with a conspicuous note of rusticity in the tannins surfacing in the end notes. 85-87 Pts
2014 Duhart-Milon – 55% Cabernet Sauvignon and 45% Merlot produced a blend which is elegant, fresh and medium-bodied in style with sweet, crisp cassis, peppery blackberries and soft tannins in an open finish. Give this wine a few more years to develop additional complexity. 90-92 Pts
2014 Fonbadet – With a heady perfume of black current in the aromatics, this wine is medium-bodied, fresh, crisp and classically styled with a hearty dose of cedar in the finish. 86-88 Pts
2014 Grand Puy Ducasse – A smoky mix of cedar, licorice and cassis start off the nose of this wine which is medium to full-bodied shows gentle, refined tannins and a freshness in the fruity, open finish. 91-92 Pts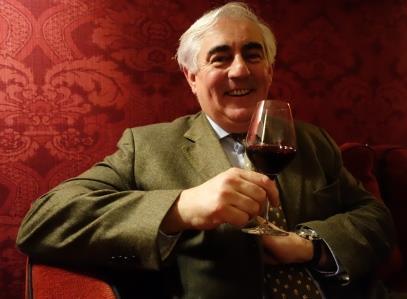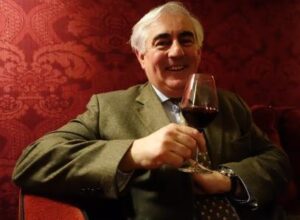 2014 Grand Puy Lacoste – Spill a bottle of cassis in your grandfather's cigar box and you will replicate the fragrance of this wine. Full-bodied, rich, deep, plush and polished, the wine feels good on your palate and tastes even better with a fresh, fruit-filled finish of blackberry and another big splash of juicy cassis. With 82% Cabernet Sauvignon and 18% Merlot in the blend, the wine reached 13.5% alcohol and represents 60% of the harvest. 93-95 Pts
2014 Lacoste Borie – This wine is forward yet simple, fruity and uncomplicated. Without fault this wine will be ready to drink on release. 84-86 Pts
2014 Haut Bages Liberal – Licorice, black cherry, spice and oak, this wine is tannic, yet refined with a bright, piquant cassis finish. 88-90
2014 Haut Batailley – Florals with cassis on the nose and the unmistakable elegance and strength of Pauillac. This wine is fresh and sweet with a hint of cherry that should drink well early. Blending 78% Cabernet Sauvignon and 18% Merlot, the wine reached 13.5% alcohol. 89-92 Pts
2014 Lafite Rothschild – An earthy mélange of cedar and ripe berries on the nose, this wine is smooth, soft and fresh with the aroma of cassis and blackberries. Its refined tannins evoke the silky finesse of a crisp, dark red berry finish. The harvest took place between September 22 and October 10, beginning with the Merlot, followed by the Petit Verdot and representing 38% of the crop. A combination of 87% Cabernet Sauvignon, 10% Merlot and 3% Petit Verdot, the wine reached 12.7% alcohol. Chateau Lafite Rothschild is often a difficult wine to taste young. This could easily out on weight, improving in bottle and beyond. 94-95 Pts
2014 Carruades de Lafite – Medium-bodied, with freshness and crisp, cassis notes, the wine serves up an easy tasting finish with a whiff of blackberry and cassis. 88-90 Pts
2014 Latour – Fleshy, ripe, concentrated and long, with refined tannins, lush textures, depth and layers of sweet, ripe, dense, juicy berries, the wine promises and delivers purity, length, richness and a serious, age worthy, vibrant character. If I can afford it when it comes up for sale, I'd buy it! Using 89.9% Cabernet Sauvignon, 9.2% Merlot, 0.6 Cabernet Franc and .03 Petit Verdot that reached 12.89% alcohol, the Grand Vin represented 33.9% of the production. 95-97 Pts
2014 Les Forts de Latour – With silky freshness and soft tannins, this wine delivers a mouthful of ripe black currant and is true blue to the distinct nature of Pauillac. The wine was made from a blend of 71.4% Cabernet Sauvignon and 28.6% Merlot that reached 13.01% alcohol. 90-93 Pts
2014 Pauillac de Latour – Produced from a blend of 42.3% Merlot, and 50.6% Cabernet Sauvignon, this wine easily and gracefully offers dark, chocolate covered berries and soft, fleshy, ripe fruit and freshness in the finish. 88-90 Pts
2014 Lynch Bages – Deep ruby in color with cassis, earth and blackberry in the nose which pops effortlessly. This wine is a full-bodied, ripe, concentrated mouth-filler loaded with sweet, black fruits, ripe, crisp tannins and a long, fresh, invigorating finish. Produced from 69% Cabernet Sauvignon, 26% Merlot, 3% Cabernet Franc and 2% Petit Verdot, this wine is aging in 75% new, French oak barrel, reaching 13.73% alcohol, with a pH of 3.68. 92-94 Pts
2014 Lynch Bages Blanc – Fresh and lively with a uplifting mist of grapefruit, honeydew and orange, this wine has a sweet, honey-coated note and a soft, yellow, citrus finish. 52% Sauvignon Blanc, 28% Semillon, and 20% Muscadelle. 89 Pts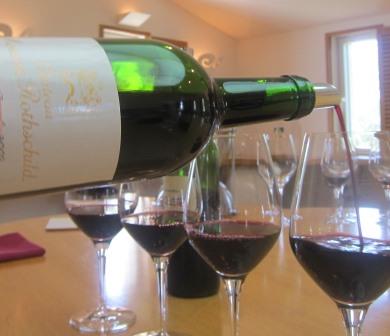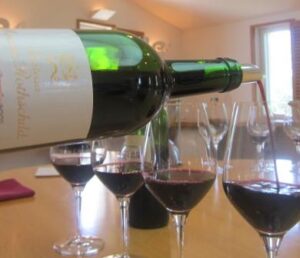 2014 Mouton Rothschild – Deep in color with a complex nose of graphite, plum, blackberry and tobacco, this wine is sure to lure you back for yet another sniff. before you get to the first sip. It is full-bodied, silky, fresh and packed with sweet cassis, caressing your palate with a rich velour, leaving a lasting impression of espresso, cocoa and black raspberries. This wine has less concentration than 2009 and 2010 vintages, yet it still leaves you with sweetness, vibrancy and length. Using 81% Cabernet Sauvignon, 16% Merlot and 3% Cabernet Franc, the wine reached 13.1% alcohol with a pH of 3.78. 95-97 Pts
2014 Petit Mouton – With 93% Cabernet Sauvignon and 7% Merlot in the blend, this wine displays a beautiful color with espresso and sweet black cherries in the nose. Medium bodied, with a supple textured, spicy, fresh, sweet cherry finish. To illustrate how good this wine is today, this is better than any vintage of Mouton Rothschild produced in the 70's and most of the 80's! 92-93 Pts
2014 Aile d'Argent – The blend of 65% Sauvignon Blanc and 35% Semillon pops with the feel of waxy citrus rind and the scent of green apples. It is a lively, vibrant and refreshing blend of lemon, orange with a hint of sweet vanilla. 92 Pts
2014 Pedesclaux – Tobacco, cedar, licorice and cassis on the nose, this wine has smooth tannins, freshness, and the polished finish of dark plums. The wine was produced from a blend of 53% Cabernet Sauvignon and 47% Merlot. 89-91 Pts
2014 Pibran – This is the best Pibran I have ever tasted. It is a perfect restaurant wine. Espresso, cocoa and black cherry on the nose, with a medium body, the wine is juicy, open and soft on the finish. 88-90 Pts
2014 Pichon Comtesse de Lalande – This is precisely what I'm looking for in a Pichon Lalande, silken and velvety tannins with a concentration and richness of ripe dark berries, chocolate and black cherries. This wine has length, polish, freshness and sensuous textures. A blend of 65% Cabernet Sauvignon, 22% Merlot, 7% Cabernet Franc and 6% Petit Verdot, the wine reached 13.2% alcohol, with a pH of 3.7 and was produced with 50% of the harvest. 93-95 Pts
2014 Reserve de la Comtesse – An approachable, medium-bodied, soft, polished wine with the taste of sweet plums and cherries and a forward drinking charm. 87-89 Pts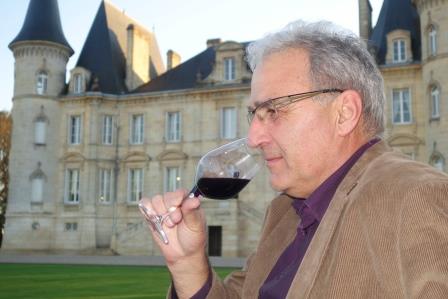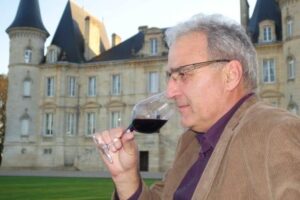 2014 Pichon Longueville Baron – Dark in color, with black, blue and cassis fruit complicated by smoke, earth and tobacco in the bouquet. This wine is rich, dense, long, silky and lush. There is a beautiful purity to the layers of ripe, sweet, fresh fruit and plush tannins. The finish builds and expands pleasantly in the mouth. This wine is probably better than the delightful 2003 and not far from the even more better 2005. Crafted from a blend of 80% Cabernet Sauvignon and 20% Merlot, the wine reached 13.3% alcohol with a pH of 3.7. The Grand Vin represents 45% of the harvest. 95-96 Pts.
2014 Les Griffons de Pichon Baron – Bright, crisp with an early display of wet earth, cedar, cassis and floral characteristics, this forward-styled Pauillac has a refined, easy drinking, fresh-picked berry appeal and it will deliver a classic tasting, cassis-filled experience on release. 88-90 Pts
2014 Les Tourelles de Longueville – Light and forward, produced from 65% Merlot, this supple, fruity, easy drinking wine will be best tasted on release. 85-87 Pts
2014 Pontet Canet – Inky, dark in color with purple accents in its hue, this wine packs a punch with its full-bodied style. Surprisingly elegant for Pontet Canet, this wine is fresh with sweet, ripe fruits accented by chocolate and black cherry tones. The tannins are neat and refined, leaving you with the sensation of licorice, chocolate-infused cassis and black and blue fruits. 93-95 Pts