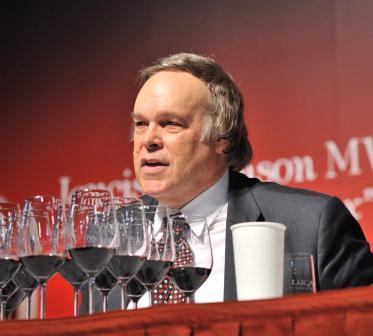 In a bit of startling news that is going to excite a lot of consumers and make posters on bulletin boards go crazy with comments for days, Robert Parker, the world's most famous wine writer and wine critic is going to host a series of wine events all over the world. The first series of dinners and events takes place in Asia. That will come as no surprise following the sale of a portion of The Wine Advocate to a team of Asian investors last year.
While this is new for Robert Parker and the Wine Advocate, this is common for most publicatins and wine writers starting with the Wine Spectator. The Wine Spectator has been hosting similar events to these for years. James Suckling has recently partcipated in similar events as has Antonio Galloni, the ex-writer for The Wine Advocate. However, when the name Robert Parker is attached to anything, on the Internet, it becomes a much bigger event.
Having had dinner a few times with Bob, he is a fun, smart, engaging person who remains a wine geek at heart. After tasting more than 50,000 different wines, he still has a blast tasting wine and talking about it! Guests who are lucky enough to buy a ticket will have a great time. Ticket prices range from $320 for a Master Class seminar up to $998 for the Gala Hedonist's Dinner. Attendance is limited, depending on the venue.
The Grand World Tour takes in nine cities around the world mixing great wine and food and a series of master classes in wine. The initial events will focus on Bordeaux, Cabernet Sauvignon and Italy. To help promote the event, The Wine Advocate teamed with American Express. So if you're looking for tickets, grab your gold, platinum and black card and book a spot.
Tickets go on sale for the events in Asia January 7 for Amex members. If they are not sold out by January 19, the public may buy them as well.
In a press release Parker commented "This is such an exciting time for us as a global wine journal. The Wine Advocate's Grand World Tour is a culmination of the wines we've deemed as most prominent and outstanding. With our expanded team now covering more top wine regions than ever before, we look forward to further sharing the experience and love of wine, which has brought an incredible community of people together on our site."
The tour will offer a different theme for each city, keeping things fresh. It is expected that this is only the beginning for these grand touring events from The Wine Advocate. More locations and cities are sure to follow.
While the tickets are expensive, due to the opportunity to meet Robert Parker, the events are expected to to sell out. There is a promotion taking place with ASC, the Bordeaux wine importer for Beijing and Shangai. For customers purchasing any of the 28 different specified wines they will be awarded free tickets to either a Master Class or Gala dinner! If you're going to purchase the wines anyway, why not earn a free ticket?
For 2014, the following dates and these have been announced. Only full details on Asia are announced as of today. Future updates will be made available concerning other countries in the near future.
Beijing – February 26-27
Dinner only with a focus on the best wines from the Right Bank appellations of St. Emilion and Pomerol. Some of the wines included in the Beijing dinner are: Chateau Ausone, Chateau Cheval Blanc, Chateau Lafleur, Chateau La Fleur Petrus, Chateau l'Eglise Clinet, Chateau Trotanoy, Chateau Hosanna, Chateau d'Yquem and Dom Perignon.
Shanghai – March 1-2
Dinner and a Master Class focusing on the best wines from Pessac Leognan. As a guess, you can sure there will be wines from Chateau Haut Brion, La Mission Haut Brion, Domaine de Chevalier, Smith Haut Lafitte, Haut Bailly and perhaps others.
Hong Kong – March 4-6
Dinner and a Master Class with a focus on the best wines from France and other regions. The master class will feature wine from La Fleur Petrus, Leoville Las Cases, Trotanoy, Domaine Leflaive Les Pucelles Puligny-Montrachet Premier Cru, Chave Hermitage, Tenuta dell'Ornellaia Masseto, Kistler Vineyards Hyde Vineyard Chardonnay, Dominus Estate, Bond Estate Pluribus, Marcassin Estate Chardonnay, Henschke Hill of Grace and Giaconda Estate Vineyard Chardonnay.
Kuala Lumpur – March 8-9
Dinner and a Master Class with a focus on the world's best Cabernet Sauvignon wines from California and possibly other areas. The Master Class will include wine from, Leoville Las Cases, Palmer, Montrose, Dominus Estate, Tenuta Dell'Ornellaia Ornellaia, Marchesi Antinori Tenuta Guado al Tasso, Penfolds Bin 707 and Wynn's John Riddoch Cabernet Sauvignon.
Singapore – March 13-16
Dinner and a Master Class with a focus on the best wines from Italy. The dinner will feature wine from: Gaja Sorì San Lorenzo, Romano dal Forno Amarone della Valpolicella, Tenuta Dell'Ornellaia Ornellaia, Quintarelli Amarone della Valpolicella Classico, Fontodi Flaccianello della Pieve, Pieropan Soave Classico Calvarino, Livio Felluga Terre Alte, Girolamo Russo Etna Rosso San Lorenzo, Tasca d'Almerita Regaleali Rosso del Conte, Elena Fucci Aglianico del Vulture Titolo, Mastroberardino Taurasi Radici Riserva, Casanova di Neri Brunello di Montalcino Cerretalto and Dom Perignon Champagne.
Robert Parker is also appearing at a charity dinner in the Napa Valley in February. Master Classes and events are being scheduled for North America and Europe at a later date.
Do you think Robert Parker on tour is a good thing for wine lovers and Robert Parker? Or, do you think this is too commmercial for the vision of The Wine Advocate. Feel free to post your views now.