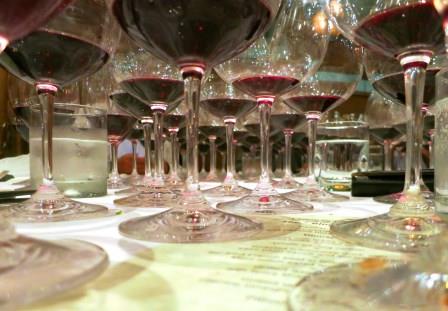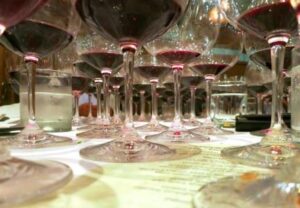 Putting together my list of the top ten wines I experienced over the past 12 months was an interesting exercise. Making a list of the top ten value wines tasted in 2013 was much more work. The extra effort needed was not because it was difficult to find wines that belong in list of the top ten value wines in 2013. In fact, the problem came from forcing myself to edit the amount of great value wines tasted this year down to just ten.
While high priced wines get much of the attention in the press, on websites and at wine tastings, most people who like wine cannot afford those trophy wines and will probably never taste them. And they will be just fine. It's much easier for tasters to buy the great wines. All you need is to focus on the big names that earn high scores, hopefully on my site, The Wine Cellar Insider. The truth is, a high score from Robert Parker is all many consumers need to buy the best wine. It takes much more work to locate the best value wines. I try writing about value wines as often as possible in The Wine Cellar Insider. tasting is focused on Bordeaux, Chateauneuf du Pape, The Rhone Valley and California. My list of top ten value wines tasted in 2013 is not meant to be a complete list of the world's greatest wine values. It is however a good look at some of the top value wines from the regions I taste from the most.
The following wines that made my list of the top ten value wines tasted in 2013 are not presented in any particular order. Each of these wines are all worth tasting and if you like them, they are worth purchasing by the case for different reasons.
2010 La Fleur Morange Mathilde "I keep posting tasting notes on the wines from Jean Francois Julien , La Fleur Morange so people can find out about the best value from St. Emilion today. From 50 year old vines, this concentrated, deep wine is filled with licorice, blackberries and earth. This is the most powerful vintage from the estate yet. Give it 2-3 years to let the wine soften and develop. This is a purchase by the case wine." 91 Pts
I cannot think of a year when this wine has not made my list of top ten value wines tasted. They are doing a remarkable job. The wine sells for about $20 and is worth buying by the case!
2010 Tronquoy Lalande St. Estephe – "Earth, charcoal, tobacco, oak and cassis scents lead to a round, fresh, black cherry and spice dominated wine that is drinking surprisingly well already, yet a few years of age should soften the tannins and add more complexity. One of the top values from St. Estephe. 92 Pts
This represents great value from the Medoc which is how it made the list of my top ten value wines tasted in 2013. The owners of the estate, that also own Chateau Montrose, have spared no expense in producing high quality wine at Tronquoy Lalande.
2010 Fourcas Borie Haut Medoc – "Fourcas Borie opens with cassis, spice and dark berry aromas. Round, filled with charm and pleasing to the wallet, this will be one of the top value wines from the Medoc in this expensive 2010 Bordeaux vintage." 90 Pts
Owned by Bruno Borie of Ducru Beaucaillou fame, Borie is out to create one of the great value wines in the Haut Medoc. So far, he is doing a great job. Because the amount of wine being made is quite large, it's easy to find.
2010 Clos Marsalette Pessac Leognan – "Smoke, burning leafs, earth and blackberry notes open to a fresh, cassis filled wine that remains one of the top values from Pessac Leognan."
Stephan Neipperg is not only one of the bright stars in St. Emilion, he is also making one of the top, affordable wines from Pessac Leognan.
2010 Poujeaux Moulis – "The perfume is filled with boysenberry, earth and mocha. In the mouth, the wine offers spicy, chocolate covered cassis, round textures and tannins to age." 92 Pts
Since Matthieu Cuvelier took over at Poujeaux with the help of Stephane Derenoncourt, things have never been better. It's really difficult to find a better wine from the Medoc for close to $30 these days.
2010 Fleur Cardinale St. Emilion – "The remarkable level of consistency displayed in the wines of Fleur Cardinale is also tough to beat. Packed with black and blue fruits, licorice, dark cherry jam, earth and chocolate, the wine is intense, dense and opulent in texture, finishing with layers of sweet, ripe, rich, fresh, polished fruits. 94 Pts
One cannot say enough good things about the work taking place at Fleur Cardinale these days by Florence and Dominick Decoster. Great style, character and the ability to age for a fair price is what earning a spot on the top ten value wines tasted in 2013 is all about.
2010 La Vieille Cure Fronsac – "Opaque in color, black licorice, dark chocolate, oak, jammy berries and sweet black cherry flavors are coupled with a big blast of concentrated, sweet jammy berries. This is the best wine produced by La Vieille Cure since the 2005." 92 Pts
Since 2000, this estate has been on fire! The wines are lush, sexy, forward and affordable. They are the poster child for what the top ten value wines tasted in 2013 is all about.
Bordeaux is not the only wine region producing great value wines. There are numerous, hard-working, winemakers all over the world. One of the true hotbeds of high quality value wine is the Southern Rhone. I could easily have produced a list of the top ten value wines from just Chateauneuf du Pape!
2010 Domaine Jean Deydier et Fils Les Clefs d'Or Les Craus Centenaires Chateauneuf du Pape – "The is deep in color, with fleshy textures, ripe and over ripe berries, earth and spice that delivers a juicy, fat, fresh, sweet finish. This sells for a more than fair price for a wine at this quality level." 94 Pts
From vines more than 100 years of age, this wine has it all and for a very fair price!
2010 Domaine de la Charbonniere Chateauneuf du Pape – "This wine remains one of the best values in Chateauneuf du Pape and one whiff and sip reminded me why. Filled with black pepper, black raspberry, kirsch and jam, this soft, lush, deep wine ends with layers of spicy, black raspberries." 91 Pts
Charbonniere has been on a hot streak since 1998. If you have not yet discovered their wine, there is no time like the present.
2010 Cuvee du Vatican Chateauneuf du Pape – "Earthy, forest floor, kirsch, animal and smoked meat aromas get you interested in the wine. Soft, round and chewy, the wine ends with ripe, black cherries. This is a screaming value!" 92 Pts
High quality, great character and affordable too! What are you waiting for?
2010 Domaine Giraud Tradition Chateauneuf du Pape – "Consulted by Philippe Cambie, this is one of the hottest new estates in Chateauneuf du Pape. Not only is this absolutely delicious, it sells for more than a fair price for a wine of this quality. Packed with sweet fresh, jammy berries, cherry liqueur, herbs and peppery, black raspberries, this beauty is already delivering the goods. 92 Pts"
I do not know where I've been for the past few years, because I was not aware of the level of wine coming from Domaine Giraud. It's on my radar and buy list now!
I know. My list of list of my top ten value wines tasted in 2013 goes to 11. But if it was OK for Spinal Tap, I am hoping it's OK for you as well. If you have any value wine tips, please post and let me know.