I have a Bordeaux Wine Confession to make about Croix St. Georges and dinner at Angelus in my St. Emilion Visit
Monday June 23
Located next to Le Pin and other prime real estate in Pomerol, since 2000 Croix St. Georges has been on fire! Close to 100% Merlot with a dollop of Cabernet Franc, if you're a lover of Pomerol this is a Bordeaux wine to buy.  Proprietor Jean-Philippe Janoueix also produced Confession, a hot new St. Emilion and one of the best value wines in Bordeaux, Croix Mouton.
Tasting at Pavie Macquin with Stephane Derenoncourt & dinner at Angelus
Over the past few years, one of the many highlights of my tasting experiences in Bordeaux I've been privileged to participate in is an depth look at many of the projects Stephane Derenencourt is involved with. 
Lunch with Nicolas Thienpont of Pavie Macquin/Larcis Ducasse, Stephane Derenencourt and Jeffrey Davies is always one the highlights of my Bordeaux trips. Lunch always starts with a double blind tasting for me. Great! I get another chance to show an owner I can get the wine wrong… Again! Keep in mind, the wine is served double blind to me. For a change I did a reasonable job stating without hesitation, it was a 2000 St. Emilion. As I did not step up and declare it as Pavie Macquin, according to the group, I scored 93 Pts. That is a much lower score than the wine I was busy tasting. On the bright side, as I correctly guessed the vintage and appellation, I was invited back.
00 Pavie Macquin has morphed into a decadent, sultry wine. The complex perfume is intoxicating. Deep, full bodied and concentrated. Pure silk, velvet and lush fruit cascade over your taste receptors as the wine flows from the glass into your mouth. This Bordeaux wine is filled with polished, ripe black fruit offering layers of opulent sensations that could get any wine curmudgeon to beg for more. Still young, over the last year or two, it has really come around and gotten even better! If you do not have this gem in your cellar, at today's prices, run, do not walk out and score some. Any hedonist needs this wine in their collection. 96 Pts
After lunch is when the fun, or should I say work starts. Sadly, I was unprepared to spend enough time with the array of wines presented to me. There were close to 100 bottles from 2006 & 2007 popped, waiting for me to taste. As I needed to be at another appointment in 2 hours, my time with each wine was brief. I was only to take a few scant notes and scribble down my favorite names from the day.
06 Pavie Macquin was supposed to be the first vintage for Nicolas Thienpoint declaring Pavie Macquin's much deserved upgrade in classification to Premier Cru status. But, recent court developments forced the owners to use the 1996 classification for the time being. The 06, with its deep color and mineral, plum, black raspberry nose accompanied by concentrated layers of young, black dense fruit will take some time in the cellar before releasing its charms. This is one of the stars of the vintage from St. Emilion and should be purchased before the final in bottle scores are released. To keep things in perspective, 06 Pavie Macquin is better than the 04, but, not at the level of the 98 or 00.
06 Larcis Ducasse offers hints of red and black fruits. Not as successful as Pavie Macquin, but, this well made 06 is worth taking a look at. It reminds me of a more tannic version of the 04.
The long, thoroughly enjoyable afternoon started with lunch and finished with a tasting of almost 100 different wines from both banks with Nicolas Thienpont of Pavie Macquin, Stephane Derenoncourt and Jeffrey Davies. One of the best things about this tasting is discovering new Bordeaux wines from up and coming vineyards I was not familiar with yet.  Le Thil was a new one for me.
06 Le Thil, a very well priced wine from Pessac. For the money, people should be all over this wine. The red and white are both promising and for the money, they are a steal! They should sell for about $16. 06 Le Thil is a much better wine than 05 Le Thil.
Jean-Philippe Janoueix, who owns and manages La Croix St. Georges in Pomerol, Confession in St. Emilion and Corix Mouton in Bordeaux, was gracious when he offered to taste with me complete verticals of his Pomerol and St. Emilion as well as several vintages of Croix Mouton. This was the first time Janoueix tasted complete verticals in over 2 years. I know how much of treat it was to be included. Since 1999, La Croix St. Georges has been on a tear. 2001 was the debut vintage Confession. Both wineries keep Jean-Philippe hopping. When you add Croix Mouton and the other properties he watches over, he's as busy as a one armed paper hanger. Or something like that. It's late. Cut me some slack.
Croix Mouton has n interesting history. The property formerly known as Mouton survived legal challenges from the more famous First Growth and came away unscathed. The legal battle was fought over the right to allow the tiny Bordeaux property to call itself Mouton. Eventually, a peaceful resolution allowed Janoueix to rename the property Croix Mouton. The Bordeaux Superieur with its Merlot dominated blend , the remainder culled from the other famous Bordeaux varietals is truly one of the best values in Bordeaux today selling for between $10 & $15 retail! And the best part is, with a large production, the wine is easy to find on release.
04 Croix Mouton, 80% Merlot, 20% Cabernet Franc is fully mature and should be enjoyed over the near future.
05 Croix Mouton has to be the best value from this legendary vintage! This very easy to like and drink as well as afford wine is a true crowd pleaser.
06 Croix Mouton is not at the level of the 05, but for the money, it will provide a lot easy drinking pleasure.
Confession comes from clay and sandy soil. The vineyard located near Libourne produces wine with an assemblage of approximately 55% Cabernet Franc and 45% Merlot with old vines averaging 60 years in age. Confession releases close to 1,000 cases a year.
01 Confession is showing signs of entering maturity with a tint of lightening around the edges. Herbs, spicy red fruits and a good palate presence end with a soft, elegant finish. 91 Pts
02 Confession is a nice wine that is already showing well. But, it lacks the richness of the latter vintages, 89 Pts
03 Confession sports a light color for a young wine like many 03's. But, don't let that fool you. The roasted, smoky flavors with herbs and black fruit is a fine wine of finesse and opulence. 93 Pts
04 Confession offers good ripeness and a fresh palate of plum and other black fruit flavors. Good texture and an elegant finish make this wine a pleasure to drink. I would probably enjoy this on the young side. 90 Pts
05 Confession is a whole new kettle of fish! This was the first vintage where Jean-Philippe Janoueix warmed the barrels before placing the wine in them to allow for a more gentle extraction with no shock to the grapes. This technique paid off as this is one stellar bottle of wine. Great color and a very rich palate combining concentration, elegance and aromatics with a lot of freshness. The wine ends with a long silky finish that really stays in your mouth. 95 Pts
06 Confession is cut from the same cloth as the sublime 05. But, it is lighter, less concentrated and a bit more tannic.
La Croix St. Georges comes from great terroir. It is located next door to Le Pin and shares the same, gravely, mineral laden, clay soil. And when I say next door, the vineyards abut Le Pin's vines. This 100% Merlot wine is the best deal in Pomerol today! The wine is hand crafted from start to finish. Its open top fermenters and unusual cigar shaped barrels which allow for more extensive lees contact produce stunning results. La Croix St. Georges is picked a few days later than Le Pin allowing for maximum ripeness. Janoueix also has some the lowest yields in Pomerol averaging close to 30 HL per HA. Having tasted both verticals, La Croix St. Georges ages at a slower pace than Confession.  This property is star of their rapidly increasing stable of wine. Due to its high quality and small production is an expensive area to buy wine from. Croix St. Georges is not only a great wine, it remains one of the best deals for high quality wine from Pomerol today.
99 Croix St. Georges is ready for current consumption. Chocolate covered plums kicks off the taste treat finishing with a rich, velvety display of ripe black fruit. The 99 really is in the perfect place for consumption. If you have this wine in your cellar, there is no reason to wait to enjoy its charms. 91 Pts
00 Croix St. Georges rocks! That should it all. But, for those wanting to know more details, this fabulous wine has aromatics of earthy plums. The full bodied, concentrated wine is mouth filling. Opulent layers of fruit flow over your palate finishing with sweet licorice, plums and ripe black fruit. You can drink this Bordeaux wine now, but a few more years are going to add complexity to this fabulous Pomerol. 95 Pts
01 Croix St. Georges is a very sexy wine that is already starting to show well. Great perfume with raspberry, cherry liqueur notes and a velvety finish. 93 Pts
02 Croix St. Georges is a nice wine, but a little short. 88 Pts
03 Croix St. Georges is a bit thin and like many Pomerol from 03 taste like it was made from cooked fruit. 87 Pts
04 Croix St. Georges with its jammy chocolate nose reminds me of a cross between 01 & 02. 90 Pts
05 Croix St. Georges might be even better than the sublime 00 for my palate! And that is saying something. Fresh, ripe, black raspberries and blackberries start the fireworks, But, the action kicks into high gear when the ripe, lush fruit pours over your taste receptors. Rich, lush, opulent, dense, concentrated and sexy. This stellar Pomerol will start strutting its considerable stuff starting in 2015 and should continue evolving for two decades. 95 Pts
06 Croix St. Georges is a more structured style of wine than the 05. The wine has a darker black fruit and licorice profile. Elegance and power with a long finish. This is a wine to buy before Parker releases his final in bottle scores as prices can only go higher. While my money is on the sublime 05, it will be fun comparing both wines in the years to come.
Dinner at Angelus is always a treat.  When traveling for a long time, it's get a little bit lonely. I miss my bed, dog, girlfriend and family. I cannot tell you how much it means to me to feel a part of an extended French family.  Petrus and Yquem, the familes pets welcome me as does the warmth of Corrine, the mother, Hubert, Coralie and Loic.
It is almost midnight and I am beat. It is a hot, sweltering night in St. Emilion. Dinner with the family was great as always. Corrine, another amazing chef always prepares ceps for me! Before dinner, Hubert took me to his new vineyard, Bellevue which is an amazing property. Parts of the vineyard are studded with ancient Roman ruins, not great for the terroir, but very cool!  Over dinner, I asked Hubert if he felt Angelus was a modern wine.  He said, "No. They are making wine today at Angelus like it was made in the 50's."
It was nice playing with Petrus, Cayanne and Yquem, the familes dogs and cats. Pauline Vauthier from Ausone was here as well. Drinking Angelus and Ausone in St. Emilion at Angelus. Life is good!!!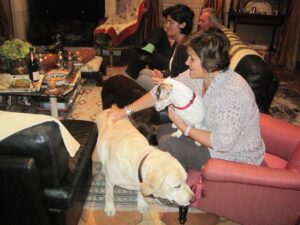 00 Angelus gets better every time I taste it. Silky, velvety tannins, rich, ripe, opulent fruit. Deep concentration and complexity that will keep the most jaded tasters interest. Still young, but, approachable, this should be mature about 2015 and offer stunning pleasure for another 20 or more years after that! 97 Pts