Grenache is the most important red wine
grape
for
Chateauneuf
du Pape.  While 13 red wine grapes are allowable by law in Chateauneuf du Pape, Grenache  is the undisputed king of the wine region. Almost 72% of the region is devoted  to Grenache, while its closest competitor,
Syrah
covers closer to 5%. However, Grenache is not just important to te
Rhone
valley. Grenache is one of the world's most popular grapes!
.
Grenache may have been transported from Spain, where it is known as  Grenacha. Grenache has been popular in the Southern Rhone since the 17th century  when it was used as a blending grape to give Burgundy wines additional body and  alcohol.
.
Grenache, with its think skin and tight clusters is perfect for the hot,  dry, sand and stone soils of Chateauneuf du Pape. The mistrial, which delivers  strong,  wind swept climates in Southern Rhone aids in the development of  the berries.  The grape enjoys a long growing season.  The extra time on the vine  is well spent. It allows the berry to develop high sugar levels. Grenache is one  of the more alcoholic grapes. It often reaches 15% alcohol by volume. But due to  its levels of sweet ripe fruits, when properly vinified, there is no sensation  of heat.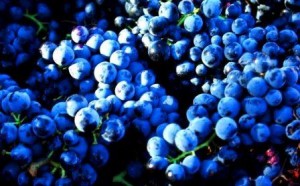 .
Grenache enjoys some of the oldest vines in Europe. In Chateauneuf du Pape,  numerous growers boast vines that are over 100 years old.  Those gnarled, old  vines produce extremely low, yielding fruit that which makes rich, concentrated  wines with true character.
.
The grape enjoys worldwide popularity in numerous growing areas. It grows well in Spain, Australia,  Languedoc-Roussillon and America.  Several wine makers use it as a stand alone variety. However, it is often blended with other  grapes, most notably, Syrah,
Mourvedre
, Carignan and Cinsault. While most Chateauneuf du Pape wines are produced from blends, there are some wineries that use 100% Grenache, while others feature as much as 90% or more Grenache in the blend.
.
Domaine la
Barroche
Pure, Domaine la Barroche Terroir,
Bonneau
Marie Beurrier, Bonneau Celestins,
Bosquet Des Papes
, La Glorie de Mon Grand Pere,
Chapoutier
Barbe
Rac, Chapoutier Croix de Bois Domaine de la
Charbonniere
Vieille Vignes,Clos Saint Jean
Sanctus
Sanctorum, Domaine Crista, Domaine
Ferrand
, Isabel Ferrando Colombis, Domaine de la
Janasse
Chaupin, Domaine de la
Mordoree
La Plume de Peintre, Domaine de
Marcoux
Vieille Vignes, Domaine
Pegau
da Capo, Chateau
Rayas
, Domaine de la Solitude CDP "Cornelia Constanza, Tardieu-Laurent Cuvee Speciale, Pierre
Usseglio
Mon Aieul, Pierre Usseglio Deux Freres, Raymond Usseglio Imperiale and
Vieille Julienne
Reserve are a few examples of Chateauneuf du Pape producers using an overwhelming portion of Grenache in their blend.
.
Grenache, due to its thin skin and pale color is the most popular grape used in the production of Rose' wines.  White versions of the fruit have been developed called Grenache
Blanc
. Grenache blanc is a popular blending grape in France that is also used in a myriad of wine producing regions in France and all over the world. There is also Grenache
Gris
, which is used for white wines as well.  Some vintners produce sweet  fortified wines using the grape varietal, due to its natural high alcohol and sugar levels.
.
As we mentioned earlier,  even though most wines from Chateauneuf du Pape are blends, Grenache remains the dominant varietal. With many Grenache based wines, tasters often experience flavors of kirsch, fresh black or white cherries, jammy strawberries, black raspberries, spice, black pepper, cherry griotte,  plums and fresh herbs. The texture ranges from elegant and silky to a more rustic expression depending on the soil, levels of ripeness and other choices made by the wine maker.