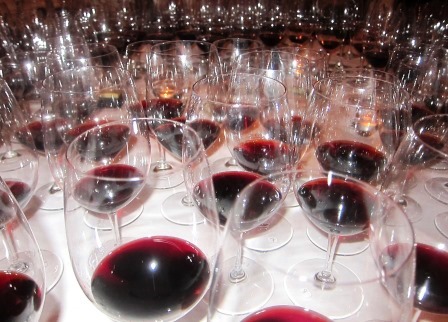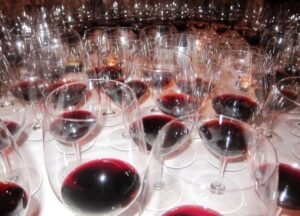 I am in Bordeaux at the moment tasting the 2015 vintage. There is a lot to like about the 2015 Bordeaux wines, but I'll cover that in detail as soon as I've finished tasting on both banks.
With luck, and as consumers we need to keep our fingers crossed, the wines will be priced at a point that excites the market to buy some of these beauties as futures too!
In Bordeaux during the En Primeur season, there is always a new topic at the chateaux accompanying each vintage. This year, it's the value of blind tasting barrel samples. But that is not all that's taking place.
The UGC, "The Union of Grands Cru Bordeaux" the largest Bordeaux trade group with about 135 members no longer allows blind tastings. That decision caused commotion among a small handful of wine writers and tasters.
From that small group, there are a few wine writers and publications, primarily The Wine Spectator taking the stance that if they are not allowed to taste blind, they will not review the wines with scores. That is one hell of a slippery slope.
I am all for blind tasting. It's a great exercise. It keeps the taster and his palate honest. But in my view, that is for finished wines in bottle.
Tasting current barrel samples blind, in Bordeaux, as well as in the Rhone Valley, California or other wine regions is fraught with issues, and a lack of a level playing field.
The lack of a level playing field needs to be noted. It is impossible to taste many of the top wines in Bordeaux blind. There are numerous properties in Bordeaux that have always refused to send samples of their wine to be tasted blind.
Their reasons range from samples at the chateaux are always in better condition. You can of course add to that the opportunity to ask questions about the growing season, harvest, blend, barrel aging program and addition of press wine, as well as if the wine is a finished sample or not.
On the other side of the coin, just being at the property can make the wines seem better to some tasters. And staying on the flip side of the coin, of course a top estate might not want to submit their wines in a blind tasting, because the results might not show their wine in the light they wish to be seen in. Fair is fair on both sides of the coin, so I get that as well.
There are other important points to consider. There are always some wines that show much better in barrel year after year, yet they do not develop the nuances as expected by the time the wine is bottled.
And of course the reverse is also true that some wines are difficult to taste in barrel, yet they almost always blossom showing better in bottle. There are showy wines that can be quite delicious in their exuberant youth, yet they really do not improve with age.
Other wines as you know get better and better with cellaring. When tasting a barrel sample, it's not how the wines are tasting on that day that counts.
The possibility of how the wine will age and develop and what the eventual consumer can expect when the wine is mature is the game. These are just some of the reasons I am personally not for blind tasting barrel samples.
This does not even begin to take into consideration the fact that there is no true level playing field! As I mentioned earlier, you cannot taste the First Growths at any place other than at their chateau.
There are numerous other top wineries that do not allow their samples to be tasted at other locations. Leoville Las Cases, Cos d'Estournel, Pontet Canet, Haut Bailly, Ducru Beaucaillou, La Mission Haut Brion, Palmer and other important Left Bank properties require you to taste at the chateau.
How can you have a fair result of a blind tasting of your peer group, if the entire peer group is not present?
It is not only the Medoc that demands tasters experience their wines solely at the property. In the Right Bank, several of the top Pomerol estates will not allow their wines to be tasted at other locations.
You must go to Petrus, Lafleur, Le Pin, Trotanoy, La Fleur Petrus, Hosanna and Certan de May. In St. Emilion, you have to taste at Cheval Blanc, Tertre Roteboeuf, Ausone, Pavie and Bel-Air Monange, as well as Chateau d'Yquem to name a few. Trust me, there are others and the list is growing.
While it is up to every taster to decide on their own their best method for tasting, scoring and rating wine, personally, I find the tactics of hostage results to be unfair to Bordeaux, winemakers and consumers.
I have a better solution. For those that want to taste and rate wine blind, offer to level the playing field on both sides of the equation. Why not say you are willing to blind taste all the wines with a few owners or winemakers present?
Provide your tasting notes and scores to the wineries immediately after the tasting and agree to publish the unedited results. That is a level playing field for both sides of the table and for the consumer.
For those reading that do not understand why I make this suggestion, the answer is simple. There have been many well-known tasters that did not agree with their own results tasting blind. It is also known that some of those writers retasted the wine non-blind and changed their results!
How is that an honest result of a blind tasting? Either you rely on your blind tasting results or you don't. You cannot play on both sides of the fence. It's a blind tasting or not. It's that simple.
Frankly, in my view, if a taster cannot set aside their label preferences when tasting a wine, they should reconsider how they look at the wines. It is not the method that yields the results. It's the taster that counts.
Your comments are more than welcome as I have many friends that agree and of course others that prefer tasting blind.