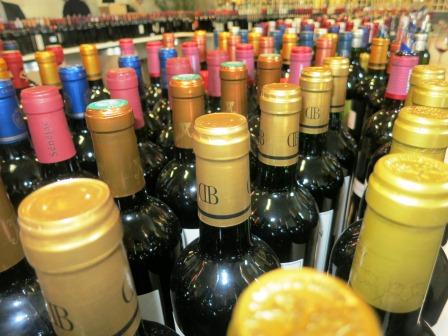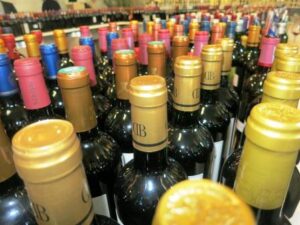 With the early and well deserved buzz that is taking place about the 2015 Bordeaux vintage, it's easy to overlook some very good wines that 2014 Bordeaux produced. I can see why for many reasons. From the 2015 wines I've tasted so far, there is a lot to like about the wines. 2015 Bordeaux are supple, ripe, fresh and display a great sense of purity in the fruit. They have density and balance. At the top estates, perhaps one could say as a matter of style, they are a blend of 2005, 2009 and 2010. I'm sure you are going to hear a lot more about that in the coming weeks as more people taste and write about the wines.
More than style is going to separate the 2015 from the 2014 Bordeaux vintage, the price. You can take that to the bank! Trust me on this, there is plenty of talk all over Bordeaux saying they know the wines must be priced well to sell En Primeur. And yes, it's possible that will take place. But just in case, if you are a fan of Cabernet Sauvignon driven wines of the Left Bank, there is a lot to like from the 2014 vintage, especially from the vineyards located in the Northern Medoc. And the prices for many of the best wines are reasonable.
Having tasted over 500 wines from 2014, Read Tasting Notes for all 2014 Bordeaux Wines I can safely say it's a mixed vintage. There are years when a comment like that is meaningless and other years when there is actually something there. In the northern Medoc, primarily St. Estephe and Pauillac, some very fine wines were produced. There are also successful wines from St. Julien and Margaux. The vintage was more difficult in Pessac Leognan and Pomerol and St. Emilion is mixed. However, there were a few nice wines from the Right Bank from estates with Cabernet Franc plantings.
Generally speaking, if you are a fan of the Cabernet Sauvignon Left Bank wines, there are several chateaux that are worth considering adding to your cellar. Again, without a doubt, 2015 is a much better year, but it's going to be a lot more money. So, if you're a savvy Bordeaux buyer looking for wines that blend quality with price, you can find wines to buy from 2014.
Based on barrel tasting the wines in April, 2015, these are the best wines from the vintage that are worth taking a look at. It should also be pointed out that while this article focuses on the top red wines from Bordeaux in 2014, the dry white Bordeaux wines from Pessac Leognan and the sweet, white wines from Sauternes were also very successful.
The top 2014 wines from the Left Bank
2014 Mouton Rothschild – Deep in color with a complex nose of graphite, plum, blackberry and tobacco, this wine is sure to lure you back for yet another sniff. before you get to the first sip. It is full-bodied, silky, fresh and packed with sweet cassis, caressing your palate with a rich velour, leaving a lasting impression of espresso, cocoa and black raspberries. This wine has less concentration than 2009 and 2010 vintages, yet it still leaves you with sweetness, vibrancy and length. Using 81% Cabernet Sauvignon, 16% Merlot and 3% Cabernet Franc, the wine reached 13.1% alcohol with a pH of 3.78. 95-97 Pts
2014 Cos d'Estournel – Intense in color with a showy nose and the already present tones of tobacco leaves, anise, earth and vine-ripened berries, this wine is luxurious on the palate, plump and concentrated with roasted espresso bean, cocoa, warm berries, spice and freshness to the ripe fruits in the finish. Produced from a blend of 65% Cabernet Sauvignon,33% Merlot and 2% Cabernet Franc, the wine reached 14.2% alcohol with a pH of 3.77. The wine is aging in 80% new, French oak barrels. After a rocky start with the difficult 2013 vintage, Aymeric de Gironde has clearly stepped up his game! 95-96 Pts
2014 Latour – Fleshy, ripe, concentrated and long, with refined tannins, lush textures, depth and layers of sweet, ripe, dense, juicy berries, the wine promises and delivers purity, length, richness and a serious, age worthy, vibrant character. If I can afford it when it comes up for sale, I'd buy it! Using 89.9% Cabernet Sauvignon, 9.2% Merlot, 0.6 Cabernet Franc and .03 Petit Verdot that reached 12.89% alcohol, the Grand Vin represented 33.9% of the production. 95-97 Pts
2014 Margaux – A valentine of dark chocolate and roses melded with the aromatics of licorice, blackberry and cocoa create a complex perfume. The wine is elegant with a refined character, supple tannins and a burst of fresh cassis, cherry and cocoa that builds on the palate. The most striking quality to this wine is the clarity of fruit in the finish. While this vintage lacks the weight and density found in vintages like 2009 and 2010, the length is quite similar. Produced from a blend of 90% Cabernet Sauvignon, 5% Merlot, 3% Cabernet Franc and 2% Petit Verdot, the wine reached 13.2% alcohol with a pH of 3.68. This represents 36% of the harvest. 95-97 Pts
2014 Haut-Brion- Deep ruby in color, sweet, fresh and concentrated with layers of lushly textured, sweet, red and black fruits, this wine is bolstered with smoke, tobacco and tar. Silky, smooth and concentrated with velvety tannins flowing with pure cassis, the freshness feels good on the palate and will only get better. The wine was made from a blend of 65.5% Merlot, 32.5% Cabernet Sauvignon and 2% Cabernet Franc. The wine reached 14.25% alcohol with a pH of 3.67. 94-96 Pts
2014 Palmer – Espresso bean, truffle, floral, plum and earthy scents pop quickly as your nose meets the glass. A polished and elegant debutante wrapped in a gown of velvety tannins, this wine is fresh, clean and pure leaving you with a sensuous drape of lingering fruits. This wine is the first fully biodynamic vintage for the chateau. Produced from a blend of 49% Cabernet Sauvignon, 45% Merlot and 6% Petit Verdot, the reached 13.5 alcohol with a pH of 3.6. It represents 55% of the harvest, which took place between September 22 and October 14. 94-95 Pts
2014 Montrose – Cavernous in color and succulently layered with summer boysenberries, there is a refined freshness and a luxurious, creamy, soft texture to this wine. The wine is powerful, tannic and carries the structure to age. A sweet, fruity finish envelops the senses and lingers nicely on the palate. Representing 47% of the production, the blend is from 61% Cabernet Sauvignon, 30% Merlot, 8% Cabernet Sauvignon and 1% Petit Verdot. The wine reached 13.7 alcohol. This is a wine that could turn out better after elevage, so stay tuned. Herve Berland is clearly on top of his game producing sublime wines at both his St. Estephe chateaux today. There is going to be a lot of talk and attention focused on Montrose this year, as the annual Fete de la Fleur takes place at the estate in June. 94-96 Pts
2014 Pichon Baron – Dark in color, with black, blue and cassis fruit complicated by smoke, earth and tobacco in the bouquet. This wine is rich, dense, long, silky and lush. There is a beautiful purity to the layers of ripe, sweet, fresh fruit and plush tannins. The finish builds and expands pleasantly in the mouth. This wine is probably better than the delightful 2003 and not far from the even more better 2005. Crafted from a blend of 80% Cabernet Sauvignon and 20% Merlot, the wine reached 13.3% alcohol with a pH of 3.7. The Grand Vin represents 45% of the harvest. 95-96 Pts.
2014 Ducru Beaucaillou- Deep, dark ruby with purple in its hue, this wine is brimming with smoke, espresso, blackberry, black cherry, licorice, earth, a whole spice box of aromatics and that's just the foreplay. The lush velour textured tannins, layers of dark berry liqueur and the lasting sensation of fresh, perfectly ripened fruit elevates this wine to the next level. This is the best wine of the appellation and once again, one of the top wines in the vintage. Produced from 90% Cabernet Sauvignon and 10% Merlot, the wine reached 13.5% alcohol with a pH of 3.81 and is aging in 100% new French oak barrels. 95-96 Pts
2014 Leoville Las Cases – With a deep, garnet hue, this full-bodied, concentrated, powerful wine starts off with cedar, earth and cassis. The firm, polished tannins leave your palate loitering about with spice and blackberry. This powerful, structured, bright, crunchy wine has a classic, fresh style. It's important to note that its ample tannins and classic demeanor will require over a decade—probably two— before it really begins to drink well. Produced from a blend of 79% Cabernet Sauvignon, 11% Cabernet Franc and 10% Merlot, the wine reached 13.8% alcohol with a pH of 3.49 and is now aging in 85% new French oak barrels. 95-96 Pts
2014 La Mission Haut-Brion – Fleshy, bright, exciting and sweet, this full-bodied, tannic, rich and structured wine delivers a multifaceted finish of cassis, tobacco and dark berry but demands at least a decade to rise to its riches. The wine was made from a blend of 62% Merlot and 38% Cabernet Sauvignon with a pH of 3.67. 94-95 Pts
2014 Smith Haut Lafitte – With a deep color and a spicy-fruit-cigar-box sensation, the black and red fruits really shine through. There is a plush character to the texture with newness and lift, a touch of oak and sweet, ripe, spicy berries in the finish. From a blend of 62% Cabernet Sauvignon, 39% Merlot, 6% Cabernet Franc and 2% Petit Verdot, the wine reached 13.7% alcohol with a pH of 3.7. 93-94 Pts
2014 Leoville Poyferre – Intense in hue with silky, bright tannins, this wine offers the palate an assortment of plump, ripe, dark-red skinned fruit and a long, lingering finish with distinctive depth, structure, balance and brightness in the end notes. Blending 60% Cabernet Sauvignon, 35% Merlot, 3% Cabernet Franc and 2% Petit Verdot, the wine reached 13.25% alcohol. 93-94 Pts
2014 Pontet Canet – Inky, dark in color with purple accents in its hue, this wine packs a punch with its full-bodied style. Surprisingly elegant for Pontet Canet , this wine is fresh with sweet, ripe fruits accented by chocolate and black cherry tones. The tannins are neat and refined, leaving you with the sensation of licorice, chocolate-infused cassis and black and blue fruits. 93-95 Pts
2014 Pichon Lalande – This is precisely what I'm looking for in a Pichon Lalande, silken and velvety tannins with a concentration and richness of ripe dark berries, chocolate and black cherries. This wine has length, polish, freshness and sensuous textures. A blend of 65% Cabernet Sauvignon, 22% Merlot, 7% Cabernet Franc and 6% Petit Verdot, the wine reached 13.2% alcohol, with a pH of 3.7 and was produced with 50% of the harvest. 93-95 Pts
2014 Calon-Segur – Fans of the older, strict-style wine previously produced at this estate might be scratching their heads but I loved it! It is a rich, dense, fat and well-dressed grande dame of a wine with layers of sweet, ripe, juicy black fruits, supple, polished tannins and outstanding concentration. The plum-filled finish is long and clean, fresh, round and sweet. Produced from a blend of 66% Cabernet Sauvignon, 19% Merlot, 13% Cabernet Franc and 2% Petit Verdot, the wine reached 13.8% alcohol with a pH of 3.70. Laurent Dufau has clearly upped the ante in the competition for the best wine in the appellation and the best is yet to come! 93-95 Pts