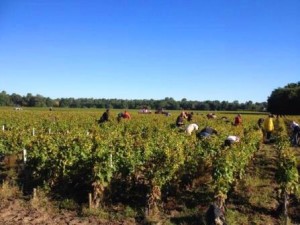 2013 Bordeaux Harvest and Vintage Report
If the old adage about everything coming in three's is true, 2014 Bordeaux is set to be the next great vintage. Even though it's still early, based on the 2013 Bordeaux growing season, harvest and condition of the grapes, 2013 Bordeaux is not going to be considered one of the great years.
Since the 1980's Bordeaux buyers have become spoiled with vintage after vintage of good to great years. Historically, that has never been the case. A quick reminder about previous decades illustrates that fact. Remember the 70's? What about the 60's with 63, 65, 67, 68, 69… Or the 50's, 51, 52, 54, 56, 56, 57, 58. The run of bad of vintages from the 30's and 40's remains unequaled. With the exception of 1934, which was good but not great, have you taste 1930, 31, 32, 33, 35, 36, 37, 38, 39, 40, 41, 42, 43 or 1944 lately?
Running later than expected, the 2013 Bordeaux harvest was still a few weeks away. But that did not stop the enthusiastic crowd celebrating the 2013 Bordeaux vintage at Domaine de Chevalier, even though it drenched The Ban de Vendages celebration on September 14.
As bad as 2013 looks, there will be producers with the time, money, drive, technology and terroir that can make fine wine from the difficult 2013 Bordeaux vintage. If we were back in the 1990's, a year like this would be a complete washout, similar to what took place in 1991 or 1992. But that will not be the case today, as the top estates will produce a small quantity of fine wine.
2013 Bordeaux did not get off to a good start. 2013 Bordeaux could be one of the coldest, wet, starts to a growing season in more than 40 years. The only possible silver lining was that the intense cold held back potential diseases in the vines. By this time, growers were already aware of potential problems and low yields. In its first harvest report of 2013, crop yields were expected to be under 46.6 hectoliters per hectares, which was the smallest since the early 1970s. Bordeaux in many years produces close to 5.5 million hectoliters of red wine. In 2013, the amount of red Bordeaux wine being produced will be closer to 3.9 million hectoliters. With such low volume, it will be interesting to watch the marketplace. The chateaux will have very little wine to sell. It is not just the total volume that was reduced. The amount of wine placed into second wines will much higher than usual, leaving the producers very little Grand Vin to sell. They will want to maximize profits. Hopefully tempering prices will be the expected moderate consumer interest before the wines are in bottle. At the end of the day, it's going to be harder to sell the 2013 Bordeaux wines than it was to produce them, unless the wines are priced correcty.
It was not just Bordeaux that was suffering due to the cold February and March weather, most of France was experiencing cold, wet weather along with the risk of mildew and coulure. Coulure is the term for a poor fruit set that does not allow for the smaller grapes to develop. Instead, they normally fall off after flowering takes place.
April was up and down. Bud break was later. The cold, wet weather returned in May with a vengence. May was wet. Normally, temperatures were on average close to 16.5 degrees Celsius at that time of year. To give you an idea on the cold spell Bordeaux was experiencing, temperatures were closer to 12 degrees Celsius. The cold damp weather along with a lack of sun continued slowing down the growth cycle pushing the flowering and the harvest date, further and further back. The only thing growing was the vines and leaves. Vineyard managers were having a hard time due to the low yields from a lack of grapes.
Conditions were so bad at one point that some estates applied for the rights to use helicopters to spray the vines with a copper based treatments to cut down on mildew coupled with sulphur based treatments to fight against oidium. Bordeaux was in need of warm, dry, sunny weather by June as the harvest was already looking to be at least 3 weeks late by this point. The storm of June 8 could not have come at a worse time.
Flowering began at most estates by the second week of June. However, many vineyards were beset by a poor fruit set and millerandage due to the difficult June weather. Vinexpo, the celebration of all things wine, especially all things Bordeaux saw cold, wet weather on a continuous basis. The closing ceremony for Vinexpo. Fete de la Fleur saw a down pour so fierce, guests were certain Noah was building an ark!
July saw most growers feverishly green harvesting, hoping that the vineyards would dry out. But that was not what took place. First, heat spikes in July, coupled with excess moisture brought more fears of rot in the vines. However, the war, sunny weather put a short lived smile on their face.
July 26 saw a massive storm slam into Bordeaux which left no one smiling. It was the worst storm to hit the Medoc since 1999. A massive amount of rain measuring close to 2 ½ inches flooded the vineyards in less than an hour. That torrential storm was accompanied by gale force winds that uprooted trees throughout the Medoc. The winds were fierce, much of the region experienced power outages throughout the weekend. Damage to the Left Bank could be seen as debris was scattered throughout the area from as far south as Margaux, where the tree in front of Chateau Palmer was uprooted all the way north to Pauillac, where the famous flag poles of Chateau Pontet Canet used to fly. Similar damage was also reported in Chateau Lafite Rothschild.
Bordeaux could not get a break. A few days later, Bordeaux experienced a massive hail storm during the night of August 2. Parts of Cotes de Castillon suffered severe damage. Entre Deux Mers was destroyed! The hail storm of 2013 was said to be the equal of the last, devastating hail storm that slammed into the region in May, 2009.
By mid-August, things were looking better. After one of the wettest, coldest, starts to a growing season in recent memory, Bordeaux, which enjoyed close to 3 weeks of uninterrupted, warmth and sunshine with temperatures close to 85 degrees. There was talk that the vintage was once again saved by an Indian Summer. In fact, it was the warm, dry weather enjoyed in July and August that replaced what could have been unripe, green flavors with qualities of red fruits.
When the end of August arrived, growers were hoping for the best, but preparing for the worst. The only thing everyone knew for sure at this point was the harvest would be small. Yields this small had not been seen in Bordeaux for decades. Out of the major grape varieties, Merlot suffered the most.
Intense sorting was needed and once again, for growers that could afford them, optical sorting machines were seen all over Bordeaux. In fact, so many chateaux placed orders to rent optical sorters, they were quickly sold out.
By the middle of September, vineyard managers were nervous, but happy as the warm weather returned. With fingers crossed and a lot of knocking on oak barrels for luck, everyone was hoping these conditions would continue and finally, their grapes would ripen. While hope was busy springing eternal, the good weather refused to cooperate and another storm slammed into Bordeaux at the end of September. With so much water everywhere, the fear of rot was rampant and growers made plans to pick earlier than anticipated.
The prevailing wisdom earlier in the season was that picking would probably commence about October 8. That was no longer a possibility for most estates. Bordeaux began harvesting their red wines grapes in earnest by September 27. In the Left Bank, as is usually the case, the Merlot was picked first. Growers began picking Cabernet Sauvignon by October 4. Finally, Bacchus gave Bordeaux a reprieve because conditions improved after the early October rains helping the Cabernet Sauvignon as much as it could. However, while favorable, those conditions were far too little, far too late. Early reports from growers stated the Merlot had difficulty ripening and bunches were packed with berries of differing colors and levels of ripeness.
The Right Bank, especially Pomerol almost always picks before the Medoc. But that is not what took place with 2013 Bordeaux. Due to potential for botrytis, at times, it seemed like everyone from everywhere was busy picking at the same time. The situation becomes even more interesting when you consider that some chateaux in Sauternes were starting the pick the first of their fruit as well!
Of course it's far too early to know what the wines are going to be like. But we can make a few reasonable guesses. The top estate with the funding and the will to make the best wine possible, will make the best wines. While that might seem obvious, 20 years ago, that was not the case. Look at years like 1991 and 1992 for example. Conditions were more difficult in 2013 than either of those two years, yet 2013 will turn out better.
White Bordeaux wine seems to have been successful. As is often the case when the vintage is moderate to poor for red Bordeaux wine, Sauternes and Barsac has a track record for making good wine. Interestingly, with 2013 Bordeaux, some producers in Sauternes were picking their grapes affected by noble rot at the same time estates with harvesting in the Medoc. That is almost unheard of! With so much botrytis in the vineyards, 2013 should be a strong vintage for Sauternes and other sweet, white Bordeaux wine producing appellations and communes in Bordeaux.
Sadly, two incidents dramatically lowered yields for two estates that was not caused by nature. In St. Julien while Leoville Poyferre was burning trash consisting of plant material, flames accidentally spread, setting fire to 6 hectares of their neighbor Leoville Las Cases. The accidental blaze was caused by flamable contstruction material that was placed on the property by unknown parties and was not in anyway caused by Leoville Poyferre. The remaining grapes from the sector that were not damaged by smoke taint from the fire will be vinified separately from the estates other wines. In Sauternes, thieves stole .7 hectares of grapes from Chateau Suau. The crime took place in the middle of the night and due to the fact that the grapes were removed perfectly, it is thought that the crime was committed by a producer or grower that knew what they were doing.
Yields will be low for 2013 Bordeaux wine. There will be much less wine in 2013 than Bordeaux has experienced for decades. Many chateaux will have at least 25% less wine to offer. The bigger issue is that yields for Merlot were miniscule in the Left Bank. The wines will be dominated by Cabernet Sauvignon. In a vintage like 1996, which was also dominated by Cabernet Sauvignon, that is not a bad thing, because the fruit and the tannins were ripe. In 2013, that is not the case because the Cabernet Sauvignon did not in most cases achieve ample levels of ripeness.
Some producers will need to chaptalize with 2013 Bordeaux. That is not a bad thing. It was quite common a generation or so ago. But after an amazing string of great vintages, wine makers are not used to it. Still, alcohol levels should be quite low, especially when compared to vintages like 2009 and 2010.
2013 Bordeaux will be difficult to taste in April due to the fact that it was a late harvest and both the tannins and fruit did not achieve ripeness.
Prior to 2005, off vintages and difficult years of Bordeaux found a market due to low prices. The wines were best enjoyed young, allowing consumers to drink and remain faithful to Bordeaux wine, while waiting for their 2009 and 2010 to mature. I realize it costs more money for the chateaux to produce 2013 Bordeaux than it does vintages like 2009 and 2010. Plus there is a lot less wine to offer. However, to sell the 2013 Bordeaux vintage through to consumers, prices will need to be low enough to excite the market.
It's still far too early to know the true quality of the 2013 Bordeaux wines. It's also precipitous to know what the prices will be for 2013 Bordeaux as well. However, prices will need to be lower than we ahve seen in recent previous vintages to entice consumers enough to purchase the wines, especially as futures. I hope Bordeaux listens to what are consumers are saying and prices the 2013 Bordeaux wines based on current market conditions.