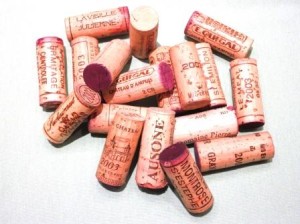 "I think I need a drink… Almost everybody does only they don't know it."
Charles Bukowski was not thinking about wine when he wrote that. But I was thinking about wine when I read it. Which was a good thing as another night with 7 Blind Men was rapidly approaching. I've been remiss in not recounting any of the recent tasting's my group has experienced over the past several months. In fact, tonight we have another 7 Blind Men dinner. It will be especially interesting to see what turns up. I really should keep up more often as this year has been filled with one great wine tasting after another. Since the last article, 7 Blind Men has expanded to 8 members. But being traditionalists in the loosest possible translation of the term, we are keeping the original title.
With 7 Blind Men, you never know what's going to happen. All wines are tasted double blind. The themes vary, depending on the whim of the host. However, this dinner as you can see is tightly focused on what could be the most controversial vintage in recent history, 2003. During the year, I have managed to taste most of the important 2003 Bordeaux wines from the Medoc and the Right Bank, as well as Cote Rotie, Hermitage and Chateauneuf du Pape. If you are interested in background on the 2003 Bordeaux vintage: 2003 Bordeaux Vintage and Harvest Report Over the next week or two, I will add over 100 new, tasting notes from the 2003 Bordeaux vintage to the site.
With wines from the 2003 vintage, quality, freshness and ageability varies from property to property. I was shocked by how approachable and frankly, mature some of the wines showed. I was thrilled by a fraction of the wines that were supposed to be stunning. At the top end of the score range, as you can see from my tasting notes, comments and ratings, the wines offer a hedonistic, exotic, sensual tasting experience. On the other side off the coin, some of these wines require early drinking. 2003 Bordeaux clearly has more chills than thrills. But at their best, the wine can be stunning, hedonistic, tasting experiences.
The night started off with 2003 Dom Perignon and moved on from there to 2003 Cote Rotie, which will be for some tasters, Cote Rotie at its best.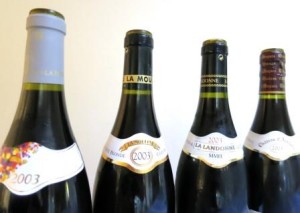 Flight #1 2003 Cote Rotie
2003 Guigal La Mouline – Picture flowers, kirsch, smoke, caramel, bacon fat and spice over a mound of truffle and you get the idea of the perfume. This is an exotic sex machine of a wine. The texture pairs decadence with opulence, velvet and silk. Did I mention sex yet? The purity of the cherry fruits, the length, persistence and energy make this one of the great wines of all time. 100 Pts.
2003 Guigal La Turque – An intense nose of spicy blackberry, plum liqueur, smoke, bacon fat, floral and stone focus your attention on the wine. Far too young. Built to age, the tannins are ripe, finesse in style, yet firm, the finish is bright, fresh and long. 99 Pts
2003 Guigal La Landonne – Tight as a… OK, I'll say drum. With coaxing, crushed stone, blackberry, flowers, herbs, forest floor, bay leaf and herb scents, this is the most powerful of the trio. The wine coats every nook and cranny of your palate with voluptuous layers of fat, dense, rich, dark, mineral driven fruits. Deep and concentrated, this is intensity matched with purity and power. Masculine, yet graceful, this stunning wine should last longer than most people reading this note. 100 Pts
2003 Guigal Ampuis – Kirsch, bacon fat, caramel and truffle notes lead to a sweet, voluptuous, ready to drink wine with opulent textures on the palate. The finish takes olive tapenade and pairs it with the right amount of sweet, fresh cherries. There is a hint of dust in the tannins. Like many 2003 wines, drink now, or hold it for further aging. 94 Pts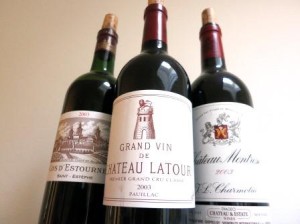 Flight #2. 2003 Bordeaux from the northern Medoc.
2003 Latour – I have had several mixed experiences with 2003 Latour over the past 10 months. Tasted 4 times, the wine has ranged from dry, to opulently stunning. Each tasting has been double blind, with one exception of being single blind. The 4 bottles have all come from different cellars and one bottle was tasted at the chateau. Sadly, this bottle was corked. If you own the wine, the best bottles have truly been sublime, even if it is reminiscent of Russian Roulette.
2003 Montrose – Tobacco, cedar chest, cassis, forest floor, espresso and cigar box aromas make their way to the perfume. On the palate, the wine is all about power matched with grace and elegance. Long and intense, with sweet, roasted berries, slightly dusty tannins and cassis in the finish. Drink this now, or age it for years. 99 Pts
2003 Cos d'Estournel – Powerful and intense, with ripe dark berries, oak, cassis, leaf and tobacco, the wine is long, fresh, rich and mouth filling. I'd give this a few more years for the tannins to soften and allow more of the lush, rich exotic quality to shine through. 97 Pts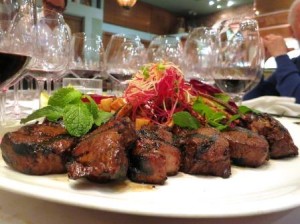 Flight #3 2003 Hermitage
2003 Chapoutier Pavillon – Inky in color, espresso bean, roasted, jammy dark berries and black cherry liqueur notes create the perfume. The wine is incredibly dense, yet balanced, rich and packed with flavor. There is a very ripe and over ripe, thick jammy component that some tasters are not going to like as much as others. Tannic, young and full bodied, this needs another decade or two, for the oak to integrate, the jam to dissipate and for the complexities to emerge. 95 Pts
2003 Chapoutier Le Meal – Spicy, blackberry liqueur, cedar chest and olive tapenade notes combine with intense flavors, crushed stone and a wall of tannin. This will need at least 10, and probably closer to 15 more years to come together. There is a regal quality to the fruit and tannins that is sublime. But wine will require patience. 96 Pts
2003 Chapoutier Ermite – Black raspberry puree, wet forest floor, stone, floral notes and fresh herbs permeate the aromatics. Intense minerality, sweet, ripe black cherries, lush, dense, powerful and tannic. Tthe fruit shows a beautiful sense of purity. The tannins are ripe. You'll find waves of each as the wine fills your palate. Thick, rich, amazingly concentrated and intense. The wine builds and expands with each taste. 100 Pts
2003 Guigal Ex Voto tasted a few weeks later ran the table. It was stunning and blew all the other 2003 Hermitage wines away, including Chave!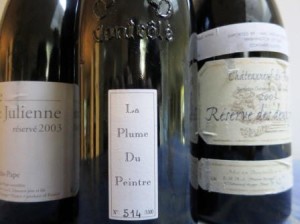 Flight #4 2003 Chateauneuf du Pape
2003 Mordoree Plume de Peintre – Blackberry liqueur, incense, blue fruit, toast and the essence of kirsch create the nose. The wine paints your palate with flavor and intensity. The finish must last at least 60 seconds with its intensity and purity of fruit. If the knobs go to 11, this stunning wine deserves more than 100 Pts.
2003 Usseglio Deux Freres – Garrigue, spice box, licorice, kirsch notes, with sweet ripe, pure, polished, dark red berries, Long, and intense, there is no touch of heat or jammy sensations in the seamingly, endless finish. 98 Pts
2003 Vieille Julienne Reserve – Intense kirsch, garrigue, earth and spice notes create the intoxicating aromatic palate. Concentrated, long, deep and intense, with silky tannins and no sensation of heat, this is great bottle of Chateauneuf du Pape. 97 Pts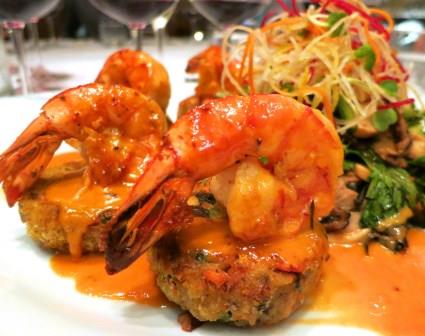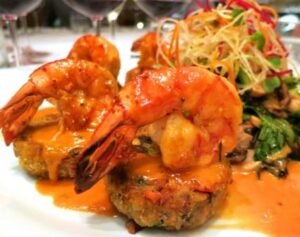 Flight #5 2003 St. Emilion
2003 Ausone – Showing some signs of aging in the color, the wine pops with stone, truffle, flowers, licorice, cassis and black raspberry scents. Rich, deep, concentrated, lush and pure, the finish is long, intense and focused, with sensations of minerality. Power, purity and finesse. Based on the track for againg found in Ausone, this will only get better with time. Now, if only I could afford it! 98 Pts
2003 Pavie – Crushed stone, fennel, smoke, caramel and black cherry liqueur. The mineral essence is starting to show through on the palate and in the nose. Packed with layers of ripe, sweet berries, spice and earth, this is fat, lush and mouth filling with good intensity of flavor. 97 Pts
2003 Bellevue Mondotte – Smoke, caramel, coffee bean, blackberry liqueur, flowers, earth and tobacco open the perfume. This is so packed with fruit, tasters need to decide if they should eat it or drink it. The finish must last for more than 60 seconds with its endless array of dense layers of plum, blackberry and cassis. 99 Pts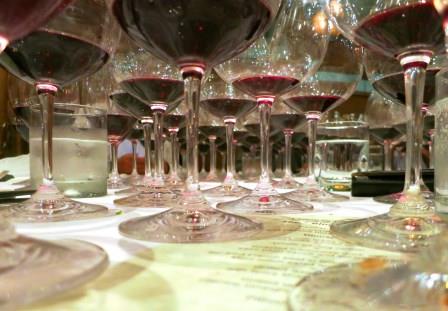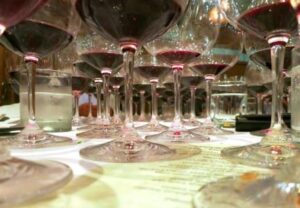 Flight #6 2003 Sauternes
2003 d'Yquem is a fun wine to taste. It's absolutely delicious! It's spicy, thick, sweet, lush, fat and opulet in character with its layers of over ripe, honey drenched, juicy, pineapple, apricot, tropical fruits, vanilla and nut filled character. Not as complex as the best vintages of Chateau d'Yquem, and not quite as fresh, this is still a stunning sweet, white Bordeaux wine. And it sells for a very fair price for d'Yquem these days. Drink it now, or age it for decades. 95 Pts