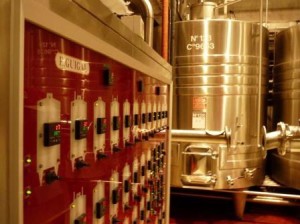 Learn everything about Guigal, Hermitage, and Ex Voto with wine tasting notes, wine, and food pairing tips, best vintages, a history of the property, and information on the vineyards and winemaking. If you want to read about other important wineries and winemakers from the Rhone valley: Links to all Rhone Valley Wine Producer Profiles
Guigal Hermitage Ex Voto History, Overview
Guigal is the most famous name in the Rhone valley. They produce great wines from a myriad of appellations all over the Rhone valley.
Aside from Hermitage Guigal is famous for making great wine in Cote Rotie, Condrieu. St. Joseph, Crozes Hermitage. Chateauneuf du Pape, Gigondas, Tavel and Cotes du Rhone.
Their top Cote Rotie wines are the quality benchmark for the appellation. Starting with 2001, Guigal is striving to lay a claim that their top Hermitage wine, Guigal Ex Voto, is the benchmark wine for the Hermitage appellation as well. Guigal Ex Voto made its first vintage in 2001.
Guigal is the leading negociant for the Rhone valley. In Cote Rotie, Guigal vinifies an astonishing 40% of all wine produced in the Northern Rhone Valley! Amazingly, all this was accomplished in less than 60 years.
This is a major accomplishment when you consider that most of the major European wine dynasties got their start in the 1800s, or earlier! What they have done with Guigal Ex Voto in under a decade is even more incredible.
Eitenne Guigal got his start in the St. Etienne area when he took a job with Vidal Fleury. After 15 years at the firm he left in 1946 and formed Ets. Guigal. Ets is the abbreviation for Establissements.
Then in 1984, Guigal purchased the firm that gave him his start, Vidal Fleury. Etienne passed away in 1988 at the age of 79. Marcel Guigal was managing the properties by that time. Philippe, the only son of Marcel was born in 1975.
The company continued adding to their Hermitage holdings in 2001 with the purchase of vineyards that belonged to Jean-Louis Grippa, and more importantly, those of Domaine Vallouit.
Those purchases allowed Guigal to finally enter the competition for producing the finest wine from hermitage with Ex Voto. Guigal Ex Voto takes its name from the Latin phrase, "In consequence of a wish." The wine is only produced in the best years. Production is limited to under 800 cases per vintage.
Guigal Ex Voto Hermitage Vineyards, Wines, Winemaking
Guigal Ex Voto is produced from about 2.2 hectares of vines. There are grapes cultivated in several different lieux-dits: Bessards with 0.65 hectares, Greffieux with 0.65 Hectares, Murets
with 0.45 Hectares and Hermite with 0.45 hectares.
The terroir varies as you might expect, but much of it is planted on the steep, granite hillside soils although you can also find rocks, stones with some clay and sand in the soil. On average the vines are more than 35 years of age.
The best vintages of Guigal Ex Voto are: 2022, 2021, 2020, 2019, 2018, 2017, 2016, 2015, 2012, 2010, 2009, 2007, 2005, 2003 and 2001.
To produce the wine, Guigal Ex Voto rouge receives some of the same deluxe treatment utilized in Cote Rotie. Guigal Ex Voto is aged in 100% new, French oak barrels for 30-36 months before bottling.
Over the years, Guigal has decided to reduce the amount of time the wine spends in the barrel, hoping to add more freshness and less of an oak influence to the wine.
Guigal Ex Voto Rouge is not made every year. The wine, which is meant to compete with the best wines in the appellation is only produced in the top vintages.
Guigal also continues to produce a standard red Hermitage wine, which they have made for decades. Not much wine is made as the production of Guigal Ex Voto is close to 600 cases, when the wine is produced.
The white wine grapes used to produce Guigal Ex Voto Blanc are planted on Murets with 1.6 hectares and .02 hectares are found in another lieu-dit. The white wine grapes are planted to 90% Marsanne and 10% Roussanne.
The terroir is rocks, small stones, clay, sand, and limestone soils. The vines are old, ranging in age from 50 to 90 years of age. Guigal Ex Voto Blanc is produced from a blend of 90% Marsanne and 10% Roussanne, the same as the vineyard planting.
The white wine is aged in 100% new, French oak barrels. Guigal also produces a standard Hermitage white wine. The production hovers at just over 500 cases of wine.
Guigal Ex Voto rouge is a stunning wine. Polished, rich, soft, round, and deep, this mineral-driven wine is filled with layers of dense ripe, black fruit, spice, earth, and stone. The 2003 Guigal Hermitage Ex Voto tasted recently was mind-blowing!
When to Drink Domaine Guigal Ex Voto and Hermitage, Anticipated Maturity, Decanting Time
Guigal Ex Voto Hermitage when young, should be decanted at least 3-4 hours, give or take, allowing the wines to soften and open their perfume. Older vintages might need very little decanting, just enough to remove the sediment.
Guigal Ex Voto Hermitage is usually better with 10-12 years of cellaring and should be at its best between 12-35 years of age.
Serving Domaine Guigal Ex Voto and Hermitage with Wine, Food, Pairing Tips
Guigal Hermitage is best serve
d at 15.5 degrees Celsius, 60 degrees Fahrenheit. The cool, almost cellar temperature gives the wine more freshness and lift.
Guigal Hermitage is best served with all types of classic meat dishes, veal, pork, beef, lamb, duck, game, roast chicken, roasted, braised, and grilled dishes. Guigal Hermitage is also good with Asian dishes, hearty fish courses like tuna, mushrooms, and pasta.
The white wine of Guigal Hermitage is best served with a myriad of different seafood dishes, shellfish, crab, lobster, sushi, sashimi, chicken, pork, and veal, as well as Asian cuisine.
In addition to Ex Voto, Guigal produces a standard red Hermitage, from vines that are about 30 years of age, that is aged in 50% new, oak barrels which is a lot less money and much easier to find than the Ex Voto as the production for the red Guigal Hermitage averages 7,000 cases per year.
The standard Guigal Hermitage Blanc has blended from 95% Marsanne, 5% Roussanne and is aged in one-year-old barrels for 24 months before bottling. The annual production is close to 2,000 cases for each vintage.
E. Guigal Wine Tasting Notes
123 Vintages 1,535,567 Views Sort by Vintage-Rating
2021
E. Guigal La Doriane (Condrieu)

The big, fat, rich, juicy, fleshy, round blast of fruit hits all the right notes. Bright, opulent, crisp, and long, the finish offers great staying power with touches of vanilla to round out all the white peaches, flowers, tropical fruits, and spicy nuances. Sadly, there is not much wine this year as Guigal lost 60% of the vintage due to the frost. Drink from 2023-2030.

2,618 Views

Tasted

Sep 26, 2022

2021
E. Guigal (Condrieu)

Sadly, there is not much wine this year as Guigal lost 60% of the vintage due to the frost. Apricots, pineapples, and honeysuckle own the nose. On the palate, the wine is rich, round, fresh, sweet, fruity, and ready to go on release. Drink from 2022-2025.

1,473 Views

Tasted

Sep 26, 2022

2020
E. Guigal Lieu-Dit Blanc (St. Joseph)

A minor touch of vanilla and spice adds nuance to the fresh citrus on the nose. Bright, fresh, and crisp with a nice staying power in the finish that has you going back for another sniff and sip. Drink from 2023-2027.

1,742 Views

Tasted

Oct 4, 2022

2020
E. Guigal Blanc (St. Joseph)

Crushed stone and leafy herbs pop in the nose along with citrus and melons to add complications. Soft, round, and vibrant with a salty edge on the fruit that remains with you, due to all the freshness in the wine. Drink from 2023-2027.

1,238 Views

Tasted

Oct 4, 2022

2020
E. Guigal Blanc (Châteauneuf-du-Pape)

Honeydew melon and white flowers come to the from of the perfume easily. Round, rich and balanced with freshness and yellow citrus, this should be delicious on release. Drink from 2023-2027.

777 Views

Tasted

Jan 27, 2023

2019
E. Guigal La Landonne (Côte-Rôtie)

Inky dark in color, the wine is equally dark in its fruit profile on the nose and palate. Full-bodied, intense, powerful, balanced, refined, and stately, there is an aristocratic edge to the structure here. The intensity is off the hook. The wall of fruit is well-defined, fresh, and vibrant. The finish builds while coating your palate with its layers of deep, black, smoky fruits, roasted espresso, spice and leafy herbs. Drink from 2033-2060.

2,955 Views

Tasted

Oct 10, 2022

2019
E. Guigal La Turque (Côte-Rôtie)

Dark in color, the wine opens with its spice-edged, red fruits, smoke, herbs, and oceanic influence on the nose. It takes only the initial sip to gain an understanding of this wine's greatness. Full-bodied, powerful, intense, balanced, and lively, on the palate, you feel the weight and sense the energy as its layers of fruit coat your palate and linger. The wine holds your focus for over 60 seconds. This is clearly a wow vintage for Guigal La Turque. The wine blends 7% Viognier along with 93% Syrah. Drink from 2032-2055.

2,544 Views

Tasted

Oct 10, 2022

2019
E. Guigal La Mouline (Côte-Rôtie)

Violets, espresso, black and red plums, smoke, and dark red berries permeate the nose. On the palate, the wine quickly asserts its opulent nature. The layers of exotically textured, silky, elegant, and refined fruits with all their purity stays with you for close to 60 seconds in the exotic, sensual finish. The wine blends 89% Syrah with 11% Viognier. Philippe Guigal thinks this reminds him of the 1988. Drink from 2030-2055.

2,460 Views

Tasted

Oct 10, 2022

2019
E. Guigal Ermitage Ex-Voto (Hermitage)

Smoke, licorice, coffee bean, and dark red fruits come forward with little effort. Juicy, soft, polished, and fresh, with a judicious, concentrated, powerful blast of ripe peppery red fruits and a touch of salt in the finish make this quite an appealing wine. Drink from 2026-2050.

1,582 Views

Tasted

Oct 6, 2022

2019
E. Guigal Ermitage Blanc Ex-Voto (Hermitage)

Honeysuckle, smoke, gunpowder, flowers, tropical fruit, and citrus crowd into the nose. On the palate, the wine is full, rich, deep, and complex with layers of ripe, yellow citrus, crushed rocks, white pepper, and Indian spice. Even though this was aged in 100% new, French oak, all of the wood is completely integrated into the wine. Give these a few years in the bottle before pulling a cork. Drink from 2025-2040..

1,557 Views

Tasted

Oct 6, 2022

2019
E. Guigal (St. Joseph)

Fresh, round, lush, ripe, and forward, it is already easy to take notice of, and enjoy all the dark red fruits, smoke, espresso, herbs, olives, and dash of salt. Drink from 2022-2034.

2,222 Views

Tasted

Oct 9, 2022

2019
E. Guigal Brune et Blonde (Côte-Rôtie)

Juicy, fresh, and bright, with a crisp edge to the vibrant red berries on the nose and palate. Medium-bodied, and already accessible, though I would wait a year or two before popping a cork for all the complexities that will develop. Drink from 2024-2033.

2,506 Views

Tasted

Oct 10, 2022

2019
E. Guigal (Gigondas)

Medium/full-bodied, ripe, round, forward, and packed with sweet, peppery kirsch, plums, and cherries, you can enjoy this on release for all of its delicious upfront, red fruits, and round textures. Drink from 2022-2030.

2,787 Views

Tasted

Aug 23, 2022

2019
E. Guigal (Condrieu)

Crisp, white peach, melon, citrus, and stones are what you find here. The wine is rich, sweet, vibrant, and fresh. Drink from 2022-2025.

1,631 Views

Tasted

Oct 5, 2022

2019
E. Guigal (Crozes-Hermitage)

Dark, round, fruity, and lushly textured, with a peppery, blackberry, and dark cherry fruits with a floral edge are found in the nose and on the palate. Drink from 2022-2032.

2,379 Views

Tasted

Oct 5, 2022

2019
E. Guigal Blanc (St. Joseph)

Ripe, lush, round, and loaded with flowers, white peach, and tropical fruits, with just a touch of vanilla bean and spice in the nose and in the finish. Drink from 2022-2027.

1,481 Views

Tasted

Oct 9, 2022

2019
E. Guigal Blanc (Crozes-Hermitage)

White flowers and lemons jump to the front of the nose. Crisp, salty, and fresh, with a crushed stone endnote. Drink from 2022-2027.

1,480 Views

Tasted

Oct 5, 2022

2019
E. Guigal Blanc (Châteauneuf-du-Pape)

Dominated by Grenache Blanc, with other varietals, the wine pops with white peach, orange rind, and flowers. Rich, round and generous, you can enjoy this now and over the next few years. The wine blends 45% Grenache Blanc, 25% Roussanne, 15% Clairette, 10% Bourboulenc, 3% Piquepoul, and 2% Picardin. Drink from 2022-2026.

1,423 Views

Tasted

Oct 5, 2022

2018
E. Guigal Château d'Ampuis (Côte-Rôtie)

Flowers, smoke, red fruits, and peppery spice fill the perfume. On the palate, the wine is medium-bodied, vibrant, energetic, and sweet, as well as fresh, long, and complex. Give it a few years for the remainder of the oak to fully integrate. There might not be a better Cote Rotie for the money produced today. Drink from 2025-2040.

5,237 Views

Tasted

Oct 9, 2022

2018
E. Guigal Vignes de L'Hospice (St. Joseph)

Dark in color, the wine is loaded with black pepper, smoke, underbrush and dark red, spicy pit fruits. The wine is full-bodied, rich, intense and lush, with layers of ripe fruits and peppery spice that keep on going in the finish. Give this at least 7 years to age and it will be rocking for another 2 decades after that.

2,963 Views

Tasted

Feb 19, 2021

2017
E. Guigal (Hermitage)

Smoke, licorice, coffee bean and dark red fruit come forward with little effort. Juicy, soft, polished and fresh, with a judicious blast of peppery red fruits in the finish make this quite an appealing wine.

2,251 Views

Tasted

Feb 22, 2021

2017
E. Guigal Lieu-Dit Rouge (St. Joseph)

Medium/full-bodied, richly textured, fresh, smoke and fruit filled wine with a generous dose of blackberry, dark red pit fruit, earth and a hint of spice and oak in the finish. Give the wine 5-7 years to age and it will be even better.

2,725 Views

Tasted

Feb 22, 2021

2017
E. Guigal (St. Joseph)

The red pit fruits shine through the smoke, espresso, thyme, and underbrush. Medium-bodied, bright and fresh, the finish shows its crisp red cherry character nicely. Wait just a few years for this to really start showing its best.

1,317 Views

Tasted

Feb 22, 2021

2017
E. Guigal Brune et Blonde (Côte-Rôtie)

Peppery red fruits, black raspberries, smoke, and plum aromas come to the surface. On the palate the wine is sweet, juicy, elegant and fresh with plenty of juicy, lifted, fresh fruits in every sniff and sip. This is already delicious and it will be even better with a few more years in the bottle.

3,590 Views

Tasted

Feb 10, 2021

2017
E. Guigal (Châteauneuf-du-Pape)

Pepper, garrigue, black raspberries, and a touch of kirsch round out the nose. On the medium-bodied palate, the wine is fresh and fruity with a serious touch of garrigue-toned, spicy, red fruits and green olives in the finish. Drink from 2022-2027.

1,886 Views

Tasted

Oct 5, 2022

2015
E. Guigal La Landonne (Côte-Rôtie)

Off the charts levels of concentration, a wall of perfectly ripe tannins that feels so great, with its mesh of strength, balance and finesse. Wave after wave of perfectly ripe, palate staining fruit and a finish that bows past the 60 second mark! A legend in the making that will easily deliver the goods for over 50 years!

5,550 Views

Tasted

Feb 10, 2019

2015
E. Guigal La Mouline (Côte-Rôtie)

The incredible aromatics of sweet red and black cherries, blueberries, smoke, licorice, flowers, pepper and thyme are already seeking and keeping your attention. Rich, concentrated and intense, there is a beautiful sense of purity to the fruit as it seamlessly coats your mouth, palate, teeth and gums with pleasure.

4,263 Views

Tasted

Feb 10, 2019

2015
E. Guigal La Turque (Côte-Rôtie)

As the vines here continue aging, this wine has never been better! The wine blends concentration, depth, opulence, decadence and freshness. There is a s8blime sense of purity in the fruit here that must be tasted to be believed! The intoxicating perfume grabs you with its cherry liqueur, flowers, espresso, pepper, kirsch, licorice and spice. On the palate, the wine is full bodied, opulent, fresh, invigorating and the finish, with its power, liquid silk texture and density is off the hook. This is probably the best vintage of La Turque yet and this is really saying something. .

4,624 Views

Tasted

Feb 10, 2019

2015
E. Guigal Ermitage Ex-Voto (Hermitage)

Powerful aromatics packed with blackberry and black cherry liqueur, crushed stone, smoke, licorice, coffee, crème de cassis and vanilla get your attention. This thick, viscous, flamboyant wine is a head turner. Silky, polished and richly textured, the finish is packed with layers of perfectly ripe, pure blackberries. I love this style of wine!

2,878 Views

Tasted

Feb 9, 2019

2015
E. Guigal Château d'Ampuis (Côte-Rôtie)

Fabulous wine that is entering the start of its drinkability window. Opulent, fresh, silky and loaded with with sweet, ripe, vibrant, red fruits, flowers, smoke and spice, this is not far from level of quality of the more famous and expensive La La's, if you like Cote Rotie, this is probably the best value of the vintage. Drink from 2022-2040.

7,842 Views

Tasted

Aug 22, 2022

There is no better Cote Rotie for the money produced today in the appellation. If that is not enough to get you to run out and buy this wine, picture the wealth of fresh, bright, pure, energetic, peppery cherries that steal the show. The purity, intensity, vivacity and silky textures are so good, you cannot put the glass down without taking another sip and sniff. Hang on to this stunner for 7-8 years and enjoy it for the next 15. It is a beauty!

9,072 Views

Tasted

Feb 10, 2019

2015
E. Guigal Ermitage Blanc Ex-Voto (Hermitage)

Dripping with luscious, rich, ripe, sweet, citrus and ripe, white peaches, the wine has this honeysuckle and crushed rock character, that adds to the complexity. With ample, weight and density, this should age quite well.

2,387 Views

Tasted

Sep 17, 2018

2015
E. Guigal Vignes de L'Hospice (St. Joseph)

Almost opaque in color, this is all about its layers of ripe, black fruits, smoke, licorice, herbs and pepper, that fills your palate with flavor. The tannins are present, ripe and firm, giving structure to all the concentration found here. This should age for at least 2 decades.

3,292 Views

Tasted

Sep 17, 2018

2015
E. Guigal (Hermitage)

Full bodied, concentrated and provided a discernible sense of minerality, the peppery, dark red fruits and black fruits taste, feel and smell great. I am sure this is the finest Guigal Hermitage produced to date.

4,596 Views

Tasted

Sep 17, 2018

2015
E. Guigal Brune et Blonde (Côte-Rôtie)

Richly textured, silky, long and fresh, there is so much juicy, ripe, sweet, complex fruit in every sniff and sip, it is hard to believe this is only the entry-level wine from Guigal. Everything is in all the right places. Cote Rotie is becoming an increasingly expensive appellation, so if you are looking for value, aligned with quality and character, this is the wine to buy!

5,623 Views

Tasted

Sep 17, 2018

2015
E. Guigal (Châteauneuf-du-Pape)

Elegant, refined, pure, soft, silky, kirsch filled wine with loads of peppery red berries and herbs to complicate matters. You should be able to enjoy this charmer on release, or with just a year or two of aging.

2,078 Views

Tasted

Sep 17, 2018

2015
E. Guigal (St. Joseph)

Concentrated with ripe, juicy, fresh, meaty, stony, dark red fruits with hints of espresso, smoke, licorice and earth Give this beauty 3-5 years and it should rock.

2,610 Views

Tasted

Sep 17, 2018

2015
E. Guigal Blanc (Crozes-Hermitage)

Full bodied, rich, dense and already showing its stony, mineral-driven, citrus character, meshing density with freshness.

1,670 Views

Tasted

Sep 17, 2018

2015
E. Guigal (Côtes du Rhône)

There is no better wine for the money in the market today. End of story. So, what do you get for about $12? Popped and poured, the wine is soft, elegant, light in weight, soft, fresh and reminds you of sweet, red cherries and flowers. This is not a wine to decant, so don't. Enjoy this over the next 25 years.

4,414 Views

Tasted

Feb 18, 2019

2014
E. Guigal La Mouline (Côte-Rôtie)

Not quite forward, but it will be approachable early, the wine is loaded with freshly picked flowers, licorice, herbs, black cherry, smoke, espresso, plum and earthy nuances. The tannins are soft, polished and present. The wine has lift, energy, length and complexity. To say this is probably the wine of the vintage is not unexpected. What is a surprise is how good this wine is in a difficult vintage.

4,733 Views

Tasted

Sep 17, 2018

2014
E. Guigal La Landonne (Côte-Rôtie)

Deep, dark, concentrated, firm, tannic, and youthful, there is ample fruit and complex aromatics going in here, but the palate and finish are on the stern side, with some dryness in the dark red berry and leafy finish. Drink from 2026-2040.

570 Views

Tasted

Aug 18, 2023

Perhaps the longest-lived wine of the vintage, the wine is full-bodied, rich and deep with iron, rocks, stones and crisp, deep, red fruits in its core. The tannins are present, but they are ripe, polished and yet, still firm. There is the backbone to age, so be prepared to give this at least a decade or longer and it should be the star of the vintage.

4,022 Views

Tasted

Sep 17, 2018

2014
E. Guigal La Turque (Côte-Rôtie)

Smoky, meaty, dense, full, concentrated, tannic, energetic and loaded with thyme, deep, fresh, red berries, olives, herbs, pepper and stone, this demands patience. But as all lovers of La Turque, it's worth the wait.

3,655 Views

Tasted

Sep 17, 2018

2014
E. Guigal La Doriane (Condrieu)

Pretty wine, especially on the nose, with its white peach, apricot and floral notes. Medium bodied, and less interesting on the fruity palate.

3,120 Views

Tasted

Feb 11, 2017

2014
E. Guigal Château d'Ampuis (Côte-Rôtie)

Medium bodied, forward, early drinking in style, the wine is lively, fresh and vibrant, with a brightness to the sweet, juicy, spicy, red berries, smoke and licorice. You can enjoy this on the young side while waiting for vintages like the 2015 to develop.

3,188 Views

Tasted

Sep 17, 2018

2014
E. Guigal (Châteauneuf-du-Pape)

Forward, early drinking, soft textured, kirsch and pepper filled wine with freshness and ease of drinkability.

1,670 Views

Tasted

Sep 17, 2018

2012
E. Guigal (Côtes du Rhône)

We have easily gone through a case of the tasty, little wine. Wild strawberry, flint, garrigue and damp earth on nose. Medium bodied, soft, forward and does not want to be decanted, the smooth, fruity finish has a nice spicy character and freshness. Yes, the finish is not all that long, but there is a presence, and do not forget, this is not meant to age. But at $12, try finding a better, crowd pleasing wine. When you find it, drop me a note. Until you do, this is my favorite party wine.

4,029 Views

Tasted

Dec 2, 2016

2010
E. Guigal La Mouline (Côte-Rôtie)

Powerful, thick, dense, rich, bright and concentrated with layer after layer of fruit, there is no denying the level of quality found here. But I have admit, my friends were right, there is no reason to open this for at least another decade! It is far too primary to really enjoy at the table today.

8,516 Views

Tasted

Jul 2, 2017

Fat, rich, dense, concentrated, full bodied, deep and dark, but with the perfect amount of freshness to give it lift, aromatics to provide the entry and character, and an incredible, opulent, if not decadent, perfectly ripe, fruit filled finish that lasts at least 60 seconds. A sacrifice in the name of science, and well worth it, I might add.

8,899 Views

Tasted

Jan 14, 2017

2010
E. Guigal La Turque (Côte-Rôtie)

Full bodied, powerful, intense, masculine, bright, fresh, pure and backward, this wine has it all. But you are going to need the patience of a Saint, for 15 to 20 years are required for the wine to soften, come together and start to strut its stuff. It takes effort and air currently, for the floral, meaty, iron, espresso, crushed rock, kirsch and black plums to offer a glimpse of their future.

5,836 Views

Tasted

Sep 17, 2018

2010
E. Guigal Ermitage Ex-Voto (Hermitage)

An extraordinary wine. Even at this infantile stage, it is impossible not to be wowed by what is the glass. Power, concentration, intensity, richness and balance are all in play here. The wine effortlessly coats your palate with layers of lush, smoky, stony, pure, blackberries, currants, licorice, pepper and meaty essences. Texturally, this is off the hook. With all this power and endless depth of flavor, the wine remains a refined, regal character. Energetic, long and expansive, give this another decade and I am sure this will hit triple-digit, rockstar status.

4,432 Views

Tasted

Jul 11, 2020

2010
E. Guigal Château d'Ampuis (Côte-Rôtie)

Youthful, fresh, bright, crisp, concentrated, long, powerful and vibrant, this is packed with all the fruit, rocks, stones, black pepper, flowers and smoke you need in a great Cote Rotie. However, it needs air, time or both before it can be enjoyed at its peak.

5,073 Views

Tasted

Aug 14, 2021

My first bottle from a case I purchased on release was just great. Still youthful, fresh and vigorous, the wine is concentrated, full-bodied, energetic and provides ample vibrant, dark red fruits, spice and smoke on the nose and on the elegant, lively palate. There is no rush to pull a cork here. If you want the La La experience, this is as close as you can get without paying the full fare.

5,633 Views

Tasted

Jul 5, 2020

2009
E. Guigal La Landonne (Côte-Rôtie)

Off the hook in every sense of those words, this is just an incredible rode. Most vintages of La Landonne require 20 years or so to become civilized. But not this beauty! Rich, concentrated and compelling, the wine oozes complexity, concentration, character and charm. Powerful, stony, smoky and deep, the tannins are soft, the fruit is perfectly ripe and while still youthful, it is impossible not to see that this wine is destined for greatness. Give it 2-3 hours of air now, or wait another 5-7 years.

4,702 Views

Tasted

Nov 1, 2020

One sniff, swirl and sip and I was convinced this is a candidate for the best vintage of Guigal La Landonne ever produced! And that is really saying when you consider how many stunning wines have been produced since 1978! Thick, rich dense, concentrated and mouth-filling, the wine coats your palate with layers of insanely polished, black, red and blue fruits. With all this concentration, the wine remains balanced, fresh, harmonious and interesting. There is nothing heavy, hot or out of place. The wine has this incredible sense of purity that blends crushed rocks, stones and perfectly ripe, dark, red fruits. The finish hangs with you for at least 60 seconds! You can drink this with 3 hours of decanting now, or wait 10-20-30 years for the secondary nuances to emerge. This is a once in a decade wine that leaves you speechless.

5,320 Views

Tasted

May 30, 2018

2009
E. Guigal La Mouline (Côte-Rôtie)

If there was a trophy for future legend, this would be a contender for first prize. Everything here was simply perfect! Rich and concentrated beyond belief, texturally, this is pure sex and sensuality. Opulent, rich, velvety, long and deep, even now, it is simply incredible to drink. Although, its best days are in the future, perhaps 5-7 years from now.

4,869 Views

Tasted

Nov 1, 2020

Minerality, fresh sweet red and black cherries, blueberries, smoke and roasted vanilla bean scents are in the open. Thick, rich, concentrated and intense, there is a beautiful sense of purity to the fruit as it seamlessly coats your mouth, palate, teeth and gums with pleasure.

6,061 Views

Tasted

Jul 17, 2014

2009
E. Guigal La Turque (Côte-Rôtie)

Not quite at the level of its two stablemates, aromatically, its blend of smoke, spice, wet earth, herbs and dark red plums is attention-seeking. Powerful, full-bodied and deep, with good energy and lift, the wine leaves you with layers of fresh, spicy, peppery red fruits. It is important to note that this is the most backwards of the three La La's and is not nearly as much to enjoy in its youth.

4,479 Views

Tasted

Nov 1, 2020

Off the charts. Off the hook. Crushes the scale. Words cannot quite express how stunning this wine is! It perfectly blends intensity, concentration, depth, opulence, decadence and freshness. The nose, with its intoxicating perfume of licorice, black cherry liqueur, flowers, espresso, pepper, kirsch and earth is heaven. But it's the full bodied, voluptuous, liquid silk, mouth feel that lives for at least 60 seconds that seals the deal. Opened in the name of science by a friend, I'm not going to touch any of my few precious bottles for at least a decade.

7,154 Views

Tasted

Jul 23, 2015

2009
E. Guigal Ermitage Ex-Voto (Hermitage)

This is superb in every sense of the word, from start to finish! Dark, almost the color of black-purple ink, the combination of smoke, roasted black, red and blue fruits, licorice and flint in the nose only hints at what this wine will become if you can wait another decade. The wine manages to perfectly balance incredible levels of density with lift, purity of fruit and at least 60 seconds of a seamless, palate-staining, tasting experience.

4,546 Views

Tasted

Nov 11, 2019

2009
E. Guigal Château d'Ampuis (Côte-Rôtie)

Richly textured, full-bodied, fresh, lively and loaded with sweet, ripe, stony, peppery fruits, this is starting to drink well, however, a few more years in the cellar will allow the wine to gain even more silk in its textures along with aromatic nuances.

4,593 Views

Tasted

Nov 19, 2018

2009
E. Guigal Ermitage Blanc Ex-Voto (Hermitage)

Big, powerful, dense and intense, the white peach, floral, citrus, orange rind, honey, vanilla and mineral scents lead to a rich, full bodied, concentrated blast of sweet, ripe fruits and rocks.

3,560 Views

Tasted

Nov 16, 2014

2009
E. Guigal (Côtes du Rhône)

From a blend of 50% Syrah, 40% Grenache and 10% Mourvedre, this surprisingly deeply colored wine is filled with pepper, earth and dark cherries. In ripe vintages, this simple wine gives a lot of pleasure for under $10. However, it does not last and should be consumed in the first few years of its life. Look for the 2010.

4,946 Views

Tasted

Nov 1, 2011

2007
E. Guigal Ermitage Ex-Voto (Hermitage)

Big, concentrated, powerful, round and deep, the dark fruit matches the equally dark hue. Lush and long, the wine serves up layers of dark red fruits, licorice, smoke, earth and peppery spices. The fruit and tannins are so ripe, it is easy to drink young, but do not let that fool you. The wine is still primary and needs another decade to further develop, before it gets to the secondary stage of life.

2,957 Views

Tasted

Nov 13, 2017

Powerful aromatics packed with blackberry and black cherry liqueur, crushed stone, smoke, licorice, coffee, crème de cassis and vanilla get your attention. This thick, viscous, flamboyant wine is a head turner. Silky, polished and richly textured, the finish is packed with layers of perfectly ripe, pure blackberries. I love this style of wine!

4,653 Views

Tasted

May 2, 2012

2007
E. Guigal Brune et Blonde (Côte-Rôtie)

Open, plush, rich and round with black raspberry, kirsch liqueur, pepper, espresso bean and garrigue, this seductive, bright Cote Rotie is already drinking well.

4,852 Views

Tasted

May 28, 2012

2005
E. Guigal La Mouline (Côte-Rôtie)

Thrilling to taste with its sensous textures, perfectly ripe fruit, concentration, length and purity. Big, rich, young and close to primary, this beauty will get better and better with age.

4,014 Views

Tasted

Oct 14, 2014

This is so good, it's close to being off the charts. With insane levels of concentrated, perfectly ripe, dark, red fruits, flowers, thyme, vanilla bean, licorce and smoke, you are hooked. The wine fills your mouth and coats your palate with the perfect blend of density and lift. How Guigal is able to do this, time and time again is beyond me. I know this is expensive, but it's one of the few pricey treats that is worth the bank.

4,378 Views

Tasted

Jun 9, 2014

2005
E. Guigal Château d'Ampuis (Côte-Rôtie)

Bright, fresh, peppy and peppery, this tannic, potent wine is packed with bright red and black fruits, vanilla, bacon fat and spicy notes. There is more than enough fruit to match the tannin giving tasters a lot to chew on. This was better with an hour of air.

4,966 Views

Tasted

Dec 14, 2013

2005
E. Guigal Ermitage Blanc Ex-Voto (Hermitage)

Rich, oily, unctuous and salty, the minerality component is difficult to avoid. The blend of white peach, flowers, rocks, green apple, tropical fruits and citrus is vibrant on the palate all the way through, from start to finish.

3,077 Views

Tasted

Nov 13, 2017

2004
E. Guigal La Mouline (Côte-Rôtie)

Close to fully developed, the medium-bodied wine is more interesting aromatically, due to its dried flower, smoke and yellow fruit accents than on its soft, open, fresh, smoky, red-fruited palate. There is no need to defer your gratification on this wine. It is better to drink now than to hold for further development.

3,144 Views

Tasted

Oct 18, 2021

A nice wine indeed that is close to ready to drink. The luscious, exotic textures were there. Medium/full bodied, with ample, sweet red fruits, flowers, peach, earth, spice and oak, this is already offering charm. You can drink this while waiting for the more age-worthy vintages to develop.

5,290 Views

Tasted

Jul 23, 2018

2004
E. Guigal Château d'Ampuis (Côte-Rôtie)

Medium bodied, lighter style of Guigal Ampuis offers fresh, kirsch, plums, earth and spice. This is already fun to drink. I would not hold it hoping for the wine to improve. I'd drink it over the next 5-10 years.

4,734 Views

Tasted

Mar 31, 2012

2003
E. Guigal La Turque (Côte-Rôtie)

Mindl boggling levels of depth, with flavor, freshness, purity and sensuous textures that seem to never quit. Stunning in every way, this vibrant, livley and well, flawless wine needs to be tasted at least once in your life!

5,905 Views

Tasted

Oct 14, 2014

An intense nose of spicy blackberry, plum liqueur, smoke, bacon fat, floral and stone focus your attention on the wine. Far too young. Built to age, the tannins are ripe, finesse in style, yet firm, the finish is bright, fresh and long.

5,922 Views

Tasted

Oct 26, 2013

2003
E. Guigal La Landonne (Côte-Rôtie)

The wine is sublime. The smoky nose, with its wealth of crushed rocks, dark plums, licorice, spice and herbs grabs your initial focus. But once the wine hits your palate, you are riveted to the layers of rich, ripe, dense, opulently textured, dark cherries, plums, wet earth, thyme, spice and herbs. The wine coats your palate, but never feels heavy. There is no sensation of heat, dryness or corpulence. Decanted about 1 hour, the wine rocked!

5,475 Views

Tasted

Nov 20, 2019

Youthful, but still quite impressive, the wine is richly textured, full-bodied, multi-dimensional, with layers of black and dark red fruits that just keep on coming. There is lift, length and depth, with an opulent textural component. With so much ripe fruit and soft tannins, you can drink this now, but I am holding on to my bottles until perhaps, 2023.

4,951 Views

Tasted

May 9, 2018

Close to off the charts, this stunning wine delivers a deeply colored, full bodied, fat, intense drinking experience, with loads of smoke, licorice, incense, caramel and blackberry liqueur essences. I'd give this another 5-8 years in the bottle and it should really rock your world.

5,503 Views

Tasted

Dec 17, 2015

At 12 years of age, this is still young. It's all about the promise. And there is a lot of promise here. The wine needs time, perhaps another decade. Else, give it a 3/4 hours of air. There is an ocean of concentrated, ripe, fresh, sweet fruit, silky, smooth tannins and a finish that could last close to 60 seconds. But it's quite unevolved today. This bottle was given very little air. A bottle last year, with a few hours of air (was as hard as this is to believe), even more expressive.

5,440 Views

Tasted

Oct 22, 2015

Potentially this is the wine of the year for me, and it's only October! There are great wines, and there is 2003 Guigal La Landonne. For years, La Mouline stood at the top of the Guigal pyramid to me. But this bottle took me by surprise! Picture liquefied minerals, thyme, fresh, ultra ripe boysenberries, earth, violets and black raspberry blended into an intoxicating perfume. Add layer after layer of perfectly ripe fruit, a hint of cocoa, spice, sweetness and purity, with all the lift you'll ever need, yet it's able to keep it's fleshy, sensuous texture on your palate for well over 60 seconds! Most expensive wines are overpriced. This is the real deal!

5,758 Views

Tasted

Oct 14, 2014

Tight as a… OK, I'll say drum. With coaxing, crushed stone, blackberry, flowers, herbs, forest floor, bay leaf and herb scents, this is the most powerful of the trio. The wine coats every nook and cranny of your palate with voluptuous layers of fat, dense, rich, dark, mineral driven fruits. Deep and concentrated, this is intensity matched with purity and power. Masculine, yet graceful, this stunning wine should last longer than most people reading this note.

5,743 Views

Tasted

Oct 26, 2013

2003
E. Guigal La Mouline (Côte-Rôtie)

Silky, voluptuous, exotic and erotic, this opulent, mouth filling tasting experience goes past decadence. The fruit coats your palate and stays there for more than 60 seconds. Young, but due to its forward nature, its stunning to drink now and will only get better. If you own this wine, you have liquid magic in your cellar.

7,021 Views

Tasted

Dec 17, 2015

Stunning in every sense of the word. There is ample intensity, concentration, richness and length. The wine is mouth filling and teeth staining in all the right ways. The nose is showy, with bouquet of fresh picked flowers, cocoa, earth, smoke, thyme, sweet cherries, boysenberry and plum notes, and don't forget the pepper. The finish resonates for over 60 seconds! This is still young, but the light is clearly very bright at the end of tunnel.

6,347 Views

Tasted

Oct 22, 2015

Picture flowers, kirsch, smoke, caramel, bacon fat and spice over a mound of truffle and you get the idea of the perfume. This is an exotic sex machine of a wine. The texture pairs decadence with opulence, velvet and silk. Did I mention sex yet? The purity of the cherry fruits, the length, persistence and energy make this one of the great wines of all time.

7,026 Views

Tasted

Oct 26, 2013

This is so rich and decadent, it's off the charts! The perfume explodes from the glass with its powerful black and red fruit aromas interspersed with coconut, vanilla, spice and olive infused nose. Powerful, rich, concentrated and dense, this full bodied with offers an exotic texture that coats your senses. Everything about this wine is intense, yet it's in perfect balance. Still young, this is going to be one of the starts of my collection when it hits maturity

6,998 Views

Tasted

Dec 8, 2009

2003
E. Guigal Ermitage Ex-Voto (Hermitage)

Massive, powerful, intense and with levels of concentration that make the wine feel like they managed to slip a magnum of wine into a standard sized bottle! The fruit is inky and dark. Smoke, licorice, roasted black fruits with hints of deep red and blue fruit are with you from start to finish. This is no shy wine. Flamboyant, opulent and even decadent, this is a truly special, wine tasting experience.

3,524 Views

Tasted

Nov 13, 2017

When a wine moves you from the first sniff, and kicks it up to an entirely new level, you know you are in for a treat. 2003 Guigal Ex Voto is close to off the charts. This is incredibly concentrated, rich and intense. There is so much depth of fruit and material, it's easy to spend hours investigating the wine. The fruit is perfectly ripe. With everything going on, it's all in balance. There is no sensation of heat or over ripeness. The finish must last at least 60 seconds. If you're curious, pop a cork. If you're patient and want secondary characteristics, wait a decade.

5,734 Views

Tasted

Sep 3, 2013

2003 Guigal Ex Voto is one amazing tasting experience. Incredible layers of concentration. This wine is so packed and stacked with ripe fruit, it tastes as though Guigal managed to place a magnum of wine into a 750 bottle! This is not quite at the level of 03 Chave, but it's close. The Chave is a bit plusher and slightly more opulent. This future legendary wine delivers the goods.

5,516 Views

Tasted

Jan 4, 2011

2003
E. Guigal Château d'Ampuis (Côte-Rôtie)

Clearly, I underestimated the aging potential of this beauty. This is still going strong. The wine opens with a smoked thyme, cherry, lavender, earthy bouquet. Soft in texture, and with good concentration, the spicy, sweet, deep, red fruits in the long finish, hit the spot. With a couple of bottles from my case remaining, I will let them rest in the cellar for a few years, before popping another.

3,429 Views

Tasted

Sep 25, 2018

Fully mature, low in acid, in fact, it's less fresh today than the last time I recall tasting the wine. On the nose, it's all there, with its ripe fruits, earth, pepper, smoke and bacon fat, but this bottle seemed less interesting than it used to be. I would not age this for improvement. I'm planning on drinking my remaining bottles over the next few years.

3,898 Views

Tasted

Jul 8, 2015

Kirsch, bacon fat, caramel and truffle notes lead to a sweet, voluptuous, ready to drink wine with opulent textures on the palate. The finish takes olive tapenade and pairs it with the right amount of sweet, fresh cherries. There is a hint of dust in the tannins. Like many 2003 wines, drink now, or hold it for further aging, but for not too long.

4,064 Views

Tasted

Oct 23, 2013

2001
E. Guigal La Mouline (Côte-Rôtie)

At 20 this is the right time to be drinking this gem. Fresh, spicy, floral, long, and intense, the wine is showy, without being over the top. The smoky, spicy, red fruits, crushed rock, herbs, pepper, and flowery nuances with a background note of white peach hit the spot. This is really drinking well today.

3,313 Views

Tasted

Oct 14, 2021

Winner, winner, chicken dinner. The explosive nose is packed with licorice, flowers, wet earth, smoke, fresh red and black fruits and spice. On the palate, the wine is intense, full bodied and expansive, finishing with layers of powerful, refined, bright, fresh berries, spices and smoke. Drink now, or in a decade, either way, you will be rewarded with pleasure.

3,918 Views

Tasted

Mar 9, 2014

2001
E. Guigal La Landonne (Côte-Rôtie)

Not as charming as previous bottles, this was showing a lot of tannin, black pepper and strict characteristics, even with its 3 hours of air. I am not quite sure where this is headed.

4,106 Views

Tasted

May 5, 2016

Stone, flowers, smoke, licorice, cocoa powder, black raspberries, lavender and coffee bean smells get your motor going. Big, powerful, intense and packed with enough fruit and tannin to age for decades, the wine can be tasted now, but I'm waiting on my bottles for another 5-10 years. If I ws a betting man, and I am, this should be better and score higher when mature.

4,342 Views

Tasted

Mar 9, 2014

2001
E. Guigal La Turque (Côte-Rôtie)

Bright, crisp, acidic and fresh in character, this is still young, tannic and while its expressive, it requires a few more years to come together. That being said, this will probably remain on the crisp side of the style range.

3,186 Views

Tasted

Dec 15, 2014

5 spice, licorice, kirsch, violets, bacon fat, blackberry, fennel, earth and fresh pepper aromas grab your attention. This full bodied, powerful, sexy, exotic, spicy, kinky wine, finishes with fresh cherries and spice This wine keeps getting better and better. Another few years of bottle age will add a lot to this wine.

4,178 Views

Tasted

Feb 21, 2011

Offering scents of raw beef, pepper and blackberries. In the mouth, fresh plums which combine sweet and tart with just enough acidity to make the wine fresh finishing with a lush palate feel. Give it time or allow it air.

4,487 Views

Tasted

Jun 10, 2009

2001
E. Guigal Ermitage Ex-Voto (Hermitage)

The debut vintage for this Hermitage from Guigal is just starting to come around. With power, concentration, ripeness, freshness and aromatics at its fingertips, the wine shows off its fruit, freshness and earthy, spicy character with ease. Another 4-5 years will add even more to the wine.

3,099 Views

Tasted

Nov 13, 2017

Round, smooth and lush, this debut vintage for Guigal delivers ripe, spicy berries, a touch of espresso bean, earth, spices and intensity of flavor with a bite of freshness in the polished finish. Still young, this stylish Hermitage wine should be even better with another 3-5 years in the bottle.

4,226 Views

Tasted

Nov 16, 2014

2000
E. Guigal La Turque (Côte-Rôtie)

La Turque light is an apt description. The fruit is clean, ripe, soft and open, but the medium bodied finish is quite short. In this vintage, this is one of those famous wines that is not worth the money.

3,512 Views

Tasted

May 7, 2014

1999
E. Guigal La Landonne (Côte-Rôtie)

Fresh black cherry liqueur, smoke, licorice, truffle, black pepper, forest floor and mint aromatics create the intoxicating nose. Intense, full bodied, concentrated and deep, this is all balanced out with its refinement, harmony and seemingly endless length. Youthful, yet a treat to drink with a few hours of air.

4,439 Views

Tasted

Dec 17, 2015

Perfect in every sense of the word. The fruit offers an amazing melange of freshness, purity, concentration and intensity. The tannins are prevalent, yet they are so ripe and integrated, you cannot sense them. The wine fills our mouth and expands in the finish for well over 60 seconds!

5,385 Views

Tasted

May 12, 2015

Holly F'ing Cow! Frankly, that is all that needs to be said until you try this elixir for yourself. The nose is a crazy cornucopia of scents, fragrances and earthy concoctions. On the palate, this is like a molten lava of incredibly ripe fruits, earth, spice, freshness and sweetness that coats your palate with flavor, intensity and remains in place for well over 60 seconds! This is one of the truly expensive wines that over delivers... And as good as it is, it's only going to get better from here!

5,132 Views

Tasted

Jan 2, 2015

Absolutely compelling! Each great wine is unique, with its own, individual character. But at some point, wines just do not get any better. That is the case with 1999 Guigal La Landonne. While this wine is clearly far too young, the incredible depth of flavor, concentration, balance, richness, freshness, purity and intensity are impossible to ignore.

6,870 Views

Tasted

Aug 22, 2013

Incredibly dark, black purple color. Deep aromatics of black fruit, smoke, bacon and iron wake you up and say hello.The palate is consumed by layers of amazingly ripe, black and red fruits. This is as big as it is plush. If you're looking in the dictionary for a wine to define seamless, this is it! Absolutely flawless. Just far too young

7,433 Views

Tasted

Sep 1, 2011

Soaring aromatics of blackberry liqueur, BBQ spices and wet stones fill the air. This is best described as liquid silk. Even though it's very primary, the compelling quality and complexity of this wine is easy to discern. Off the charts!

7,285 Views

Tasted

Feb 14, 2005

1999
E. Guigal La Mouline (Côte-Rôtie)

Yes, yes, and YES! Did I say yes enough? If you want to know why some tasters or just me go crazy for these wines, this is the right bottle to taste. It only takes 1 sniff to know how sublime the wine is, with its layers of flowers, exotic spices, smoke, dark red fruits, gravel, and hints of white peach. If the perfume didn't hook you, the show-stopping, endless layers of opulently-textured, sweet, vibrant, perfectly-ripe, racy fruits that coat your palate will do the trick. It's a mystery how they manage to produce a wine with this much concentration that's balanced with vibrancy, but they do. The exotic, seamless finish holds on for over 60 seconds. Drink from 2022-2049.

3,963 Views

Tasted

Jul 16, 2022

With insane levels of concentration, intensity and tension, the explosive perfume displays flowers, smoke, kirsch liqueur, earth and black cherries galore. If you think that's where the fun stops, think again. The wine coats your palate with waves of perfectly ripe, dense, fresh, red and black fruits that never seem to quit.

6,266 Views

Tasted

Aug 22, 2015

Fresh picked cherry blossoms, licorice, wet earth, flowers, peach, smoke, thyme, boysenberry and spice notes were almost off the charts. There is such an amazing level of intensity, focus and purity to the fruit, it leaves you breathless. If that is not enough to seal the deal, the exotic textures and sixty second finish really knocks you out!

4,787 Views

Tasted

Oct 14, 2014

Smoke, incense, flowers, licorice, black cherry liqueur and cocoa spring with no effort. Intense and concentrated, lush, luscious and sensuous, this is so sexy, it must be taste to believe. The finish lasts over 60 seconds. It's the type of wine that's difficult to savor as it's so good!

5,577 Views

Tasted

Jul 17, 2014

More often than not, La Mouline is my favorite of the famed La La trio from Guigal. But not on this night. Clearly, this is more exotic than most other wines on the planet, the wine did not show quite the same level of depth and concentration found in La Turque or La Landonne. Perhaps the powerful peach, floral, pure kirsch, mineral, vanilla, spice, boysenberry and earthy perfume was more open than the other two wines, but on this night, it lacked same length and persistence. That is not too say this is not an amazing bottle of wine. It is! My score and enthusiastic prose says that. At some point in the future, my view could change and once again, this would be my favorite of the three. But on this night, this bottle was just a little less than its stablemates.

5,114 Views

Tasted

Aug 22, 2013

1999 La Mouline is filled with smoky bacon fat, kirsch, oak and pepper. Round opulent textures are paired with a mélange of red and black fruits. This bottle seemed tight and not as fresh, concentrated or lively as other bottles. I do not think this is a perfect example as this wine usually knocks me out.

9,404 Views

Tasted

Oct 14, 2011

This Cote Rotie has not budged over the past few years. Still very young and primary. But, that does not stop it from offering glimpses of its ample, future charms. 99 La Mouline is incredibly concentrated. Almost black in color. The wine is so rich and thick it feels like molten fruit flowing over your senses as it enters your palate. La La lovers with this in their cellar are sitting on liquid treasure.

12,247 Views

Tasted

Mar 10, 2009

This displays every quality a great wine needs in an embarrassing display of over abundance. Incredibly sensuous, deep layers of lush, opulent, rich, ripe fruit melt over your senses. The perfume has so many layers, it's easy to get lost in the wine. Cherry liqueur, raspberries, flower and hints of summer fruit kick off the array of fragrance found in this magic elixir. Everything in this amazing wine is in perfect balance including the long, pure, seamless finish in this majestic Cote Rotie.

12,175 Views

Tasted

Sep 20, 2007

An exotic, kirsch note starts the aromatic fireworks that includes flowers, peach, spice, a melange of red furit, coffee, pepper and earth that takes the wine to another dimension! This is so, opulent, rich, fat, sexy, silky, lush and opulent, it should be illegal. La Mouline can be enjoyed young, but with time, this bottle will develop into an otherworldly elixir.

12,005 Views

Tasted

Aug 15, 2005

Another off the charts wine! Sherry, pepper, flowers, coffee and a liqueur or red and black fruits and spices start off with a bang. This is incredibly concentrated and complex. I found myself asking, does wine get any better? Or, it is just a matter of style?

12,029 Views

Tasted

Feb 14, 2005

1999
E. Guigal La Turque (Côte-Rôtie)

Still youthful, the wine explodes with its nose of cherries black raspberries, smoke, flowers, spearmint, and thyme. Powerful, balanced, harmonious, and with a seamless finish that does not want to quit, this is off the hook! Decanted for about 60 minutes, drink from 2022-2040.

2,496 Views

Tasted

Sep 24, 2022

Mind blowing in every sense of the word! Decanted about 2 hours, the nose could be discerned across the room. On the palate the took over and painted every nook, cranny and tasting receptor with an incredible array of red and black fruits, spice and pepper. The finish broke the 60 second mark! If you have the coin, or rich friends, you want to taste this wine.

5,744 Views

Tasted

Jul 2, 2017

Incredible sense of purity in the fruit. The wine is completely seamless from start to finish. The texture blends pure silk and velvet, with exotic sensations. The finish keeps you on target for over 60 seconds. There is not much more you can ask of any wine.

6,460 Views

Tasted

Dec 17, 2015

Sweet, fresh, black cherries, caramel, licorice, smoke, barbecue, candied roasted pork, pepper and tobacco create the complex array of aromatics. Full bodied, fleshy, flashy, ripe and exotic, the wine is concentrated, long, fresh, deep and exotic. Still young, this is good now, and it's only going to get better and better!

3,999 Views

Tasted

Dec 3, 2015

Stunning in every way, even if it did not measure up to my last bottle. All that aside, the intense floral, fennel, smoky cherry, earth and black raspberry nose was a turn on. Pure, lush, sexy, concentrated and long, this is great now and will be even better with age!

3,998 Views

Tasted

Oct 14, 2014

If you have always wondered why people pay so much for a bottle of the famous Guigal La La's, assuming you just won the lottery, snagged a bonus, hit it big in Vegas or are one of the 1%'ers, this is the wine to buy. It's perfect in every way from start to finish. Soaring aromatics, exotic textures and a finish that is still going at 60 seconds. Yes, it's young now, and it's going to get better and better. But it's impossible to deny the awesome quality of this wine. After tasting this wine, I was asked if this deserved 101 Pts... Why not? It is that good.

5,826 Views

Tasted

May 27, 2014

To paraphrase Shakespeare, at some point, "comparisons are odious." With wines at this level, they are truly impossible to compare. There is so much depth of flavor, concentration and complexity, it's hard to know where to start. The wine coats your mouth and palate with incredibly ripe, exotic, sensuous, mineral driven fruits that remain and expand for more than 60 seconds. Incredibly expensive, but if you have the cash, you need a bottle of this elixir!

6,858 Views

Tasted

Aug 22, 2013

This is a true OMFG wine! When a wine has it all, flavor, palate presence, incredible persistence of finish and continues getting better with each sniff and sip, you know you are in the presence of greatness. Blacker in color and on the palate spectrum than the majestic Mouline, this has even more concentration and additional layers of complexity. Take everything found in the Mouline, add pepper, plums and blackberries and you get an idea of what to expect in the perfume. What makes this all work is, with so much going on, everything is in perfect harmony. While both 99's are in my opinion perfect examples of Cote Rotie, on this night, I preferred La Turque for the first time.

10,541 Views

Tasted

May 20, 2009

This is just as compelling as its stable mates. Smokey coffee notes blended with a liqueur of blue and black fruits. Very sensuous mouth feel with a complex finish that never quits. It must last at least :60! Otherworldly is an apt descriptor

9,842 Views

Tasted

Feb 14, 2005

1999
E. Guigal Château d'Ampuis (Côte-Rôtie)

At 15 years of age, this is in the perfect spot. The fruit is still young, lively and energetic. The secondary aromas are in bloom and the tannins have softened. If you have a bottle, open one. You'll be glad you did.

4,962 Views

Tasted

May 27, 2014

With a beautiful sense of purity in the sweet, ripe, red cherry, black raspberry and strawberry fruits, the wine is fresh, zippy, peppery and concentrated. Drinking in the right place, the lively, red berry finish is long and clean.

5,510 Views

Tasted

Jan 23, 2014

Bacon fat, floral, boysenberry, earth, kirsch, pepper and garrigue pop along with the cork. Silky, rich and filled with layers of sweet, ripe, delicious red and dark berries, this Cote Rotie is moving full speed ahead on all cylinders.

6,289 Views

Tasted

May 29, 2013

I like wines young, old and in the middle. I prefer finding them finding them in the sweet spot. Coming up on 14 years of age, this is the sweet spot. The perfume with its spice, earth, kirsch, black raspberry, bacon fat and pepper pop the moment the wine hits the glass. In the mouth, the lush, polished, ripe berries and cherries are in full force. There is not a hair out of place. If you cannot afford the famous La La's, (and who can?) this is a contender for the best value in a high end Cote Rotie from a legendary vintage in the marketplace today.

5,130 Views

Tasted

Nov 30, 2012

Smoke, earth, charcoal, kirsch, wild strawberry, bacon fat, floral and spice box scents make up the perfume. Silky textures, freshness, purity of fruit and concentration of flavor are found in every sniff and sip. This is drinking perfectly today. I'll probably try drinking my remaining bottles over the next 10-12 years to retain the beautiful array of fresh fruits. If you're not familiar with Cote Rotie, while not inexpensive, this is a good bottle to see what the fuss is all about.

5,814 Views

Tasted

Jul 9, 2012

Licorice, dark cherries, cassis, bacon fat, herbs and hints of juicy plums open to a powerful, concentrated, fresh wine. With rich, silky textures and a long finish filled with ripe berries, pepper, vanilla and earthy flavors, this is a knock out Cote Rotie that keeps improving. Still young, this should continue to evolve for at least another decade or more. While not cheap, for a Cote Rotie of this quality, this is the wine to buy.

7,884 Views

Tasted

Mar 9, 2011

The showy nose expresses notes of fresh pepper, chocolate covered cherries, herbs, fresh earth and wild strawberries with a tiny hint of vanilla, ending with smoky bacon fat. Thick, rich, sophisticated and elegant, this wine feels great slipping over your palate. Ripe, strawberry, cherry and black raspberry flavors fill your mouth with an exciting bolt of flavor with the perfect amount of lift. The long finish lasts at least 35/40 seconds. This is drinking beautifully today.

6,921 Views

Tasted

Dec 27, 2010

Violets, bacon fat, licorice and jammy fruits are easy to discern in this Cote Rotie. Supple entry. Still tannic. Good concentration and depth of flavors. A long bright, red fruit dominated finish pleases the palate. With 60 minutes of decanting, this still seemed young. It fleshed out after about 2 hours.

3,666 Views

Tasted

Dec 1, 2008

1998
E. Guigal La Landonne (Côte-Rôtie)

Youthful, but approachable, the spicy, smoky, earthy, wild cherry and red plum, with hints of blackberry nose is there with a bit of effort. Full-bodied, fresh, concentrated, smoky and powerful, there is a solid tannic structure, but the tannins are as ripe as the fruit. 2 hours of air is about right, or wait another 5-10 more years.

2,190 Views

Tasted

Apr 6, 2022

With a few hours of air, the wine explodes. From start to finish, the perfume grabs you, the full bodied, concentrated, exotic palate continues to expand and lengthen and the finish here, just keeps on going. Still young, you can pop a cork on this youthful beauty now, or wait another decade or two!

3,468 Views

Tasted

Nov 12, 2017

How do you say rock star? On this night, you said with 1998 Guigal La Landonne! Full bodied, fresh, lively, intense, pure, long, mouth filling and balanced, with a nose that never stopped and a finish that lasted even longer. Still young, the wine clearly improved with air. Wait another 5 or more years, or give it 2 hours of air.

4,883 Views

Tasted

Mar 9, 2015

Backwards, this demands more time in the bottle and decanter. After 2 hours the wine barely opened, with another hour, complex scents and aromas began to emerge. This is big, no make that massive, yet everything is balanced. The finish is long, polished, expansive, intense and tannic. If you can wait a decade, this will probably sublime! I am happy to have bottles tucked away of this stunner.

3,655 Views

Tasted

Mar 9, 2014

Guigal La Landonne is normally a wine that demands 15-20 years, or more before it becomes civilized. The good news to report is, the 1998 is already a thrill to sip! With silky, polished tannins, velvet textures and serious levels of concentration, the wine feels great on your palate, ending on a long, ripe black cherry, stone, smoke, licorice and bacon fat drenched note. Enjoy this wine young for its sweet, delicious, baby fat, or give it another decade or more, either way, this is a stunning example of what Guigal does best.

6,914 Views

Tasted

Dec 19, 2012

Dark fruit, spice, licorice, black cherry, pepper and bacon fat. Concentrated with tannins and ripe, dark fruit, this structured wine requires time.

9,760 Views

Tasted

Jul 1, 2009

Expressive notes of pepper, blue fruit, smoke and blackberry liquor were in full force. However, this needs another decade or more to begin showing its secrets and charms. Very concentrated and full bodied, filled with ripe dark fruit, ending in a long tannic finish.

9,685 Views

Tasted

Feb 14, 2008

The perfume jumps from the glass. The layers of ripe black fruit continue flowing over your palate. The finish seems to continue endlessly. Wow, what a wine

9,896 Views

Tasted

Nov 12, 2007

1998
E. Guigal La Mouline (Côte-Rôtie)

This is a beauty! If you want to know why folks spend so much bank on the La La's, this is the wine I'd suggest buying. Even though it's pricey, for a La La, this probably offers the best value. The exotic, or is that erotic, fresh, pure, vibrant, spicy, earthy, kirsch, flower and plum notes stick with you from start to finish for at least 40 seconds. There is an energy here that propels the flavors all over your palate. And this is still young, give it another 5 years and it will be even better!

4,535 Views

Tasted

Jan 17, 2018

This just keeps getting better and better. Popped and poured, this still youthful wine hit all the right buttons. Concentrated, juicy, fresh, complex, floral and exotic, the wine got better and better in the glass. Give it an hour or 2 of air and it should really sing.

3,489 Views

Tasted

Apr 30, 2017

This just keeps getting better and better. I expect that trend to continue. While still youthful, the potent bouquet, with its flowers, licorice, tobacco leaf, smoke, cherry liqueur, espresso and very dark chocolate, nose is a complete turn on. On the palate, the wine is all about its freshness, concentration, vibrancy and layers of silky, sweet, boysenberries, black cherries and plummy notes. Drink this now, if you like it young, or wait a decade. Either way, this is a stunner!

4,466 Views

Tasted

Oct 22, 2015

With 90 minutes of decanting, the wine served up aromas of fresh baked cherry pie, caramel, licorice, bacon fat, black pepper, camp fire embers, black cherry, spice box, flowers and forest scents. Fresh, bright, sweet, focused and concentrated, the wine pops with ripe, red fruits. Elegant, yet flashy, like a fine Versace suit, this is still on the young side. The finish is long, intense, mineral driven and packed with pure, fresh, red cherries. I'm looking forward to seeing how the wine develops in the glass over dinner. The wine continued to improve in glass during the night. After 5 hours of air, it was still going strong. The famous La La wines are pricey. Not that value and La Mouline are something most people consider. But the 1998 La Mouline is one of the better vlaues out there for a really great vintage of the wine.

5,433 Views

Tasted

Jan 16, 2014

This is as intense as it is concentrated. Smokey jammy fruit blended with minerals makes for an intoxicating perfume. It shows of La Mouline's exotic side with its sexy, plush personality.

6,175 Views

Tasted

Feb 14, 2005

1998
E. Guigal La Turque (Côte-Rôtie)

This is clearly in its sweet spot, everything is in all the right places. Full-bodied, fresh, concentrated, lively, smoky, earthy, and fragrant, the wine sits in the middle of power, sensuality and purity on the palate and in the extensive finish. Give it up to 1 hour of air.

2,648 Views

Tasted

Jul 3, 2022

What a super wine... The plummy nose, with its flowery accents, licorice, smoke, earth and cherry liqueur perfume, silky, sexy textures, and rich, concentrated, ripe, fresh, fruit filled finish are really working, and it's still quite young. Time will only make this better...

3,808 Views

Tasted

Oct 22, 2015

What a treat! With its spicy, black cherry, black raspberry, black bepper, herb and floral nose, you were already enthralled. But when the wine hits your palate, with its silky, sweet, lush, intense flavorfs and textures, you know you are close to heaven. This is good now, but give it another 3-5-7 more years and this is going to be a stunner.

3,320 Views

Tasted

Oct 9, 2014

Wow! With about an hour of decanting, the smoky, licorice, black cherry, griotte, kirsch liqueur and spicy nose really started to deliver. Soft, refined and sensuous, there was enough enough concentration and power to fill your mouth and leave you wanting more. In a few more years, this will be even better!

3,797 Views

Tasted

Mar 9, 2014

Bacon fat, flowers, black raspberry, smoke, charcoal and licorice notes make the perfume come alive. Rich, intense and concentrated, this full bodied, ripe, sweet, tannic wine is built to age. Interestingly, it was not as open as the 1998 La Landonne.

3,898 Views

Tasted

Dec 19, 2012

Smokey black fruit, flowers, earth, herbs, burnt wood and an interesting aroma reminding me of wet cement. can be found with a little swirling. The wine is huge, very dense, tannic and concentrated.

4,033 Views

Tasted

Feb 14, 2005

1998
E. Guigal Château d'Ampuis (Côte-Rôtie)

Drinking right where it needs to be. It's easy to discover the fresh, ripe, sweet, cherries, black pepper and earthy characteristics that make up this soft textured, round, lively wine. It might not improve much from here, but it should remain at this level for another 7-10 more years.

3,049 Views

Tasted

Aug 16, 2015

Black cherry, tar, kirsch liqueur, charcoal, pepper and bacon fat. Silky smooth with ripe cherries, plums, spice, fennel, cocoa and black raspberries are in the soft, voluptuous finish. this is drinking very well at the moment. It made a perfect pairing with rare, grilled, Flannery strip steaks and mushrooms. This is not that far off the level of quality found in the 1999 or 2003 Guigal Ampuis. By the, this wine was popped and poured. I worked on this wine for about one more hour after writing the initial note and upped its score a point. This is a very strong, stylish Cote Rotie.

4,052 Views

Tasted

Jul 20, 2012

Licorice, flowers, spice, blackberry liqueur, truffle, smoke, plums and bacon fat aromas popped the moment the cork was pulled. rich, round, concentrated, stylish and filled with gobs of juicy, dark fruit and spice, this beautiful Cote Rotie is drinking perfectly today. It's not a La La, nor does it pretend to be. It's a wonderful Northern Rhone wine that is just now starting to show its stuff.

4,153 Views

Tasted

Oct 27, 2011

Dark, rich colors with no lightening at the edges. Sappy aromas and hints of pepper, licorice, coffee and spicy, jammy fruit. Thick, rich and tannic. A good wine that will vastly improve over the next several years.

2,035 Views

Tasted

Aug 10, 2004

1997
E. Guigal La Mouline (Côte-Rôtie)

Purchased when these wines were affordable, it was easy to buy a case, open a bottle every year to two and watch it develop. This bottle was still beautiful, but perhaps at the peak, or close to to peak because even with its floral, white fruit, spice, kirsch, garrigue and black raspberry character, the was a hair less interesting than when last tasted. This does not mean you need to worry about drinking it, as there is more than ample, fresh, silky, exotic, ripe, fresh berries remaining, but it's a not a wine to make old bones with. I'm going to finish my remaining bottles over the next 7-9 years.

6,513 Views

Tasted

Aug 31, 2013

From the first intoxicating scent, you know you're in for a treat. Licorice, flowers, kirsch, black cherry liqueur, sizzling bacon fat, pepper, earth, black raspberry and earthy aromas are all over the place. Pure silk, velvet and opulence, the wine feels lush as it crosses your palate. Acidity is in balance as the full bodied, concentrated wine feels fresh and lively. Still young, this is starting to drink great. Most vintages of La Mouline are expensive because the quality is high, very little wine is made and the demand outstrips the supply. With that in mind, 1997 Guigal La Mouline could be the best value for one of these prized wines. If you have not tasted La Mouline, or if you're looking to add more Guigal to your collection, this is the vintage to buy!

5,918 Views

Tasted

Mar 15, 2012

This is one sexy little beast. Plush, lush, rich and filled with earthy, spiced cherries, assorted red and black fruits topped with a floral note. Close to mature, a few more years will help it develop. But if you have more than a few bottles, pop one. You won't be sorry.

5,057 Views

Tasted

Mar 25, 2008

A very seductive style of wine filled with deep cherry, black fruit, flower and spice aromas.

4,559 Views

Tasted

Feb 14, 2005

1997
E. Guigal La Landonne (Côte-Rôtie)

Surprisingly forward for a solid vintage for Guigal La Landonne, 30 minutes of air opened the wine and within another 15-20 minutes, the bottle really blossomed. Full bodied and concentrated, there is an elegance to the ripe, dark fruits. Plushly textured, and still a bit wild, this is a lot of fun to drink now and it should get better from here.

3,936 Views

Tasted

Oct 7, 2016

Still deep in color, aromas of kirsch, jammy black raspberry, stone, fresh herbs, cracker black pepper, spice box and smoke pop with little effort. Rich, lush, silky, pure black and red spicy fruits effortless coat your palate. There is a beautiful sense of purity to the velvety fruit. The wine finishes with bright, fresh, spicy, black cherry and licorice with a lot of energy. This is become a much better wine over the past few years. Drink it now or age it for a decade and enjoy over the next few decades after that. Over the years I've always favored La Mouline, but La Landonne continues gaining ground in the race to naming a favorite of the three La La's. Guigal La Landonne is always an expensive wine. But if you want a good example of why these wines are so prized, this is probably the best priced example in the marketplace today.

4,606 Views

Tasted

Dec 26, 2012

Coffee, black fruit, pepper and earthy notes were easily findable. Very concentrated with a finish lasting over 40 seconds, this intense, round, rip, rich wine has a lot to offer.

4,592 Views

Tasted

May 12, 2005

The most accessible young La Landonne of the night. Elegant and sophisticated as well as complex.

4,513 Views

Tasted

Feb 14, 2005

1997
E. Guigal La Turque (Côte-Rôtie)

Almost as seductive as La Mouline, not as powerful as La Landonne and the perfect way to end a once in a life time tasting.

3,668 Views

Tasted

Feb 14, 2005

1996
E. Guigal La Turque (Côte-Rôtie)

A solid Cote Rotie, but not a great vintage for La Turque. The nose offered enticing aromatics. But the lack of depth and concentration, coupled with none of the normally easy to find exotic qualities enjoyed in the La La's, makes this medium/full bodied wine a pass, especially when you consider the price.

5,097 Views

Tasted

Dec 2, 2012

1996
E. Guigal La Landonne (Côte-Rôtie)

Things start off well here. There is fruit, concentration of raw material, and aromatics. But the finish is clipped, and there is a definitive sensation of greenness in the end notes that takes away from the wine. This is a good, but not great vintage for Guigal La Landonne. There is no hurry to drink it, but it's not going to get better from here.

2,426 Views

Tasted

Nov 9, 2016

1995
E. Guigal La Landonne (Côte-Rôtie)

It needs time in the decanter, but with air, the wine fills out, delivering a knockout nose, layers of concentrated, ripe, juicy, spicy, mineral driven, animalistic wild dark fruits and earthy scents. Full bodied, deep, masculine and even somewhat stern, in a refined manner. At 21 years of age, this has a long time to go. Very good now, but even better with another 5-10 years in the cellar.

2,931 Views

Tasted

Nov 26, 2016

This bottle was stunning! With 3 hours of hour, the animalistic, earthy, stony, ripe black fruits, smoke and spice were right there. But the real action took place on the palate as the wave of thick, rich, fresh, ripe, sweet, powerful, lush, focused fruits coated your palate. The perfect combination of lift and opulence, with complexity and excitement to share. I was not expecting this wine to be that good. While expensive, if you're looking for a bottle of Guigal La Landonne to taste, or to see what all the fuss is about, this is a very good choice.

3,721 Views

Tasted

Aug 22, 2015

All great wines share one common trait, you know they are great the moment you meet them. This stunning wine knocks it almost out of the park with its earthy, stone, black cherry liqueur, pepper and spice box aromatics. On the palate, the wine is thick, rich, lush, dense, powerful and magically refined. Still young, beauty this will age for decades.

5,134 Views

Tasted

Nov 19, 2013

WOW! This perfume packs a punch with its pungent aromatics of coconut, smoke, blackberry liqueur, licorice, tar, bacon fat, earth and Asian spice aromatics. Powerful, dense, balanced and harmonious, this wine has really improved over the past few years. The hard, austere style has morphed into a wine of beauty, intensity and complexity. The long, pure, palate staining finish is filled with pepper, iron and sweet black raspberry and black plum flavors.

5,484 Views

Tasted

Aug 24, 2011

Black fruits, bacon fat and earthy notes roared out of the glass. The huge, densely concentrated wine delivered an endless, elegant, powerful finish. Very complex. This is still young and needs at least another decade before reaching maturity

4,260 Views

Tasted

Feb 18, 2009

Beautiful scents of vanilla, black fruit, blackberry jam, pepper and smoke. Balanced and rich. Tannic. Needs time.

4,078 Views

Tasted

Jul 12, 2005

A bigger, beefier style of La Landonne. The tannic backbone gives the wine a stern style for a Guigal Single Vineyard.

4,015 Views

Tasted

Feb 14, 2005

1995
E. Guigal La Turque (Côte-Rôtie)

The florality of this wine is striking. From there, you move to the smoky herbs, grilled meat, black with red cherries and thyme. Vibrant, fresh, and energetic, with a pop in the red fruits on the palate, and a lick of salt that comes in at the end, about 1 hour of decanting should do the trick. Drink from 2023-2040.

43 Views

Tasted

Sep 12, 2023

A beautiful expression of La Turque, with its smoky, licorice, cherry, earth and flowery nose. Full bodied, vibrant, energetic and fresh, the wine is concentrated, deep, polished, long and complex. This is great now and it's going to be even better in a decade.

3,847 Views

Tasted

Oct 22, 2015

Hello old friend, it seems like it was ages ago since I last tasted you. Dark in color, rich, sweet, intense, young, fresh, concentrated, full bodied and deep, the floral dominated nose delivers the goods and the long, impressive, mouth filling finish leaves you wanting for me.

3,446 Views

Tasted

Mar 9, 2014

Perhaps more air, or bottle age would have helped this wine. It was a good Cote Rotie, but not a great La Turque. The wine was a bit on the beefy, masculine, tannic side of the style range, lacking the often exotic, ostentatious style it's known for. I just looked at my other recent notes and they do not seem like the same wine. Perhaps it was a minor storage issue along the way. I'm more than open to trying it again.

3,642 Views

Tasted

Mar 18, 2013

Bacon fat, pepper, kirsch, black cherry, violets and smoke create the nose. On the palate, the wine is fresh, intense, pure, refined, polished, powerful and elegant. Starting to come around, a few more years will help soften the wine while adding more levels of complexity.

4,008 Views

Tasted

Dec 19, 2012

Coconut, black pepper, bacon fat, pepper, plum, floral, licorice and cassis scents popped from the glass. Layers of juicy black fruit, stone and spice fill your palate with plush sensations. The plum, dark cherry and spicy blackberry finish remains in your mouth for over 40 seconds.

4,876 Views

Tasted

Aug 24, 2010

Rich, exotic and powerful. Black fruits mixed with herbs, spices, flowers and more explodes from the glass. The palate is gently coated with wave after wave of ripe, unctuous juice. The finish last over :40! 95 Guigals are a little brighter than other years with slightly elevated acid levels. This is not a bad thing, it's just a stylistic difference from more hedonistic years like 88, 91 or 97.

4,919 Views

Tasted

Aug 6, 2007

This wine took the best of La Landonne adding it to La Mouline and created the wine of the vintage for Cote Rotie!

4,526 Views

Tasted

Feb 14, 2005

1995
E. Guigal La Mouline (Côte-Rôtie)

Vigorous, bright, crisp, and vibrant, this is still amazingly fresh and youthful. Concentrated, aromatic, long, complex, and a treat to taste, 1 hour in the decanter helps open the wine. Drink from 2022-2040.

3,034 Views

Tasted

Jul 16, 2022

Youthful, fresh, bright, concentrated, long and deep, the wine picks up steam after 90 minutes in the decanter allowing the licorice, smoke, dark red fruits, spice and earthy nuances to pop. Another 5 years here will add a lot to the wine.

3,380 Views

Tasted

May 4, 2020

This is a budding rock star! The fruits sizzle with freshness and the floral elements shine. The exotic textures are starting to deliver that sublime, lush, opulent quality that no other wine delivers. Drink now, or wait a few years, either way, this is sublime!

3,214 Views

Tasted

Jan 29, 2017

Killer juice here! There is a lot going on with this wine starting with the floral, black raspberry, peppery, earthy nose. But the real action is on the palate, with its wealth of exotically textured fruit, freshness and length. Still young, it's worth popping a cork to check in on it. Else, wait for more development.

2,765 Views

Tasted

May 5, 2016

Clearly a very good Cote Rotie, but this bottle is not going to earn a place in the La Mouline Hall of Fame. Fresh, live, bright and intense, there is a real vibrancy to the fruit, but it lacks the complexity and exotic personality I seek in this wine. I hope it was just this example, as other bottles have been better.

3,066 Views

Tasted

Dec 17, 2015

What a beauty! The nose, with its floral, licorice, white peach, smoke, violets and black cherries definitely revs your engines. But the layers of fresh, sweet, black and dark red fruits, exotic, plush textures and the opulent finish seals the deal. This is showing really well today. With time, it will get even better. The wine was decanted about an hour before tasting.

2,946 Views

Tasted

Oct 22, 2015

Wow! From start to finish, this is a stunner! The floral, spice, earthy, kirsch and black cherry liqueur nose is a knockout. The rich, supple, exotic, lush textures and layers of perfectly, ripe, sweet, fruit, with its sensuous personality is just pure, bottled pleasure.

3,542 Views

Tasted

Dec 15, 2014

Flowers, licorice, kirsch, smoke and black raspberry scents open to a fresh, bright, zippy Cote Rotie, with supple textures and a lush, polished finish. A few more years will add another level of complexity to the wine.

3,306 Views

Tasted

Dec 18, 2013

With a beautiful nose of boysenberry, flowers, earth, black cherry, spice, earth, bacon fat and pepper, this sensuous, rich, fresh, sexy, structured bottle of Cote Rotie is drinking beautifully today. However, it has the stuffing and backbone to age and improve for another 15 or more years.

3,780 Views

Tasted

Aug 2, 2012

1995 La Mouline starts out with a nose filled with smoke, black cherry, kirsch, bacon fat and truffle. In the mouth, the wine is big and powerful with a lot of brightness and acidity. This high pitched wine ends with notes of kirsch, chocolate and cherries. This requires at least a few more years of bottle age. 97 Pts

4,638 Views

Tasted

Oct 14, 2011

Provencal herbs, bacon fat, fresh ground pepper, earth, black raspberry, truffle, BBQ steak and smoke aromatics make up an exciting perfume. Exotic, rich, silky textures are followed by a long finish of sweet, ripe plums, earth and black cherry liqueur.

4,726 Views

Tasted

Aug 24, 2010

This offers the same level of concentration as the Landonne, but it is a more refined, stylish, elegant wine.

3,774 Views

Tasted

Feb 14, 2008

1994
E. Guigal La Mouline (Côte-Rôtie)

Even better than the previous bottle, this is showing just great today. The nose, with its lilacs, smoked cherries, Asian spice, thyme and barbecue brings you in. The soft, luscious, elegant, fresh, crisp, red cherry and spicy plum and black raspberry palate, with all that tingly fruit, seals the deal. This is probably right in its peak drinking period.

3,509 Views

Tasted

Sep 23, 2020

Straddling the fence between sensuous and strict, the wine is more interesting on the nose, with its concoction of earth, spice, espresso, licorice, cherry griotte and floral notes. Full bodied, and on the way to softness, the wine retains a firm, almost nature in the finish.

3,303 Views

Tasted

May 30, 2018

This has really developed well. Over the years, the wine has filled out, softened and added layers of aromatic complexity. If I had to quibble, there is a minor note of green in the finish, but there was so much sensuous, ripe, dark red fruits, flowers, fresh herbs, earth, thyme and kirsch, with freshness and length, it did not matter. With about 30 minutes of decanting, the wine really fleshed out. It continued improving in the glass until we polished off the bottle, about 2 hours later.

3,343 Views

Tasted

Nov 1, 2016

With three hours of air, the wine developed much softer textures, without losing the beautiful aromatics of bacon fat, baked cherry pie, brown sugar, earth, garrigue, kirsch, peach and spice. Silky red cherries, spice and white peach is found in the sultry finish. Drink it now, or age it. But it needs more air than you might think. Working my way slowly through a case bought on release. This is the best showing yet. But I am convinced some of that has to do with the decanting, as I normally do not give many wines this much air. The wine began to fade a bit after 4 hours in the glass or decanter.

4,046 Views

Tasted

Jun 16, 2012

Licorice, kirsch liqueur, jammy black cherries, flowers, peaches, truffle, earth, smoke and espresso bean aromas grab your attention and keep it there. On your palate, this concentrated, rich, intense wine fills your mouth with exotic textures and ripe, powerful, masculine, red with black fruits. This beautiful Cote Rotie ends with a fresh, black cherry, black raspberry, spice and tart kirsch finish. Fully mature, there is no reason to wait to open a bottle.

3,743 Views

Tasted

Sep 11, 2011

The nose exploded from the glass with mint, spearmint, flowers, red and black fruits, herbs and pepper. The palate is best described as syrup of Syrah. This is a very sophisticated, elegant wine that continued improving in the glass. Is any wine more exotic than one of the La La's? Great stuff!

3,614 Views

Tasted

Feb 15, 2004

1994
E. Guigal La Turque (Côte-Rôtie)

There is a lot to like about the wine, with its fresh fruit and aromatic profile, but this is an austere style of Guigal with some dryness in the finish. I'd decant a few hours prior to serving.

5,180 Views

Tasted

Mar 9, 2014

Smoke, bacon fat, juicy black cherries, garrigue, charcoal, truffle and earthy scents create a complex, powerful, spicy perfume. Powerful, refined, structured, complex and sophisticated, the wine has layers of depth and concentrated ripe berries. While not as opulent or exotic as La Turque can deliver, after an hour in the glass, the wine opened, softened and came together to deliver a long sensation of plums, spice, olive tapenade and sweet black cherries. This will improve with a few more years of age. Along with the undervalued 1997, this is probably the best value for one of Guigal's legendary wines in today's world.

4,601 Views

Tasted

Dec 31, 2011

1994
E. Guigal La Landonne (Côte-Rôtie)

Power, intensity, tannin and fruit are packed in your glass. But this is a masculine styled, big wine that needs time and air to soften its meaty, beefy, fresh, youthful, tannic profile.

3,347 Views

Tasted

Mar 9, 2014

Black fruit, tobacco, truffle, earth, pepper, cassis, blackberry and spicy aromatics are easy to find. Dense, full bodied, solid and structured, this has softened and become a more interesting wine over the past few years. Still young, this beefy style of La Landonne ends with a big dose of mineral driven, spicy black fruit.

4,275 Views

Tasted

Aug 19, 2010

1993
E. Guigal La Landonne (Côte-Rôtie)

Medium bodied, with some dryness and herbal qualities to the spicy, peppery red fruits, this is a wine that wants to be good, but does not have the stuffing to get there. For a Guigal La La, this might look like a good price, but it's not worth the money.

4,871 Views

Tasted

Jul 26, 2014

1991
E. Guigal La Mouline (Côte-Rôtie)

The intensity of the floral notes really pops here. The fruit is incredibly, ripe, fresh, sweet and pure. There is massive concentration, but the wine feels light, fresh and refreshing.The perfect sting of the spicy, red fruits in the finish remains etched on your palate for either side of 60 seconds! This is truly what great wine is all about!

4,225 Views

Tasted

Sep 5, 2017

Speechless... What can I say? Off the charts, wild exotic, erotic fruits, incredible, sensuous textures and massive layers of fruit. Intense, long, (we're talking over 60 seconds), and perhaps 90 seconds, this is a stunner that delivers all the goods and keeps serving them up, long after its left its glass and gone to where it needed to be. Pricey, yes. But for one of the best wines in the world, it's worth the bank, if you can spare it.

4,623 Views

Tasted

Jan 14, 2017

It's hard to believe this wine is almost 25 years old, yet it's holding on tight to its youthful vigor. The wine is intense, concentrated, rich and ling, tasting like it was only starting to reveal it's layers of secrets. It's impossible to avoid the layer after layer of rich, sensuously textured fruits, especially with a finish that gets better and better, the longer you let it linger. This is stunning now and it's only going to get better from here, if you can hold off popping a cork on a wine that is this stunning!

3,260 Views

Tasted

Aug 22, 2015

If you're seeking perfection in the glass, look no further. The aromatics are intense, the exotic, silky, supple, sensuous, sexy textures are out of this world and the long, concentrated, rich, seemingly, never ending finish goes on and on. Perfect now and perfect in the future, this is as good as it gets.

5,232 Views

Tasted

May 13, 2014

If an award is ever offered for the most consistent 100 Pt wine ever made, clearly, 1991 Guigal La Mouline is at the top of the list to receive it. With a nose packed with smoke, flowers, black raspberry, bacon fat. spice, pepper and kirsch liqueur, it's impossible to pull away from the glass. But the real fireworks take place on the palate, with the exotic, sexy, lush, textures and the seemingly, endless, fresh, spicy, cherry finish. This is bottled decadence.

6,027 Views

Tasted

Dec 20, 2012

Liquid sex. There is no better way to describe this opulent, decadent, exotic Cote Rotie wine. This is so complex, sensuous and concentrated, it scores off the charts! The perfume explodes from the glass with almost ripe, ripe and fully ripe dark cherry, floral, spice, maple, vanilla and dark berry notes. The wine glides over your palate like oil. The purity of intense, ripe fruit is stunning. The finish is seamless.

8,598 Views

Tasted

Sep 20, 2011

1991 La Mouline opens with bacon fat, pepper, kirsch, black cherry and earthy aromas. Plush, soft, rich and sweet on the palate, the wine offers layers of exotic textures. The finish ends with a long, spicy black cherry note.

6,189 Views

Tasted

Oct 14, 2010

Explodes with ripe cherries, intense black fruit and floral notes. Extremely concentrated. Rich and exotic. But, on this night, not quite as complete or complex as the compelling 88. Still, it was a riveting tasting experience.

5,518 Views

Tasted

Mar 10, 2009

The array of aromas in the perfume has to be smelled to be believed. Blueberries, sherry, blackberry liqueur, oranges, flowers and pepper was absolutely compelling. I described this wine as "Soul of Syrah, or Essence of Cote Rotie." The endless layers of fruit that cascade over your palate needs to be experienced by any lover of great wines, let alone a fan of Cote Rote or Guigal.

7,953 Views

Tasted

Feb 14, 2005

1991
E. Guigal La Turque (Côte-Rôtie)

Life is too short not to experience wines like this, at least once. Incredibly flamboyant, this is pure, bottled decadence. The tannins are silky, the fruit is a blend of ripe, perfectly ripe and hint of overripe berries. There is a great sense of purity here. With power and sensuality, coupled with freshness and fruit for days, the wine is seamless from start to finish, which must last at least 60 seconds or longer more on your palate!

5,082 Views

Tasted

Nov 13, 2017

Many, if not most legendary wines fail to deliver as expected. When you factor in the costs associated with most legendary wines, it's even worse. The La La's of Guigal seem to break the mold as they deliver the goods. Still young, intense and fresh, the spicy, earthy, kirsch, black cherry, smoke, licorice and truffle infused nose sets off the experience. On the palate, the wine fills every taste receptor with perfectly ripe berries that expand in flavor and intensity.

4,949 Views

Tasted

Sep 3, 2014

Speechless... That is what happens to tasters with wines at this level. OK, spending a night with twins is even more erotic, but this is an amazing tasting experience. And it cost less than the twins too. Stunning levels of extract, exotic, hedonistic, decadent textures and a finish that is still going strong after 60 seconds only paints a part of the picture.

6,320 Views

Tasted

May 15, 2013

If a wine is going to score 100 Pts, it should make its qualities known with the first sniff, swirl and sip. It took that long or less to know this was sheer perfection in a glass. When the explosive perfume roared from the glass, pure black raspberry liqueur, truffle, black cherry, violets, smoke, vanilla, mint and licorice took over your senses. Sensuous, supple, opulent textures and a long seamless, sweet finish, was almost overflowing with pure, spicy, ripe black and red fruits. Those sensations remained in your mouth for over sixty seconds.

7,090 Views

Tasted

Mar 26, 2012

This blasts out of glass with bacon fat, fresh herbs, spices, garrigue and more. Intense waves of fruit cascade over your palate in a seamless fashion. The finish is well over a minute. This is very compelling wine.

5,862 Views

Tasted

Mar 10, 2007

Bacon fat, flowers, jammy black and red fruit, spice and earth explode from the glass. This perfume is so explosive, I thought it might break the glass! Concentrated, full bodied and filled with a myriad of black fruit flavors and exotic, silky textures, this is a thrill a sip Cote Rotie!

8,575 Views

Tasted

Oct 20, 2006

Black cherry liqueur, earth, wood and floral tones make themselves known. Very complex. A finish with layers of liquid silk. Very concentrated and full-bodied.

4,919 Views

Tasted

Feb 14, 2005

Wow is the best way to begin to describe its aroma. Scents of crushed, ripe, jammy, black fruit and exotic spices exploded from the glass. Flowers and wood aromas completed the symphony of scents. Full bodied, immense concentration and complexity. Each sip and sniff offered something new to discover. The seamless mouth feel and finish lasted close to :60 seconds.

5,564 Views

Tasted

Aug 15, 2004

1991
E. Guigal La Landonne (Côte-Rôtie)

Stunning in every sense of the meaning, in the nose, with its its cornucopia of fragrances, on the palate, with its layers of dense, fresh, sweet, earthy, perfectly ripe berries and the finish that stuck with you for close to 60 seconds. WOW... While this is drinking great today, it's going to get even better with another 5 years in the bottle.

2,945 Views

Tasted

Oct 26, 2016

Mind blowing wine that is really coming into its own. The nose, with its spicy, peppery, earthy, black cherry liqueur fragrance really moved you. But that's topped with on the palate with a massive wall of powerful, sweet, ripe fruits that is intense, balanced, mouthfilling and long.

4,868 Views

Tasted

Dec 17, 2015

Close to perfection, but this bottle was not quite there. This is not to take anything away from the sublime, smoky, tobacco, thyme, pepper and fresh, sweet cherry nose. Or the intense levels of concentration, power or richness that is clearly evident. Still young, this will only get better, gain in complexity and continue softening for decades to come.

3,110 Views

Tasted

Aug 31, 2015

My first off bottle. It's hard to say what went wrong, but this bottle was good, but lacked the greatness one deserves in this special wine. I'm sure storage at some point was the issue. Provenance is worth paying for, especially on the best wines.

3,698 Views

Tasted

Oct 9, 2014

Smoke, boysenberry, flowers, black cherry liqueur, earth, charcoal, and creamy cherry scents created a complex perfume. Big, rich, mouth-filling, long and lush, this still tannic wine is powerful and intense. At 21 years of age, it's slowly starting to flesh out. Give it another 5- 8 years and this will be off the charts!

4,834 Views

Tasted

Mar 25, 2012

Spice, black fruit and minerality in the nose. Very concentrated and still seemingly youthful on the palate. This big wine is loaded with black fruit and an iron component. Long and mouth filling

5,338 Views

Tasted

Jun 29, 2009

Deep, dark and brooding, this powerful, concentrated display of ripe black fruit and minerals remains on your palate for close to sixty seconds.

5,214 Views

Tasted

Sep 20, 2007

Black fruit, smoke, cassis and spicey wood notes were in full force. Very dense, thick wine with superb concentration. The palate gets the best part of this wine with endless waves of flavor. Very young, will improve for 2-3 decades

4,662 Views

Tasted

Feb 14, 2005

Intoxicating mineral, black fruit, spice, forest perfume. The fpalate is washed with waves of round, dense, dark fruit. Still young. Tannic and structured. Elegant and balanced with ample complexity keeps you interested in this wine.

4,906 Views

Tasted

Nov 14, 2004

1990
E. Guigal La Mouline (Côte-Rôtie)

Sexy, sensuous, floral and showy, the wine quickly expresses its smokey, pure kirsch, flowers, white fruit and melange of cherries. Rich, exotic, polished and long, this is an incredible tasting experience.

3,783 Views

Tasted

Feb 22, 2020

Rich, luscious, spicy, exotic and with complexities galore, this is stunning from start to finish. Drinking in the right place today, this is sublime, and with well stored bottles, it could get even better. But there is no reason to wait, this is a winner.

3,680 Views

Tasted

Jan 14, 2017

Beautiful fragrance, compelling textures, intensely concentrated, long, rich, complex and hedonistic, this is a thrilling wine to taste and while it seems at peak, with a bit more age, it could even get a bit better from here!

3,588 Views

Tasted

Nov 10, 2016

This is one incredibly sexed up wine. Pure silk, velvet, lace and leather in texture with an exotic bouquet of scents and stunning levels of concentrated, perfectly ripe and over fruits, words are not sufficient to express how much pleasure this brings to the mind and senses. This is wine at its best! If you have the money and want a bottle that aliens would take to their planet to show the greatness of Guigal and Cote Rotie, this is the real deal.

5,851 Views

Tasted

Nov 24, 2013

1990
E. Guigal La Landonne (Côte-Rôtie)

Really singing at the top of its game with a smoky, aromatic profile made even better by its nuances of barbecue, smoked meat. licorice, spearmint, cherries, and plums, Grace, and power are at work here on the palate and in the dark red berry and spice-filled finish. Drink from 2023-2040.

38 Views

Tasted

Sep 12, 2023

Holy Moly! This thrilling wine has it all. While there is some tannin to resolve, and you get the feeling there is still something held in reserve, what you do find is off the charts! Intense, dense, powerful, regal, fresh, balanced and lively, the smoky essence, crushed rock, sweet plum, cherry, thyme, and pepper is more than ample to keep you busy. But the wealth of fruit, power and opulence on the palate is the real magic! The 60 second finish awards you time to enjoy the layers of pure, dark red fruits, cocoa, kirsch, pepper and spice.

3,726 Views

Tasted

Feb 22, 2020

With each bottle of aged Guigal La Landonne, I become more and more impressed. I am not sure if this is attributed to the effects of additional age on the bottle, or on me, but my appreciation for this stunning wine grows every year. And why not? The levels of depth of flavor, raw material and concentration, complexity, balance, harmony, hedonistic tendencies and ageless quality are not found in any other wine. Still young, you can enjoy this now, or over the next 20 to 30 years, or maybe even longer!

5,871 Views

Tasted

Nov 24, 2013

1990
E. Guigal La Turque (Côte-Rôtie)

This beautiful wine is perfectly poised between its sex appeal, refined essence and a general flamboyance. Concentrated, lush, opulent and showy, the licorice, smoke, spice box and array of red fruits is thrilling! The pop on the palate is followed by length and sensuality. This is showing really well today.

3,729 Views

Tasted

Feb 22, 2020

Not quite to the same level as the surrounding vintages, (1988, 1989 and 1991) this is still stunning. While it lacks the same of level of concentration and intensity as the aforementioned years, the wine is floral, rich, sensuous, luscious, opulent, long, ripe, spicy and fresh. Showy in nature, the wine is drinking in the perfect place today. Yet, I am sure it has at least another 15-20 more years of prime time, drinkability.

2,695 Views

Tasted

Nov 13, 2017

Wines like this leave you speechless. Coming up on 24 years of age, this is still young, vibrant and alive. It's packed with ripe, sweet, exotic fruits, complex aromas and a silky, flamboyant, opulent finish. Tasted blind with the 1989 and 1991, this was just a bit less concentrated than its brothers and sisters. Still, I'd be honored to drink this compelling wine any day.

4,786 Views

Tasted

May 15, 2013

1989
E. Guigal La Turque (Côte-Rôtie)

Spicy, fresh, vibrant, earthy, peppery, red fruits ripened to perfection, with the perfect floral accent is what you find in the perfume. Silky, sexy, long and fresh, with ample concentration in the palate, prime you for the exotic textured finish. This is in the prime of its life. There is no hurry to pop the cork on a well stored example.

3,903 Views

Tasted

Nov 13, 2017

Just when I think La Mouline is favorite of the La La trio, I once again change my mind after tasting the stunning 1989 La Turque. The exotic perfume with its earth, stone, truffle, licorice, floral, black plum and spice is off the charts. On the palate, the show goes on with its endless array of thick, ripe, zippy, fruits and elegant textures. I loved this wine!

4,116 Views

Tasted

Nov 21, 2014

Stunning! This was perfect in every way possible. A compelling perfume with a myriad of scents including pepper, earth, black cherry, plum liqueur, Asian spice, bacon fat, and licorice. Intense, rich and long, each sip was a command to try it again, and again again, until your glass was drained. This is drinking perfectly today and if well stored, it's going to get even better with time!

4,878 Views

Tasted

May 15, 2013

Black cherry liqueur, truffle, earth, jammy black raspberry, smoke, spice and fennel aromas caught your attention and kept it where it belonged. In the mouth, your palate was coated with layers of sensuous, ripe, red and black plums, spice and cherries. Purity, intensity and exotic textures are the hallmark of this stunning bottle of Cote Rotie.

5,209 Views

Tasted

Oct 1, 2011

This Cote Rotie offered tobacco, smoke, cassis, bacon fat and cherry liqueur scents. The supple, fleshy, velvety textures felt great caressing your palate before you enjoyed the long seamless, exotic ripe kirsch filled finish.

5,554 Views

Tasted

Aug 12, 2010

The concentration of the La Landonne paired with the exotic quality of the La Mouline makes this an amazing bottle of wine! This is a must have wine. Smoke, black fruit, flowers, licorice and spices tease and please my senses. Very lush and rich, like liquid silk on steroids. Still young, some tannin remains. This will improve. Perfectly balanced

6,024 Views

Tasted

Feb 14, 2005

1989
E. Guigal La Landonne (Côte-Rôtie)

Youthfull, deep, concentrated, fresh, broad-shouldered, dark and packed with smoldering black and red fruits, the wine fills your palate. Powerful and refined is not something you see often, but it is here in spades. Juicy, dynamic, complex, long and holding on to its last vestiges of youth, before hitting full maturity, this is stunning in every sense of the word.

4,105 Views

Tasted

Feb 2, 2020

Coconut, licorice, smoke, fig, black plum, dark cherry and forest floor aromatics are in full force. Full bodied, deep, concentrated and youthfully fresh, yet ready to drink, there is a lot of vibrancy in the long finish.

3,792 Views

Tasted

Dec 17, 2015

At 98 Pts, I am probably short changing this stunning wine. It has an incredible depth of flavor that does not quit. There is intensity and concentration of flavor, purity of fruit, a nose that competes with the best perfumed scents, length, density and class. Still young, I hope to age as well as this wine.

3,583 Views

Tasted

Nov 21, 2013

Explosive nose of iron, blackberry liqueur, Asian spice, smoke, black cherry liqueur and earth, full bodied, concentrated, rich and powerful, the finish is palate filling and long.

4,489 Views

Tasted

Nov 9, 2012

Ripe, dense, black fruit, minerals and spices jumped from the glass. Concentration and complexity of flavors are the hallmark of this young wine.

4,048 Views

Tasted

Sep 20, 2007

This offered black, jammy raspberries, cassis and forest smells. Very dense, concentrated juice. Ripe, fat, sexy fruit.

3,901 Views

Tasted

Feb 14, 2005

1989
E. Guigal La Mouline (Côte-Rôtie)

A thrilling wine in every sense of the word. Aromatically, you find dried flowers, cherries, plums, kirsch, spice, leafy herbs, smoke, and black pit fruits. The palate feels like opulent, silk with layers of sweet, fresh, earthy, pure fruits, that are seamless in the finish. This is probably at, or close to its peak. Drink from 2023-2034.

2,575 Views

Tasted

Dec 12, 2022

Stunning! If one note could sum up this wine, that works. If you need to know more, the catchy, earthy, spicy, smoky perfume is complicated by licorice, caramel, cherry griotte, black raspberries and floral notes. The wine is soft, silky, sensuous and sexy, ending with close to 60 seconds of fruit, exotic textures, spice and freshness. Great now, this is going to be insane later.

3,511 Views

Tasted

Jul 19, 2014

Not as conecntrated as the other two La La's, but much more erotic and exotic in its silky, fresh, vibrant textures and layers of velvet drenched, spicy, earthy, red and black fruits. Drink this now, or age it for a decade. This is what great wine is all about.

3,263 Views

Tasted

Nov 21, 2013

Truffle, cherry blossoms, smoke, red berry tea, peach jam, smoke, tobacco, fresh herbs and caramel, soft, sensuous, supple and exotic in texture with a fresh, sweet, ripe, spicy, strawberry and red cherry finish. As good as this bottle was, I've had better examples. Still, this was delicious.

3,901 Views

Tasted

Nov 9, 2012

Black cherries, herbs, smoke, pepper, peach and dark fruit dominated your senses. The palate presence is sultry. The long rich finish and exotic texture stays with you for over sixty seconds.

5,448 Views

Tasted

Sep 20, 2010

Flowers, Kirsch, earth and spices are clearly in evidence. Like the comment I made regarding the 89 La Landonne, on it's own, it would have blown me away, but with the other La Mouline's being opened, as great as it was, it didn't offer as much as the 82, 83 or 85. Still young, it will improve.

5,266 Views

Tasted

Feb 14, 2005

1988
E. Guigal La Landonne (Côte-Rôtie)

Powerful, concentrated, deep, and firm, the wine offers its smoky, charcoal, licorice, and dark red fruits with some coaxing. The masculine finish is packed with layers of dark, red berries, black pepper, salt, and dried herbs that linger. Drink from 2023-2045.

97 Views

Tasted

Sep 25, 2023

Still youthful, vigorous and fresh, this is almost off the charts! The wine offers power, concentration, complexity, length and most importantly, a singular character. The dark, red and spicy black fruits are energetic, peppery, pure and smoky. The wine fills your palate, and yet, there is a lightness to the fruit along with purity and richness that makes you go back for sip after sip. The wine should continue at this high level for at least 2-3 more decades if well-stored.

3,946 Views

Tasted

Nov 20, 2019

This stunner delivers intensity of flavor, layers of ripe, sweet, pure, mineral driven, earthy, spicy, concentrated, fresh fruits and a finish that does not quit.

3,824 Views

Tasted

Jan 2, 2015

Compelling from the get go with its licorice, crushed stone, iron, black cherry and smoky perfume. Big, potent, tannic, fresh and young, the demanded your attention and focus as that is what it took to take in all its complexities.

5,605 Views

Tasted

Aug 18, 2014

Time and time again it's proven, after 20 years, there is no such thing as a great wine, just a great bottle. For some wines, it's not such a big deal. But when it's 1988 Guigal La Landonne, that hurts. Beefy, powerful, intense, peppery, blackberry, earth, cherry and stone aromas led the way. But the wine fell flat in the mouth and finish. Having had better bottles of this stunning Cote Rotie in the past, this specific bottle was not correct and should not be seen as an indicator of where this is at today.

5,554 Views

Tasted

Sep 30, 2011

The levels of concentration and depth in this wine were off the charts. The black fruit, herb, truffle and spice infused perfume were amazing. But, the explosion took place when the wine hit your mouth! The seamless finish seemed to last close to ninety seconds. Wave after wave of the most decadent ripe fruit I've ever tasted graced my palate. This was the best tasting bottle of 88 La Landonne I've experienced. Still young, this will evolve and improve for 15-20 or more years.

8,792 Views

Tasted

Mar 10, 2007

Black and blue fruit plus, layers of smoke, cherries, cassis, licorice and earth state this is a very serious wine. Extremely concentrated and dense with so much going on in your mouth that you stunned. A flawless wine! At least another 2 decades of life remaining

4,259 Views

Tasted

Feb 14, 2005

1988
E. Guigal La Mouline (Côte-Rôtie)

It's been about a year since I tasted this stunner, and this is still off the charts! Rich, intense, concentrated, pure and decadent, every sensation from the nose, to the palate presence, and then the finish is breathtaking! This is what great wine is all about. Drinking in the sweet spot, you can age this for at least another 10-20 more years, what a beauty!

4,536 Views

Tasted

Sep 5, 2017

Off the charts. Off the hook. Out of this world. You pick the phrase that works best for you. There is so much going on with this wine. Intensely concentrated, opulent, decadent textures, power, balance, purity of fruit and a finish that sticks with you for over 60 seconds! Wines like this deserve their own scale!

4,046 Views

Tasted

Nov 10, 2016

Slightly more concentrated than the 1989 with additional plummy, black fruit, stone and bacon fat flavors. This full bodied, explosive, intense wine shows intensity, purity and exotic textures with a finish that lasts over 60 seconds. This must be tasted at least once in your life. This is a bucket list wine!

12,093 Views

Tasted

Sep 20, 2010

With its sexy, bacon wrapped, black fruit drenched in cherries and herbs is the easiest to spot. The spellbinding aromatics are accompanied by waves of deep fruit caressing every sweet spot on your palate. This was an utterly compelling bottle.

10,211 Views

Tasted

Mar 10, 2007

This is one of the most hedonistic wines I've ever tasted! This wine had it all! It was absolutely seamless with an otherworldly texture. Perfectly ripe cherries, blackberries, oak and spices filled the air. The finish seemed to last for days hitting all the right spots for everyone at the table Sexy, rich, opulent and dense, words are not enough to describe wines like this.

8,964 Views

Tasted

May 21, 2003

1988
E. Guigal La Turque (Côte-Rôtie)

Intriguing notes of citrus, black raspberry, oak, earth, smoke, black cherry and spice. Soft, silky textures and a powerful, red fruit and dark cherry tinged finish make this a treat to experience.

9,328 Views

Tasted

Aug 12, 2010

It has the power of Landonne and the sensual, exotic personality of Mouline. This bottle was no exception. Take layers of smoky, barbequed fruit, add spices, black cherries and earth and you've found the first layer of perfume in this wine. Full bodied, dense, rich and intense. The falls across your palate as elegant as a ballerina at a performance.

7,872 Views

Tasted

Mar 10, 2007

The kinky, earthy, cherry, bacon fat and floral aromas were singing like the Morman Tabernacle Choir! But, the exotic, opulent, concentrated kirsch, black cherry flavors that flowed like an endless river over my palate were out of this world! The finish was absolutely flawless. Does wine get any better?

9,710 Views

Tasted

Sep 9, 2005

Black Raspberries, minerals, jammy fruit, smoke and toffee notes make a compelling perfume. Deep layers consisting of mountains of fruit fill ever nook and cranny of your palate. The 88 La Turque perfectly combines the power of La Landonne with the silky exotic quality of La Mouline. 100 Pts

9,736 Views

Tasted

Feb 14, 2005

1987
E. Guigal La Turque (Côte-Rôtie)

With browning at the rim of the glass, fresh Provencal herbs, bacon fat, pepper, kirsch,, earth and strawberry scents are the first thing you meet. This fully mature wine is just starting to fade, ending with tart kirsch, licorice and pepper flavors.

4,160 Views

Tasted

Feb 21, 2011

1985
E. Guigal La Mouline (Côte-Rôtie)

1985 La La's are getting harder to find, and taste. All I can say is, what a wine! Here you enjoy a full-bodied, rich, opulent, exotically textured, silky fresh wine with notes of smoke, thyme, garden herbs, brown sugar, dried flowers, violets, and sweet, red pit fruits and berries. The sensuous finish is bright, silky, vibrant, long, and frankly, seamless.

3,762 Views

Tasted

Oct 15, 2021

When is this not spellbinding? Where do you start? Is it with the floral, black raspberry, stone, kirsch and peppery nose? Or the exotically, silky, textured, rich palate presence? Or do you begin with dessert and dream about the erotic, kinky, sensuous, sexy finish? Food for thought, or is that wine for thought?

4,408 Views

Tasted

Apr 16, 2016

Spellbinding from start to finish! Words cannot truly express the complexity and textural components of this wine. But if you're willing to read my note, I'm going to try... Licorice, stone, smoke, flowers, fresh herbs, assorted cherries and plum liqueur are impossible to ignore. The wine combines silk and velvet with lush, exotic, sensuous textures that make you take a step back. The finish, which remains at least 60 seconds is filled with life. Picture fresh, sweet, exotic and erotic layers of ripe and over ripe cherries, kirsch and raspberry liqueur that does not want to quit, even after the wine has long since gone where it needed to go. At 30 years of age, this is clearly perfection in a glass, and it should stay here for at least another decade or longer if you have well-stored bottles.

4,319 Views

Tasted

Aug 22, 2015

Riveting in every way, this is about as good as wine gets. The smoky, black raspberry, earthy, spicy, bacon fat, cherry and thyme filled perfume popped without decanting. Fresh, full bodied, concentrated, mature, yet youthful, this flamboyant, sensuous wine really lingers, long after its left your palate.

4,162 Views

Tasted

Oct 30, 2014

Off the hook. Off the charts. Off the rating scale! It's impossible, at least for me to find the right words to express how this incredible wine felt as it coated your every tasting receptor with its endless layers of silky, exotic, erotic, sexed up flavors and textures. This perfect, pleasure machine is a wine that tasters should open at their peril. Once experienced, you will want more. Once you see the current price, unless you are friends with Warren Buffet, you run the risk of feeling slightly deflated.

5,962 Views

Tasted

Nov 24, 2013

The nose alone was 100 Pts. An endless array of earthy, spicy, floral, peppery, smoky scents with fresh, pure, ripe red cherries, black cherries, raspberry and bacon fat tossed in for good measure. In the mouth, there is an exotic texture that cannot be found in any other wine. The pure, sensuous, hedonistic, fresh mouth feel builds to a crescendo that lasts over sixty seconds. Few legendary wines live up their status. 1985 Guigal La Mouline not only lives up to its billing, it might even surpass it!

7,707 Views

Tasted

Aug 3, 2012

Stuffed with ripe and over ripe delicious, fat, sexy cherries and blackberries that slip, slide and glide over every inch, nook and cranny of your palate. The Cote Rotie wine offers intense purity with a lusty, luscious, sexy personality. Opulent and glycerin filled, this is pure hedonism. This will probably improve, but it's so good now, if I had a bottle left in my cellar, it would be next to impossible to keep my hands off it.

6,845 Views

Tasted

Dec 8, 2011

How any Cote Rotie, not make that how can any wine be this good? Nosing this wine is akin to touring a perfume factory. But, the texture is best described as "Sex in your mouth!" This was so rich and decadent, it was almost surreal. The seamless finish lasted well over a minute. Truly, this bottle offered one of the finest tasting experiences I've ever had.

6,753 Views

Tasted

Mar 10, 2009

This has the density of the 1983 La Mouline coupled with the exotic quality of the 1982 La Mouline times two! Smoke, dark cherries, floral tones and wood take over your senses. I lost count of the lush layers of silky, dense, concentrated, exotic fruit that bathed my palate. The endless finish was absolutely seamless.

6,588 Views

Tasted

Feb 14, 2005

1985
E. Guigal La Landonne (Côte-Rôtie)

Holy Moly! What a wine!!! La Landonne takes the longest to come around of the three La La wines, but it is worth the wait. Loaded with iron, earth, smoke, crushed stone, pepper, dark cherry, blackberry and red plum liqueur, this is one of those compelling wines. Full-bodied and intense, the wine coats your palate with waves of smoky fruit, freshness and power. The seamless finish hangs with you for well over 60 seconds. Not all of the pricey wines are worth the price of the ticket. This one is!

3,365 Views

Tasted

Oct 15, 2021

Few wines reach this level of quality. This mind blowing cornucopia of flavor, aromatics, fruits, and rich, exotic textures is impossible to ignore. At 30 years of age, this is really coming on strong. It's scary to think, but it will probably be even better in a decade, or longer! The older I get, or is it the older Guigal La Landonne gets, I continue to gain a greater appreciation of this vineyard from Guigal, placing it above La Turque and even La Mouline in certain vintages.

4,349 Views

Tasted

Aug 31, 2015

Living proof that with age, there are no perfect wines, just perfect bottles. Sadly, this was not up to the best examples of 1985 Guigal La Landonne. The nose was lightly muted and the wine lacked the usual levels of complexity and concentration. This was very good, but I have tasted much better examples of this normally stunning wine.

3,030 Views

Tasted

Nov 24, 2013

This is filled with spice, black fruit, soy, leather, olives, smoke, earth and coco. This is a serious, concentrated wine that smells and feels intense. In the mouth, this full bodied wine offers layers of spicy black fruit, mineral infused fruit. This is a very meaty wine that's bigger than the 85 La Mouline but not as exotic.

3,192 Views

Tasted

Dec 8, 2012

Crushed stone, iron, cooked meat, spice, blackberry, black cherry liqueur, earth and pepper aromas were in full force with a minimum of swirling. Dense, thick, rich and concentrated, this pure, intense, structured, powerful Cote Rotie is still young. With a density of flavor and no hard edges, this animalistic, sauvage wine ends with a long, dark, mineral and pure, spicy, intense black raspberry finish.

3,634 Views

Tasted

Oct 1, 2011

Very slightly corked. The muted notes of black fruits, BBQ smoke, and earthy, mushroom scents were there, but a perfect bottle would have taken this to a completely different level due to its thick, dense, extremely concentrated, old vine intensity.

2,656 Views

Tasted

Feb 14, 2005

1985
E. Guigal La Turque (Côte-Rôtie)

Just a tad behind the other La La's from 1985, the wine is still tremendous. Floral, with touches of smoke, tobacco leaf, oceanic influences and pepper, red fruits, the wine remains concentrated, intense, rich, long and deep. The vibrant finish is packed with spicy, slightly smoky red fruits that linger.

2,874 Views

Tasted

Oct 15, 2021

Served blind, the insane perfume was amplified. Fresh cut flowers, cherries, wild strawberry, fennel, smoke, earth and spice were all over the place. One would think there was no way that could be topped. But when the wine moved from the glass to where it belonged, which was on my palate, I was in heaven. Massive waves of opulent, decanted, lush, silky polished, bright deep fruits coated every part of my mouth, palate, teeth and gums. Other wine might be different, but I am not sure there are better wines as I was speechless.

7,666 Views

Tasted

Nov 24, 2013

Oh My God, I am speechless! Words are not adequate to express the emotion, sensation, sensuality or exotic character of this mind-blowing wine! The perfume grabbed your attention. Your nose finds it impossible to leave the glass with its powerful scents of 5 Spice, truffle, incense, smoke, jammy blackberry, iron, cherry and barbeque aromatics. The erotic sensations that coat your palate, take your breath away. Picture,dense, molten cherries, truffle, spice and earth. Add the viscosity of motor oil combined with intense purity and the perfect amount of lift to keep it fresh and you get a glimpse of what this hauntingly, beautiful wine delivers. The finish lasts well over 60 seconds. At 26 years of age, this is still young. If well stored, 1985 La Turque could easily remain at this level, or even improve for another 10-15 years. It's not often that expensive wines deliver an experience equal to the cost of the wine. If you ever wanted to know what one of the world's great wines taste like at maturity, this might be the wine to buy.

7,555 Views

Tasted

Oct 1, 2011

Truffle, black raspberry, spice, tobacco and orange peel scents open up in this wine. With sensuous and round textures, this Cote Rotie wine ends with powerful spicy, cassis and pepper sensations.

4,591 Views

Tasted

Aug 12, 2010

85 was the debut vintage for this wine which says hello with an explosion of flowers, licorice, wood, jammy black fruit and smoke. The palate is bathed in concentrated black and deep red fruits. This was my first 85 la Turque. I was absolutely blown away. The perfect finish could last almost 60 seconds. If any wine scored over 100 Pts, this would be it!

5,799 Views

Tasted

Feb 14, 2005

1983
E. Guigal La Mouline (Côte-Rôtie)

One of the wines of the year for me. Off the hook and charts in every way. The nose, with its exotic blend of campfire smoke, bacon, flowers, cherries and black raspberries was so good, I could have kept sniffing that all night long. But then I would have missed the sexy, sensuous, lush, opulent, no, make that decadent textures. The finish clocked in at an easy 60 seconds. This is one of those wines that really sticks with you.

4,718 Views

Tasted

Sep 25, 2017

If there is a more exotic, erotic, sensuous wine out there, let me know as I want to try it. The texture, with is plush, silky, velvet drenched tactile sensation is surreal. The perfume is off the charts and the finish, with its wealth of fruit is almost too good to be true.

4,387 Views

Tasted

Nov 10, 2016

If you're going to give a wine a big score, it should blow you away from the first sniff, sip and swallow. As good as it starts off, each subsequent taste must at the very least, remain at that level, but it should actually kee[ getting better in the glass. Similar to a great meal demanding you grab a piece of bread to sop up every last drop of flavor, the wine should be so good, you want to lick the glass in an effort to taste every possible drop. 1983 Guigal La Mouline was that good! The cork popped and the aromatics explode. Flowers, cherries, spice, truffle, cherry blossoms, underbrush and fresh pepper were easy to find. In the mouth this offers an amazing tactile experience. Plush, lush, silky, opulent, refined, elegant, exotic and rich layers of pure fresh, lively cherry juice caress your palate in a finish that must last over 60 seconds. While the finish remains in your palate for a minute, the memory of sharing special wines like this with a good friend lasts a last time. For me, that is what our best bottles are for. 100 Pts

10,435 Views

Tasted

Oct 21, 2010

Slightly lacking in freshness, this bottle was a little advanced for its age. Still, it was very enjoyable with its bacon scented, cherry accented nose, but the finish was a bit light. Better bottles would get a much higher score.

7,573 Views

Tasted

Mar 10, 2007

This Cote Rotie gives meaning to the term exotic. This decadent wine boasted cherries, herbs, bacon fat and a cornucopia of scents and smells. The sexy kirsch finish is unreal and delivers flavors and textures that remain in your mouth for well over a minute! IMO, there is no finer expression of Syrah than the wines produced by Guigal.

10,514 Views

Tasted

Mar 15, 2006

A perfume that could be sold under the name "Off the Charts!" Ripe cherries, flowers, wood and spice tones filled the glass. The initial taste was bright with a slight tart quality which quickly faded as the wine put on weight in the glass and morphed into a push, lush, hedonistic, exotic wine.

7,943 Views

Tasted

Feb 14, 2005

Wow should suffice, because adjectives do not do this wine justice. To say it's soul of Syrah and essence of Cote Rotie only begin to do describe it. The color is a bricky raspberry. The perfume is intoxicating. Scents of flowers, mint, spearmint, ripe and over ripe red fruit, spices and earth explode from the glass and take over your senses. You don't drink this wine, because it glides across your palate in a river of velvety, silky ripe red and black fruits. Every nook and cranny of your senses tastes this wine! This is a flawless, seamless bottle of wine! The finish last 60 seconds or more. There is no other wine on the planet that is this rich, exotic and hedonistic.

10,252 Views

Tasted

Apr 4, 2004

1983
E. Guigal La Landonne (Côte-Rôtie)

With a blast of mint, tobacco, cassis, black raspberry, wet earth, pepper and smoke, this starts to take off. Concentrated, youthful fresh and lively, the finish is all freshness and sweet cherries that leaves a great impression.

3,829 Views

Tasted

Aug 31, 2015

On the mineral driven nose, black cherries, burnt campfire wood, kirsch and earthy scents are found the moment the bottle is popped. Full bodied and concentrated, but lacking in elegance, this ends with a blast of dark red berries and a bit of austere dryness in the finish.

2,978 Views

Tasted

Mar 9, 2014

Huge, deep, massive in concentration, this dark berry, spice and mineral scented wine fills your mouth with intense ripe black fruits.

3,235 Views

Tasted

Mar 15, 2006

This was a huge step up in class from the 82. More concentrated and complex offering layers of aromatics and flavors. Very thick, almost dense. Still young. Time will only make this better! The finish was absolutely seamless.

3,834 Views

Tasted

Feb 14, 2005

1983
E. Guigal Brune et Blonde (Côte-Rôtie)

Close to death. It's a good thing we opened it now and put it out of its misery. The hay and barnyard notes coupled with a short, tart finish were not appreciated. The best thing I could say about the wine was, it had a short finish allowing me to move on to better wine.

3,873 Views

Tasted

Feb 14, 2005

1982
E. Guigal La Mouline (Côte-Rôtie)

This is in its perfect prime time moment. Texturally, this exotic, sensual, rich, full, deep wine caresses your palate with layers of ripe, sweet, fresh, spicy, red fruits, smoke, earth and crushed rocks. You get all that and more for close to 60 seconds. No need to decant here, just pop, pour and savor.

2,798 Views

Tasted

Nov 24, 2020

Fully mature, this exotic, silky, elegant charmer hits you with its smoky, earthy, spicy, cherry filled nose. On the palate the wine is even better with its incredible, polished, silky textures. I do not see this vintage much these days, but from memory, it's not quite as good as it was 5 years ago. I would not hold it any longer if I owned any.

2,971 Views

Tasted

Sep 1, 2015

Mind-blowing levels of kirsch, herbs, bacon fat, earth and cassis were the starter course for this Cote Rotie. The exotic, plush, opulent and dense layers of ripe fruit caressing your palate were as good as a wine gets.

3,883 Views

Tasted

Mar 10, 2007

Wow! What a nose! Cherries, wet underbrush, anise, coffee and an exotic spicy note. The mouth feel is what got me. Lush, plush, sexy and exotic.

3,296 Views

Tasted

Feb 14, 2005

1982
E. Guigal La Landonne (Côte-Rôtie)

With more power than elegance, the truffle, earth, black cherry liqueur and tobacco nose is where it needs to be. Concentrated, big and potent in the mouth, the wine finishes with a mineral, iron and blackberry note that has a lot of volume and density, but not much elegance.

3,884 Views

Tasted

Dec 3, 2015

This shows fresh black, spicy and peppery fruit with touches of leather, licorice and earth. Not nearly as concentrated as the 85 and further along on the evolutionary scale, this wine is fully mature

3,078 Views

Tasted

Dec 8, 2009

This boasted aromatics of dark roasted black fruit, cassis, forest, chocolate, licorice and coffee notes. This big, full bodied wine is just approaching it's peak of maturity.

3,025 Views

Tasted

Feb 14, 2005

1981
E. Guigal La Landonne (Côte-Rôtie)

Slightly past fully mature, the wine showed a distinct herbal edge to the peppery, red, earthy fruits. This is not a bad wine, but it's not my favorite vintage for Guigal.

2,966 Views

Tasted

Nov 13, 2017

1980
E. Guigal La Mouline (Côte-Rôtie)

Smoke, licorice, sweet red berries, herbs, pepper, truffle and bacon fat aromatics are on full display. The nose is more interesting and complex than the medium bodied palate, which finishes in soft, delicate, sweet and tart red cherries. This was much better than expected due to the age and the vintage.

2,979 Views

Tasted

Mar 9, 2014

1979
E. Guigal La Mouline (Côte-Rôtie)

This was certainly the best bottle of 1979 La Mouline I recall tasting. It was young, fresh, vibrant, serving up aromas of spicy, sweet cherries, fruit cake, freshly turned earth and herbs. Bright, fresh and clean, there was a mix of sweet and tart berries in the spicy finish. There is no reason to wait on this wine. If you have a few bottles, pop a cork.

3,702 Views

Tasted

Jul 19, 2014

Like Michelle Pfeiffer, she has aged gracefully. Tom who had not had a La La before lost his virginity with this wine. Not a bad way to lose it. The perfume is intoxicating. The melange of fruit, spices, flowers and earth is riveting. The palate enjoys a silky bath of ripe fruit. Slightly light on the finish, this remains a wonderful example of a fully mature La Mouline.

1,964 Views

Tasted

Aug 6, 2009

1979
E. Guigal La Landonne (Côte-Rôtie)

Murky in color, spice, jammy black raspberry, candy apple with cinnamon, earth, wood, smoke and cherry pipe tobacco aromas led to a wine that was starting to fade in its spicy, cherry finish. Drink it if you have some, as there is no reason to hold this wine.

4,166 Views

Tasted

Dec 4, 2011

1978
E. Guigal La Mouline (Côte-Rôtie)

The perfume was explosive. Overripe blackberry, plum, strawberry and raspberry, coupled with spice, flowers, truffles and smoke which become more concentrated in the glass. The decadent layers of fruit and glycerin has to be tasted to be believed! Countless layers of soft, exotic textured red and black fruit overload your senses with pleasure. The seamless finish seems like it lasts well over one minute! .

8,026 Views

Tasted

Nov 10, 2004

1978
E. Guigal La Landonne (Côte-Rôtie)

Stunning in every way, from start to finish! The nose was in your face with its licorice, stone, smoke, earth, tobacco, dark red berry and truffle perfume. Powerful, dense and long, the wine ended with layers of kirsch, iron, herbs and black cherry. At close to 40 years of age, this was still young.

2,459 Views

Tasted

Aug 18, 2014

1976
E. Guigal La Mouline (Côte-Rôtie)

It's not often I get to taste a true unicorn wine, but this was worth the wait! With an explosive nose showing intense, floral, kirsch, cherry orchard, pepper, cocoa, thyme and bacon fat, I was already hooked. Concentrated and almost dense, the wine offered an exotic texture blending lusciousness with opulence and freshness, ending with a finish that kept on going, in all its, peppery, pure, kirsch and spicy glory. Clearly, a contender for wine of the year!

4,021 Views

Tasted

Sep 5, 2017

1975
E. Guigal La Mouline (Côte-Rôtie)

Peppery, black raspberries, kirsch, spice and earthy in character, this is bright, crisp and acidic in style. With air and time, the wine improved in the glass.

2,958 Views

Tasted

Dec 15, 2014

1966
E. Guigal La Mouline (Côte-Rôtie)

I cannot think of a wine I was more looking forward to tasting this bottle. It's been on the top of my list for years. The no such thing as great wines, just great bottles rung true here. Very little fruit and lots of acid, some maderization, barely drinkable. That was a lot of money down the drain.

3,770 Views

Tasted

Sep 25, 2017