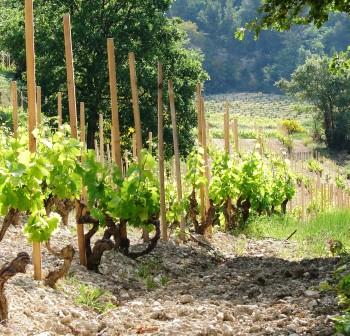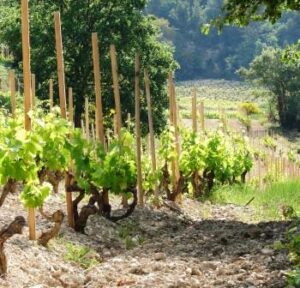 Learn everything about Domaine Vallouit, Hermitage with wine tasting notes, wine and food pairing tips, best vintages, a history of the property and information on the vineyards and winemaking. If you want to read about other important wineries and wine makers from the Rhone valley: Links to all Rhone Valley Wine Producer Profiles
Domaine de Vallouit earned their reputation from producing high-quality wine in the Northern Rhone, mostly in the Hermitage and Cote Rotie appellations. But their Hermitage is the wine to get.
Domaine Vallouit Vineyards, Wines, Winemaking
Domaine de Vallouit is produced from 1.8 hectares old vines in Hermitage. Most of the vineyards belonging to Domaine de Vallouit were located in the Greffieux lieu-dit.
They also had holdings of great Northern Rhone Valley terroir located in Bessards and L'Hermite. The traditionally managed Domaine de Vallouit was merged into Guigal in 2001. These vineyards are now the source for the Guigal Ex Voto Hermitage wine.
Domaine Vallouit produced red and white wines from Hermitage. Their top cuvee, which was one of the best values for high quality wine in the appellation was produced from Greffieux.
2000 Domaine Vallouit was the last vintage produced by the estate.
Domaine de Vallouit Les Greffieres was produced as might guess from old vine Syrah planted in the Les Greffieres lieu-dit. The wine was aged in a combination of new and used, French oak barrels. The production was close to 500 cases of wine per vintage.
In 1998 and 1999, Domaine de Vallouit produced a small of wine that was sold under the name of L de Vallouit Hermitage les Greffieres Cuvee Speciale. The wine was a parcel selection of their oldest vines. Not much wine was made as the production was close to only 350 cases each vintage.
As a tip. If you're missing the wines of Vallouit, the Guigal Ex Voto wines have been stunning!
When to Drink Domaine Vallouit, Anticipated Maturity, Decanting Time
Domaine Vallouit, when young, should be decanted at least 2-3 hours, give or take, allowing the wines to soften and open their perfume. Older vintages might need very little decanting, just enough to remove the sediment.
Domaine Vallouit is usually better with 10-15 years of cellaring and should be at its best between 10-25 years of age.
Serving Domaine Vallouit with Wine, Food, Pairing Tips
Domaine Vallouit is best served at 15.5 degrees Celsius, 60 degrees Fahrenheit. The cool, almost cellar temperature gives the wine more freshness and lift.
Domaine Vallouit is best served with all types of classic meat dishes, veal, pork, beef, lamb, duck, game, roast chicken, roasted, braised and grilled dishes. Domaine Vallouit is also good with Asian dishes, hearty fish courses like tuna, mushrooms and pasta.
The white wine of Vallouit is best served with a myriad of different seafood dishes, shellfish, crab, lobster, sushi, sashimi, chicken, pork and veal, as well as Asian cuisine.
Domaine de Vallouit Wine Tasting Notes
2 Vintages 14,556 Views Sort by Vintage-Rating
1999
Domaine de Vallouit Les Greffières (Hermitage)

It has been 6 years since I lasted this wine and the wait has been worth it. This stellar gem is concentrated, rich, silky and long. The sweet, spicy, peppery red fruits are the perfect backdrop to allow its mineral essences and smoky, herbal accents to shine through. The problem is finding a bottle as not much was made and there are no bottles for sale that I can see. But if you find a bottle or case, grab it!

2,001 Views

Tasted

Aug 14, 2021

This wine is almost there. It's fleshier, softer, more giving and complex than it was a few years ago. The ripe blackberries are soft, with silky tannins. The fruit filled finish, delivers a long impression of fruit and minerality. Double decanted for 20-30 minutes, the wine improved in the glass for more than 2 hours. If you're looking for a solid Hermitage, that will is not all that pricey, this is the ticket.

2,359 Views

Tasted

Jan 19, 2015

Showing maturity in color, with spice, blackberry liqueur, earth, garrigue, kirsch and charcoal in the nose. Full bodied and filled with ripe blackberry, plum, spice and cherry griotte, the wine ends with soft tannins, iron, stone and smoky cherries with pit fruit. This is surprisingly open at this stage. The wine was decanted for 3 hours prior to serving and continued to improve in the glass for a few more hours. For a mature Hermitage this young, which is now the source for Guigal Ex Voto, with a small 350 case production, at the current price this is a steal!

2,546 Views

Tasted

Jul 5, 2012

This intense, full bodied, concentrated, deep wine is filled with juicy ripe, black fruit, minerality, spice, pepper, fennel and cassis. The wine is round in texture and ends on a long, fresh, dark berry and licorice note. Still young, this can be approached at an early for an Hermitage, due to its ripe tannins and richness. This wine will age for decades. There is no better value from Hermitage in 1999. Sadly, this is the last vintage for the domaine. It was sold to Guigal, who now use it to produce the sublime Ex Voto.

2,543 Views

Tasted

Jan 5, 2011

1998
Domaine de Vallouit Les Greffières (Hermitage)

Iron, beef blood, cassis, spice, strawberry and just ground black pepper scents open to an earthy, black raspberry, spice and mineral driven, full bodied, concentrated wine that is coming into its own. The finish lets you focus on sweet, ripe, red cherries, spice and strawberry.

2,456 Views

Tasted

Aug 9, 2012

Deep. rich, opulent, falshy and fleshy for an Hermitage, the wine displays a perfume filled with blackberry, stone, spice, herbs ans fennel. While young, this wine is already a pleasure to taste.

2,651 Views

Tasted

Jan 1, 2011