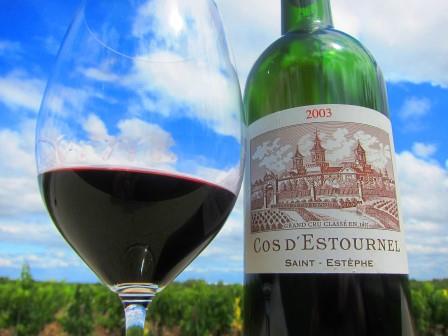 2003 Bordeaux Wine Vintage Summary with harvest information, vintage characteristics, buying tips and links. If you are seeking more in-depth information on anything and everything related to the Bordeaux wine region please see the: All About Bordeaux Wine Guide
2003 Bordeaux wine remains a unique  vintage in Bordeaux history.  2003 Bordeaux wine is not the product of a vintage of the century. The vintage lacks consistency. There are numerous high and low points.  But at the top end, in the best wines, especially those from the northern Medoc, the wines are spellbinding examples of Bordeaux at its best.
2003 Bordeaux wine is the product of a scorched, hot, dry growing season. The torrid temperatures remained sky high, day and night. There was no respite from the intense, dry heat.  It seldom cooled down.  In fact, record setting temperatures were recorded in June with 10 days in a row that reached over 86 degrees. July had 11 days with temperatures that exceeded 86 degrees and let's not forget August. August was blisteringly hot with an average temperature of 90 degrees! More than 50 days during the growing season endured temperatures of more than 86 degrees. On the hottest days, it was close to unbearable. On one afternoon at Lafite Rothschild, close to the chateau, temperatures were recorded at close to 120 degrees! These high temperatures were far too much for the young vines. Hail storms in the middle of the summer struck the Pessac Leognan appellation.
The average temperatures do not paint the full picture as there were days that reached over 100 degrees.  And it was incredibly dry. The vines were stressed and suffered from the drought. Some shut down and stopped feeding.  Bacchus took pity on Bordeaux and August experienced some much needed rain starting August 16. More precipitation fell August, 17, 19 and 24. This was improved by what took place the following month. September, which was warm, not hot and some much needed rain fell at the perfect time. September 6, 7 and 9 were rainy days. This rain clearly helped the vintage in the Northern Medoc. Select growers knew the moment the harvest was finished, that 2003 Bordeaux wine would be a very special vintage for them.
.
The Pomerol crop was burned and dried out.  Pessac Leognan was not a success.  Selective buying in St. Emilion can lead to some sublime wines from deep, limestone soils.  Pavie is stellar.  Chateau Ausone is the wine of the Right Bank.  Margaux is hit and miss, with more misses than hits.  While Chateau Margaux is stunning, Margaux is the least consistent appellation in the Left Bank. If you are looking for the best wines of the 2003 Bordeaux vintage, the Northern Medoc wines are stunning!  Some of these wines offer amazing tasting experiences that cannot be found in other vintages.  Pauillac and St. Estephe produced wines of exemplary quality that belong in any serious Bordeaux wine cellar.  St. Estephe, with its ability to retain moisture, due to the clay soils produced stunning wines from top to bottom!  2003 Bordeaux wine is outstanding in Sauternes and Barsac, in a thick, intense, rich, low acid style.
But buyers of 2003 Bordeaux wine must be extremely picky. In 2013, I tasted more than 100 of the top 2003 Bordeaux wines. The majority of these wines were fully mature and required drinking. That is not to say some wines are stunning and offer out of this world drinking experiences, especially in St. Estephe and Pauillac. However, everyone in the Northern Medoc was not successful.  The estates with the most access to water, and or clay soils made incredibly fine, 2003 Bordeaux wine.  In the Left Bank, Chateau Lafite Rothschild is the benchmark 2003 Bordeaux wine. It's also a contender for wine of the vintage.  It's going to take another decade or two, before that is decided on.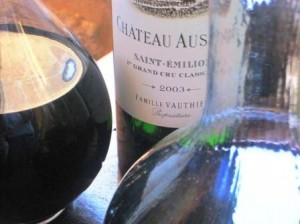 Chateau Latour is not far behind.  Pontet Canet produced their first, truly strong wine in the 2003 Bordeaux vintage. Pichon Lalande and Pichon Baron were both successful as well. If I had to buy one appellation blind, I'd buy any 2003 Bordeaux wine from St. Estephe. Chateau Cos d'Estournel and Chateau Montrose are prodigious!  However, most of the smaller estates like Le Crock and others made good wine in 2003.
The following wines represent the Bordeaux wines from 2003 that offer the best value and quality. They are not always the highest rated wines, but they are the wines to buy: 2003 Best Bordeaux wine for the money today
To read about other Bordeaux vintages from 1945 to today: Bordeaux Year to Year Detailed Vintage Reports & Guide 1945 to Today