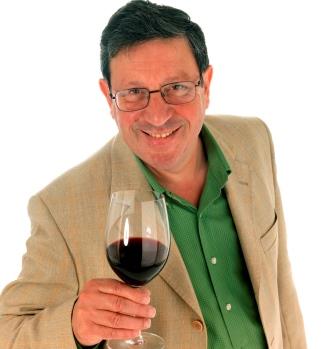 "The Complete Bordeaux, The Wines, The Chateaux, The People" by Stephen Brook delivers what it promises. If you are a fervent Bordeaux wine lover, or new to wine and want to learn a few things about Bordeaux, this book is for you. The book is fun, easy to read, informative and well organized. The book offers enough detail that seasoned collectors will find interesting, while avoiding the type of wine speak that most people find boring.
"The Complete Bordeaux" is made all the better by the numerous quotes from some of the most famous wine makers and chateaux owners in Bordeaux today. For example, Frederic Engerer of Chateau Latour and Jean Guillaume Prats are both quite candid on their views on a myriad of subjects. "The Complete Bordeaux" wisely emits tasting notes as far too many books already offer that information. Instead, Stephen Brook provides his personal views on the style and direction of the numerous estates in the book. Another plus is Brook understands people are going to read his tome for The Wines, The Chateaux and The People in the book. Stephen Brook avoids the trap of making this book about himself.
At 712 pages, "The Complete Bordeaux" is packed with information on not only The First Growths, but smaller, lesser known estates as well. There are also chapters on the 1855 Classification of the Medoc, Terroir of Bordeaux, grape varietals, detailed History of Bordeaux and more. Brook also devotes several chapters to many of the smaller estates in the satellite appellations and in the Right Bank.
"The Complete Bordeaux" will remind seasoned Bordeaux lovers of "Dragnet" with its just the facts approach. There are some personal views of Stephen Brook in the verbiage. However, most of the time he prefers to let the "The Wines, The Chateaux and The People" do the talking. When Stephen proffers his opinion, he is forward and upfront about his likes and dislikes in a polite tone. I do not always agree with his views, especially on St. Emilion. But Brook is the type of author that does not insist on being right. He is not preachy. He presents you with the facts and his views and lets you decide their value.
As the book does not let readers know much about Stephen Brook, his thoughts and views, we spoke with Brook about his take on Bordeaux today.
Jeff Leve How did you initially become interested in wine?
Stephen Brook "A family friend was the Fellow of a rich Oxford college and had access to its cellars. So I was able to sip, for example, 1953 Rheingau wines. Then at Trinity College, Cambridge, I was introduced to Vintage Port and other fine wines."
Jeff Leve What was the wine that was your true first epiphany?
Stephen Brook "It was Climens probably 1947, drunk in 1964."
Jeff Leve When did your interest in wine really take off?
Stephen Brook "In the 1970s, as a publisher's editor, I had to entertain my author's at lunch and dinner. With the help of Hugh Johnson's Wine and Michael Broadbent's Great Vintage Wine Book I learned fast. With the help of my employer's expense account I drank fast too!"
Jeff Leve What attracts you to Bordeaux wine?
Stephen Brook "Well, the wines aren't bad. There is also the antiquarian angle. There are few parts of the wine world where you can drink and compare ancient vintages, vertically and horizontally."
Jeff Leve On the flip side, what don't you like about Bordeaux?
Stephen Brook "There are many aspects of the place I find off-putting."
Jeff Leve For example?
Stephen Brook "I dislike the fact that it has long been unwelcoming to visitors. Matters have improved. There have always been estates such as Pichon Baron and Lynch Bages that are keen to show people around. But they are still the exception."
Jeff Leve Why do you think some of the estates have not been more open to the public?
Stephen Brook "Of course the Medoc chateaux in particular have no incentive to be hospitable, as they don't sell wine directly. That's another reason I have reservations about Bordeaux. It's difficult to taste and buy the wines."
Jeff Leve I have not found that to be the case for most chateaux in Bordeaux. Many people I know that are not in the trade have enjoyed truly great, one on one experience's. Of course, some estates are more welcoming than others. But the same can be said for every region. Many of the top Napa wineries do not allow visitors. Others charge a tasting room fee. In Bordeaux, I can only think of one or two that charge to taste at the property.
Stephen Brook "Cellar doors are such an integral part of the wine experience in California or Australia, and so very much the exception in Bordeaux. Wine lovers adore direct contact with the wineries and often with the winemakers. A good experience in a tasting room can forge life-time loyalty. I realize the logistical difficulties are considerable. Lafite Rothschild and Petrus can't be an open house. But there are plenty of other very good chateaux that could make more an effort. It's only fair to point out that over the past decade or two, the Bordelais have become more aware of this, and efforts are being made to promote the land and wines more directly to consumers."
Jeff Leve As this is the revised version of your book, what have you updated since it was last published?
Stephen Brook "Every single page has been revised."
Jeff Leve Why did you feel the need for all those revisions?
Stephen Brook "There have been some great vintages since the first edition. I also try to stay on top of all the constant changes in ownership, consultants and winemakers. I removed or shortened tasting obsolete or useless tasting notes and added new ones that are more relevant to the reader's potential drinking experience."
Jeff Leve As you are the writer, not the editor or publisher, is there anything you would have preferred to have been included in the book that did not make the final cut?
Stephen Brook "I fought fairly hard to introduce photographs of the younger generation of winemakers, but had only limited success. I also wanted more pictures of modern wineries, including one on the jacket. The American publisher wanted to adhere to the conventional view of Bordeaux and limited both, requiring a bland and fairly pointless image of a bunch of bottles on the jacket."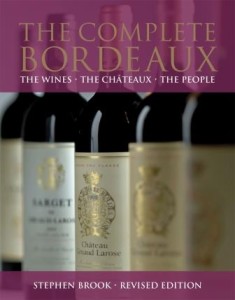 Jeff Leve How did you start your writing career?
Stephen Brook "Thirty years ago I was reviewing books frequently for the left-wing (am I allowed to use that term?) weekly, The New Statesman. I was asked to write something more festive for the Christmas issue, and wrote about Portuguese food and wine (about which I knew little). The following year I wrote about Sauternes. Presto, I was a wine writer!"
Jeff Leve In your view, what are the hallmarks of a great wine?
Stephen Brook "This is a boring answer, but it's true, balance. I'm also keen on acidity and length of flavor, the latter surely being essential in any wine claiming to be great."
Jeff Leve How do you define balance in a wine?
Stephen Brook "There are not hard and fast criteria for balance. We instinctively recognize greatness in a wine, and then try to persuade others to share our view."
Jeff Leve Is that sense of balance unique to Bordeaux?
Stephen Brook "Heavens, no! How about 1990 Musigny, 1990 Mosel, 1963 Port, 1988 Champagne, 1974 Napa Cabernet and many others? Of course not every wine from those vintages, but a good many. How boring would it be if we had to limit our drinking to a single region, however magnificent?"
Jeff Leve Wine and food pairings is a topic that comes up quite often. What are some of your favorite wine and food matches?
Stephen Brook "I don't get hung up on the finer points of wine and food pairing. In fact, I consider it a colossal bore. I was once invited to sample lemon desserts, in various guises, with 30 wines in many different styles. While the other tasters sipped and fretted, I made up my mind in two minutes: no wine goes with lemon. Simple."
Jeff Leve What about when you are cooking at home?
Stephen Brook "Sometimes I want to drink a particular wine and have to make sure the food won't conflict too much. It's just common sense, isn't it?"
Jeff Leve What qualities do you hope to find in a wine?
Stephen Brook "Drinkability. I don't want to be awed. I want to be delighted."
Jeff Leve Are the wines made in Bordeaux today better than they were in the past?
Stephen Brook "No question about it. There are legendary vintages such as 1929 and 1945, but they were rare. Global warming, technology, professional vigilance, the pursuit of greater ripeness, a more exacting consumer market, these are all factors that have led to soaring quality since the 1980s."
Jeff Leve With greater degrees of ripeness in the grapes today, you also find higher levels of alcohol. Does that worry you?
Stephen Brook "Yes, it does. I'm a drinker, not a taster. I don't want to be slumping to the floor after a second glass. I find it dismaying that certain properties in 2009 and 2010 made wines with over 15% alcohol."
Jeff Leve What producers are you thinking of specifically?
Stephen Brook "The obvious example is Troplong Mondot, which was over 15.5% in both 2009 and 2010. I accept these were vintages when sugars, and thus alcohols, were bound to be higher than usual. But even so, 15.5% is a stylistic choice, not a true reflection of climate and vintage. I hate to single out Troplong Mondot, as this estate made some of the sexiest wines in all Bordeaux twenty years ago, whereas today it lunges at the consumer with a hammer in its hand. Simply unnecessary, as neighboring chateaux demonstrated."
Jeff Leve We do not agree on Troplong Mondot. I loved both the 2009 and 2010 and purchased them for my own cellar. But we all have our own views and tastes. Can you cite an example of which neighbor of Troplong Mondot is producing better wine at lower alcohol levels?
Stephen Brook "Better wine is subjective. But look at the usually underrated Trottevieille, another premier cru a short distance from Troplong Mondot. It made gorgeous, elegant wines in 2009 and 2010. I don't have the stats on the alcohol levels [perhaps you do, Jeff?], but I doubt they're close to those of Troplong. Another neighbor, Pavie Macquin, made a fabulous wine in 2010, with 14.5% – no wimp, but the wine is harmonious."
Jeff Leve 2010 Trotte Vielle is about 14% alcohol. What is the problem with higher levels of alcohol found in Bordeaux wine today?
Stephen Brook "It's a matter of balance. There are many wines with 14.5% alcohol that would have been unthinkable thirty years ago. Yet those wines are balanced and delicious."
Jeff Leve The biggest complaint against Bordeaux for many consumers is continuing rising prices. Where can consumers find the best Bordeaux value wines?
Stephen Brook "The Cotes de Bordeaux. There are gorgeous wines made in Cadillac, Blaye, Bourg, and Cotes de Castillon today. They are half the price of bargain-basement Napa wines, and far more interesting. I also love unpretentious red Graves. But you need to be very selective to avoid the many rustic wines still being made. Sauternes is an astonishing bargain when you consider the minute yields, the uncertain climate, and the costs of production."
Jeff Leve Prior to the 2005 vintage, buying Bordeaux in a good vintage had to be done early. Since then, buying futures has not been rewarding for most consumers. What is your view on the future of Futures?
Stephen Brook "As you know, I'm not a fan of the system. It's a game of pass the parcel, in which every intermediary takes a cut, leaving the end consumer to pay for the negociant system. The only reason to buy futures is scarcity. Even then a speculative market means that few wines disappear from view for long. Were I a millionaire, I might opt for a few cases of Lafleur, Ausone, Musigny, and Richebourg in good years, but that's about it. I think the system will survive in Bordeaux because there are too many vested interests determined to keep it alive. The lackluster consumer has good reason to be lackluster: very few wines appreciate in value significantly in the short term, especially when you factor in the cost of money."
Jeff Leve You have also penned "The wines of California." Knowing a little bit about the wines you like, hoping you recall the beautiful bottle of 1996 Ridge Monte Bello we shared a few months ago, what other wines do you enjoy from California?
Stephen Brook "I'm no fan of cult wines. Not because of the quality which tends to be very high. But because wine is to be drunk and enjoyed, not doled out a bottle at a time to grateful mailing list customers and then promptly consigned to the auction house for a swift profit."
Jeff Leve What about the style of California wines?
Stephen Brook "I dislike the trend to phenolic ripeness which I consider a myth. Remember the lovely Napa Cabs from the 1970s and 1980s with 12.5% to 14% alcohol? Today, California Pinot Noir is on a roll. Some coastal Chardonnay wines are very exciting too. It saddens me that Californian Syrah is a hard sell. It's not expensive and it's usually delicious! A hard core of Californian wine fanciers meet every 6 months or so for a BYOB dinner (older vintages only), and we all leave drunk and very happy. In fact, if you're free on Wednesday we're at it again, and you're welcome to join us if you don't mind the ten-hour flight."
Jeff Leve Tell you what, next time I am in London, if we are both available, I'd be happy to attend. As you know, I can bring some nice older bottles as well. Speaking of older wines, are there any vintages or wines you still have not tasted yet?
Stephen Brook "I'd like to be able to drink some ancient, and now increasingly costly Madeira before the bottles vanish altogether."
Jeff Leve Madeira is not my favorite wine. But as the wines easily range from 100 to 200 years old, I love the thought of drinking bottled history! Do you consider yourself a wine writer or wine critic?
Stephen Brook "I'm more interested in wine writing than wine criticism. A wine score, and for that matter a tasting note or review, is just an opinion. I don't deny there are very experienced and very expert palates out there, including Robert Parker. But these days anybody can set up a blog or website and pack it with scores."
Jeff Leve How has the world of wine writers and wine critics changed since your formative years?
Stephen Brook "When Robert Parker was starting out, only exceptional wines scored 90 pts or more. Today all wines score 90+. Call me cynical, but I believe the inflation of high scores is a case of attention-seeking among many wine critics. For the consumer a score has become all but meaningless."
Jeff Leve How has the industry changed for wine writers?
Stephen Brook "Wine writing is another matter. To write as well as Hugh Johnson, Jancis Robinson, or Andrew Jefford takes curiosity, intelligence, and great natural flair. Oz Clarke is tremendous. All of them have immense knowledge about wine, even if they wear that knowledge lightly. Good wine writing won't fade away. I hope instant wine criticism that drags bottles out of their natural environment will disappear. Of course it won't. The admirably democratic nature of the internet will ensure that."