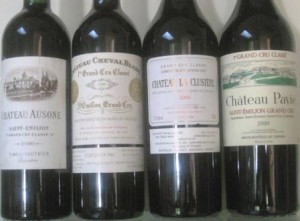 2000 Bordeaux Wine Vintage Summary with harvest information, vintage characteristics, buying tips and links. If you are seeking more in-depth information on anything and everything related to the Bordeaux wine region please see the: All About Bordeaux Wine Guide
As any student of Bordeaux vintages can attest, a less than perfect start to the growing season is never a clear indicator of what will happen by the time harvest rolls around.  Take 2000 Bordeaux for example. The 2000 Bordeaux wine vintage got off to a cold, wintery start. January remained cold, but things warmed up with a mild, warm, March.  This was followed by a massive outbreak of mildew; one of the worst seen in the Bordeaux wine region in decades.  Flowering took place later than usual. June alternated between hot and cold. At its worst, June was cold, damp and lacking in sunshine.  At this point, not one Bordeaux grower would have imagined that 2000 would be any better than an average Bordeaux vintage. Much of June saw cool temperatures and not much sun. July was no better than June. July was filled with cool air, not much sun and periods of rain.
Things rapidly changed at end of July when Bordeaux experienced two months of perfect, warm, dry, weather that was filled with sunshine. By the time August rolled around, it was dry enough that many Bordeaux vineyards experienced drought like conditions. The warm, September was bone dry and for the first two weeks of September, sunny and hot. In an average Bordeaux growing season, vintners receive about three inches of rain.  In 2000, less than two inches fell on Bordeaux. Most of that rain fell on the same day, September 19 which brought close to 3 inches of rain. Throughout September, the lack of rain was paired with occasional heatwaves, which helped to thicken the grapes skins and concentrate their flavors. Bordeaux is a marine climate. It rains a lot more than most people realize. Many of the best harvests take place under rainy conditions.
The small amounts of rain that fell during the 2000 harvest was exactly what growers needed! In 2000, the harvest officially started September 20.  The 2000 Bordeaux harvest was conducted in perfect weather to the delight of vintners and harvesters everywhere.  For most vintners, the 2000 Bordeaux harvest was finished by October 10. The moment the grapes were picked, the owners knew 2000 Bordeaux wine would be special. At the time, several chateaux recorded the highest levels of tannin and extract in their history.
2000 Bordeaux wine continues to hold on to its legendary status. It's important to keep in mind, 2000 Bordeaux wine was the first perfect vintage for both banks in a decade.  You have to go back to 1990 to find a year that excelled in the Medoc, Pomerol, St. Emilion and Pessac Leognan. Many chateaux in the smaller Bordeaux, satellite appellations also produced some of the best wines of their career. 2000 Bordeaux wine was great from top to bottom. For that reason, 2000 Bordeaux was expensive the day it was first offered. Yet even though 2000 Bordeaux was the most expensive vintage ever offered as a future in its day, prices have continued climbing.
With 2000 Bordeaux wine, part of what made the vintage great is that quality wines were produced in every Bordeaux appellation and in all price categories.  That level of consistency in 2000 Bordeaux wine is one of the key hallmarks to a great Bordeaux wine vintage. The wines are deep, ripe, rich, concentrated, flamboyant and expressive. The tannins are ripe and round. The wines are built to age, yet their charm allows them to enjoyed in their relative youth.  When the vintage was first offered, consumers were aghast at the prices being asked. Never before had a First Growth dreamt of charging between $2,500 and $3,000 per case. The top Second Growths were selling for slightly more than $1,000 a case!  Cheval Blanc and Ausone approached $3,600 per case! Like Paul McCartney said, "How I long for Yesterday."
2000 Bordeaux was much more successful for red Bordeaux wine, than it was for either dry, white Bordeaux or the sweet, white Bordeaux wine from Sauternes and Barsac.
The following list of  2000 Bordeaux wine recommendations is not solely focused on the highest scoring wines from the vintage. Instead, they represent a list of the top 2000 Bordeaux wine that combines best ratio of high quality and price:  2000 Best Bordeaux wine for the money today
To read about other Bordeaux vintages from 1945 to today: Bordeaux Year to Year Detailed Vintage Reports & Guide 1945 to Today