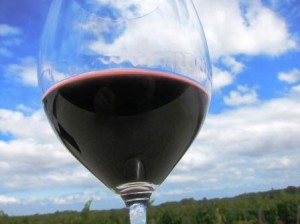 2011 Bordeaux Wine Vintage Report and Buying Guide with Tasting Notes, Reviews and Ratings for the top 350 wines from every Bordeaux wine appellation, St. Estephe, Pauillac, St. Julien, Margaux, Pessac Leognan, Pomerol, St Emilion and all the Satellite Appellations as well. 
The following tasting notes were from tasting's in April in Bordeaux. They are arranged by appellation from north to south in the Medoc, followed by Pessac Leognan, Pomerol, St. Emilion and various lesser appellations. This is the order in which the wines were tasted.
For a detailed report on the weather and vintage characteristics: 2011 Bordeaux Wine
To read close to 50 different, exclusive articles with in depth interviews with chateaux owners and wine makers on the 2011 Bordeaux vintage and harvest : 2011 Bordeaux Harvest Reports, News, Interviews and Photographs
2011 Bordeaux is a good, but not great vintage with some nice wines. As a matter of taste, there is more red fruit than black fruit. You will not find dark flavors than you will experience in higher-alcohol, riper vintages like 2010, 2009 or 2005. You'll taste more cassis and cherry and less blackberry or liqueur. Very little licorice or other ripe sensations appear in the wines.
2011 Bordeaux wines are in general, fresh, bright, aromatic and show more acidity than the previously mentioned vintages. The wines are less concentrated in flavor this vintage when compared with recent years like 2009 and 2010. However, the wines are ripe. Because they are lower in alcohol, you have less of a voluptuous feeling in the mouth. The problem with many wines is too much extraction and wood. Using the same techniques in 2011 that were practiced in 2010 will not return good results. Those wines feel dry in the mouth.
Most of the wines can age, but 2011 Bordeaux is not a vintage to cellar for decades. Similar to 2001 Bordeaux, many of the wines will start drinking well between 5 and 10 years after the vintage. 2011 Bordeaux shares another commonality with 2001 Bordeaux, a myriad of chateaux from Pomerol produced outstanding wine. Some St. Emilion estates also produced fine wine.  Overall, the right Bank was more successful than the Cabernet Sauvignon based wines from the Medoc or Pessac Leognan, although, some wines of quality were produced there as well.   2011 Bordeaux is also another excellent year for the sweet Bordeaux wines of Sauternes and Barsac as well as being strong for the white wines of Bordeaux.
To buy or not to buy? That's the question. Buying Bordeaux wine comes to down price and quality. Every chateaux owner and director know prices need to come down. How far they will drop is the question. Most owners and directors feel their wines are priced fair. It is their neighbors that need to give the biggest discounts. For the wines to sell through to consumers, the wines need to take a big step back in price. I'd like to see reductions from 2010 drop by 40% to 50% for many properties. Based on the few wines that have been released so far, that is unlikely to happen. The results for sales and interest does not bode well.  Robert Parker will release his report, April 27. The results from his journal, the most widely read and important Bordeaux report, along with the poor reception for the wines having been released so far, will hopefully prod producers to reduce their prices to the 50% mark from the very expensive 2010 vintage.  If not, consumers should look to purchasing more wines from the outstanding 2009 and 2010 Bordeaux vintages.
Links to wines tasting notes for the top 350 Bordeaux wines from the 2011 vintage:
2011 St. Estephe Guide to the Best Wines of the Vintage
2011 Pauillac, Guide to the Best Wines of the Vintage
2011 St Julien Guide to the Best Wines of the Vintage
2011 Margaux, Guide to the Best Wines of the Vintage
2011 Haut Medoc Tasting Notes, Ratings, Reviews Buying Guide
2011 Pessac Leognan Guide to the Best Wines of the Vintage
2011 Pomerol Guide to the Best Wines of the Vintage
2011 St. Emilion Guide to the Best Wines of the Vintage
2011 Bordeaux Guide to Satellite Appellations, Value Wines
Guide to the Best Lalande de Pomerol Wines of the 2011Vintage
2011 Chateau d'Yquem Sweet Bordeaux Wine of the Vintage
If you are seeking detailed interviews with many of the wine makers and chateaux owners on the 2011 Bordeaux wines: 2011 Bordeaux Wine Barrel Tasting Notes
Please feel free to post your comments and share your views on these wines…