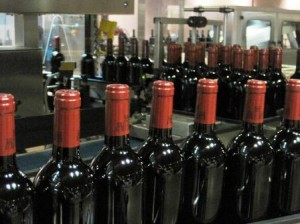 This page is a guide to help you find the best wines and values for 2011 Pauillac.
2011 was a difficult year for Bordeaux wine makers located the Pauillac appellation. In some ways, the results are similar to what was achieved in 2001. Many 2011 Pauillac wines have charm, freshness and ripe flavors, but compared to more recent vintages like 2009 and 2010, 2011 feels light in weight and style.  The wines are also lower in alcohol while being higher in acidity. 2011 Pauillac should appeal to fans of traditional Bordeaux.  Several producers experienced drought, which caused problems with Cabernet Sauvignon. Coupled with the drought was the potential for botrytis. 2011 Pauillac was not an easy vintage.  Careful winemakers who were willing to take severe measures during sorting and selection, had the best chance to produce fine wine.  At their best, 2011 Pauillac wines are charming.  There are also 2011 Pauillac with with hard, dry tannins.  2011 Pauillac is a year for consumers to take care when purchasing.
2011 d'Armailhac From a blend of 57% Cabernet Sauvignon, 28% Merlot, 13% Cabernet Franc and 2% Petit Verdot, the wine opens with espresso and blackberry scents. Medium-bodied, fresh, charming and easy to like, the wine ends with fresh cassis. 89-91 Pts
2011 Clerc Milon Blending 54% Cabernet Sauvignon, 37% Merlot, 7% Cabernet Franc and even amounts of Petit Verdot and Carmemere. Lead pencil, earth and cassis, this polished Pauillac ends with a long, fresh, bright cassis and mineral sensation. 90-91 Pts
2011 Duhart-Milon 75% Cabernet Sauvignon and 25% Merlot make up the blend. With a perfume of black cherry, smoke and lead pencil, the wine offers ample, fresh, chewy Cabernet flavors with freshness and cassis. 91-93 Pts
2011 Grand Puy Ducasse – Blending 53% Cabernet Sauvignon and 43% Merlot, which reached 13.5% alcohol. Yields were 42 hectoliters per hectare. The wine will be aged in 40% new oak.  A ruby hue opens to earth, cassis and a hint of oak. Round tannins and with structure to age, this fresh cassis- and cranberry-filled bright wine needs some time to soften. 88-90 Pts
2011 Grand Puy Lacoste – Using 78% Cabernet Sauvignon and 22 % Merlot in the blend, the wine will be aged in 75% new oak. Yields were 40 hectoliters per hectare. The focus this year was on sorting for the 2011 vintage.  Pickers were given sheets with nine different photographs of unripe berries that they were to avoid placing in the basket. Grand Puy Lacoste used two tables to sort in the cellars. The wine reached 13.3% alcohol. Earth, cedar, cassis, forest floor scents, medium body, soft tannins and a crispy, fresh, cranberry and cassis finish are found in this wine.  Drink this while waiting for the 2009 and 2010 Grand Puy Lacoste to develop. 90-92 Pts
2011 Haut Bages Liberal – Earth, cedar, black pepper and cassis, the wine is medium bodied, ending with bright kirsch flavors. 88- 90 Pts
2011 Haut Batailey – Blending 72% Cabernet Sauvignon with 28% Merlot, the wine will be aged in 60% new oak.  Cedar wood, crème de cassis, green forest scents, medium bodied with light textures and a bright cassis finish. 88-90 Pts
2011 Lafite Rothschild – Produced from a blend of 80% Cabernet Sauvignon and 20% Merlot. Spice, blackberry liqueur, licorice, earth, graphite and gravel scents lead to a full-bodied wine with supple tannins, freshness and good concentration. The wine ends with a bright, elegant cassis-filled finish. 95-96 Pts
2011 Carruades de Lafite  – 55% Cabernet Sauvignon, 39% Merlot, 3.5% Cabernet Franc and 2.5% Petit Verdot produced a wine with scents of forest floor, cassis and black cherry. Medium bodied with cassis, spice, black olive tapenade and bright sensations.  88-90 Pts
2011 Latour – Crafted from an assemblage of 84.5 % Cabernet Sauvignon, 15% Merlot and .5% Petit Verdot, this vintage represents just 34% of the production. 3% press wine was added to the blend, which is half of what's normally included in the assemblage. The estate continues its march towards biodynamic farming. At this point, 62 acres are farmed using biodynamic techniques. The eventual goal of Chateau Latour is to become completely biodynamic within a few years.
Dark ruby in color with purple accents at the rim, the perfume offers wet forest floor aromas, cassis, cedar wood, spice, earth and blackberry. Subtle, refined and elegant, this finesse style of Latour is long, clean and pure.  Lacking the concentration of 2010 or 2009, this stylish Latour is long and filled with pure, spicy cassis in the fresh finish. 95-97 Pts
2011 Les Forts de Latour – Blending 61.5% Cabernet Sauvignon, 35% Merlot, 3% Petit Verdot and a tiny portion of Cabernet Franc, the wine represents 43% of the production. Deep ruby in color with scents of truffle, cassis, earth and blackberry, this is fresh, bright and vigorous in the mouth. The wine ends with clean cassis and spice. 90-92 Pts
2011 Pauillac de Latour – Produced from 62.5% Cabernet Sauvignon and 37.5% Merlot, this wine represents 23% of the production. The third wine of Latour is deep ruby in color with cedar, earth and cassis on the nose. Fresh, spicy cassis and cherry in the finish.  87 – 89 Pts
2011 Lynch Bages  72% Cabernet Sauvignon, 23% Merlot, 3% Cabernet Franc and 2% Petit Verdot are found in the blend, which reached 13.2% alcohol and will be aged in 75% new oak. Yields were 45 hectoliters per hectare.  Deep in color with a perfumed filled with coffee, blackberry, chocolate and tobacco, there are ample fresh and bright cassis flavors found in the finish. 91-93 Pts
2011 Lynch Bages Blanc – Blending 65% Sauvignon Blanc, 12% semillon and 22% muscadelle, the wine opens with grapefruit, honeydew melon and spice, finishing with a long, fresh, clean, bright, wave of lemon, citrus and lychee nut. 91-93 Pts
2011 – Echo 47% Cabernet Sauvignon, 41% Merlot and 12% Cabernet Franc make up the blend.  Coffee, blackberry and cassis with a fresh, slightly green, drying finish. 84-87 Pts
2011 Mouton Rothschild With a large percentage of Cabernet Sauvignon at 90%, 7% Merlot and 3% Cabernet Franc, this deeply colored wine offers boysenberry, coffee, truffle, smoke, blackberry, earth and black cherry. With ripe tannins and plush sensations, this classic, opulent, stylish, concentrated vintage of Mouton Rothschild ends with deep blackberry and spicy cassis. 94-95 Pts
2011 Petit Mouton 70% Cabernet Sauvignon and 30% Merlot create the blend. Flowers, spice, coffee and blackberry with medium body and a soft, approachable black cherry finish. 88-89 Pts
2011 Aile d'Argent – The nose is filled with fresh, zesty lemon, green apple, grapefruit and stone. Full bodied, rich and packed with ripe, crisp, refreshing citrus, the wine was produced from a blend of 60% Sauvignon Blanc, 38% Semillon and 2% Muscadelle. 91-93 Pts
2011 Pedesclaux – Blending 65% Cabernet Sauvignon, 30% Merlot and 5% Cabernet Franc, the wine reached 12.83% alcohol. This is the second vintage to feature more Cabernet Sauvignon due to newly purchased vines. Consulted by Emmanuel Cruse from Chateau d'Issan in Margaux, the wine offers cedar wood, gravel, pepper and cassis. One of the most obscure classified growths in the Medoc, Curse decided on a more stringent selection for the wine. Opening with earth, cassis and spice, this medium-bodied wine ends with crisp cassis. 88-89 Pts
2011 Pibran – Cassis and red berry aromas, medium-bodied and light in style, the wine ends with cassis in the finish. 87-88 Pts
2011 Pichon Comtesse de Lalande  – A record-setting amount of Cabernet Sauvignon was used in 2011 with 78%. The remainder was taken up with 12% Cabernet Franc, 8% Merlot and 2% Petit Verdot. The wine will be aged in 60% new oak and reached 13% alcohol. Deep ruby in color with floral, cocoa, cassis, tobacco, olive and hints of mocha scents make up the perfume. The wine has medium body with fresh and bright cassis and boysenberry in the round finish. 92-94 Pts
2011 Reserve de Comtesse – Light ruby in color, this soft, medium-bodied wine shows notes of earth, cassis and olive with a fresh cherry and tapenade finish. 84-87
2011 Pichon Longueville Baron utilized a blend of 82% Cabernet Sauvignon and 18% Merlot.  The wine reached 13.2% alcohol. The wine will be aged in 80% new oak.  The assemblage features one of the highest concentrations of Cabernet Sauvignon found in modern times. Ruby in color, smoke, truffle, earth, cassis, vanilla and tobacco scents are found in the perfume.  Medium bodied, ripe and soft, there is a fresh, vibrant feeling in the wine, ending with crisp cassis flavors. 92-93 Pts
2011 Pontet Canet Produced from an assemblage of 60% Cabernet Sauvignon, 35% Merlot, 4% Cabernet Franc and 1% Petit Verdot. Deep ruby in color with scents of coffee, licorice, truffle, smoke and blackberry. The wine is fresh, pure, clean and filled with spicy cassis. Compared to recent vintages, this is a round, approachable, refined style of Pontet Canet finishing with silky cassis and spice. 93-95 Pts