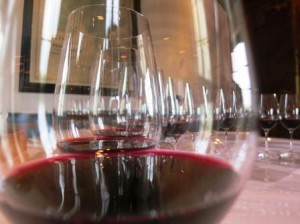 2011 St Julien Bordeaux wine is classic in style. 2011 St Julien wines are clean, fresh and offer, bright, crisp flavors.  In many ways, it can be thought of as a better, riper version of 2008 Bordeaux. This is guide to the best 2011 St Julien wines of the vintage with tasting notes, ratings and technical information.
2011 Beychevelle  With lead pencil, cedar and cassis, the wine is medium bodied and tannic, ending with bright cassis and cranberry. 88-91 Pts
2011 Branaire Ducru From an assemblage of 67% Cabernet Sauvignon, 24% Merlot, 5% Cabernet Sauvignon and 4% Petit Verdot, the wine reached 13.08% alcohol. Yields were about 10% lower in 2011 than what the estate produced in 2010. With mocha, black cherry, truffle, smoke and earthy aromas, this medium-bodied, soft-textured Branaire Ducru is dominated by cherries and finishes with a fresh, sweet chocolate and black raspberry finish. When asked his favorite vintages of Branaire Ducru, owner Patrick Maroteaux places 2005, 2009 and 2010 as his top three vintages. He places 2011 at the top of the second tier for his wines. 91-93 Pts
2011 Ducru Beaucaillou Produced from a blend of 85% Cabernet Sauvignon and 15% Merlot, which reached 13.10% alcohol, the wine will be aged in 95% new oak for 18 months. With the lowest yields in 25 years, production will be close to 25% less than in the previous vintage.
Deep ruby in color, with purple accents around the rim, blackberry, truffle, tobacco, earth, cassis, smoke, licorice and black cherry scents are found with little effort. Plush, ripe, silky tannins and a fresh, ripe blackberry, black cherry and spicy plum finish are the hallmarks of this wine.  This is an elegant, refined and stylish vintage of Ducru Beaucaillou. 93 – 95 Pts
2011 Croix de Beaucaillou -Blending 73% Cabernet Sauvignon, 20% Merlot and 7% Petit Verdot, the wine reached 13.2% alcohol. Using 60% new oak, the wine will spend 12 months in barrel.  Oak, truffle, tobacco and earth notes are found in the nose. The wine is soft, round and finishes with  boysenberry, cherry and cocoa. 90-91 Pts
2011 Lalande Borie – Produced from a vineyard purchased from Lagrange in the 70s, the wine is a blend of 60% Cabernet Sauvignon, 35% Merlot and 5% Cabernet Franc, reaching 13.1% alcohol. The wine will be aged in 27% new oak for one year. On the nose, oak, boysenberry, licorice and earthy scents are found with coaxing. Soft-textured, round and open, this crowd-pleasing wine ends with sweet cassis and licorice on the finish. 88-90 Pts
2011 Gloria –Coffee, smoke, jam and blackberry scents in the nose. Medium-bodied with a supple, round, sweet black cherry finish. 90-91 Pts
2011 Gruaud Larose – Medium/full-bodied, with crisp, fresh cassis, earth, spice and gravel, the wine ends with a tannic crème de cassis finish that requires age to develop. 91-92 Pts
2011 Lagrange – Cassis, cedar, earth and vanilla scents with medium body and round tannins. A soft, ripe, cherry-filled finish are found in this wine. 89-91 Pts
2011 Langoa Barton – Produced from 63% Cabernet Sauvignon, 34% Merlot and 3% Cabernet Franc, the wine will be aged in 60% new oak. Earth, cassis and cranberry notes, medium bodied with fresh, bright, soft cassis and a classic personality. 88-90 Pts
2011 Leoville Barton – From an assemblage of 80% Cabernet Sauvignon, 15% Merlot and 5% Cabernet Franc, the wine will be aged in 80% new oak. The wine reached 12.5% alcohol. According to Anthony Barton, with a little more rain, the wines could have been as good as 2009 or 2010.  Barton agrees prices must come down for the 2011 Bordeaux vintage to sell. In his view, even 2010 Bordeaux was too expensive. Regarding 2011 Leoville Barton, Anthony feels it's a vintage to drink young while waiting for the 2010 and 2009 to develop. Deep color with lead pencil, earth, flint, cassis and truffle scents in the nose. Tannic, fresh, bright, crisp cassis is found in the finish. 91-93 Pts
2011 Leoville Las Cases – From 76% Cabernet Sauvignon and equal parts Merlot and Cabernet Franc, the wine reached 13.4% alcohol and will be aged in 80% new oak. The pH is 3.63. Inky in color, this is one of the darkest, most concentrated wines of the vintage. Espresso bean, black cherry, truffle, gravel, cedar wood, tobacco and cassis are found in the perfume. Powerful and rich with ample tannins, acidity and structure, this classic wine ends with a long, fresh cassis and ripe blackberry finish. Like all the best vintages of Leoville Las Cases, this needs a lot of time in the cellar before consumption. 93-95 Pts
2011 Clos du Marquis was produced from 65% Cabernet Sauvignon, 22% Merlot and 13% Cabernet Franc. From low yields of 27 hectoliters per hectare, the wine reached 13.6% alcohol and will be aged in 40% new oak. Ruby in color, black raspberry, floral, coffee bean and dark cherry scents are found on the nose.  Sweet, ripe, fresh, juicy cassis rounds out the finish. This is quite charming. 90-91 Pts
2011 Le Petit Lion de Marquis de Las Cases – The official second wine of Chateau Leoville, Las Cases was produced from a blend of 54% Merlot,  42.5% Cabernet Sauvignon, 3% Petit Verdot and a tiny dab of  Cabernet Franc. Reaching 13.6% alcohol, the wine will be aged in 22% new oak. Ruby in color, with scents of gravel, earth, spice and tobacco, the medium-bodied wine is fresh, clean and filled with spicy crème de cassis.  88-90 Pts
2011 Leoville Poyferre From an assemblage of 58% Cabernet Sauvignon, 30% Merlot, 6% Petit Verdot and an equal amount of Cabernet Franc, the wine reached 13.7% alcohol.  The Grand Vin represents 55% of the harvest. With good color, the wine opens with coffee, earth, black raspberry and cassis. Medium-bodied, tannic, bright and fresh, there is a brawny personality in the crisp boysenberry, cassis and tannic finish. 2011 Leoville Poyferre will not be fun to drink young. It will require a lot of time before it softens and comes around. 91-93 Pts
2011 Saint-Pierre – Espresso, caramel, vanilla, blackberry jam and earthy scents with deep color and a plush, fresh, sweet, soft and ripe black cherry finish are found in this wine. 92-93 Pts
2011 Talbot –With truffle, coffee, smoke and black cherry jam, this medium-bodied wine has round tannins with a short, fresh red berry finish. 88-90 Pts.