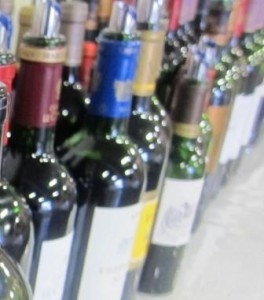 2009 St Estephe and  2009 Haut Medoc tasting report on the wines in bottle, tasted with the UGC.  Great Bordeaux wine vintages are not defined by the wines at the top. That's easy. They have the money and the terroir to make quality wine in every vintage. One of the hallmarks of a top Bordeaux wine vintage is when all the appellations produce strong wine. 2009 St. Estephe Bordeaux wine fits that bill perfectly. The Haut Medoc appellation, located in the Left Bank of Bordeaux was successful in 2009 producing powerful, rich, supple, stylish Bordeaux wine. St. Estephe made stunning wines at the top end, but once past the best Classified Growths in 2009 St. Estephe, the results were uneven.
2009 Haut Medoc
2009 Belgrave – Packed with spicy, black and red fruits with mineral elements, this fleshy, soft wine offers a fresh, black cherry and spice filled finish. 89 Pts
2009 Cantemerle – Medium bodied, with light, black raspberry, cherry and spicy flavors, this soft, lighter style of Bordeaux wine ends with cherry and fresh herb sensations. This should drink well young. 90 Pts
2009 Chasse Spleen – Spice, herbs, earth and tart cherry scents lead to a tight, tannic wine, with drying sensations in the red fruit, dominated finish. Perhaps time will soften the tannins. 88 Pts
2009 La Lagune – From an assemblage of 60% Cabernet Sauvignon, 25% Merlot and 15% Petit Verdot, this sweet, sexy, silky, lush wine delivers floral, spice fresh plum, vanilla, earth with blackberry aromas.Rich, sensuous and pure, the wine is at the level of quality produced in 2005 as well as 1982. This attention grabbing wine is one of the better values from the Left Bank this year. 94 Pts
2009 Poujeaux – Licorice, earth, fresh herbs and blackberry liqueur aromas entice you to get to discover more about the wine. Soft, round, supple, ad powerful, this full bodied, ripe, richly textured wine ends with an opulent, spicy, black cherry and coffee finish. 92 Pts
2009 La Tour Carnet – Modern in style, this Merlot dominated, deeply colored wine opens with a perfume filled with coffee, licorice, black and blue fruit and chocolate. Concentrated, fleshy and flashy, produced from a blend of 53% Merlot, 40% Cabernet Sauvignon, 5% Cabernet Franc and 2% Petit Verdot, this delicious Haut Medoc needs a few years before the oak fully integrates. 92 Pts
2009 St. Estephe
2009 Lafon Rochet – Deep in color, with cedar wood, spice, blackberry and gravel scents, this medium/full bodied, tannic wine requires time before the ample tannins soften and everything comes together. 91 Pts
2009 Ormes de Pez – From an assemblage of 54% Cabernet Sauvignon, 37% Merlot, 7% Cabernet Franc and 2% Petit Verdot this tannic, sturdy wine offers blackberry, cherry and earthy aromas. There is a slight drying sensation in the strong, tannic finish. 90 Pts
2009 de Pez – Dark berry and earthy aromas pair with muscular tannins. Give this a few years of bottle age.
2009 Phelan Segur – With scents of forest floor, cassis, tobacco, black raspberry and earth, this medium/full bodied wine ends with spice, fresh, dark berries and a slight drying sensation. Give it 3-5 years and it should add some nice complexity and softer textures. 90 Pts