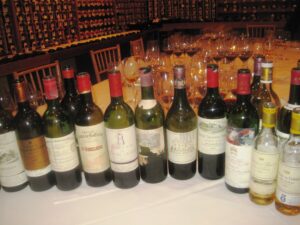 7 Blind Men is a group I founded several years ago. We remain devoted to tasting wines blind. The group meets 9 times a year, with each member taking turns hosting. If Dirty Harry was a member he would have said, "I know what you're thinking. With all this excitement, how does a group with 7 members meet 9 times a year"?  Officially the group has 8 members. We meet 9 times a year because we have a year end dinner where each member brings 2 bottles of their choice. Those wines are all served double blind.  How we went from 7 to 8 members is a trickier question.  If you are in  the neighborhood and get invited as a guest to a dinner, please remind me to share the sordid details.
Blind tasting is fun. It's educational. It's a good way to learn about your palate, its likes along with its dislikes as well as your level of consistency. It's not necessarily the best or only way to evaluate a wine. Truthfully, too much time and attention are focused on guessing what the wine is, as opposed to deciphering what unique qualities a wine offers.  We found all this out when the 7 Blind Men tastes 7 decades of Bordeaux recently.
There are specific skill sets needed to being a good blind taster. Memory is the key skill. Either you memorize the aromatics and sensations of an appellation or wine, or you recall what wines the host has in their cellar. Regardless of your ability for instant recall, as anyone who has tasted blind in a group can attest, it's always a humbling experience.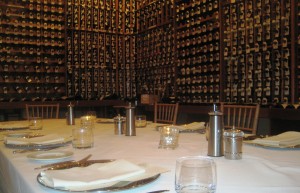 The dinner was held in the wine cellar of Valentino's, one of the few remaining dining landmarks in Los Angeles. The theme of the night was "Decades and Bordeaux appellations".  Each flight featured a Right Bank, Left Bank and Graves.  The questions were, could the tasters identify the wines, let alone the theme? Once that took place, could they find which wines were from the Right Bank, Left Bank and Graves? Would they be able to sort them according to age, within the flight?
This might sound easy. But tasting wines blind often makes fools of the most seasoned tasters. The best part of the night was having my father join us. One of the blind men was not able to make his flight. Some nonsense about his plane not taking off.  It was fun having dad join the group for the dinner. He was a good sport and guessed along with the rest of the members.  It was also cool that I opened wines for him that were older than he was!  The night started when arriving guests were treated to 2000 Dom Perignon.
Whites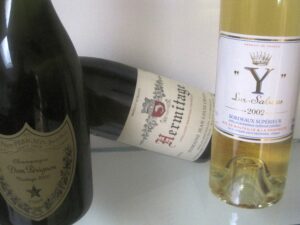 2000 Chave Blanc is produced from a blend of 80% Marsanne and 20% Roussanne. This thick, rich concentrated wine offers grilled nut aromatics with citrus, peaches, flowers, stone and a hint of honey.  93 Pts
 2002 Y is the dry white wine of Chateau d'Yquem. This powerful, intense, concentrated wine is filled with ripe tropical fruit, vanilla, floral and mineral notes. This richly textured wine, lingers on your palate with sensations of lightly honeyed tropical fruit and rocks.  94 Pts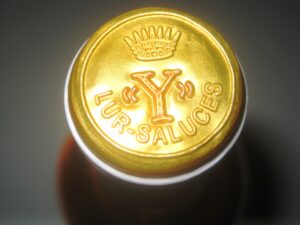 Flight 1
85 Mouton Rothschild – This Pauillac opens with smoke, toffee, earth, cassis, incense, coffee and Kirsch. In the mouth, it's rich, full bodied and finishes with a regal character and charm coupled with a juicy mouthful of cassis and blackberries. This is probably full mature. 94 Pts
82 La Mission Haut Brion – is filled with smoke, tobacco, earth, tar and minerals. In the mouth, this juicy, large boned, structured wine is massive. The powerful wine ends with black cherry and dark berries.  Still young, this wine needs time for the tannins to resolve.  I've had better bottles of this potentially magical wine. This bottle, while good, was not at the level of greatness normally found.  It was a bit reserved.  95 Pts
89 Troplong Mondot  – Corked… Which is a tragedy because I love this wine.
Flight 2
78 La Tour Haut Brion   – This wine, or was it the bottle, seemed like it was from the 90's. This dark, powerful wine was stuffed with cigar box, tar, leather, tobacco, cassis and truffle notes.  Dense and concentrated with a slightly brawny personality, this potent brew finished with a long sensation of smoky black fruit and spicy dark berries. 96 Pts
71 Latour was smoky.  BBQ aromas coupled with tobacco, truffle, cedar, forest floor, cassis and dark berries were easy to find. Old in style, this rustic feeling wine had charm, but it was a bit curmudgeonly in dishing it out.  91 Pts
70 Cheval Blanc was a bit tired.  Ample scents of leafy fresh herbs, smoke, truffle, coffee, dark cherries and caramel were easy to find. Medium bodied and softly textured, this elegant, but light wine ended with caramel coated cassis flavors.  There is no reason to hold this. Drink up. 88 Pts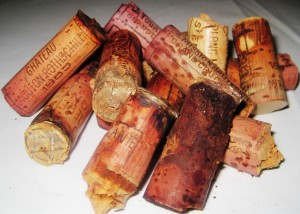 Flight 3
66 Lafite Rothschild was light in color and in body. But the aromatics were complex.  The aromatics were the best part of the experience. Spice, cherry pipe tobacco, cedar, cassis, herbs and minerals led into a soft, light, elegant strawberry, cherry tinted finish.  87 Pts
64  Haut-Brion was rockin'!  From an original case, I've had 10 bottles of this wine. Most of the bottles seemed tired. But not on this night! It was dark in color with port like scents along with caramel, smoked, frilled meat, tar and tobacco aromas. Elegantly styled, this medium/full bodied wine finished with round, supple textures and spicy, smoke filled black cherry and cassis flavors. Having had this wine on numerous occasions from my cellar and from from cellars of my friends, this was the best bottle of 64 Haut Brion I will ever have. The point being, there is no reason to hold this wine. Drink 'em if you have 'em. 93 Pts
61 Canon La Gaffeliere was filled with dark chocolate covered cherries, fennel bulb, fudge and espresso notes. This soft textured, fully mature wine finished with black cherries and tart strawberry flavors. 90 Pts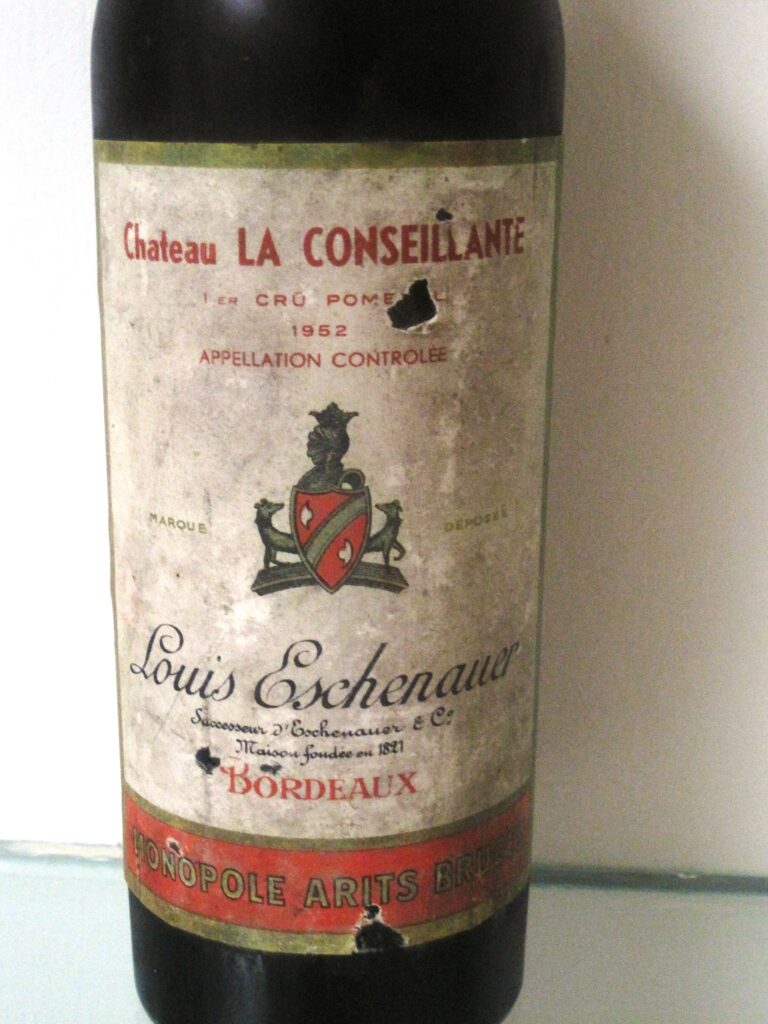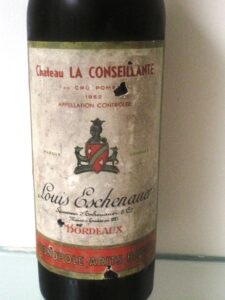 Flight 4
59 Rauzan-Gassies opened with smoke, tobacco, damp earth, fresh cut leaves and light berry aromatics. Medium bodied and slightly rustic in texture, this light Margaux will appeal to fans of light, traditional styles, more than it did to me.  83 Pts
55 Domaine de Chevalier offered smoke, tobacco, forest floor, cigar box,, spice, cassis and olive tapenade scents. Medium bodied, with elegant textures, this soft styled wine finished with light kirsch and cassis flavors. 89 Pts
52 La Conseillante was loaded with VA, coffee, spice and mocha. The wine ended with a tart, strawberry flavored finish. 72 Pts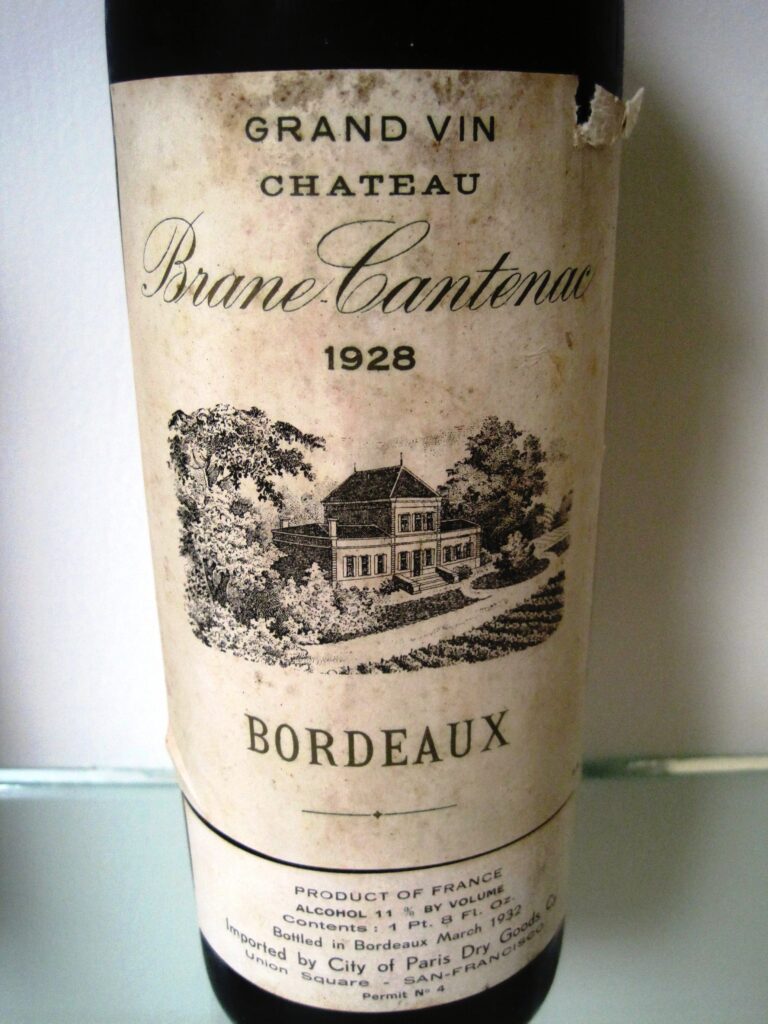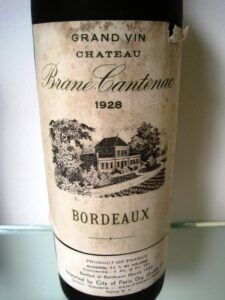 Flight #5
1928 Brane Cantenac made me feel like either I needed to take up smoking, or quit, I was not sure which message it was sending. This could have been a Graves.  Smoke, ash, cigar box, earth, tobacco, wood fire, lit cigar and cigarettes, along with pipe tobacco and hint of cassis made up the smoke filled perfume. Full bodied, but with only faint hints of dark berries poking through, this was an interesting experience.  The saying about wines over 20 years of age holds even more truth when the wine is over 80 years old! After 20 years of age, there are no great wines, just great bottles.  75 Pts
1934 Smith Haut Lafitte offered cherry pipe tobacco, tar, smoked herbs, truffles and fresh forest floor aromatics. Medium boded, but elegant and balanced, this charming older wine finished with a short, cherry tinged ending. 85 Pts 
This bottle was sold to me as a 1926. But to say not much was of the label remained is being charitable.  When the bottle was opened, the cork showed the wine to be from 1934.  But as you can see from my notes, the bottle was sound. And even better, 1934 is my dad's birth year! This is one of those mistakes that turned out much better than anticipated.
Flght # 6
"Find the Yquem "
The guests were told the last flight of the night had only two wines; 90 Yquem along with 90 de Fargues. Tasters were asked simply to state which bottle was d'Yquem.  The Blind Men were unanimous with their proclamation!  Every member called wine number two d'Yquem.  It's good belonging to a group where all the members think alike. Interestingly, they all got it wrong!  Blind tasting humbles the best, as well as the rest of us.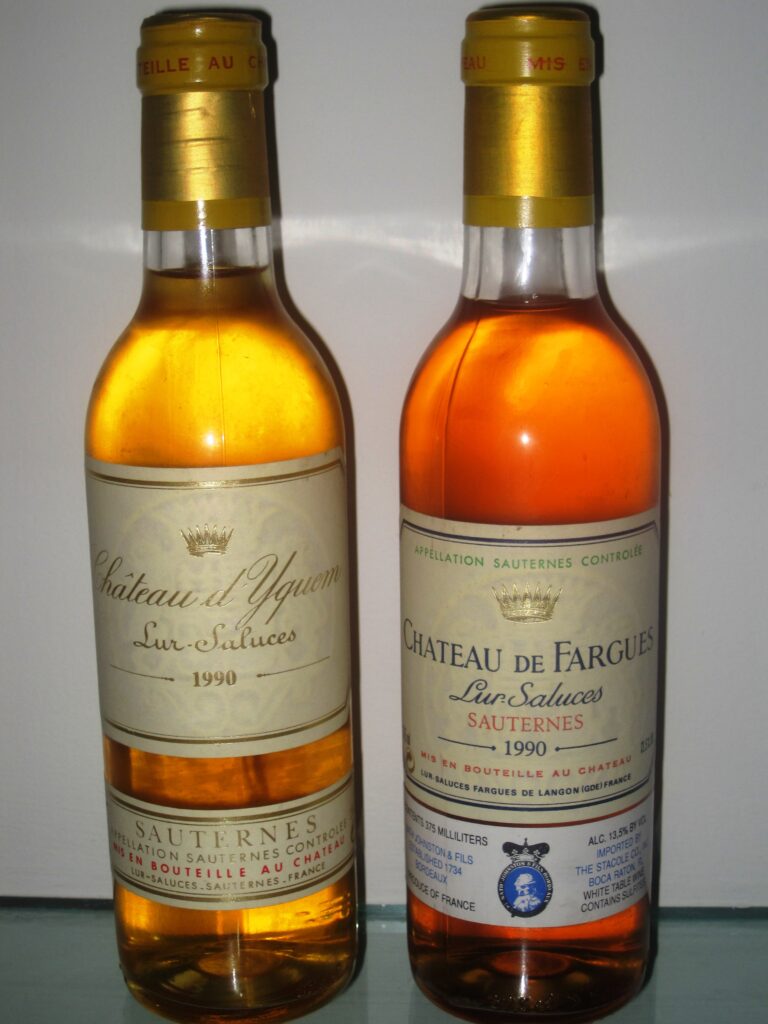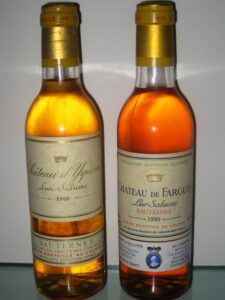 Tomorrow is the next 7 Blind Men dinner. I'm looking forward to being humbled once again. I could not ask for a better group of people to drink with.