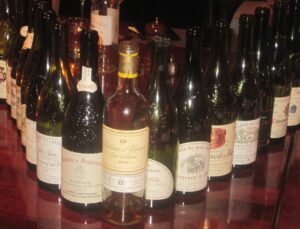 WASTED offers several different and interesting meanings. When combined with wine, the term takes on a new connotation, especially when Jerry Hey and his gang of "Wasted" members are involved.
I was under the impression the name was an acronym for Wine Advocates for Serious Tasting Eating and Decadence or debauchery. Was I wrong? Jerry informed me the group is known as Wine Association for the Study and Tasting of Enological Dynamics.
I've known Jerry for years. Jerry is a fine taster who appreciates a myriad of wines and styles, (OK he's more of a Burgundy lover than Bordeaux fan), but he also enjoys wines from Northern Rhone as well as Chateauneuf du Pape.  More importantly, he's an incredibly gifted trumpet player who has appeared on more records than there are holes in Albert Hall.
In fact, Jerry has worked with countless artists including Michael Jackson, The Band, Al Jarreau, Barbra Streisand, Quincy Jones, Michael McDonad and just about every jazz artist you can think of, along with numerous rock acts that needed horns.
http://www.youtube.com/watch?v=as-bcQyjbu4
Robert Parker recently published his notes on a re tasting of 1998 Chateauneuf du Pape.  That article inspired Jerry to put together his own version to see how the wines stacked up.  The intrepid, Wasted members met in Manhattan Beach for a blind tasting of 1998 Chateauneuf du Pape and I was ready to do my part as well.  Would the wines stack up? Were they as good as prognosticated? Or at 12, were they running out of gas? There was only one way to find out. Corks needed to be popped. Speaking of corks, this tasting might win the dubious honor of having the highest percentage of corked bottles in a single night.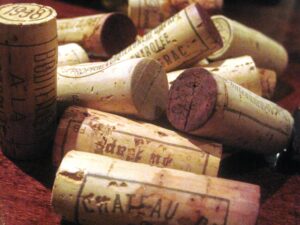 Wines were placed in random order for the flights. The wines were not decanted. They were all popped and poured.
Flight #1
98 Milliere is a medium bodied wine, showing hints of barnyard, light strawberry and cherry scents. The short finish offers light, jammy red fruit flavors. 87 Pts
98 St. Benoit Truffiere opens with Provencal herbs, black cherry and pepper notes. Full bodied and fully mature, this elegant style of Chateauneuf finishes with peppery, jammy black raspberries.  Drink up. 90 Pts
98 Usseglio Mon Aieul was not a fully correct bottle which made it impossible to taste and assess.
98 Marcoux Selection is a seldom seen bottling. Black pepper, dark cherries, black raspberry and earthy scents were was to find. Full bodied and richly textured, this mature Chateauneuf du Pape finished with dark, peppery, jammy berries. 91 Pts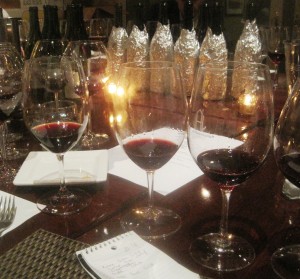 Flight #2
98 Caillou VV North Berkley Imports Cuvee. This is not the same wine that is found in the Domaine du Caillou Reserve.  Filled with black cherry, fresh herbs, pepper, strawberry and soil aromatics, this full bodied wine ends with rich, dark cherries, scorched earth and jammy berries.  94 Pts
98 Mordoree Reine des Bois is packed with sweet, black raspberry jam, black cherry, pepper, spearmint and oak aromas. The wine is full bodied and offers mouth coating textures, ending in a long cherry and fennel filled finish.  95 Pts
98 Janasse VV offers wood, ripe back fruit, jam, pepper and herbal aromatics.  This powerful wine is filled with ripe, jammy fruit and spice. But the oak distracted from the wine in this case in both the nose and in the mouth.  92 Pts
98 Vieux Telegraph – Corked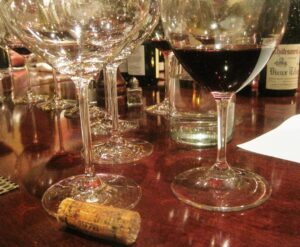 Flight #3
98 Pegau opens with sweet kirsch, cherry, pepper, underbrush and black raspberry jam.  This fresh, full bodied wine seems to have matured quickly for Pegau.  The wine finishes with a soft, jammy, pepper and cherry filled finish. 92 Pts
98 Charbonniere VV is filled with kirsch, iodine, chocolate, licorice, dark berry filled preserves, earth and pepper. This rich, full bodied, intense, ripe wine ends with dense, powerful, peppery, jammy berries.  This remains one of the top values for 98 Chateauneuf du Pape.  94 Pts
98 Janasse Chaupin – Corked
98 Clos Mt. Olivet Papet opens with black cherries, cracked pepper, kirsch, garrigue and an interesting note of fresh corn. When this pointed out, others in the group spotted it as well.  Rich, deep and elegant in style, this fully mature wine finished with a peppery, blackberry jam and strawberry filled finish. 93 Pts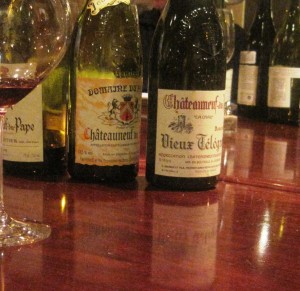 Flight #4
98 Beaucastel kicked off with kirsch, cherry, garrigue, pepper, black raspberry and floral notes. Full bodied and intense, this lush, richly textured wine finished with ripe black cherries and spice. 95 Pts
98 Chapoutier Barbe Rac –  In the nose, fresh, ripe sweet cherries, flowers, kirsch, licorice, barnyard and jammy scents. Elegantly textured, with copious amounts of fresh, ripe, red fruit, the wine ends with sensations of jammy black raspberries, kirsch and wild strawberries.    95 Pts
98 Bois de Boursan Cuvee Felix is filled with barnyard, cherry, pepper and jam filled berry notes. Rich and elegant in style, this lush wine finishes with ripe, sweet, plush, round, cherry jam flavors. 93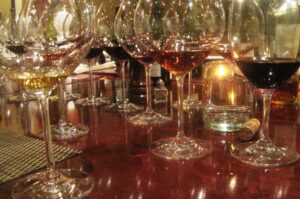 Dessert Flight
After a few bottles of red wine, the most civilized way I can think of to end the night is with Sauternes.
76 Rieussec – Corked
70  Yquem – From the first whiff, this copper colored wine makes it easy to find honey, orange, cinnamon, vanilla, toffee, pineapple, nectarine and grilled nut aromas. The wine is full bodied and concentrated, but in the mouth there is a slightly dull quality to the fruit.  There is not enough acidity or sweetness to make this wine exciting.  The wine is chunky and finishes with honeyed, orange and mango flavors.  90 Pts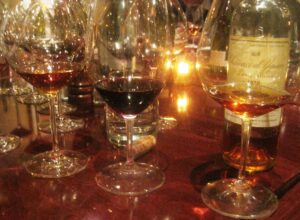 01 Rieussec  is a rock star in the making!  Fresh, ripe, honeyed pineapple, orange, nectarine, toasted nuts, vanilla and coconut aromatics are a treat to swirl and sniff. Full bodied, concentrated and packed with deep, perfectly ripe fruit, this attention grabbing Sauternes is worth having in the cellar. 97 Pts
Jerry and his Wasted wine tasters are a great group of guys. I'd hang with them anytime.  If any of you are up in my neck of the woods. Feel free to come one over. The cellar is open!
Feel free to post any comments or questions on this article.