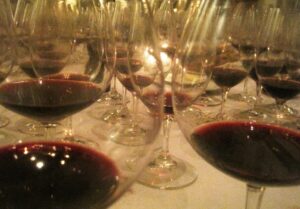 Blind Tasting is always a fun and humbling experience, especially when it's with 7 Blind Men!  You never know what to expect, which always keeps it interesting.  The group met at Campanile. Mark Peel put together more than enough food to keep us busy while Jay Perrin handled the wine service.
http://www.youtube.com/watch?v=l-ESU52T1SQ
95 Taittinger Comtes de Champagne started the night.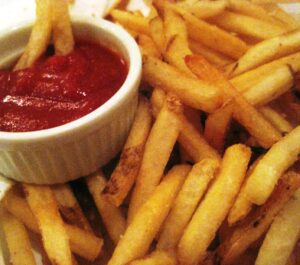 French Fries… The perfect wine food!
Flight #1
90 Louis Latour Corton Charlemagne
90 Jadot Corton Charlemagne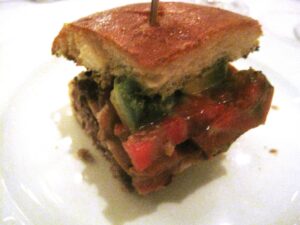 Flight #2
85 Guigal La Turque – Truffle, black raspberry, spice, tobacco and orange peel scents open up in this wine.   With sensuous and round textures, this Cote Rotie wine ends with powerful spicy, cassis and pepper sensations. 95 Pts
88 Guigal La Turque –  Intriguing notes of citrus, black raspberry, oak, earth, smoke, black cherry and spice. Soft, silky textures and a powerful, red fruit and dark cherry tinged finish make this a treat to experience. 97Pts
89 Guigal La Turque – This Cote Rotie offered tobacco, smoke, cassis, bacon fat and cherry liqueur scents. The supple, fleshy, velvety textures felt great caressing your palate before you enjoyed the long seamless, exotic ripe kirsch filled finish.  98 Pts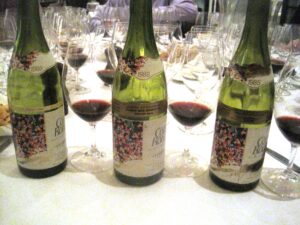 Pasta Course…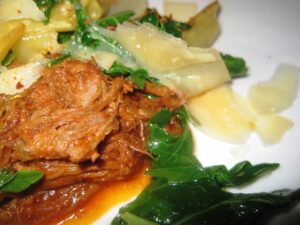 Flight #3
 74 Maycamas – Smoke, caramel, earth, licorice, spice, cassis and mocha aromatics are in abundance. This concentrated old school Cabernet, wine feels a little rustic in mouth and ends with cassis and rhubarb flavors that express some tart qualities. 91
 74 Heitz Martha's was probably not a correct bottle. Cassis, tobacco and earthy scents were easy to find, However, there was no sensation of mint and hints of musty aromatics were present.  Dense cassis flavors made up the finish.  Sadly, I'm still waiting to taste an epiphany bottle from this legendary California Cabernet. 89
 74 Diamond Creek Volcanic Hill – This was filled with smoke, earth, cassis, tobacco and blackberries. From the nose, this was a dead ringer for an older, fully mature Pauillac. The wine finished with soft textures and deep earth, strawberry and spicy black cherry flavors that are found only in the best older California Cabernets. 93 Pts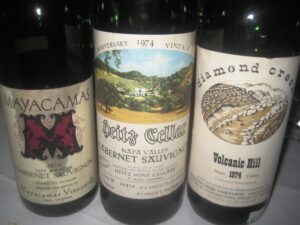 Flight #4
85 Lafleur – This Pomerol opens with a blast of truffle, smoke, earth, plum, cherry pipe tobacco and spice aromas.  Concentrated and deep, as good as it is, this powerful wine is slightly marred by some green flavors that intrude in the otherwise rich, black raspberry and plum filled finish, 93
 88 Lafleur – Cassis, blackberry, floral, dark cherry, forest floor, herbs, 5 spice and mocha scents were easy to find in this Bordeaux wine. Full bodied and powerful, this soft, supple and round wine ends with sweet plum and chocolate flavors. 94 Pts
89 Lafleur explodes from the glass with kinky kirsch, truffle, spice, plum, dried flower and bitter chocolate scents. Rich, concentrated and filled with fruit, this decadent Pomerol coats your mouth with mocha, black raspberry and dark cherry flavors. 97 Pts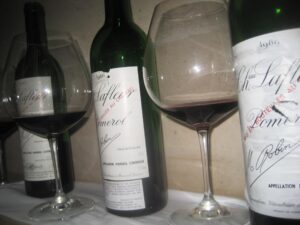 Flight #5
82 Margaux – Violets, smoke, tobacco, cassis, blackberry and truffle aromatics grab your attention. The powerful, rich, elegant and sexy texture keeps your focus until the soft, silk and velvet textured, cassis filled finish kicks in. Everything is in balance and harmony in this sublime 82 Bordeaux. 99 Pts
85 Margaux – Coconut, herbs, black cherry, cassis, tobacco and earthy scents are easy to find.  This concentrated, fully mature Bordeaux wine offers a long, blackberry, spice and cassis filled finish. But some rusticity in the tannins takes away from the otherwise outstanding Bordeaux wine. 93 Pts
00 Margaux – Can you say Rock Star? Oh My God, this is off the charts! The perfume explodes in your face with smoke, cassis, tobacco, mineral, floral, spice, earth and truffle scents. In the mouth, this perfect Bordeaux wine fills your palate with decadent fruit that offers perfect balance, harmony, length and depth in a long seamless finish.  If you have the wine, don't sell it. If you have the money, buy it!  100 Pts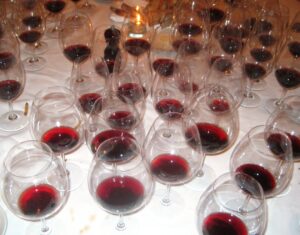 Flight #6
00 Pavie – Off the hook, or off the charts works perfectly to describe this sublime wine. If either of those descriptors seem lacking, what about liqueur of St. Emilion? Or does insane levels of perfectly ripe, lush, palate coating fruit, minerality, smoke, licorice, slate and chocolate covered black and blue fruit sound better? Add a finish that lasts over a minute, filling every nook and cranny of your palate and that should give you an idea of how good this wine is.  Tasted blind in a flight with 03 and 05 Pavie, this was thewine of the flight. Still young, this future legendary Bordeaux wine will only get better with time.  99 Pts
03 Pavie – Black cherry, blueberry, licorice, crushed stone, espresso and cherry liqueur get the perfume going. This potent elixir is rich, fat, round, and lush in the mouth.  The powerful finish is filled with intense, ripe, licorice coated black and blue fruits. This exciting Bordeaux wine, does not show any signs of over ripeness that is found in some wines from this hot, dry vintage.  97 Pts
05 Pavie – Already expressing a complex perfume of truffle, fudge, limestone, blueberry, black plums, chocolate, licorice, coffee bean, vanilla and kirsch, this intense, full bodied, powerful and rich Bordeaux wine is almost at the level of the stunning 2000. The long, pure, mineral infused, ripe fruit finish remains in your palate for close to 60 seconds. 98 Pts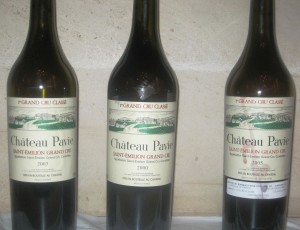 The perfect course for a red wine pairing. Prime beef served rare…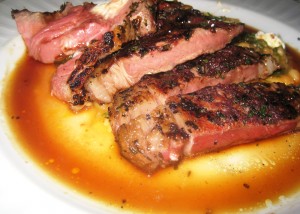 Dessert Wine course. What, no Chateau d'Yquem?
86 Climens – A beautiful, mature Sauternes is the perfect way to end a civilized meal. Honey, vanilla, pineapple, nectarine, grilled nuts and orange rind scents make up the perfume. Medium to full bodied, this elegant, sweet Bordeaux wine finishes with honeyed tropical fruits and crème brulee flavors.  95 Pts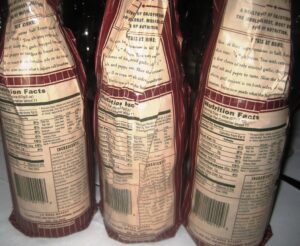 Like I said earlier, with 7 Blind Men, you never know what's under bag #1, #2 or #3. By the midnight hour, after all the wines had been revealed  and the carnage of empty bottles, also known as dead soldiers were neatly displayed for their closeup, it was time to call it a night.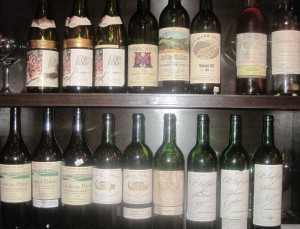 I don't know about you, but I'm looking forward to the next tasting.