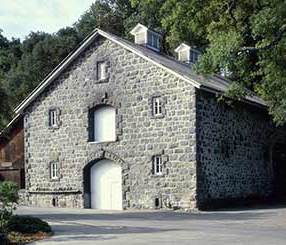 Everything about Heitz Cellar Napa Valley California Cabernet Sauvignon wine tasting notes, wine and food pairing tips, best vintages, history of the property, information on their wine making techniques, terroir and soil. You can also read about the Grapes used for California wine and learn about the extensive History of Napa Valley, California Wines
Heitz Cellars History, Overview
Joe Heitz was destined for a career in wine, even if he did not always know it. He was one of those people that destiny took a hold of. Joseph Heitz began taking an interest in the wine business during World War II.
Needing money, he found a part-time job with Italian Swiss Colony wines a survivor of prohibition that specialized in packaging, lower, priced wines. From there, Joe Heitz earned a bachelor's and master's degree in winemaking from UC Davis.
Armed with his new education, he was quickly hired by Gallo. His next job was at Beaulieu Vineyards where he worked with the already, legendary, Andre Tchelistcheff.
At first, Heitz thought he might one day replace the aging Tchelistcheff, but that was not in the cards, so Joe Heitz went into business on his own, founding Heitz Winery.
The debut vintage for Heitz Cellars was made from the 1959 vintage. The wine was made from purchased fruit. The wine was labeled as Cabernet Sauvignon. By labeled, I mean there was a simple sticker that read, Cabernet Sauvignon, bottled by Heitz Cellar, St. Helena California. The vintage was written by a. After his first vintage, there was no turning back for Joe Heitz.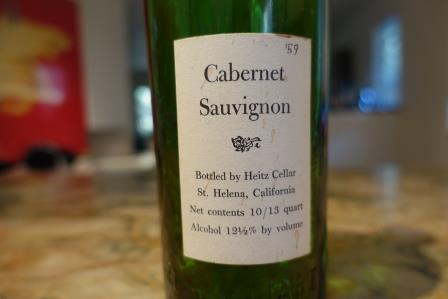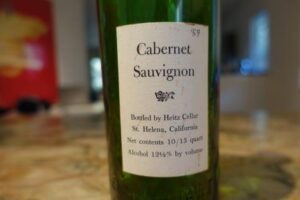 Joe Heitz and Alice Heitz made their first vineyard purchase in 1961, when he obtained an 8 acre parcel of vines for $5,000, right off Highway 29 in St. Helena. The previous owner, Leon Brendel, called the wine, "The One & Only."
The last remnants of the original winery are used as the tasting room for Heitz Cellar. At the time, the vineyard was planted to Grignolino. In fact, Heitz Cellar stills makes a Grignolino, in honor of their first purchase.
At this point, it is interesting to note, that while Heitz Cellar wines are most often associated with Cabernet Sauvignon, his first success was with Chardonnay. Joe Heitz was known to be a big fan of Montrachet.
To help build his fledgling business, Joe Heitz purchased wines in bulk from other producers, bottling the wine under his own name. That explains why Heitz Cellar sold so much Pinot Noir in their early days. In 1964, Heitz Cellars purchased the Rossi Ranch vineyards.
In 1965, Joe Heitz made the best deal of his life when he arranged to purchase the fruit from the 35-acre parcel of vines owned by Tom May and Martha May, dubbed Martha's Vineyard. The following year, Heitz Cellar released its first vintage of Martha's Vineyard.
The 1966 bottling of Martha's Vineyard is important, as this marks the first time a California winery began placing the name of the vineyard on its wine. Joe Heitz passed away in 2000.
Heitz Cellar continued expanding their holdings with purchases and leasing arrangements. Their next major deal was to buy the fruit from the Bella Oaks Vineyard, which they used as a fruit source in 2007 when the vineyard was bought by the Staglin family.
The Bella Oaks vineyard was a deal similar to Martha's Vineyard, where Joe Heitz purchased the grapes, but did not own the vines. The Bella Oaks deal was a natural for Heitz, as the owners of Bella Oaks, Barney Rhodes and Belle Rhodes helped with the planting and vineyard work at Martha's Vineyard.
In April 2018, it was announced that the legendary estate of Heitz Cellars was sold to Gaylon M. Lawrence Jr in a massive transaction. Gaylon M. Lawrence Jr is the head of a family business that has interests in banking, farming and agriculture. This is their first vineyard investment.
In September 2020, the Lawrence family added to their holdings in Napa Valley when they purchased Burgess Cellars, located on Howell Mountain. Burgess Cellars is one of the oldest properties in California as it was created in 1880.
In October 2022, Gaylon Lawrence added to their portfolio of vineyards with the purchase of Chateau Lascombes, a Second Growth in the Margaux appellation.
Heitz Cellar Vineyards, Wines, Winemaking
Since those initial purchases, and other leasing agreements, Heitz Cellars now owns more than 1,100 acres of land in the Napa Valley! All of their vines are farmed with a self-sustaining, organic approach.
Heitz Cellars owns parcels in various appellations in the Napa Valley including, St. Helena, Rutherford, Valley Oak Ranch, Ink Grade Vineyard, and Howell Mountain. Of their 1,100 acres of land, about 425 acres are currently cultivated with vines.
Heitz Cellars has the latest release program of any producer in Napa Valley. The wines are not sold until the estate thinks they are ready to drink, which is often 5, 6, or 7 years after the vintage.
This unusual arrangement also allows Heitz Cellars to maintain a backlog of moderately, recent vintages. Heitz Cellar produces Cabernet Sauvignon, Sauvignon Blanc, Chardonnay, Grignolino, Zinfandel and Zinfandel Port. Their entire production is close to 40,000 cases of wine per year and about 25,000 cases of that wine are Cabernet Sauvignon.
Serving and Decanting Heitz Cellar wines with Wine, Food, Pairing Tips
Heitz Cellar is best served at 15.5 degrees Celsius, 60 degrees Fahrenheit. The cool, almost cellar temperature gives the wine more freshness and lift. Young vintages can be decanted for 1-3 hours, depending on the character of the vintage. This allows the wine to soften and open its perfume. Older vintages might need very little decanting, just enough to remove the sediment. Heitz Cellar is best served with all types of classic meat dishes, veal, pork, beef, lamb, duck, game, roast chicken, ribs, hamburgers, barbecue, roasted, braised, grilled dishes, and stews. Heitz Cellar is also good with Asian dishes, and hearty fish courses like tuna, salmon, mushrooms and pasta.
The white wine of Heitz Cellar is best served with all types of seafood and shellfish, sushi, sashimi, chicken, veal, pork, and cheese.
Heitz Cellar Wine Tasting Notes
19 Vintages 120,576 Views Sort by Vintage-Rating
2010
Heitz Cellar Cabernet Sauvignon Trailside Vineyard (Rutherford)

Medium bodied, with a fresh, medicinal cherry profile that ends with a blast of crisp cassis and cherry notes.

3,542 Views

Tasted

Nov 30, 2015

2010
Heitz Cellar Cabernet Sauvignon (Napa Valley)

Medium bodied, light in color, with a fresh, crisp, red berry and spicy profile that while fine, lacks weight and density.

4,343 Views

Tasted

Sep 27, 2015

2009
Heitz Cellar Cabernet Sauvignon Martha's Vineyard (Oakville)

Tart, dry and tannic, with a medium bodied, bright red fruit, spice and earthy, red berry core.

3,898 Views

Tasted

Apr 20, 2015

2009
Heitz Cellar Cabernet Sauvignon Trailside Vineyard (Rutherford)

Secondary notes are already in the open, with their tobacco, earthy, spicy character. Medium bodied and tannic, this is an old school Cabernet Sauvignon with a tart, crisp, slightly dry finish.

2,778 Views

Tasted

Nov 19, 2014

2009
Heitz Cellar Cabernet Sauvignon (Napa Valley)

Herbaceous, leafy aromas, complicated by earth and bright red fruits, the wine is medium bodied with a crisp, somewhat drying finish.

3,604 Views

Tasted

Nov 19, 2014

2007
Heitz Cellar Cabernet Sauvignon Martha's Vineyard (Oakville)

Light in color, medium/full bodied, dominated by juicy, ripe, crunchy berries, tobacco, spice and earth, with time hopefully, this will put on weight and flesh out.

7,268 Views

Tasted

Oct 23, 2012

2007
Heitz Cellar Cabernet Sauvignon Bella Oaks (Rutherford)

High toned, with bright red fruit, earth and tobacco. Medium bodied with a short, tannic, tart, red cherry finish.

5,638 Views

Tasted

May 3, 2012

1997
Heitz Cellar Cabernet Sauvignon Martha's Vineyard (Oakville)

What this lack for in concentration, it more than makes up for with its tell-tale mint, menthol and eucalyptus scents that enhance the fresh ripe cherries. The wine is soft, smooth and drinking in prime time today.

4,850 Views

Tasted

Sep 23, 2015

1990
Heitz Cellar Cabernet Sauvignon Martha's Vineyard (Oakville)

Medium bodied, soft, slightly more than full mature, the wine is starting to lose its fruit and gain in notes of herbs, mint, tartness and acidity. I'd drink this sooner than later if I owned any.

5,549 Views

Tasted

May 22, 2013

1985
Heitz Cellar Cabernet Sauvignon Martha's Vineyard (Oakville)

A fabulous example of an aged, classic Napa Cabernet Sauvignon. The wine kicks off with a blast of cherries, cocoa, tobacco leaf and a sprig of mint. Full, deep and chewy, the dark cherries and plums on the back end kept on going. It's hard to believe this is almost 40 years of age. Drink from 2023-2035.

321 Views

Tasted

Sep 7, 2023

Classic California Cabernet Sauvignon that provides great drinking today. If this was blind I would have guessed it was at lest 10-15 years younger than its true age. Slightly rustic, with some green, (olive, herb & mint) the wine still delivers a blast of blackberry, spice, earth and cedar that lingers. I liked this wine a lot!

5,164 Views

Tasted

Feb 9, 2017

A perfect example of a fully mature, charming, California Cabernet Sauvignon filled with sweet, ripe cherries, tobacco, earth, smoke and spice. Popped and poured, the wine improved in the glass, softening in texture and adding more nuances.

4,514 Views

Tasted

Dec 2, 2012

1981
Heitz Cellar Cabernet Sauvignon Martha's Vineyard (Oakville)

Much better on the nost than the palate, with its tobacco, earth, cassis, blackberry and leafy aromatics. On the palate, the cassis and cranberry finish did not remain long enough to hold my attention. It was a treat to taste this older, classic California Cabernet Sauvignon, but if I owned it, I'd opt for drinking this much sooner than later.

3,044 Views

Tasted

Nov 30, 2013

1976
Heitz Cellar Cabernet Sauvignon Martha's Vineyard (Oakville)

Great example of classic California Cabernet Sauvignon, the wine offers the perfect blend of rusticity and firm, elegant charm, tobacco, mint and black cherry perfume, and an earthy, sweet and slightly tart, cassis finish. There is no reason to wait on this any longer, as previous bottles offered more fruit and freshness.

4,134 Views

Tasted

May 5, 2016

Combining mint with cassis, blackberry, earth, forest and tobacco made a compelling perfume. In the mouth, this mature, soft, plush wine covered your palate with fresh fruit. The roasted fruit sensations linger in your mouth.

3,381 Views

Tasted

Nov 1, 2009

1974
Heitz Cellar Cabernet Sauvignon Martha's Vineyard (Oakville)

Just a beautiful wine, with its unique, herb, mint, eucalyptus, cherry pipe tobacco and earthy profile. At 45 years of age, this was just showing great.

4,879 Views

Tasted

May 30, 2017

Much better than the previous bottle, tasted a few months ago. This showed a sweet, dark, red fruit profile, with a smoky, tobacco, herb and bright cherry character, and a nice balancing act between refined rusticity and elegance. This is not a wine for further aging.

3,845 Views

Tasted

Nov 5, 2016

I find I am more often disappointed than thrilled with this legendary these days. Hey, it's about to hit its 40th birthday. Nothing lasts forever. The nose is a ringer for a Left Bank Bordeaux, with its leafy tobacco, red berry , earthy, kirsch laden charm. Medium/full bodied, elegant, soft and with a sweet red fruit and just a hint of tart cherry in the finish. If you are sitting on a bottle, pop a cork. If you are thinking of buying it, personally, I do not think it is worth the money.

3,941 Views

Tasted

May 13, 2016

Now, here's a wine I never thought I'd see again. The wine was showing beautifully. This bottle was clearly enjoyed perfect storage, because the earth, mint, smoke, tobacco, cherry and cigar box aromas were intoxicating. Fully mature, the earthy, cherry filled finish kept on going.

3,613 Views

Tasted

Nov 6, 2015

Tobacco, blackberry, cassis, mint leaf, cigar box, spice and earthy notes open to a fully mature, soft, supple, round wine with elegant tannins. There is a lot of intensity, richness and balance in this sublime example of fully mature California Cabernet Sauvignon. Tasted blind, I was shocked to find this was close to 40 years old! This bottle was better than the last bottle I tasted. But they pale next to how this wine tasted a few years ago.

5,845 Views

Tasted

Dec 21, 2013

Probably not a correct bottle. Cassis, tobacco and earthy scents were easy to find, However, there was no sensation of mint and hints of musty aromatics were present. Dense cassis flavors made up the finish. Sadly, I'm still waiting to taste an epiphany bottle from this legendary California Cabernet.

8,282 Views

Tasted

Aug 12, 2010

1973
Heitz Cellar Chardonnay Pinot Chardonnay Z-32 (Napa Valley)

Interesting, and historic, but not exactly a good wine. Here you find a deep, golden, yellow color with a nose reminding you of Riesling, oily textures and some, yellow fruits and bright pears. On the one hand, considering this is close to 50 years, it's remarkable it is still alive. On the other hand, it is not a wine where I wanted to finish the glass.

1,992 Views

Tasted

Jan 21, 2021

1972
Heitz Cellar Cabernet Sauvignon Martha's Vineyard (Oakville)

Tobacco, cassis, earth, medium bodied and offering cassis with cranberry flavors, this was past its prime. Drink up.

10,715 Views

Tasted

Mar 29, 2012

1969
Heitz Cellar Cabernet Sauvignon C-91 (Napa Valley)

A revelation for the vintage and the wine, which I've not seen before. Produced with a large percentage of Heitz Martha's, this is still going strong. Round, full-bodied and loaded with sweet, dusty, pure, fresh cherries, earth, tobacco, cedar and cassis, the wine is complex, deep and interesting on the nose and palate. Roughly 125 cases were produced so it is not easy to find. But if you are a fan of classic California Cabernet, if you see a bottle at auction, it is worth the price of the ticket.

2,606 Views

Tasted

Nov 9, 2020

1968
Heitz Cellar Cabernet Sauvignon Martha's Vineyard (Oakville)

Not quite at the level of the previous bottle tasted a few years back, but still stunning, the wine is long, concentrated, fresh, lively and filled with deep red fruits, chocolate mint, herbs, forest leaf and tobacco. There is depth and length, which is perfect, because you want this beauty to stick with you.

2,885 Views

Tasted

Feb 21, 2019

Definitely the first time I've ever seen this bottle, and probably the last, this was stunning in ever sense of the word! With good color, the floral, chocolate mint, cherry, tobacco and earthy nose got you going and kept you going as well. Full bodied, fresh, deep and long, the fruit had a beautiful sense of purity. This was stunning in every sense of the word! This is definitely one of the best, mature, classic, California Cabernet Sauvignon wines I've ever tasted! WOW!!!

6,182 Views

Tasted

May 13, 2016

1962
Heitz Cellar Cabernet Sauvignon (Napa Valley)

Fully mature, with a strong, tobacco, cedar, cigar box, floral and earthy character, which added to the bright, red fruits. Medium bodied, and still holding on to some sweetness in the fruit, the finish served up a hint of thyme, along with earthy, sweet and tart, red fruits.

1,759 Views

Tasted

Nov 5, 2016

1959
Heitz Cellar Cabernet Sauvignon (Napa Valley)

Stunning in every sense of the word, especially when the wine was revealed, as it was served double blind. I was sure it was a strong, fully mature Pauillac. Full bodied, with a good concentration of fruit, cedar wood, cigar box, cassis and wet earth, this can easily go another decade or longer. What a treat!

2,004 Views

Tasted

Nov 5, 2016