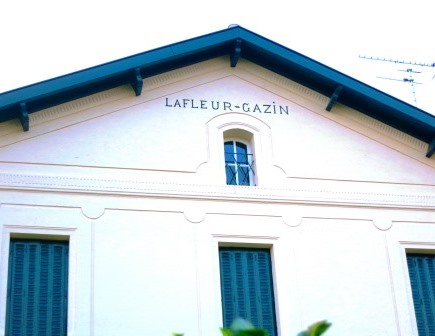 Learn everything about Chateau Lafleur Gazin Pomerol with wine tasting notes and wine-with-food pairing tips. Learn the best vintages, a history of the property, and information on winemaking and vineyards. If you want to read about other important, Bordeaux Chateaux: Links to all Bordeaux Wine Producer Profiles
Chateau Lafleu-Gazin History, Overview
Chateau Lafleur-Gazin is situated not far from Chateau Lafleur and close to Chateau Gazin. As you can easily surmise, that location is where Chateau Lafleur-Gazin takes its name from.
In fact, Lafleur-Gazin is also situated very close to the famous Petrus vineyards as well! The question is, as it's located next to so many famous names in Pomerol, it's a wonder as to why this property does not produce a more exciting Bordeaux wine. How does that happen?
Owned by the Delfour-Borderie family, Madame Delfour-Borderie is in charge of the estate. Under a long-term rental agreement, Chateau Lafleur-Gazin has been farmed and managed on the winemaking and commercial end by Ets. Jean-Pierre Moueix since 1976.
This is not the first time the vineyard has been under a leasing agreement. Back in the early 20th century, the estate had a similar arrangement with a different Bordeaux Negociant.
In March 2023, Chateau Lafleur-Gazin was sold to the Lavaile family, who are already quite well-acquainted with Pomerol, as they already own the neighboring Pomerol vineyard, Chateau Vieux Maillet. In fact, Herve Laviale and Griet Laviale–Van Malderen are experienced vignerons as they also own Chateau de Lussac in St. Emilion, and before that, they were the owners of Chateau Franc-Mayne in Saint Emilion.
Chateau Lafleur-Gazin Vineyard, Terroir, Grapes, Winemaking
The 8.5-hectare Pomerol vineyard of Chateau Lafleur-Gazin is planted to 85% Merlot and 15% Cabernet Franc, which shows an increase in the Merlot and a decrease in the Cabernet Franc planted here.
The terroir of Lafleur-Gazin consists of silt, gravel, clay, iron, and sandy soils. While it appears that they are on good terroir, that is not the case. The vineyard is in two distinct sections with one part having more gravel with clay soils and the other section having more sand on its slopes.
On average, the vines are kept at 30 years of age. The vineyard is planted to a vine density of 6,000 vines per hectare. The average annual production of Chateau Lafleur-Gazin is close to 3,500 cases of Bordeaux wine per year.
For the production of the wine at Lafleur-Gazin, two laser sorting tables have been in use since 2009. The winery uses thermoregulated concrete vats and since 2004, some stainless tanks were added for the fermentation. Malolactic fermentation takes place in vat. The press wine is added or not during the barrel aging.
The wine of Chateau Lafleur-Gazin is then aged in 25% new, French oak barrels for an average of between 18 to 20 months before bottling. The Right Bank wine is racked 3-4 times per year and is fined using egg whites in the second winter. Chateau Lafleur-Gazin does not produce a second wine.
The best vintages of Chateau Lafleur-Gazin are: 2022, 2021, 2020, 2019, 2018, 2017, 2016, 2015, 2010, 2009, 2005, 2001, and 2000, However, starting in 2015, the quality of wine produced here took a big leap in quality. 2020 is the finest vintage ever produced here in the history of the estate.
When to Drink Chateau Lafleur-Gazin, Anticipated Maturity, Decanting Time
Chateau Lafleur-Gazin can be enjoyed on the young side with an hour or two of decanting. This allows the wine to soften and open its perfume.
Older vintages might need very little decanting, just enough to remove the sediment. The wine is better with 4-6 years of bottle age. Of course, that can vary slightly, depending on the vintage character. In the best years, Chateau Lafleur-Gazin will be at its best between 5 and 12 years of age after the vintage.
Serving and Decanting Chateau Lafleur-Gazin with Wine, Food, Pairing Tips
Chateau Lafleur-Gazin is best served at 15.5 degrees Celsius, 60 degrees Fahrenheit. The cool, almost cellar temperature gives the wine more freshness and lift.
Chateau Lafleur-Gazin is best served with all types of classic meat dishes, veal, pork, beef, lamb, duck, game, roast chicken, roasted, braised, and grilled dishes. Chateau Lafleur-Gazin is also good with Asian dishes, and hearty fish courses like tuna, mushrooms, and pasta.
Château Lafleur-Gazin Wine Tasting Notes
17 Vintages 70,042 Views Sort by Vintage-Rating
2022
Château Lafleur-Gazin (Pomerol)

With flowers, orange rind, cocoa, and plums in the nose, the wine is medium-bodied, forward, reserved, and classic with its textures and earthy, savory-edged, red pit fruit finish. The wine is produced from 100% Merlot. Drink from 2023-2037. 90-92 Pts.

1,582 Views

Tasted

May 8, 2023

2021
Château Lafleur-Gazin (Pomerol)

Flowers, orange rind, truffle and savory herbs, the wine is medium-bodied, classic, chalky and earthy in the red pit fruit packed finish. Drink from 2023-2038. 90-92

1,379 Views

Tasted

May 20, 2022

2020
Château Lafleur-Gazin (Pomerol)

Richly colored, elegant, silky, fresh, ripe, refined and plummy, the wine is fresh with strong floral accents that come along with truffle, cocoa and thyme in the perfume. Soft, vibrant and with finesse to the texture, this is an exciting vintage here, if not the best ever. Give it 5 years or so bottle before pulling a cork. 91-93 Pts

1,968 Views

Tasted

May 20, 2021

2019
Château Lafleur-Gazin (Pomerol)

Medium-bodied, soft, fresh, crisp, savory and a bit chewy on the medium-bodied palate. The wine quickly hones in on its bright, energetic red fruits. You should be able to enjoy this with only a modicum of aging. Drink from 2023-2035.

1,376 Views

Tasted

Mar 29, 2022

Sweet cherries, flowers and earthy aromas resonate here. On the palate, the wine is medium-bodied soft, earthy, fresh, refined and is already easy to drink. 90-92 Pts

3,500 Views

Tasted

Jun 16, 2020

2018
Château Lafleur-Gazin (Pomerol)

With a nose displaying flowers, spice, wet earth, licorice, cherries and plums, you also enjoy a soft textured, medium-bodied, silky textured, savory mid-palate finishing with sweet, red cherries. This is one of the best vintages I've tasted of La Fleur Gazin. Give it a few years in the bottle before pulling a cork.

1,843 Views

Tasted

Mar 9, 2021

Black cherry, licorice, wet earth and a touch of smoke on the nose open the perfume. The wine is medium bodied, elegant, soft and fresh with a plummy, cocoa and coffee bean sensation in the finish. This is one of the best vintages I've tasted of La Fleur Gazin. Give it a few years in the bottle before pulling a cork. 90-92 Pts

3,031 Views

Tasted

Apr 19, 2019

2017
Château Lafleur-Gazin (Pomerol)

Medium bodied, soft, elegant charmer with sweet red fruits, licorice and earth in an open, early drinking style.

2,848 Views

Tasted

Apr 26, 2018

2016
Château Lafleur-Gazin (Pomerol)

Medium bodied, forward, soft, easy drinking Pomerol with silky red fruits, a hint of thyme and herbal notes from start to finish. Enjoy this easy drinking wine over the next decade or so.

4,131 Views

Tasted

Sep 21, 2019

Fresh, soft, open, medium bodied, elegant with charm and early drinkability, this is going to best in its youth.

3,587 Views

Tasted

Apr 29, 2017

2015
Château Lafleur-Gazin (Pomerol)

Medium-bodied, fresh, soft, elegant and forward with cherry-tinged fruit, this wine has smooth textures and freshness in the finish. 89 - 91 Pts

3,232 Views

Tasted

Apr 27, 2016

2014
Château Lafleur-Gazin (Pomerol)

A medium-bodied, easy drinking wine centered on red fruits, spices and earth. This will be best in its youth. 85-88 Pts

2,613 Views

Tasted

Apr 24, 2015

2013
Château Lafleur-Gazin (Pomerol)

Light red cherry and strawberry in character, this ready-to-drink Pomerol should be consumed on the early side. 85-87 Pts

3,048 Views

Tasted

Apr 25, 2014

2012
Château Lafleur-Gazin (Pomerol)

Medium bodied with earthy plum notes and black raspberries in the soft, short finish. This is an early drinker that is not going to make old bones.

3,658 Views

Tasted

May 15, 2015

With cherry blossom and earthy notes, this medium-bodied wine is simple, soft, sweet and sour with dark cherry and hints of cocoa found in the finish. 86-88 Pts

4,037 Views

Tasted

Apr 26, 2013

2011
Château Lafleur-Gazin (Pomerol)

Earthy black cherry with soft textures, medium body and a sweet, round cherry-filled finish. 87-89 Pts

4,840 Views

Tasted

Apr 21, 2012

2010
Château Lafleur-Gazin (Pomerol)

2010 Lafleur Gazin The property takes its name from its strategic location, next to Lafleur and Gazin and not from Petrus. Earth, chocolate, and spicy plum flavors are found in this medium bodied wine that ends with a fresh, blackberry, cocoa powder and cherry finish. 88-90 Pts

4,804 Views

Tasted

Apr 21, 2011

2009
Château Lafleur-Gazin (Pomerol)

Earthy, medium bodied, with a crisp, red plum personality and dusty tannins. This is not up to the level of the vintage.

4,467 Views

Tasted

Nov 24, 2014

2008
Château Lafleur-Gazin (Pomerol)

Medium bodied, low key Pomerol with a red cherry core of fruit that is fully ready to drink.

3,882 Views

Tasted

May 4, 2016

08 Château La Fleur Gazin. This château is located on the plateau close to Petrus and Lafleur. The wine shows some black fruit, chocolate, and raspberry on the nose. It was made in a light style. It has a nice feel on the palate and ends with a soft, plum finish.

3,762 Views

Tasted

Jul 30, 2009

2007
Château Lafleur-Gazin (Pomerol)

Fully mature, pleasant, but short, easy drinking, cherry filled wine. There is no reason to age this any longer.

2,497 Views

Tasted

May 28, 2014

2005
Château Lafleur-Gazin (Pomerol)

Light in color and weight, with cherry and earthy aromas, the wine ends with red fruit, spice and some green flavors. This should be drunk up sooner than later

3,957 Views

Tasted

Jul 18, 2011