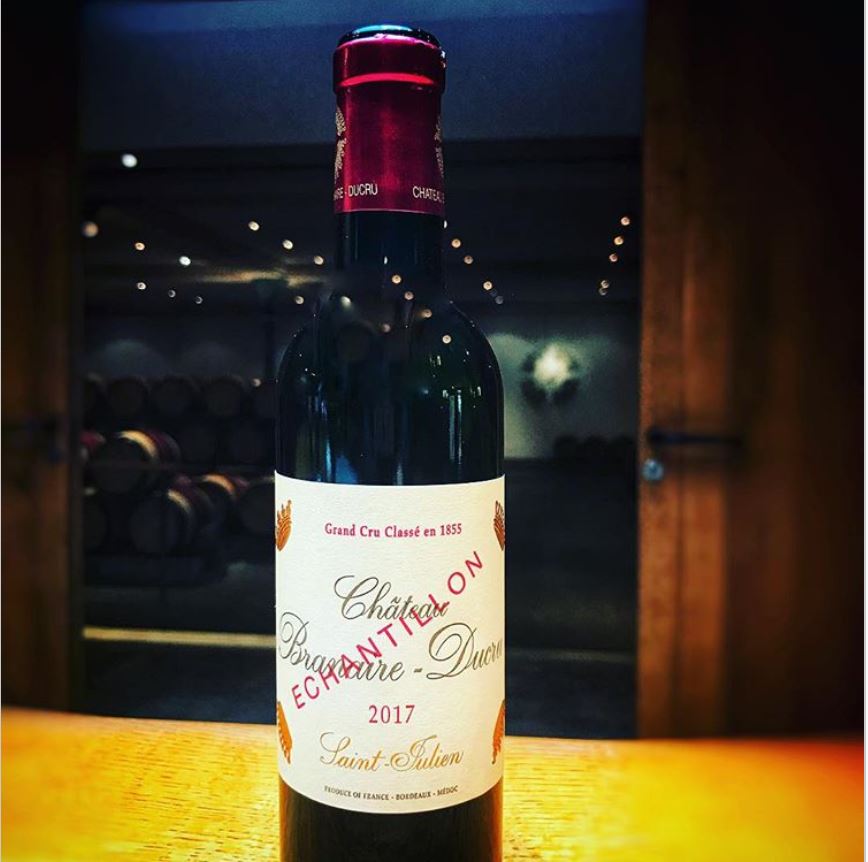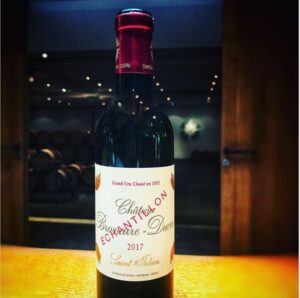 2017 St. Julien wines are quite good. As you would expect, Cabernet Sauvignon is the king of the vintage and takes over the preponderance of the blends.
This is a good thing because that led to a vintage character with freshness, silky tannins, length and a focus on purity of fruit. The freshness is not overwhelming, but it is a present part of the wines character and style.
Most of the 2017 St. Julien wines are going to drink well young, which is good thing, as you can enjoy them while waiting for the 2016 and 2015 wines to come around.
Before we get to the wines, let's take a look at how the vintage developed. First, the frost is not a major issue in Saint Julien, especially when the vineyards are close to the D2 on one side, and in view of the water on the other side.
The warming effect of the Gironde helped protect the vines. The summer months had their ups and downs.
June was warm with some much-needed rain. During June, the temperatures ran hotter than usual which sped things up.
None of that was memorable. But for the Bordelaise and visitors in the region for Vinexpo there was a run of torrid days that hit close 38 degrees. I was there at the time. It was so hot, I was sure the grapes were already fermenting on the vine!
July and August were cool with a lack of sun. With little rain and a lack of sun, things slowed down in the vineyards, but the harvest was still slated to be early. For a detailed look at the weather and harvest that shaped the 2017 Bordeaux growing season 2017 Bordeaux Vintage and Harvest Report
The tannins are ripe, soft and the most importantly the wines feel great. This is important because that makes it hard to notice the higher levels of acidity found in this vintage. Alcohol levels are moderate. Aromatically, the wines are exceptional.
While 2017 Saint Julien wines will in most cases show well young, the vintage should also have the ability to age for decades, at the top estates
All of the 2017 Saint Julien wines were tasted in non blind conditions in Bordeaux from March 22-April 12. I was able to taste most of these wines at least twice and the results were always quite consistent.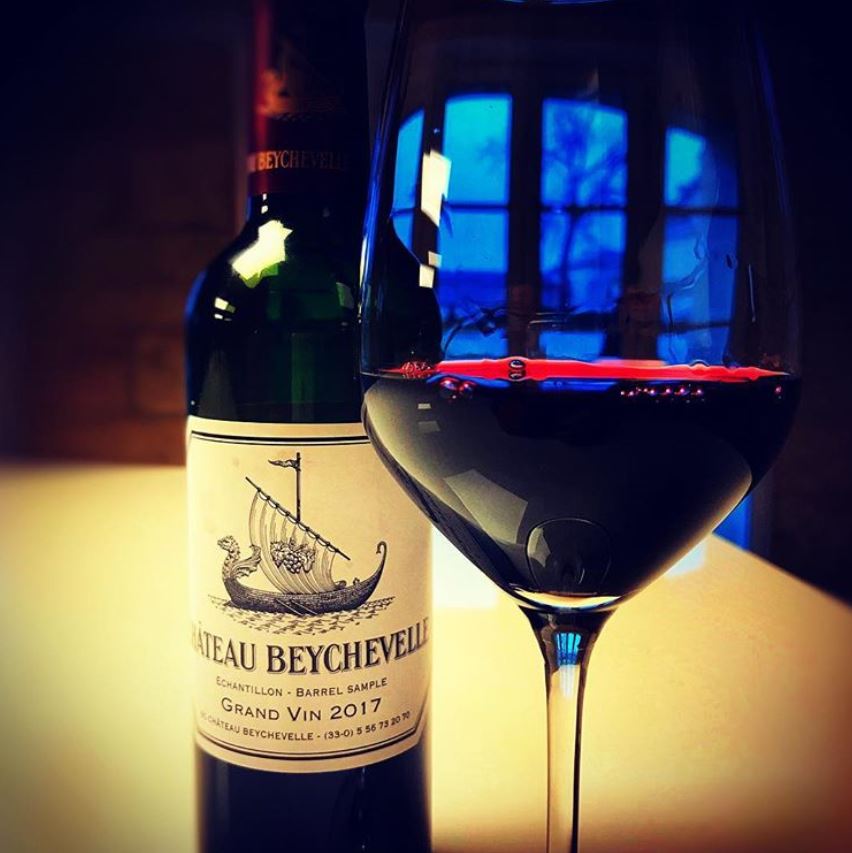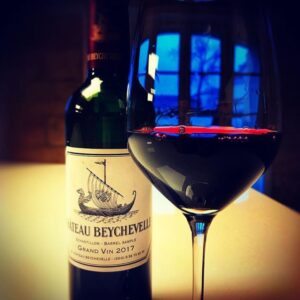 2017 Beychevelle – With its dark color, the wine serves up a juicy array of black fruits, tobacco, cedar and earthy nuances. The wine is full bodied, concentrated and shows the lift from the vintage. The tannins are silky. The finish focuses you on its polished, fresh, dark, red berries. Made from blending 50% Cabernet Sauvignon, 45% Merlot, 4% Petit Verdot and 1% Cabernet Franc, the wine reached 13.5% alcohol with a pH of 3.66. 94 – 96 Pts
2017 Branaire Ducru – Tobacco, cassis, flowers and a hint of mocha dance in the nose. On the palate, the medium-bodied wine is fresh, bright, sweet and soft. There is an extra bit of lift in the red fruits but the tannins are gentle enough to soften the brightness while adding structure and backbone for aging. Produced from a blend of 65% Cabernet Sauvignon, 24% Merlot, 6.5% Petit Verdot and 4.5% Cabernet Franc, the wine reached 13.2% alcohol with a pH of 3.65. Harvesting took place September 13 to October 4. 92 – 94 Pts
2017 Ducru Beaucaillou – Freshness and accessibility are the hallmarks of this wine. The customary level of density is improved with added grace, elegance, pliability and an upbeat, spicy core of attention seeking fruits. This is not to say that the wine is light. It is to explain that power has been refined with approachability, brighter fruits and exceedingly silky tannins. The wine was made from a blend of 90% Cabernet Sauvignon and 10% Merlot and is aging in 100% new, French oak barrels. The wine reached 13.51% alcohol with a pH of 3.79. The harvest took place from September 18 to September 30. 96 – 98 Pts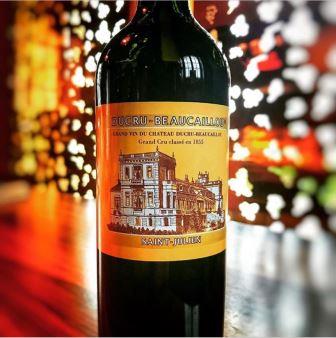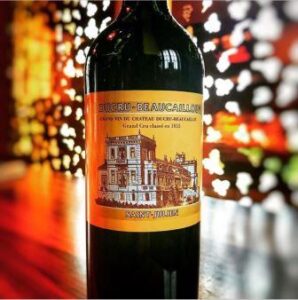 2017 La Croix Ducru-Beaucaillou – Dried flowers, cocoa, plums, cherry and cassis create a wine that's fruity and fresh, sweet and round and light on its feet. The finish of licorice and ripe, red berries is easy to like and already delicious to drink. From a blend of 58% Cabernet Sauvignon, 39% Merlot and 3% Petit Verdot, the wine reached 13.68% alcohol and is aging in 60% new, French oak barrels. 91 – 93 Pts
2017 du Glana – Medium bodied, forward and approachable, here you'll find a cassis, earth, cedar and licorice-filled wine with a sweet and tart, bright red berry finish. 86 – 88 Pts
2017 Gloria – Espresso bean, cassis, licorice, tobacco and dark cherry fruits are easily available here. The wine is medium bodied, soft, and will be easy to enjoy in its youth. The wine was made from a blend of 61% Cabernet Sauvignon, 26% Merlot 8% Petit Verdot and 5% Cabernet Franc. 90 – 92 Pts
2017 Gruaud Larose – With a shot of espresso, you'll find tobacco, forest leaf, bright cassis and crunchy tannins. The wine is medium bodied with a strong leaning toward the fresh side of the red fruit range. Give it a few years to compose itself and it will come together. 90 – 92 Pts
2017 Lagrange – Energetic, bright, medium bodied with tobacco and cedar-wrapped red fruits, the wine is tannic with quite a bit of freshness and a crunchy, illuminated finish. 89 – 91 Pts
2017 Lalande-Borie – On the fresh side, the fruit melts in your mouth with accents of cocoa and black cherries delivered in a round, open and accessible style. This medium-bodied charmer is ready to go. 89 – 91 Pts
2017 Langoa Barton – Sizzling and zesty with crunchy cassis, sages, cedar and peppery aromas popping up easily, this full-bodied wine is concentrated, fragrant and dripping with olives in an intricate finish. Give this a decade and it will sing. Produced from Produced from a blend of 54% Cabernet Sauvignon, 38% Merlot and 8% Cabernet Franc, reaching 13% alcohol. 91 – 93 Pts
2017 Leoville Barton – A striking blood red in color, this wine opens easily with smoldering cedar, tobacco and an unhurried pour of cassis. On the palate, the wine is concentrated, full bodied, fresh and classically styled. Buoyancy, creaminess, smart tannins with a crisp, juicy finish wrap everything up nicely. Blending 93% Cabernet Sauvignon and 7% Merlot, the wine reached 13% alcohol and is aging in 60% new, French oak barrels. 93 – 95 Pts
2017 Leoville Las Cases – It is not often you can use the word fruity to describe Leoville Las Cases but it is certainly fitting for 2017. Yes, the wine is fruity! You also find complexities of licorice, cigar box and lead pencil with tannins so refined it's almost precocious. The fruit is airy and bright with a sweetness that carries through from start to finish. This is the perfect vintage to enjoy while waiting for the bigger, more tannic vintages to come around. The wine was made from a blend of 79% Cabernet Sauvignon, 11% Cabernet Franc and 10% Merlot, reaching 13.28% alcohol with a pH of 3.72. The harvest took place from September 15 to October 4 and the wine was made from 60% of the harvest. 95 – 97 Pts
2017 Clos du Marquis – Cedar, oak, spice and fresh, red fruits with just a bit of soft tannin in the background, give this wine character and structure. Two or three years will be more than ample to bring out the secondary nuances and notch this up to full potential. 89 – 91 Pts
2017 Le Petit Lion de Marquis de Las Cases – Flowers and raspberries with tobacco and kiss of oak get the party going. On the palate, the wine is nimble, fresh and fruity with a forward demeanor. This will be fun to drink early in life. And, in case you were counting, this year marks the 10th anniversary for this enjoyable wine. 89 – 91 Pts
2017 La Petite Marquise – Forward in style, this wine is all about the core of sugar dusted, freshly plucked cherries and charmingly glib tannins. Medium bodied, it will drink quite well upon release. 87 – 89 Pts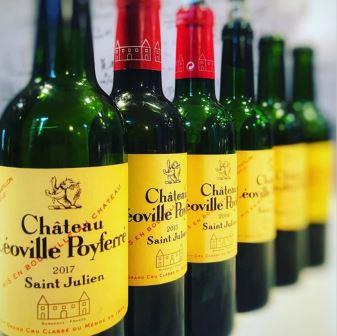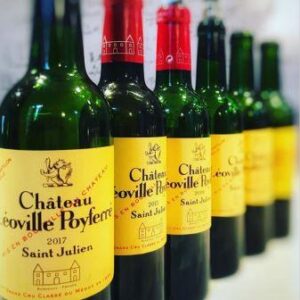 2017 Leoville Poyferre – Before the licorice, black cherry, truffle, and cocoa-filled bouquet seductively arrives, you'll notice a startling depth of color. Full bodied, rich and flowing with the darkest of red fruits and gently dusted with a blast of even darker chocolate, this wine is wrapped in cashmere. It is graceful and fresh from the very first dance to the long good-bye. Blending 68% Cabernet Sauvignon, 27% Merlot, 3% Cabernet Franc and 2% Petit Verdot, this wine reached 13% alcohol. The harvest took place from September 20 to October 6. This is the final vintage with Didier Cuvelier at the helm and it is a testament to his many accomplishments at Leoville Poyferre. 96 – 98 Pts
2017 Moulin-Riche – Leafy green notes, forest scents and red fruits open a soft, sweet, fruity wine made for early drinking pleasure. 87 – 89 Pts
2017 Saint-Pierre – Dark in color, the wine is plush, ripe, fresh and loaded with sweet, blackberry fruits, espresso and earthy notes. The wine is medium/full bodied, soft and round, with an almost bright, fruityness in the finish. The wine was produced from 73% Cabernet Sauvignon, 21% Merlot and 6% Cabernet Franc. 92 – 94 Pts
2017 Talbot – Bright red fruit, crisp tannins, thyme, tobacco and cedar notes lead the way to a medium/full bodied, crisp wine with an earthy edging to the leafy, black currants in the finish. 90 – 92 Pts
Our complete report on 2017 Margaux is up next.