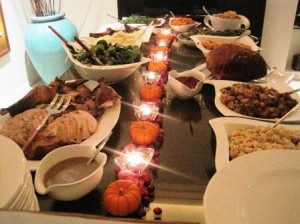 Thanksgiving has always been my favorite holiday. It's the only time when so many different family members come to the house and spend time together.  I do not know about you, but at our house, the array of comfort foods and diverse flavors makes it all even more fun. I do not know about you, but for these family gatherings, I like opening a nice variety of wines as well.
Pairing wine with many Thanksgiving dishes can be a problem, if you let it.  I have friends that fret over the issue of what wine to pair with each course. They find themselves concerned with the amount of acid in the wine vs. the dish. They worry about which flavors perfectly meld to create the right match.  And don't get me started on the spice or aromatic qualities in a wine measured against what they might find on their plate. Personally, I like the concept of matching similar textures better.
Don't get me wrong.  There are food and wine pairings that naturally work better than others.  But it really does not do anyone much good to have a wine in their glass they do not like, simply because someone says it makes for a better pairing.
I prefer drinking wines I like.  It does not matter if the greatest wine and food pairing on Earth matches Gewurztraminer with smoked turkey.  I do not like lychee nut flavors. So while Gewurztraminer is said to pair well with smoked and spicy flavors, it does not work for my taste, because lychee  flavors are such a turn off for me.
Rule #1 When thinking about which wines to open for Thanksgiving, serve wine people are going to like.  It might sound like a simple explanation, but simple is often the best solution. Especially when it comes to Thanksgiving wine and food pairings. If you want to enhance rule #1, with a few exceptions, often the color of the wine is going to make a good match with food of a similar color. Think of lamb with red Bordeaux wine, or turkey with a white wine for an easy example. Pairing wine with food is supposed to be fun, not rocket science.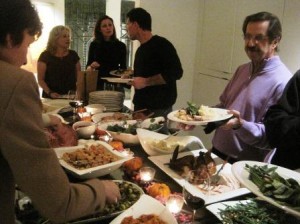 Turkey can be on the dry side, so it requires wines with flavor to wake it up.  It's not the turkey that is a difficult wine and food pairing problem, it's the diversity of flavors found in most of the sweet, side dishes served along with the turkey.  To many  people cooking a turkey is intimidating, due to the fact that a turkey is a large bird.  The truth is, turkeys are easy to cook.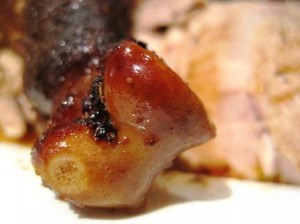 The secret to brine the turkey first. Do not buy too large a bird. Most importantly, don't overcook it! Remove the turkey from the oven at 155 degrees, let it rest while it continues to cook.  As an average guide, you need approximately 20 minutes per pound at about 325 degrees for the turkey to cook through.  Remember all the holidays you were forced to a turkey that was so dry, you could barely chew it, let alone wash it down or swallow it!  Don't let that happen to you. Brine it if you can.  
A brine is a simple method of adding flavor and moisture, all it takes is water, salt, pepper, honey, spice and herbs of your choice. Add fresh lemon, lime, orange or tangerine in your brine if that interests you as well.  Use an injector if you can't brine and don't cook the bird until it's nuked.  Nothing is more harmful to a turkey than overcooking it! That's all there is to it.
If you are too busy drinking the wine we recommend and you accidentally overcook your bird, don't be shy with the gravy. Use it and pour it over the bird.  If you're out of gravy, drizzle melted butter.   If you're out of gravy and butter, pour more wine for everyone!
With that in mind, what can a host do to serve wines people are going to like, that will not break the bank, knowing Thanksgiving dishes are prone to being on the sweet side?  Start with Rule #1 and do not worry about it.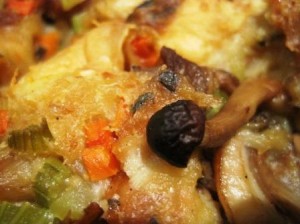 Traditional Thanksgiving side dishes are the best part of the meal.  I love stuffing. Few foods offer as much comfort feeling as traditional cornbread and sausage stuffing!  It's my favorite part of the meal.  Stuffing is semi neutral in flavor, depending on the ingredients. Creamy flavors are easy to math as well. It's the cranberry, yam and marshmallow, string bean casserole and various, assorted, sweet dishes that are hard to pair with wine.   That is why Rule #1 is so important.
Consumers are fortunate this year, because the stores are filled with great wines from 2008, 2009 and 2010 that offer value and flavor in red, white and sparkling wines at all price ranges.
Thanksgiving and all the year-end holidays are festive occasions.  One way to go is to start the dinner off with Champagne, or sparkling wines.  If you have the money, the recently tasted 2003 Dom Perignon is sublime, and it's drinking perfectly today.  However, there are much less costly alternatives. Look for NV Schramsberg NV Mirabelle Brut from California.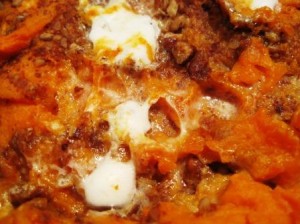 If you're like me and prefer Champagne, look for Laurent Perrier NV, Tarlant NV Brut, Elgy Ouriet Tradition Grand Cru, Chartogne Taillet, Moet & Chandon Brut Imperial or Charles Heidseck Brut Reserve are all reasonable ways to start the festivities.  If sparkling wines are not your thing, the opportunities for purchasing quality, reasonably priced red and white wines are endless this year.
It's no secret that the Rhone Valley is stacked with food friendly wines of pleasure from 2009 and 2010. Start off by searching for Michel Gassier Cotes du Rhone Cercius at $14! Don't buy a bottle, buy a case!  If that's not available, look for Cotes du Rhone from Janasse, Clos du Caillou, Grand Venur, Domaine de Coteaux, Domaine les Grand Bois, Perrin et Fils, Beaucastel Coudoulet, Delas, Jaboulet and Chapoutier. Most of those wines and dozens of other great values from 2009 and 2010 Cotes du Rhone sell for $20 or less!  For a bit more money, 2009 and 2010 Chateauneuf du Pape are out of this world! While some people make fun of the easy drinking, Beaujolais, wines, there are good, food friendly, Beaujolais Nouveau wines that are worth considering. 2009 and 2010 wines from the Languedoc Roussillon areas are also great ideas for the holidays.
If the Rhone Valley is not your thing, numerous, forward styled 2009 Bordeaux wine are in the stores.  They might not pair quite as well as the wines from the Rhone, but they are already delicious. Look for 2009 Bordeaux Superieur and 2009 Cotes de Bordeaux wines.  You can even find some tremendous deals from the satellite regions of St. Emilion as well as St. Emilion, for example La Fleur Morange Mathilde is great.  Look for 2009 La Vieille Cure, Reignac, Croix Mouton, Le Conseiller, Vrai Canon Bouche and La Prade.  Red Bordeaux is your only choice from the appellation.  Sauternes from vintages that are not overly sweet, like 2008 are good ideas.  Look for Chateau Coutet, which is making one of the best wines from the region, and prices are still affordable.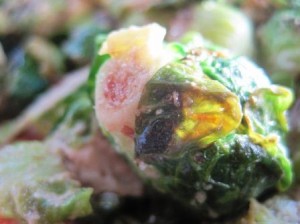 If you're seeking wines from the Golden State, the best values in California wine are usually found in Syrah, Zinfandel, Pinot Noir and Chardonnay.
While some people find too much sweetness in California wines for Thanksgiving, if those wines offer the flavor profile you're seeking, those are the wines to open. While we have been focusing on a few ideas for red wines, numerous choices for white wines are in the marketplace today.  The wines range in style from fat and buttery, to crisp, stony and fresh with flavors that vary from citrus to tropical.  If you're worried about what style of white wine you need to buy, remember rule #1! Back to white wines for a moment, Chardonnay is not the only white wine to consider for Thanksgiving, look for crisp, refreshing Riesling, Sauvignon Blanc, Semillon, Pinot Grigio, Pinot Gris and yes, even Gewurztraminer, just don't serve it to the lychee nut averse.
If you have other ideas for wines on Thanksgiving, please post and share.  There are so many great pairings, we have not even scratched the surface.