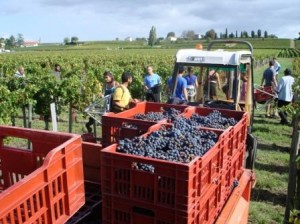 Jonathan Maltus is a contender for one of the busiest chateaux owners during harvest season.  He has numerous St. Emilion estates to watch over.  Le Dome is clearly his most famous winery and Chateau Teyssier is perhaps the best known, due to its larger volume.  Maltus is in charge of several other, small, single vineyard properties as well.  We were able to catch up with Jonathan Maltus and discuss the recently completed, 2012 Bordeaux harvest and growing season in detail.
Jeff Leve In the 2012 Bordeaux vintage, which grape variety performed best for you?
Jonathan Maltus "It is probably a Merlot year."
Jeff Leve If Merlot is the favored grape variety for you in the 2012 Bordeaux vintage, will you decrease the percentage of Cabernet Franc in your wines? I ask because you maintain some of the highest plantings of Cabernet Franc in The Right Bank.
Jonathan Maltus "This is a decision which will be made in the tasting room, when the wines are finished. We always aim to make the best wine possible with batches we have. At this moment in time, although it is a "Merlot" year, the Single Vineyards Cabernet Francs are showing incredibly well."
Jeff Leve What was the most difficult or stressful part of the 2012 Bordeaux growing season with the 2012 Le Dome?
Jonathan Maltus "Flowering started early, leading to hopes of an early vintage at our St. Emilion properties. Then a shower or two of rain complicated matters. Veraison seemed to take forever, being in the middle of a very dry spell. This resulted in a long, uneven ripening period."
Jeff Leve With that in mind, how much time did you need to spend on sorting?
Jonathan Maltus "Sorting was a long and tedious process in the 2012 Bordeaux vintage. Between the problems removing the grapes which were not quite ripe and the berries which were slightly mushy, it took a lot of work."
Jeff Leve What about earlier in the growing season? Did you have problems rot or mildew for example following the April rains?
Jonathan Maltus "We experienced a little in the wetter soils. That increased the fragility of the grapes and obliged more fingers on the sorting table."
Jeff Leve Why were the wetter terroirs more problematic for you with the 2012 Bordeaux vintage with Chateau Teyssier?
Jonathan Maltus "The sandy soils are more sensitive to rainfall. If you have too much water and the roots are saturated. If you get too little, they suffer from drought. Generally speaking, vines do not like swings from one extreme to another."
Jeff Leve What special vineyard techniques did you employ earlier in the year?
Jonathan Maltus "A rigorous green harvest was essential to eliminate as many late ripening berries as possible."
Jeff Leve With as many estates as you are responsible for in St. Emilion, which of your terroirs performed best?
Jonathan Maltus "Those on the limestone plateau, where our Single Vineyards are situated."
Jeff Leve Was the harvest later than you originally anticipated?
Jonthan Maltus "In the 2012 Bordeaux vintage, veraison was a long drawn out process; it seemed like it would never end."
Jeff Leve Is this your latest harvest since you first began producing wine at Le Dome in 1996?
Jonathan Maltus "No.  In 2008 we started two days later. We also finished 2008 a day later than 2012. In 2010 we started four days later and finished four days later than this year."
Jeff Leve When the growing season final ended, when did you start and complete harvesting?
Jonthan Maltus "The white harvest took place over two days, September 20 and September 21. We started the red wine harvest October 4 and did not finish until October 23. The last day and a half we were in a bit of a rush."
Jeff Leve Is it good for your estates to harvest this late?
Jonathan Maltus "Generally speaking, the later a harvest is, the cooler the conditions are. We start to have morning mists, which bring more humidity. This makes us start picking later. It takes longer for the day to warm up and the grapes come in cooler."
Jeff Leve Is it better for you to harvest cooler fruit? Would the fruit be fresher and less oxidative?
Jonathan Maltus "It is a practical question. The grapes go into cold soak for a few days, so the lower the starting temperature, the quicker and more efficiently we can get the grapes onto cold soak."
Jeff Leve With all your vineyards, in total, how many pickers did you employ?
Jonathan Maltus "It takes up to 42 harvesters."
Jeff Leve Do you use optical sorting at Le Dome or any of your other estates?
Jonathan Maltus "We opted not to use the optical sorting.  I'm not in favor of it. Winemaking is at its best when it's hands on."
Jeff Leve What are your yields in the 2012 Bordeaux vintage?
Jonathan Maltus "Our Single Vineyards are about 32 hectoliters per hectare. At Chateau Teyssier, we're at 43 hectoliters per hectare."
Jeff Leve What about your alcohol levels?
Jonathan Maltus "They range from 12.8% to 14%."