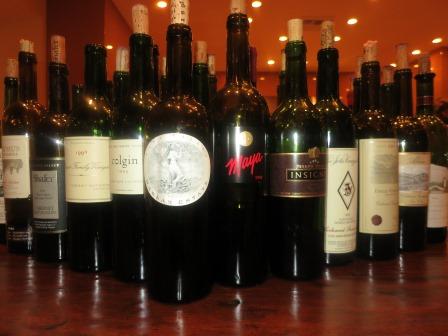 1994 produced a trememdous vintage for the wines from California. At 21 years of age, many of the best wines remain fresh, vibrant and complex. While the indivigual tasting notes on each 1994 Cabernet Sauvignon wine are important, perhaps the bigger picture of how and if California age in this report is of even greater importance.
There has been a lot nonsense written by several writers, bloggers and Internet posters claiming that the modern style of riper, more alcoholic wines from California do not age, and worse, they will fall apart. Those writers and their views are in my opinion, wrong. After tasting across a wide spectrum of 1994 California Cabernet Sauvignon wines, that is not what I have encountered. Of course, there are exceptions to every rule and clearly there are wines that are better than others. As you would expect, some wines did not develop well, and a few wines have gotten worse with time. But that is to be expected. That is no different than what takes place in every wine region in any vintage all over the world.
At least to me, California wine has never been better. Today, the wines are richer, softer, more concentrated, riper, sweeter and more interesting, with a much wider range of years for drinkability. Yes, some absolutely stunning California wines were made in the 1970's and the 1980's. But the number of producers making great wine in those earlier days is dwarfed by the explosion in the quantity of wineries making sublime wine all over the Golden State today. You can complain about the prices being charged, and paid. I know I do. That is fair. But the quality is clearly present in the best California Cabernet Sauvignon based wines for drinking and aging.
It's important to note that California wine does not mature or evolve along the lines of Bordeaux. Many of the 1994 Napa wines tasted for this article have not really moved a lot in terms of adding complexity since they were first released. Or perhaps it's more accurate to say, they have not added secondary nuances in the same vein you encounter in Bordeaux. But that is not the point. These are California wines and they do not, nor should they evolve like Bordeaux. What they do offer is a compelling, California Cabernet Sauvignon drinking experience, which is what they were intended for.
At the top end, the wines are rich, long, concentrated and lush. Clearly, 1994 Napa wines are the product of its growing season, which avoided some of the torrid heat spells other great vintages experienced. While ripe and alcoholic, as you would expect, I would not classify any of these wines as hot, jammy, over ripe or out of balance. 1994 Cabernet Sauvignon based wines really provide such a great style.
Interestingly, while the taste and aromatics of 1994 California Cabernet Sauvignon Napa wines are ripe, much of the vintage was not the product of a hot year. Perhaps that is why the 1994 wines offer so much freshness today. The 1994 Napa vintage was perfectly moderate, in all the right ways. The 1994 Cabernet Sauvignon based wines started out life as a cool vintage. The spring was cool, with temperatures which did not exceed 80 degrees. On average, they were closer to 70 degrees. June experienced a short lived spike that rocketed up into the upper 90 degree level. In July, things cooled down again and most of the summer was cool as well. August saw about 14 days of warm weather, peaking at close to 100 degrees about August 15. The growing season cooled down again after that point. September saw only a few days reach into the 90's, else that month was cool as well. By the middle of October, most producers of 1994 Napa Cabernet Sauvignon had started picking their grapes. The harvest took place under good conditions.
The majority of the wines written up in this report on 1994 California Cabernet Sauvignon were tasted in late December 2013. It's hard to believe it took me almost 3 months to get around to writing this up, but I've been quite busy. Much of that effort, when it comes to my time on the Internet was spent improving the website. Hopefully, those of you that have been frequent, or at least previous users of this site will notice the difference. It's much easier to use and more importantly, the website is also much faster in every year, making this a more enjoyable experience. At least that was the goal. Now that I have hopefully explained my lateness in publishing this report to my friends in my 7 Blind Men Tasting Group who helped put the 1994 California Cabernet Sauvignon Napa Valley wine tasting together and especially to Brian Devine. Now that that's out of the way, let's talk about the 1994 Napa wines. A few wines were also tasted at a later date to sublimate the original tasting.
Fortunately for fans of 1994 California Cabernet Sauvignon based wines, some of the best examples from this heralded vintage are not the most expensive. It's not necessary to taste Screaming Eagle, (which is fortunate for me as I did not get to taste it) to know the greatness of the vintage. Many of my favorite wines were closer to the least expensive side than the most expensive side when it comes to price.
When writing up tasting notes on older wines, it's important to keep in mind a few things. How the particular bottle developed, (assuming it was stored correctly) the likes and dislikes of the taster. I like and value some characteristics in wines and perforce, do not like other characteristics in wine. Anyone reading could and should come to a completely different conclusion assuming their bottles were in sound condition. The wines in this tasting were probably all purchased and stored correctly since they were released. Of course the only way to know a wine is to pop a cork and taste the wine. It would be interesting to see if anyone agreed or not.
The following 1994 California Cabernet Sauvignon wines were not served blind. Some were decanted for one hour and in some cases bottles were decanted for two hours. Other bottles were popped and poured.
1994 Abreu Madrona – With its scents of cassis, blackberry jam, truffle, caramel, coffee bean and cherries, the nose grabs your attention. Full bodied, concentrated, rich and intense, the wine is powerful, complex and long, but it lacks the same level of elegance and finesse tasted in the current vintages. 96 Pts
1994 Araujo Eisele Vineyard – Smoke, licorice, cocoa powder, cassis, olive and fresh black cherries are found in the aromatics. On the palate, the wine is silky, soft, polished and pure. There is a lot to like about this stylish wine. While it lacks the same level of concentration found in the top wines of the 1994 vintage, it makes up for it with its velvety essence and pure fruits. 96 Pts
1994 Arrowood Reserve – Smoke, incense, caramel, earth and spicy, dark berry aromas lead to medium bodied, finesse styled wine that ends with a light cherry note with a touch of olive and herbs in the finish. This is fully mature and requires drinking. 90 Pts
1994 Beaulieu Cabernet Sauvignon Private Reserve Georges de Latour – Charmless, bright, tart, earthy, tobacco filled and drying out with little freshness or fruit remaining. 82 Pts
1994 Beringer Marston Vineyard – Tobacco, blackberry and smoke are the first things you notice before getting to the sweet and semi-tart cherries on the palate. The wine really remains in your mouth creating a long finish. 94 Pts
1994 Beringer Private Reserve – Truffle, earth, herbs and blackberry scents open to a sweet, lush, concentrated, round wine that ends with a long, juicy blast of sweet black cherries. This is a very nice wine that when compared to many of the more expensive cult wines is truly a stunning deal in today's marketplace. 95 Pts
1994 Bryant Family – Incense, smoke, burnt toast, coffee bean, jammy blackberry and prune scents produce the aromatics. On the palate, the wine is rich, fat, plush and oaky, the fruit is ripe, but there is a lot of wood in the wine that will appeal to some tasters more than others. There is more fruit than wood, and there is enough lushness and sweet red berries to keep the wine interesting. But the oak is still quite present. 93 Pts
1994 Cain Five – Starting to fade from its previous high points, the wine offers complex aromatics, but the medium bodied fruit is losing its sweetness and depth. I'd drink this sooner than later. 87 Pts
1994 Caymus Cabernet Sauvignon – Fully mature, this great style of Napa wine delivers soft, sweet, plums, black cherry, earth and smoky notes. On the palate, the wine is medium bodied with a feeling of finesse in the fruit and on the palate. 90 Pts
1994 Caymus Special Selection – Smoky, floral and spicy, the silky, soft, plush sweet cherries that cross your palate leave a nice lasting impression. 94 Pts
1994 Colgin Herb Lamb – Pepper, flowers, cherry and dill in the nose open to a soft, polished, silky, sweet, fresh wine. This delivers a licorice, vanilla and opulent, sensuous, rich, sweet, dark cherry finish that really lingers. 96 Pts
1994 Dalla Valle Cabernet Sauvignon – Spice box, cassis and blackberry notes are followed by a dense, concentrated, smooth, long, wave of fresh, sweet cassis and blackberries. 95 Pts
1994 Dalla Valle Maya – The nose explodes with flowers, licorice, toast, truffle, cherry, Asian spice and black raspberry aromatics. There is a beautiful sense of purity of fruit revealed in the long, sweet, opulent finish. 99 Pts
1994 Diamond Creek Gravelly – Firm, structured, still young and tannic, the wine is clearly built to age. With 2 hours of decanting, tobacco, cassis, darl berries and earthy notes emerged. The wine is full bodied, bright and fresh. 92 Pts
1994 Diamond Red Rock Terrace – Cassis, pepper, spice and bell pepper scents lead to a crisp, fresh, juicy mouthful of Cabernet Sauvignon. 92 Pts
1994 Diamond Creek Volcanic Hill – Wet soil, tobacco, blackberry and stone aromatics lead to full bodied, tannic, dense, powerful and rich, this is long, fresh, clean and fresh. This is a perfect example of what makes the best traditionally styled Cabernet Sauvignon grapes. This will be quite long aged. 94 Pts
1994 Dominus Estate – Truffle, floral, licorice and baked cherry pie and Asian spice create the compelling aromatics. Silky, sexy, soft and polished, the fruit is clean, pure and persistent. Fully mature, this delivers a lot of pleasure. 97 Pts
1994 Dunn Howell Mountain – Lots of earthy qualities and spicy, crisp, beefy Cabernet Sauvignon and green pepper in the nose. Big, tanninc, brawny and powerful, the wine lacks elegance. Some tasters will like this more than I did. 91 Pts
1994 Dunn Napa Valley – Bright, chewy, tannic, OK, make that very tannic, this massive wine is not much fun to drink. Perhaps it just needs another 20 years. Well made, but not my style and I don't have 20 more years to spare. 89 Pts
1994 Flora Springs Rutherford Hillside Reserve – Dominated by its fresh, medium bodied, crisp personality, this lighter styled Cabernet Sauvignon should be drunk over the next few years. 87 Pts
1994 Forman Cabernet Sauvignon – Really nice style of Napa wine, with all its soft, ripe, sweet, layers of dark berries, spice, forest floor and stone. The long, clean finish is polished, round and serving up a lot of sweet fruits. 92 Pts
1994 Groth Reserve – Simple, not very exciting and drying, this needs to be drunk up before the rest of the fruit fades to dust. 85 Pts
1994 Harlan Estate – Blackberry, black cherry, licorice, earth, mint, truffle and stone aromatics keep you involved in the glass. On the palate, the wine is incredibly dense, rich, concentrated and fresh. The fruit coats your entire palate with ripe, fat, fleshy berries that leaves an impression of ripe berries and freshness that expands and lingers for close to 50 seconds. 100 Pts
1994 Joseph Phelps Insignia – Licorice, coffee bean, vanilla, blackberry, smoke and jammy scents open to a fleshy, sweet, round, sexy wine that builds and expands on your palate, leaving a lasting impression of sweet, ripe, polished fruits. Truly a stunning performance from this wine. 97 Pts
1994 La Jota 13th Anniversary – With scents of earth, spice, black and blue fruits, this full bodied, concentrated, lush, dense, powerful wine is packed with layers of ripe, dark berries. Structured to age, with some tannin to resolve, this will continue to age and develop. This is the best wine from the Helene Turley era at La Jota. More importantly, this could be the best kept secret for a great California Cabernet Sauvignon wine as it sells for a song, compared to the high scoring wines of the vintage. 97 Pts
1994 La Jota Cabernet Sauvignon Howell Mountain Select – Firm, structured and more tannic than the Anniversary Reserve, the wine displays forest floor, leaf, blackberry, tobacco and earthy characteristics. On the palate, the wine feels a little rustic, ending with dark red berres and spice in a masculine finish. 90 Pts
1994 Mayacamas Cabernet Sauvignon – Much more interesting on its tobacco, earth, spice, cassis and cranbery nose than on its shrill, faded,tart, red berry finish. 80 Pts
1994 Robert Mondavi Cabernet Sauvignon Reserve – Licorice, tobacco and cassis in the nose, the wine is soft, supple and round in texture, ending with a sweet, fresh cassis, black , cherry filled, dusty finish. Mature and ready to go. This represents a great value in mature, California Cabernet Sauvignon wine. 95 Pts
1994 Chateau Montelena Estate – The first bottle had the oak and earthy scents dominate the aromatics, with touches of cassis, blackberry and green leafy notes. On the palate, the wine shows some green along with the dry, bright cassis notes. This was probably not a pristine bottle. The second bottle showed better. Traditional in style, with cassis, blackberry, tobacco, spice and forest aromas, the wine is concentrated, youthful and crisp, ending in a big, chewy, firm layer of dark red fruits. 92 Pts
1994 Newton Cabernet Sauvignon – Pop a cork so you can grab the last of its tobacco, cherry, stone, cedar and blackberry nose. Medium bodied, soft and on the gentle, downhill side of lifes, this is not quite as good as it was in its prime. But what is? 89 Pts
1994 Pahlmeyer Proprietary Red – The first bottle tasted showed an earthy, straw and barnyard aroma that overwhelmed the experience. That bottle deserved its 89 Pt score. The second bottle showed much better with its dark red cherry, plum, fennel earth and smoke filled nose. Soft, round and fully mature, this is drinking at what is probably its peak today. 93 Pts
1994 Peter Michael Les Pavots – Better on the nose than the palate with its intriguing notes of espresso bean, truffle, smoke, tobacco, plum and cassis. On the palate, the wine delivers sharp red berries, herbs and olive in the finish which is starting to slowly dry out. 90 Pts
1994 Pride Mountain Vineyards Cabernet Sauvignon Reserve – Licorice, coffee bean, smoke and jammy dark berries, big, rich and dense, with a dryness that was starting to appear in the end notes of the finish. I'd opt for drinking this sooner than later. 92 Pts
1994 Pride Mountain Vineyards Claret – Forest floor, tobacco and jammy berries open the aromatics, on the palate, the wine is, rich and dense, but the finish is starting to dry out. 90 Pts
1994 Ridge Monte Bello – I'm always going to be a sucker for this style of wine. Freshness, power, ripe fruit and the structure to age, what's not to like? The wine lacks the same level of concentration found in the best vintages, but the style remains the same. Age this, or pop a bottle now, either way it's a treat. 93 Pts
1994 Seavey Cabernet Sauvignon – Stylish, ripe, fresh and loaded with cassis, blackberry, earth and cherry notes. Full bodied, spicy and ready for its prime time, Seavey once again offers some of the best value for the money in high quality Cabernet ased wines in California. 92 Pts
1994 Shafer Hillside Select – Licorice, oak and chocolate coated black and blue fruit are found in spades in this concentrated, deep, long, intense wine. The finish goes on and on and on like a Stephen Bishop song. This is such a great style of wine, and while not cheap, for a Napa wine at this level of quality, it's worth the cost of the ticket. 97 Pts
1994 Spottswoode – The first bottle was drying out. Having had this wine several times, (as I'm lucky to have some in my cellar) that clearly was not a correct bottle. The second bottle was an entirely different wine, although it was also starting to dry out. But fortunately, it was not nearly as advanced. Showing the bright, red side of the style range, along with earthy, tobacco, cherry and cedar wood notes. The wine seems to have exchanged its soft, polished personality for some austerity in the finish. I'd drink this sooner than later. 91 Pts
1994 Chateau Saint Jean Cinq Cepages – Fading and focused on the spicy, bright, semi-tart side of the red fruit style range, this needs consumption quickly. 83 Pts
1994 Phillip Togni – Some people are going to like this more than others including me. While powerful, dense and concentrated, its harsh, green and rustic in the drying, dark red berry finish. Wines like this are not about the quality, it's a matter of style for most tasters. 88 Pts
1994 Venge Family Vineyards Reserve – Fully mature, the wine serves up a juicy mouthful of sweet, ripe blackberries and cassis. 90 Pts