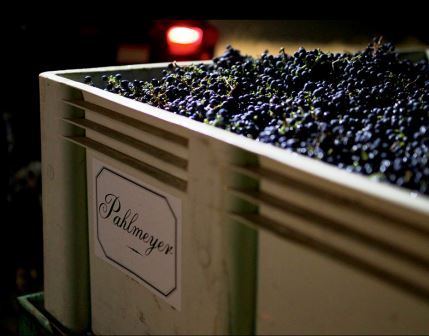 Everything about Pahlmeyer Napa Valley California Cabernet Sauvignon wine producer profile, wine tasting notes, wine and food pairing tips, best vintages, history of the property, information on their wine making techniques, terroir and soil. You can also read about the Grapes used for California wine and learn about the extensive History of Napa Valley, California Wines
Pahlmeyer History, Overview
The estate was founded by Jason Pahlmeyer in the early 1980's. Owning a winery was not the original goal for Jason Pahlmeyer. His intentions was more on the real estate development side. But as you know, things change and Jason Pahlmeyer entered into a partnership with John Caldwell and 55 acres of land in the Coombsville appellation and Pahlmeyer was born. The vineyard was planted in 1981.
1986 became the first commercial vintage for Pahlmeyer. It was a small vintage for Pahlmeyer because much of the fruit was sold to Randy Dunn. This led to an agreement that in turn, Randy Dunn was to also become the first winemaker for the red wines of Pahlmeyer.
The initial vintages were sold as simply Pahlmeyer Estate bottled, listing the grapes, which were a typical blend found in the Left Bank of Bordeaux. In 1989, they added their first Chardonnay to their growing lineup of wines. they brought in Bob Levy to make their white wine. Bob Levy went on to eventually become the wine maker for Harlan Estate! Clearly, Jason could spot talent. In 1998, Pahlmeyer purchased vineyard land in the Atlas Peak appellation.
The next winemaker for the team was Helene Turley who began to work with the winery starting with the 1993 vintage. From that point, Pahlmeyer began planting new vineyards that were cultivated by David Abreu in the Sonoma Coast in 2000. I told you he knew good talent. Helene Turley was replaced by Erin Green. They soon brought in Michel Rolland as their consultant.
Things continued changing and improving from the 1994 vintage. The production for Pahlmeyer Red increased because they added new grape sources. Instead of only using grapes from the Caldwell Vineyard, they also began integrating fruit from their vines in the Atlas Peak appellation. After running the winery for over 30 years, Cleo Pahlmeyer, the daughter of Jayson began to take more control of managing the estate.
In November, 2019, the vineyard was sold to Gallo. The price was not disclosed. But rumors place the deal at a very high price, especially when you consider that the deal did not include vineyard land or the Wayfarer brand. Gallo entered into a long term vineyard lease to continue producing Pahlmeyer.
Pahlmeyer Vineyards, Wines, Winemaking
Today, the wines of Pahlmeyer are made from a variety of grape sources that include estate vines and purchased grapes. Their flagship wine is the Pahlmeyer Proprietary Red, which is a blend that can vary but on average, it's close to 81% Cabernet Sauvignon, 7% Merlot, 6% Malbec, 3% Cabernet Franc and 3% Petit Verdot.
The fruit comes from Pahlmeyer Waters Ranch, Rancho Chimiles and the Stagecoach vineyards. The grapes are often harvested at night, so they remain cool, and retain their freshness. The wine is vinified in stainless steel vats. The wines is then aged in 85% new, French oak barrels for about 18 months before bottling. On average, the production is close to 4,000 cases per year.
In addition, Pahlmeyer also produces Jayson, which is a second wine for the Proprietary Blend, Merlot, Chardonnay Napa, Vieilles Vignes Napa, Chardonnay Sonoma Coast and a Pinot Noir Sonoma Coast.
Pahlmeyer recently created Piece de Resistance, which is a selection of their best best barrels. The production is minuscule, as only 100 cases are made each year. The wine is only available to mailing list customers.
Serving and Decanting Pahlmeyer with Wine, Food, Pairing Tips
Pahlmeyer wines are best served at 15.5 degrees Celsius, 60 degrees Fahrenheit. The cool, almost cellar temperature gives the wine more freshness and lift. Young vintages of their red wine can be decanted for 1-3 hours, depending on the character of the vintage. This allows the wine to soften and open its perfume. Older vintages might need very little decanting, just enough to remove the sediment.
The red wine of Pahlmeyer is best served with all types of classic meat dishes, veal, pork, beef, lamb, duck, game, roast chicken, ribs, hamburgers, barbecue, roasted, braised, grilled dishes and stews. Pahlmeyer is also good with Asian dishes, hearty fish courses like tuna, salmon, mushrooms and pasta.
The white wine of Pahlmeyer is best served with all types of seafood and shellfish, sushi, sashimi, chicken, veal, pork and cheese.
Pahlmeyer Wine Tasting Notes
20 Vintages 110,396 Views Sort by Vintage-Rating
2015
Pahlmeyer Proprietary Red (Napa Valley)

Full-bodied, concentrated and lushly textured, this forward, round, rich wine is loaded with sweet, ripe black and blue fruit, smoke, chocolate, vanilla, licorice and a nice hit of spice in the finish.

5,364 Views

Tasted

Nov 19, 2019

2014
Pahlmeyer Proprietary Red (Napa Valley)

Deep in color, the wine is packed with ripe, black cherry, blackberry, chocolate, vanilla and smoke. Concentrated, rich and long, there is freshness to the fruit, making this interesting to drink.

6,049 Views

Tasted

Feb 25, 2019

2013
Pahlmeyer Merlot (Napa Valley)

There is no touch of in the 15.2% ABV. Instead, you'll find loads of fat, juicy, sweet, dark red fruits, licorice, chocolate and opulent textures in a ready to drink style.

3,622 Views

Tasted

Jan 25, 2016

2013
Pahlmeyer Chardonnay (Napa Valley)

Lush, rich, sweet, ripe citrus fruits, flowers and vanilla on the nose, with round textures and plenty of ripe lemon and pear in the sweet finish.

2,820 Views

Tasted

Jan 26, 2016

2012
Pahlmeyer Merlot (Napa Valley)

One of the top examples of when California produces quality Merlot. The wine is fat, fleshy, rich and round, with loads of ripe, sweet, juicy fruit, chocolate and spice. This is already drinking quite well.

3,667 Views

Tasted

Apr 20, 2015

2012
Pahlmeyer Proprietary Red (Napa Valley)

An elegant, polished expression of California with its chocolate, licorice, cassis and black cherry personality. This is quite supple and polished,

4,594 Views

Tasted

Feb 9, 2015

2012
Pahlmeyer Cabernet Sauvignon Jayson (Napa Valley)

Forward, approachable, open, soft, ripe, round style of Cabernet Sauvignon that is already fun to drink.

3,783 Views

Tasted

Sep 28, 2015

2010
Pahlmeyer Proprietary Red (Napa Valley)

This winner is loaded with flowers, cherries, blackberries, vanilla, licorice, earth and spice. The wine is rich, deep and lush, ending with a silky, sweet, open, berry fillied finish.

3,758 Views

Tasted

Nov 16, 2013

2009
Pahlmeyer Proprietary Red (Napa Valley)

Sweet, jammy black and red berries, truffles and vanilla scents open to a refined, pure, fresh, elegant, forward Napa Caberent Sauvignon that straddles the ground between uber ripe and traditional.

5,611 Views

Tasted

Oct 23, 2012

2008
Pahlmeyer Proprietary Red (Napa Valley)

Ample layers of rich, ripe, round berries, earth, licorice, truffle and earth lead to a California wine that is well suited for this blend of 5 Bordeaux varietals. This is a refined, elegant style of ripe Cabernet Sauvignon that is already drinking well, yet, based on past performance, has the ability to age and improve.

4,846 Views

Tasted

Apr 30, 2012

2007
Pahlmeyer Proprietary Red (Napa Valley)

Intense aromas of toasty oak, boysenberry, cassis, tobacco and mocha, this rich, full bodied, mouth filling wine offers layers of sweet, blackberry, licorice, chocoalte and blueberry flavors, ending in a suave sensation.

12,607 Views

Tasted

Mar 25, 2011

2007
Pahlmeyer Merlot (Napa Valley)

This is a chocolate covered sex bomb, packed with fleshy, ripe, boysenberry, licorice, smoke, coffee, earth, blueberry and jam. Rich, intense, fat, lush and concentrated, this is perfect for drinking today and over the next 3-5 years.

4,821 Views

Tasted

Mar 15, 2012

2005
Pahlmeyer Proprietary Red (Napa Valley)

Black and blue fruit, licorice, earth and coffee scents, plush, round, textures and layers of balanced, perfectly ripe berries make for a delicious, Cabernet Sauvignon dominated wine.

6,124 Views

Tasted

May 7, 2012

2002
Pahlmeyer Proprietary Red (Napa Valley)

Opulent, sexy, rich layers of cassis, blackberry, cocoa, licorice and black plum lead to a perfect balance between ripe and refined. This is drinking great today.

4,798 Views

Tasted

May 7, 2012

1997
Pahlmeyer Proprietary Red (Napa Valley)

Fresh raspberry, strawberry, thyme and earthy scents open up the medium bodied, soft textured, elegant wine. The finish is all about the sweet, dusty, spicy, black raspberries in the end note.

3,322 Views

Tasted

Sep 23, 2015

1997
Pahlmeyer Merlot (Napa Valley)

Lacking the lush qualities of its young, there is still plenty to like about its dark chocolate covered cherry and licorice character. Soft, round and fully mature, there is no reason not to pull a cork on this, if you have a bottle.

4,829 Views

Tasted

Sep 23, 2015

1996
Pahlmeyer Proprietary Red (Napa Valley)

Floral aromatics are complicated by cherry pipe tobacco, truffle and wet earth scents. Silky, refined and soft, the dark cherry, plum and roasted coffee bean sensations on the palate is a treat.

4,283 Views

Tasted

Dec 9, 2015

From a typical blend used in the Left Bank of Bordeaux, this fully mature, delicious wine offered cassis, smoke, blackberry, earth and tobacco scents. Full bodied, concentrated and soft in texture, there is no reason not to drink this wine today.

4,968 Views

Tasted

Jul 5, 2012

1996
Pahlmeyer Merlot (Napa Valley)

At 21 years of age, there is still life going here, with a round, lush, blast of dark chocolate and cherry fruit. There is no reason to hold this any longer though.

3,154 Views

Tasted

Mar 8, 2017

1995
Pahlmeyer Proprietary Red (Napa Valley)

This charmer is going strong as it approaches its 25th birthday. The sweet, fresh, juicy fruits are still showing great. Medium/full-bodied with layers of, round textured, ripe blackberries and dark cherries with earth and thyme accents hit the spot.

4,064 Views

Tasted

Dec 10, 2019

Silky, elegant and refreshing, with a sweet, ripe, refined, pure cherry finish. Fully mature, this requires drinking over the next few years to allow you to enjoy its fruit and freshness.

4,067 Views

Tasted

Dec 9, 2015

1994
Pahlmeyer Proprietary Red (Napa Valley)

Fully mature with an air of elegance to its core of fresh cherries, strawberries, tobacco, cedar, dried flowers, and herbs profile. Medium-bodied, with lift and red fruits on the back end, this is a pop, pour, and still quite enjoyable wine. Drink from 2023-2030.

1,477 Views

Tasted

Feb 15, 2023

The first bottle tasted showed an earthy, straw and barnyard aroma that overwhelmed the experience. That bottle deserved its 89 Pt score. The second bottle showed much better with its dark red cherry, plum, fennel earth and smoke filled nose. Soft, round and fully mature, this is drinking at what is probably its peak today.

4,416 Views

Tasted

Mar 4, 2014

From a typical Left Bank Bordeaux blend, this wine is fully mature. Tobacco, earth, smoke, blackberry, cassis, stone and truffle aromas, soft textures and a full bodied, round personality, this is not quite as rich as it was a few years ago. I'd opt for drinking this over the next few years.

3,352 Views

Tasted

Mar 15, 2012