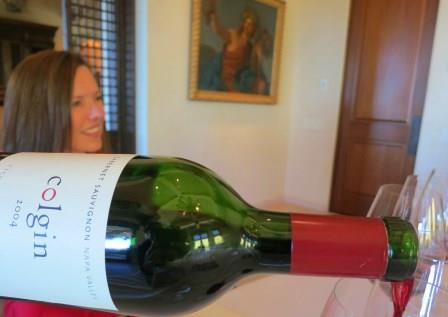 Everything about Colgin Cellars, Napa Valley, California Cabernet Sauvignon wine producer profile, wine tasting notes, wine and food pairing tips, best vintages, history of the property, information on their wine making techniques, terroir and soil. You can also read about the Grapes used for California wine and learn about the extensive History of Napa Valley, California Wines
Colgin Cellars History, Overview
Colgin Cellars, founded by Ann Colgin produced their first Cabernet Sauvignon from the 1992 vintage with fruit harvested from Herb Lamb vineyards. Ann Colgin, like many other well-known wine makers got into the business due to her passion for wine.
After earning degrees from Vanderbilt and New York University Steinhardt School of Culture, Education and Human Development, Ann Colgin started working in the art art world, first at Christie's and then Sotheby's. It was during her tenure at Sotheby's that Ann Colgin developed her interest in wine. One of the first wines that changed her life was tasting her first bottle of the legendary, 1961 Chateau Latour!
What happened next was, during a visit to Napa Valley in 1988, while married to Fred Schrader, they attended one of the famous events associated with the Napa Valley Wine Auction. A few short years later, Ann Colgin and Fred Schrader founded Colgin Cellars. Colgin and Schrader dissolved their partnership and marriage. Ann Colgin retained Colgin Cellars and Fred Schrader went on to create Schrader Cellars.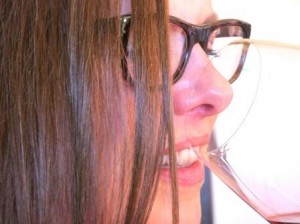 One of the first decisions Ann Colgin made was to hire Helen Turley as the winemaker for Colgin Cellars. Ann Colgin also brought in David Abreu as her vineyard manager. That was considered the A-list team at the time.
By Colgin's second vintage, they became one of the hot wines to earn true Cult wine status. Their initial releases were sold under the name of Colgin Schrader. In 1994, with the release of their third vintage, Colgin Cellars was all of a sudden one of the hot new Cult Napa wineries to own. In fact, the 1994 Colgin became the first California wine to sell for over $1,000 per bottle at auction!
Things changed with time. Helen Turley was replaced by Mark Aubert, who left to concentrate on his own brand. Mark Aubert was replaced by the young, talented, Allison Tauziet. Alain Raynaud, the well-known Bordeaux consultant is also part of the team that works with Colgin Cellars.
Based on an extensive vertical with Ann Colgin and Allison Tauziet in 2012, the wines being made by Tauziet at Colgin are some of the finest wines the estate has ever produced! And that's really saying something. Alain Raynaud from Bordeaux is their consultant for vineyard management and wine making.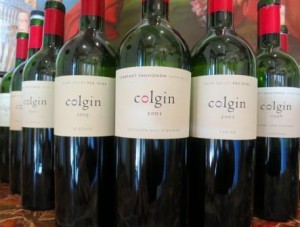 Colgin Cellars began producing wine from purchased fruit from the Herb Lamb winery. That changed in 1997 when Ann Colgin and Joe Wender added the vineyard of Tychson Hills to their holdings. Owning Tychson Hills is a tremendous source of pride for Ann Colgin because the original creator of Tychson Hills Vineyard, Josephine Tychson was the first female vintner in the Napa Valley. Tychson Vineyards had become dilapidated over the years and required a complete replanting.
The first vintage from Colgin Tychson Hill came from the 2000 vintage. Shortly after obtaining Tychson Hills, Ann Colgin and Joe Wender expanded their holdings to include their Colgin IX vineyard on Pritchard Hill in 2008. 2010 became the first vintage to include fruit from the recently planted Cabernet Franc and Petit Verdot vines in the Tychson Hill Cabernet Sauvignon wine.
In 2017, Colgin Cellars announced they were selling a large portion of the estate to LVMH. Colgin sells 60% of their vineyards to LVMH
Colgin Cellars Vineyards, Wines, Winemaking
Colgin Cellars is located on a stunningly, picturesque, 125 acre parcel on Pritchard Hill. With 20 planted acres at a high elevation that ranges from 1,150 to 1,350 feet about sea level, the terroir is based on rocky, volcanic soils.
This is where the fruit for Colgin IX comes from. The cellars were completed in 2002. Colgin still works with Herb Lamb fruit, as well as fruit purchased from some of the best sites owned by David Abreu from his Madrona vineyard. However, they also own some of the best vineyard land in the valley.
Colgin Cellars produces several Cabernet Sauvignon wines. Herb Lamb, Tychson Hill, Colgin IX and Cariad. Colgin Cellars also produces one of the top Syrah wines from Napa as well. The wines of Colgin Cellars are sold through their popular mailing list.
In 2020, Colgin added a new, early drinking wine to their line-up, Jubilation. Jubilation is a Cabernet dominated blend that comes from a blend of young vines and a barrel selection from all 3 of their hillside vineyards. 2016 marks the debut vintage.
Serving and Decanting Colgin Cellars with Wine, Food, Pairing Tips
Colgin Cellars wines are best served at 15.5 degrees Celsius, 60 degrees Fahrenheit. The cool, almost cellar temperature gives the wine more freshness and lift. Young vintages of their red wine can be decanted for 1-3 hours, depending on the character of the vintage. This allows the wine to soften and open its perfume. Older vintages might need very little decanting, just enough to remove the sediment.
Colgin Cellar wines are best served with all types of classic meat dishes, veal, pork, beef, lamb, duck, game, roast chicken, ribs, hamburgers, barbecue, roasted, braised, grilled dishes and stews. Colgin Cellars are also good with Asian dishes, hearty fish courses like tuna, salmon, mushrooms and pasta.
Colgin Wine Tasting Notes
40 Vintages 255,392 Views Sort by Vintage-Rating
2014
Colgin Cabernet Sauvignon Tychson Hill Vineyard (Napa Valley)

The inky, dark, almost opaque color lets you know this is still in its youth. Full-bodied, dense, powerful and balanced, the wine is loaded with perfectly ripe blackberries, smoke, licorice, black cherry, vanilla, chocolate and herbs. Opulently textured, the seamless finish feels just great on your palate. I am sure this has at least another 2 decades or more left in the tank.

2,743 Views

Tasted

Nov 10, 2020

2013
Colgin IX Estate (Napa Valley)

13 Colgin IX – With a boatload of fresh ground spice, wet earth, perfectly ripe, sweet, juicy black fruits and smoke on the nose, the wine gets going. On the palate, the wine is full bodied, dense, rich, fleshy and equally, polished and fresh in its textures. The plush endnotes have a spicy kick and in spite of its low acidity, there is more than enough lift, making you want to refill your glass before it's empty. The wine was made from a blend of 66% Cabernet Sauvignon, 25% Merlot, 7% Cabernet Franc and 2% Petit Verdot. 2013 has to the best vintage ever for Colgin, and considering their incredible track record, that's really saying something!

6,789 Views

Tasted

Sep 16, 2016

2013
Colgin Cabernet Sauvignon Tychson Hill Vineyard (Napa Valley)

Peppery, truffle, black cherry jam, with a hint of blue fruit get this going. With a bit more air, tobacco scents come into. Full bodied, silky, polished, sensuous textures are paired a plush, opulent, sweet, pure dark cherry finish. The wine was produced using 98% Cabernet Sauvignon and even portions of Cabernet Franc and Petit Verdot. This is a perfect example blending power, elegance, refinement and exuberant fruit.

5,828 Views

Tasted

Sep 16, 2016

2013
Colgin Cariad (Napa Valley)

The mineral driven nose, with its stone, charcoal, licorice and smoked plum aromas take some effort to coax them out. But it's worth your time. On the palate, the wine is full bodied, lush, spicy, rich and deep. There is a lot of weight and density in the wine, but there is more than enough lift' elegance and freshness to keep things moving in the right direction. The wine was made from blending 50% Cabernet Sauvignon, 28% Merlot, 13% Cabernet Franc and 9% Petit Verdot.

6,010 Views

Tasted

Sep 16, 2016

2013
Colgin Syrah IX Estate (Napa Valley)

This is clearly the benchmark wine for what can be done with Syrah in Northern California. This is stunning in every sense of the word. Produced from perfectly ripe fruit, it's like walking through the farmers market with its cornucopia dark red berries and blue fruit with an intriguing note of citrus and fresh herbs in the background. The wine is concentrated, opulent and jacked up with layers of sweet, fat, luscious, juicy, intense, peppery berries that remain with you from start to finish.

3,364 Views

Tasted

Sep 16, 2016

2012
Colgin Cabernet Sauvignon Tychson Hill Vineyard (Napa Valley)

Deep in color, with a perfume that's on the floral side with cassis, licorice, smoke, black cherry and cocoa to add to the complexity. On the palate, the wine is deeply concentrated, rich, plush and polished, with an elegant, refined character in the finish.

6,647 Views

Tasted

Sep 22, 2015

2012
Colgin IX Estate (Napa Valley)

Licorice, mint and chocolate covered cherries are in abundance on the nose. The fruit is silky, lush and polished, creating a hedonistic styled wine that was made for pleasure seekers.

5,270 Views

Tasted

Sep 22, 2015

2012
Colgin Cariad (Napa Valley)

Smoky, cigar box aromas coupled with scents of spicy cherries make up the nose. Luscious, sexy, rich and polished, the fruit is ripe, fresh, long and deep. If you like it young, feel free to pop a cork on this beauty.

4,081 Views

Tasted

Sep 22, 2015

2012
Colgin Syrah IX Estate (Napa Valley)

Really peppery black and red fruits with an interesting hint of peach and thyme in the bouquet. The wine is vibrant, energetic and ripe, with a fun citrus note in the smooth, mineral driven, sweet black raspberry filled finish.

4,048 Views

Tasted

Sep 22, 2015

2010
Colgin Cariad (Napa Valley)

From a blend of 48% Cabernet Sauvignon, 28% Merlot, 14% Cabernet Franc and 10% Petit Verdot with fruit from the Madrona vineyard, this stellar wine is smoky, with earth, black plum, boysenberry, dark chocolate and coffee bean aromatics. Plush, sensuous, dense, rich and long, there is a lot of intensity in this wine. The finish must last for at least 50 seconds. This wine really coats your palate.

7,097 Views

Tasted

Sep 9, 2013

2010
Colgin Syrah IX Estate (Napa Valley)

This is a stunner from start to finish. With its showy, perfumed nose of florals, lavender, fresh herbs, licorice and sweet, ripe black and blue fruits, you're already hooked. But it gets better once the luscious, rich, concentrated, sweet, spicy fruit hits your palate and stays there. You can drink this now, or hold off, it has the structure to age for at least another decade or two.

2,855 Views

Tasted

Oct 15, 2015

Still suffering from reduced production with not much more than 200 cases released in this vintage, this deeply colored wine pops with grilled beef, pepper, black raspberry, stone and BBQ scents. Rich, intense, fat, dense and mouth filling, the wine is long, deep and really makes an impression. The finish tastes and feels great with its decadent, silky, rich, fruit filled personality. Drink it young or age it. This is a stunning example of Northern California Syrah at its best.

4,313 Views

Tasted

Sep 9, 2013

2010
Colgin Cabernet Sauvignon Tychson Hill Vineyard (Napa Valley)

Deep in color, the wine pops with blackberry, blue fruit, cinnamon, vanilla, cherry liqueur, licorice and charcoal. The wine is thick, rich, concentrated and intense, with soft, dusty tannins. On the palate, this dense wine ends with cassis and cranberry. From 94% Cabernet Sauvignon, the remainder of the blend consists of Cabernet Franc and Petit Verdot. In fact, the 2010 Tychson Hill is the first vintage to include fruit from the recently planted Cabernet Franc and Petit Verdot vines.

6,394 Views

Tasted

Sep 9, 2013

2010
Colgin IX Estate (Napa Valley)

Fresh herbs, cassis, blackberry, truffle, black raspberry, vanilla and oak scents open up the wine. On the palate, the wine is tannic, rich, full bodied and filled with black cherry liqueur and espresso bean. There is a minor hint of dryness in the finish, which stops my score from going higher. The wine was produced from a blend of 63% Cabernet Sauvignon, 20% Merlot, 11% Cabernet Franc and 6% Petit Verdot.

4,425 Views

Tasted

Sep 9, 2013

2009
Colgin Syrah IX Estate (Napa Valley)

Rich, dense, fleshy and powerful, this concentrated, lush, racy Syrah is packed with ripe, pure, black raspberry jam, fresh cherries and licorice. Hard to find and expensive, but if California Syrah is your thing, it's worth the effort to taste this wine.

3,531 Views

Tasted

Dec 9, 2012

2008
Colgin Syrah IX Estate (Napa Valley)

Dark in color, with pepper, smoky, ripe, red and black fruits with a touch of forest aromas finish with a rich, fat, dense, spicy, peppery fruit filled finish.

2,584 Views

Tasted

Dec 9, 2012

2007
Colgin Cariad (Napa Valley)

Deep in color, with purple accents, the perfume opens with cherries marinated in an array of spices, complicated by earth, tobacco, licorice, spearmint and earth. The texture is pure silk and velvet. The wine remains and expands on your palate for at least 60 seconds ending with multiple layers of intense, sweet, polished, decadent fruits.

7,167 Views

Tasted

Dec 11, 2012

Dark, almost opaque in color, the perfume screams with fresh blueberry, blackberry jam, chocolate, coffee, truffle and vanilla. Massive, yet balanced. Concentrated with layers of intense ripe fruit, this is almost too much of a good thing. I said almost. Thick, rich, pure and intense, this is a stunning example of a perfectly ripe, fruit forward, California Cabernet Sauvignon.

5,032 Views

Tasted

May 1, 2012

2007
Colgin IX Estate (Napa Valley)

Beautifully structured, concentrated with perfectly ripe, sweet, black and blue fruits, soft tannins, opulent textures and length. This is drinking great today. There is not much to be gained by waiting, so if you have a bottle, pop a cork when you're in the mood.

4,333 Views

Tasted

May 24, 2017

2007
Colgin Syrah IX Estate (Napa Valley)

This is drinking in the perfect spot today. It's soft, fat, round and polished, with a spicy, dark cherry, earth and vanilla profile. If you have a bottle, there is no reason to wait.

2,995 Views

Tasted

Sep 21, 2014

Explosive notes of jammy blackberries, pepper, flowers, licorice and vanilla bean, pair perfectly with the fat, lush, rich textures and the long, ripe, sweet, black raspberry, fruit filled finish.

4,064 Views

Tasted

Oct 8, 2012

2006
Colgin IX Estate (Napa Valley)

Spicy, suave, silky and intense, the fruit is perfectly ripe, sweet, fresh and pure. The wine offers that unique combination of density paired with refinement, lift, complexity and length. And this is still young, so pop a cork now to check it out, if you have a few bottles, or age it for another decade to see what happens.

4,055 Views

Tasted

Aug 27, 2019

This stunner is ready to go. Showing even better than the last time I tasted it, it's packed and stacked with all the right stuff. Layers of sweet, ripe, juicy, fresh fruit, polished, silky tannins and a hedonistic personality have created a true wine of refined, pleasure and purity. Just months away from its 10th birthday, if you own a bottle, you should pop a cork and this is really in the sweet spot. The wine was made from a blend of 66% Cabernet Sauvignon, 21% Merlot, 8% Cabernet Franc and 5% Petit Verdot.

3,530 Views

Tasted

Sep 23, 2015

Spice box, sandalwood, graphite, espresso bean, dark berries and vanilla. In the mouth the wine is intense, fleshy and fresh, ending in a blast of black cherry, licorice and spice. This stellar wine is massive, (in all the right ways) with the structure to age and develop for at least another 10-15 or more years.

4,541 Views

Tasted

Dec 11, 2012

2006
Colgin Syrah IX Estate (Napa Valley)

Fully mature, with a meaty, ripe, black raspberry, wet earth and jammy profile, the wine is concentrated, full bodied, and leaves with a richly textured, sweet, smoky, fruity finish.

3,315 Views

Tasted

Nov 25, 2017

2005
Colgin Cariad (Napa Valley)

Lots of fresh blackberries, licorice, coffee, oak and fresh earth on the nose. Silky, soft, plush and polished, there is a nice freshness coupled with an intensity of flavor and concentration. The stunning wine ends with a plethora of sweet, ripe, blackberries and plums.

4,129 Views

Tasted

Sep 15, 2013

Still deep in color. Cherry blossoms, licorice, smoke, thyme and earthy scents open the experience. On the palate, the wine coats your mouth and palate with thick, rich, intense waves of lush fruit. If you're seeking a wine that personifies seamless, this is it. There are no hard edges in this sublime combination of power and finesse.

4,651 Views

Tasted

Dec 11, 2012

2005
Colgin Cabernet Sauvignon Tychson Hill Vineyard (Napa Valley)

Deep in color, with a perfume filled with vanilla, 5 spice, blue fruit and blackberry liqueur. Rich, powerful, concentrated and structured, this combines the best of hedonism and cerebral attributes.

3,754 Views

Tasted

Dec 11, 2012

2005
Colgin IX Estate (Napa Valley)

Truffle, earth, smoke, graphite, plums, coffee bean and blackberry scents open the wine. From a cooler vintage in Napa, the wine is silky, lush, rich and long with a sweet, fresh, blackberry filled finish.

5,091 Views

Tasted

Sep 15, 2013

Smoke, vanilla, espresso bean, earth, blackberry jam, blueberry and cherry preserves create the wine aromatics. In the mouth, the wine is rich, silky, deep and plush. Some tannin remains, I'd give it another year or two for the tannins to fully integrate.

4,135 Views

Tasted

Dec 11, 2012

2004
Colgin IX Estate (Napa Valley)

Not quite rock star, but close. The sweet, ripe, deep dark red, juicy fruit kept building. Polished in texture and personality, the wine leaves you with a finish that must have stuck with you for at least 40 seconds.

3,937 Views

Tasted

Aug 7, 2017

Power and elegance, with a side of sweet, ripe fruits, silky tannins and a long, fruit filled finish. This is drinking in the perfect sweet spot today.

4,167 Views

Tasted

Dec 3, 2015

Inky black, purple in color. This is very, sexy juice. Huge levels of concentration with an opulent texture. This Bordeaux blend is mostly Cabernet. From the first sniff you could sense this was a wine of distinction. Layers of ripe black and blue fruits with a touch of oak. The palate presence was very rich.

5,085 Views

Tasted

May 21, 2007

2004
Colgin Cariad (Napa Valley)

With a serious depth of flavor, the wine tastes, smells and feels great There is ample density, richness and length, with a silky, polished character. Popped and poured, this is close to the sweet spot.

3,593 Views

Tasted

Aug 7, 2017

20 minutes really helped bring out the aromatics and added that extra layer of softness to the wine. Medium bodied and elegantly styled, this restrained beauty is ripe, sweet, fresh and ready to go. The wine was made from a blend of 54% Cabernet Sauvignon, 28% Merlot, 10% Petit Verdot and 8% Cabernet Franc.

3,319 Views

Tasted

Oct 12, 2016

2004
Colgin Syrah IX Estate (Napa Valley)

Vanilla, pepper, cherry and stone aromas are easy to find in the nose. On the palate, sweet, spicy, red cherry jam with touch oak are featured in the round finish.

2,778 Views

Tasted

Dec 9, 2012

Showy with gobs of juicy, ripe black fruits, spice and cracked pepper in the perfume. Very lush palate presence.

3,870 Views

Tasted

May 21, 2007

2004
Colgin Cabernet Sauvignon Tychson Hill Vineyard (Napa Valley)

Spice, black cherry liqueur and incense aromas open to a silky, jammy, powerful sweet, tannic, wine with a jammy black cherry finish. There is a touch of heat in the finish.

3,957 Views

Tasted

Dec 11, 2012

2003
Colgin IX Estate (Napa Valley)

Luscious, sexy, ripe, polished, hedonistic in style, the wine is rich, full bodied and supple, ripe, round and made for pleasure, this just rocks!

3,390 Views

Tasted

Sep 25, 2017

Drinking perfectly, with its showy display of ripe fruits, and silky tannins, you can age it if you must, or enjoy it today.

4,162 Views

Tasted

Jul 26, 2014

This was so fat, lush and sexy. The color was akin to dark, purple and black ink. Filled with gobs of blue and fruit, licorice and cassis. Great plush, opulent mouth feel and finish that keeps on going. This is a stellar expression of Napa Cabernet. While the wine checks in at over 15% alcohol, you'd never know it with it's wealth of ripe fruit

2,459 Views

Tasted

Mar 10, 2006

2003
Colgin Syrah IX Estate (Napa Valley)

The nose on this wine actually reminded me of a Northern Rhone with it's beautiful, bacon fat accented perfume accompanied by a cornucopia of fruit, herbs and spices. This wine truly benefited with time in the decanter.

3,433 Views

Tasted

Mar 10, 2006

2002
Colgin Cabernet Sauvignon Tychson Hill Vineyard (Napa Valley)

Still sporting a depth of color for its age, this is stunning from the first sniff, swirl and sip. Where do you start with this wine? Is it the texture with its silky, velvet textured mouth feel? Perhaps it's the layers of the perfectly ripe, spicy, fresh, clean, pure berries. Or is it the intense aromas of blackberry, truffle, spice and earth? At the end of the day, it does not matter where you start or finish with this elixir. This is a reference point wine for Colgin Cellars and California Cabernet Sauvignon.

5,440 Views

Tasted

Sep 15, 2013

2002
Colgin Cabernet Sauvignon IX Estate (Napa Valley)

With complex aromas filled with smoke, oak, blueberry, wood, blackberries and spice, on the palate, the texture is lush, polished, rich and deep. The concentrated, long finish is packed with sweet, jammy, black cherry and licorice.

5,714 Views

Tasted

Dec 11, 2012

Decadent layers of black and blue fruit coat your palate and the complex array of aromatics grabs your attention as well. Thick, rich, dense and balanced, this is a serious expression of California Cabernet.

3,541 Views

Tasted

Sep 16, 2005

2002
Colgin Cabernet Sauvignon Herb Lamb (Napa Valley)

This is what decadent ripe, California fruit is all about. Very rich, incredibly concentrated with endless layers of soft, deep, opulent, sweet fruit. The explosive perfume was intoxicating! This drinks perfect today.

3,321 Views

Tasted

Feb 10, 2006

2002
Colgin Syrah IX Estate (Napa Valley)

Big, juicy, fat, rich and concentrated with layers of sweet, ripe fruits. Lush and long, the wine has at least another 10 years of pleasure to go. Popped and poured was the way to go.

2,838 Views

Tasted

Jul 27, 2015

Beautiful, full throttle style of Syrah. It's already open for business with its lush qualities and layers of ripe, peppery, juicy Syrah.

2,537 Views

Tasted

Sep 20, 2005

2001
Colgin Cabernet Sauvignon Tychson Hill Vineyard (Napa Valley)

Deep in color with a powerful nose filled with spice, licorice, earth, black and blue fruit, caramel, oak and smoke. The wine offers intense purity of fruit, silky textures and an opulent, fresh, sweet, ripe finish. Everything is in perfect balance and harmony.

4,732 Views

Tasted

Dec 11, 2012

2001
Colgin Cariad (Napa Valley)

This is just great. It has the perfect amount of intensity, weight and density without being too much. Elegantly balanced between its countless layers of concentrated, lush, black fruits, and refinement, the intensely concentrated, wine tastes and feels great as it coats every nook and cranny of your palate.

2,799 Views

Tasted

Sep 12, 2020

The wine pops with a sweet, fresh, smoked cherry tobacco aromatic that is complicated by black cherry, cassis, earth and oyster shell. On the palate, the wine is lush, sensuous, rich and deep, ending with a fresh, precise, black cherry finish. The fruit offers a beautiful sense of purity along with opulent textures. This is a beautiful expression of California wine.

4,168 Views

Tasted

Dec 11, 2012

1999
Colgin Cabernet Sauvignon Herb Lamb (Napa Valley)

Incense, spicy black cherries, smoke, caramel, black and black fruit with a soft, round, finish, which is marred by a touch of heat and dryness on the back end.

4,006 Views

Tasted

Dec 10, 2012

The wine displayed notes of fresh picked blackberries, oak, cassi, licorice and earth. This full bodied, soft textured wine was marred by a slight bitter note in the finish.

2,277 Views

Tasted

Apr 15, 2006

1997
Colgin Cabernet Sauvignon Herb Lamb (Napa Valley)

Smoke, espresso bean, caramel, barbecue, blackberry, cherries and earthy scents are all over the place. In the mouth, the wine is full bodied, rich and intense, with a plush textural sensation. The only minor drawback is a minor a note of dryness in the cherry finish.

2,894 Views

Tasted

Sep 23, 2015

Smoke, coffee, licorice, fresh coffee beans, blueberries, blackberries and chocolate aromas mane up the powerful aromas. Silky, elegant and rich, the wine coats your mouth with layers of fruit that feels like it was polished with velvet cloth before being crushed.

3,097 Views

Tasted

Mar 9, 2011

1996
Colgin Cabernet Sauvignon Herb Lamb (Napa Valley)

Silky, polished, elegant, fresh, lush, sensuous, ripe, fresh and pure, what more can I say? At 20 years of age, this is drinking great today.

4,330 Views

Tasted

Dec 9, 2015

With a nose of pepper, jammy black raspberries, fresh herbs, stone, oak, incense, and licorice, the wine feels soft on the entry, but there is a minor sensation of dryness to the otherwise, concentrated, lush, ripe, fruit filled finish.

4,564 Views

Tasted

Dec 10, 2012

1995
Colgin Cabernet Sauvignon Herb Lamb (Napa Valley)

Fully mature, soft textured, elegantly styled, with ripe, sweet, deep red fruits from start to finish. However, with time, the herbal character of the vineyard has become much more predominant in the nose and finish.

3,506 Views

Tasted

Jul 8, 2021

Still going strong at 22 years of age, this is only example that shows how well the new age of California Cabernet Sauvignon can age. Full bodied, and concentrated, the ripe, sweet intense, dark red fruits, luscious textures and liberal dose of chocolate, boysenberry, licorice, tobacco and earth in the end really lingers.

2,472 Views

Tasted

Apr 14, 2017

Spicy, smoky, oaky, silky, soft, polished and overtly woody, this is not holding up as well as most other vintages of Colgin, which usually age much better.

2,946 Views

Tasted

Dec 9, 2015

This rich, deep, opulently textured wine displayed cassis, dark berries, licorice, chocolate and a moderate sensation of dill, coupled with with herbaceous notes in the aromatics. According to Ann Colgin, the dill aromas are from Herb Lamb Vineyard and not from the barrels, as Colgin uses 100% new French oak. This full bodied, lush wine is probably at its peak and should be consumed sooner than later.

3,369 Views

Tasted

Apr 21, 2005

1994
Colgin Cabernet Sauvignon Herb Lamb (Napa Valley)

Pepper, flowers, cherry and dill in the nose open to a soft, polished, silky, sweet, fresh wine. This delivers a licorice, vanilla and opulent, sensuous, rich, sweet, dark cherry finish that really lingers.

2,534 Views

Tasted

Mar 3, 2014

Black and blue fruit, caramel, smoke and floral aromas lead to a round, wine with mature textures and a ripe, sweet, fleshy, jammy berry finish.

3,098 Views

Tasted

Dec 10, 2012