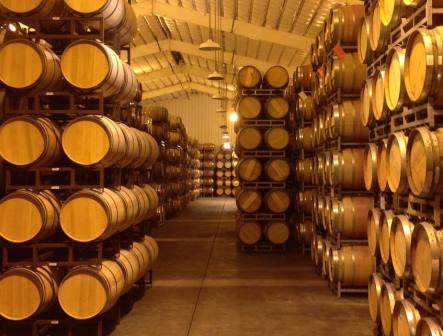 Caymus Vineyards, California Cabernet Sauvignon wine producer profile, wine tasting notes, wine and food pairing tips, best vintages, history of the property, information on their wine making techniques, terroir and soil. You can also read about the Grapes used for California wine and learn about the extensive History of Napa Valley, California Wines
Caymus History, Overview
Caymus Vineyards and the Wagner family both have a long history in the Napa valley area. The Wagner family moved to the area in 1906, following the San Francisco earthquake. They started planting planting vineyards that same year in the Rutherford appellation. By 1915, they were growing their own grapes for use in bulk wines. In 1941, before America entered World War 2, the Wagner family bought 73 acres of prime vineyard land in Rutherford. It took over 20 years before they were able to truly start seriously planting grapevines. Prior to being planted with Cabernet Sauvignon and Pinot Noir, the land they bought had been used primarily as a fruit ranch.
1972 saw the official debut of Caymus Vineyards. Caymus Vineyards took its name from the original Mexican land grant awarded during the 19th century in the Rutherford section their vines were planted in. Just three years later, Caymus Vineyards became one of the first wineries to produce a California Cabernet Sauvignon made from a special selection. The wine is produced from a selection of the estates best parcels located in Rutherford. Due to the selection process for the wine, it was logically called, Caymus Special Selection.
They did this with the help of Randy Dunn, who later formed his own, eponymous winery. In fact, the creation of Caymus Special Selection was due to suggestions from Randy Dunn. At first, Caymus Special Selection was aged up to 4 years in a combination of new and old, French oak barrels. Today, more new oak is used, up to 90%, but the aging time has been reduced to an average of 18 months.
Caymus Special Selection remains a high quality wine, with a soft, elegant, yet ripe and rich quality. The wine has had its up and down period, but starting with the 2007 vintage, the wine is back on track.
Caymus Vineyards Wines, Winemaking
.
From 60 acres of vines in Rutherford, Caymus Vineyards produces Cabernet Sauvignon, Caymus Special Selection, Conundrum, Sauvignon Blanc and Zinfandel. They also produced Pinot Noir for a few short years, but that grape variety is no longer used by Caymus. Much of the non Cabernet Sauvignon wines are produced from fruit purchased from other growers.
In 2013, Caymus vineyards added 178 more acres to their holding in Northern California. To handle the increased production, Caymus is building a new, massive wine making facility and storage area in Fairfiled California, where at least 33% of their wine will be produced and bottled. This adds to their operations in Santa Lucia Highlands for Conundrum, Mer Soleil and Silver, along with their labels Belle Glos and Meomi, which are made in their Rutherford location.
Serving and Decanting Caymus with Wine, Food, Pairing Tips
Caymus wines are best served at 15.5 degrees Celsius, 60 degrees Fahrenheit. The cool, almost cellar temperature gives the wine more freshness and lift. Young vintages of their red wine can be decanted for 1-3 hours, depending on the character of the vintage. This allows the wine to soften and open its perfume. Older vintages might need very little decanting, just enough to remove the sediment.
The red wine of Caymus Vineyards is best served with all types of classic meat dishes, veal, pork, beef, lamb, duck, game, roast chicken, ribs, hamburgers, barbecue, roasted, braised, grilled dishes and stews. Caymus is also good with Asian dishes, hearty fish courses like tuna, salmon, mushrooms and pasta.
The white wine of Caymus Vineyards is best served with all types of seafood and shellfish, sushi, sashimi, chicken, veal, pork and cheese.
Caymus Vineyards is a massive operation that produces close to 200,000 cases of California each vintage for all their wines. The production from Napa is much smaller at closer to 30,000 cases per year.
Caymus Wine Tasting Notes
21 Vintages 185,323 Views Sort by Vintage-Rating
2012
Caymus Cabernet Sauvignon Special Selection (Napa Valley)

With a nose packed full of oak chocolate, boysenberries and licorice, the wine is full bodied, lush, forward and hard not to like. I'm sure this will age well, but if you them young and you're in the mood, you can pull a cork for pleasure now.

6,667 Views

Tasted

Apr 20, 2015

2011
Caymus Cabernet Sauvignon Special Selection (Napa Valley)

This will be one of the true stars of the vintage with its sexy, silky style, fresh, ripe, black raspberry character and long, clean, fresh and refreshing finish.

7,589 Views

Tasted

Nov 16, 2013

2011
Caymus Cabernet Sauvignon (Napa Valley)

Forward, medium bodied, soft, polished, but light and focused on the red berry side of the spectrum. Drink this on the young side.

7,494 Views

Tasted

Nov 16, 2013

2010
Caymus Cabernet Sauvignon Special Selection (Napa Valley)

Caymus Special Selection remains one of the top producers of the supple side of the style range in Napa. The wine is polished, soft and elegant. But it's not light. It's packed with spicy black and red berries, vanilla, smoke, caramel and blackberries and ends with a long, pure, silky finish.

11,867 Views

Tasted

Oct 17, 2012

2010
Caymus Cabernet Sauvignon (Napa Valley)

Black and blue fruits, coffee bean and earth scents open to a forward, rich, accessible wine that ends with a wave of ripe, jammy berries and licorice.

9,099 Views

Tasted

Oct 15, 2012

2009
Caymus Cabernet Sauvignon Special Selection (Napa Valley)

Oak, licorice, blackberry jam and cassis open to a classic, silky, plush, polished, forward expression of California Cabernet Sauvignon.

9,787 Views

Tasted

Dec 25, 2012

Refined, elegant example of California Sauvignon that offers soft, ripe blackberry, vanilla, earth and plums with soft tannins, medium body and no sensation of overripe fruits. Very polished style of wine.

13,679 Views

Tasted

Apr 30, 2012

2008
Caymus Cabernet Sauvignon (Napa Valley)

Dark in color, with vanilla, chocolate, black cherry jam, blueberry and coffee scents are easy to find in the perfume. This rich, concentrated ripe, low acid, lush wine is already offering a lot of sweet, jammy pleasure. However, this Cabernet Sauvignon based wine is not for the oak averse.

9,141 Views

Tasted

Aug 11, 2011

2007
Caymus Cabernet Sauvignon Special Selection (Napa Valley)

From 100% Cabernet Sauvignon, this polished, suave, approachable style of California Cabernet is filled with layers of ripe, plush, sweet, black and blue fruits, licorice, vanilla, cocoa and cigar box. Caymus Special Selection continues to bridge gap between very ripe, concentrated Napa wines and more traditional styled California wines.

9,263 Views

Tasted

Feb 7, 2012

2002
Caymus Cabernet Sauvignon Special Selection (Napa Valley)

Silky, smooth, round and graceful, the wine serves up juicy, sweet, ripe berries, black cherry, brown sugar and mint notes. Popped and poured, this was showing great.

4,112 Views

Tasted

Nov 10, 2014

Poised, polished style with layers of elegant, soft, blackberry, cassis, earth and chocolate covered cherries. Round, open and delivering pleasure, this is drinking perfectly today.

5,856 Views

Tasted

May 1, 2012

1997
Caymus Cabernet Sauvignon Special Selection (Napa Valley)

Fully developed, the wine is soft, smooth and polished, medium bodied and on the bright, but still sweet, red cherry side of the style range. There is no reason to age this any longer.

3,872 Views

Tasted

Sep 23, 2015

1996
Caymus Cabernet Sauvignon Special Selection (Napa Valley)

A nice example of California Cabernet drinking at maturity, the wine is medium bodied, soft, warm and polished, with a tobacco and bright dark cherry profile.

3,115 Views

Tasted

Jul 26, 2014

1994
Caymus Cabernet Sauvignon Special Selection (Napa Valley)

Smoky, floral and spicy, the silky, soft, plush sweet cherries that cross your palate leave a nice lasting impression.

3,734 Views

Tasted

Mar 3, 2014

Fennel, forest floor, tobacco, blackberry, smoke and cassis scents, full bodied and concentrated, this elegant example of California Cabernet delivers a refined, cassis and black cherry finish. This is drinking perfectly today. There is no reason to wait to pop a cork.

6,617 Views

Tasted

Mar 13, 2012

1994
Caymus Cabernet Sauvignon (Napa Valley)

Fully mature, this great style of Napa wine delivers soft, sweet, plums, black cherry, earth and smoky notes. On the palate, the wine is medium bodied with a feeling of finesse in the fruit and on the palate.

3,183 Views

Tasted

Mar 4, 2014

1991
Caymus Cabernet Sauvignon Special Selection (Napa Valley)

Just a great example of a classic California Cabernet Sauvignon here. The wine combines polish, elegance, freshness, complexity and layers of sweet, ripe, earthy, dark red fruits, chocolate, earth and licorice. This is fully mature, yet capable of last for at least another decade.

6,489 Views

Tasted

Jun 5, 2018

Licorice, vanilla, chocolate mint, sweet blackberry and earthy aromas, silky, soft, lush textures and a medium/full bodied, round cherry and cassis finish. This is a really nice, style of mature California Cabernet. This was popped and poured. I would not decant this, nor would I age it further.

7,533 Views

Tasted

Oct 6, 2012

1990
Caymus Cabernet Sauvignon Special Selection (Napa Valley)

Drinking in its sweet spot, the wine is elegant, fresh, soft, balanced and complex. The deep red fruits are ripe, polished and show sweetness, length and complexity.

5,086 Views

Tasted

Jun 5, 2018

1990
Caymus Cabernet Sauvignon (Napa Valley)

Fully mature, this great style of Napa wine delivers soft, sweet, plums, black cherry, earth and smoky notes. On the palate, the wine is medium bodied with a feeling of finesse in the fruit and on the palate.

4,613 Views

Tasted

Mar 3, 2014

1986
Caymus Cabernet Sauvignon Special Selection (Napa Valley)

1986 Caymus Special Selection offered an interesting nose with earthy, chocolate, cherry and cassis aromas. In the mouth, the wine was tart, bordering on lean and ended with a drying sensation.

3,991 Views

Tasted

Oct 13, 2010

1984
Caymus Cabernet Sauvignon Special Selection (Napa Valley)

Still nice, but not displaying the layers of soft, ripe, cassis and blackberry tasted in previous tastings, the wine offers coffee, licorice, smoke, earth, cassis, truffle and dark berry aromas. A bit on the austere side, the wine finishes with slight tart, cherry, cassis and cranberry. Drink up.

9,426 Views

Tasted

Mar 13, 2012

1978
Caymus Cabernet Sauvignon Special Selection (Napa Valley)

Tobacco, cranberry, earth, smoke and forest floor aromas open to a fully mature California Cabernet Sauvignon. This soft textured wine is slowly running out of steam as the fruit has started to fade. Drink up.

8,341 Views

Tasted

Oct 29, 2011

1978 Caymus Special Selection is filled with tobacco, earth, truffle, chocolate and cassis flavors. Still powerful, but with a rustic, austere sensation in the style.

7,585 Views

Tasted

Oct 14, 2010

1977
Caymus Cabernet Sauvignon (Napa Valley)

1977 Caymus was tart and starting to dry out. It's holding on to life by a thread. If you have a bottle in the cellar, drink it sooner than later.

7,652 Views

Tasted

Oct 17, 2010

1976
Caymus Cabernet Sauvignon Special Selection (Napa Valley)

1976 Caymus Special Selection offers cherry pipe tobacco aromas, earth and hints of cassis. Full bodied and filled with fruit, the wine ends with sweet, dark chocolate and black cherry flavors.

9,532 Views

Tasted

Oct 13, 2010