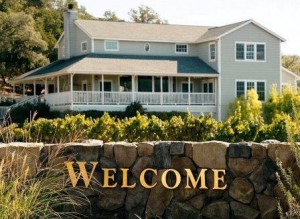 Everything about Arrowood Winery, Sonoma Coast California, wine producer profile, wine tasting notes, wine and food pairing tips, best vintages, history of the property, information on their wine making techniques, terroir and soil. You can also read about the Grapes used for California wine and learn about the extensive History of Napa Valley, California Wines
Arrowood Winery History, Overview
The Arrowood Winery was founded in 1986 by Richard Arrowood and Alis Arrowood. By this time Richard Arrowood was already quite experienced in the wine industry. Dick Arrowood had learned about the wine business with stints at Korbel and Chateau St.Jean in Sonoma before creating his own, self named winery. The Arrowood winery first came to prominence for their single vineyard Chardonnays. While wine production was already quite popular in Napa, especially with Cabernet Sauvignon, that was not the case in Sonoma. Arrowood winery changed that, once they began producing top flight Cabernet Sauvignon wines in Sonoma, especially with their popular Reserve wine. Arrowood was also one of the early pioneers in Sonoma making vineyard designated Chardonnay. The estate made its debut with the 1987 vintage. In 2000, Arrowood Winery was bought by the Mondavi family.
Following the purchase of the estate, the wines seemed to have lost some of their quality and interest from consumers. Arrowood was later purchased by Jess Jackson. The estate is currently managed by its namesake, Richard Arrowood.
Over the years, they have continually expanded their vineyard holdings. Today, the estates owns vines in several appellations Russian River, Dry Creek, Alexander Valley, Knights Valley and Carneros. Combined, they produce more than 20,000 cases per vintage.
Arrowood Vineyards, Wines, Winemaking
From their terroirs, Arrowood produces a plethora of wines from a diverse array of grapes are produced included Cabernet Sauvignon, Syrah, Merlot, Malbec, Riesling and of course Chardonnay. They were one of the first wineries to produce a wine dominated by Malbec in California. During the mid 1990's perhaps the best Syrah in California was produced by Arrowood. At close to 20 years of age, their Saralee Vineyard Syrah remains a sublime wine.
Serving and Decanting Arrowood with Wine, Food, Pairing Tips
Arrowood is best served at 15.5 degrees Celsius, 60 degrees Fahrenheit. The cool, almost cellar temperature gives the wine more freshness and lift. Young vintages can be decanted for 1-3 hours, depending on the character of the vintage. This allows the wine to soften and open its perfume. Older vintages might need very little decanting, just enough to remove the sediment. Arrowood is best served with all types of classic meat dishes, veal, pork, beef, lamb, duck, game, roast chicken, ribs, hamburgers, barbecue, roasted, braised, grilled dishes and stews. Arrowood is also good with Asian dishes, hearty fish courses like tuna, salmon, mushrooms and pasta.
The white wine of Arrowood is best served with all types of seafood and shellfish, sushi, sashimi, chicken, veal, pork and cheese.
Arrowood Wine Tasting Notes
7 Vintages 32,128 Views Sort by Vintage-Rating
2013
Arrowood Cabernet Sauvignon Réserve Spéciale (Sonoma Valley)

Produced from 100% Cabernet Sauvignon, this stylish, concentrated, lush, round, soft wine serves up its, juicy, sweet, fresh, dark fruits with ease. The finish leaves you with layers of dark red fruits, vanilla, herbs, black cherry and thyme.

3,008 Views

Tasted

Nov 25, 2017

2013
Arrowood Proprietary Red Blend (Sonoma Valley)

Medium bodied, earthy and fresh, with more red than black fruit. There is a lot of vibrancy to the red berry notes in the finish here. This is ready to drink on release.

3,209 Views

Tasted

Nov 25, 2017

2013
Arrowood Cabernet Sauvignon (Knights Valley)

Medium bodied, correctly made, with an oaky, red berry character, that leaves you with crisp, red fruits in the finish. This is ready to go.

2,886 Views

Tasted

Nov 25, 2017

1997
Arrowood Syrah Saralee's Vineyard (Russian River Valley)

Ruby colored with light edges. Scents of jammy, black fruits, pepper, earth peach and tropical aromatics filled the glass. Dense, full bodied, lush fruit, fills your mouth. Very concentrated. Beautiful finish, from start to finish. Great Cote Rotie ringer.

3,031 Views

Tasted

Aug 10, 2009

Filled with dark, sweet, ripe fruit with, licorice, floral, boysenberry, orange peel, coffee and blueberry aromas. Still young, this wine competes with Sine Qua Non in the same vintage and it is probably a better wine.

3,075 Views

Tasted

Jun 30, 2009

Perfectly balanced with layers of black fruit, spice and floral aromas. Full bodied, concentrated, multilayered, plush, rich, complex juice with an elegant finish. It's a shame Arrowood sold the winery because it slid rapidly downhill after the 97 vintage.

2,011 Views

Tasted

May 12, 2005

1997
Arrowood Cabernet Sauvignon Réserve Spéciale (Sonoma County)

Even though this is starting its decline, there is still a lot to like about the fresh, crisp red fruits, earth and tobacco character and soft textures.

5,628 Views

Tasted

Sep 23, 2015

Charming style of Sonoma Cabernet Sauvignon with earth, spice, wood, blackberry and forest scents. Medium/full bodied and filled with fresh, cassis, spice and black cherries in the finish.

3,717 Views

Tasted

Oct 5, 2012

1996
Arrowood Syrah Saralee's Vineyard (Russian River Valley)

At 20 years of age, this is still a beauty. Fresh, vibrant, complex, soft and filled with ripe, sweet, spicy fruits, this is a perfect wine to serve blind to your friends. And if you're able to find a bottle with good provenance, it sells for a song!

2,263 Views

Tasted

Jan 29, 2016

1994
Arrowood Cabernet Sauvignon Réserve Spéciale (Sonoma County)

Smoke, incense, caramel, earth and spicy, dark berry aromas lead to medium bodied, finesse styled wine that ends with a light cherry note with a touch of olive and herbs in the finish. This is fully mature and requires drinking.

3,300 Views

Tasted

Mar 3, 2014