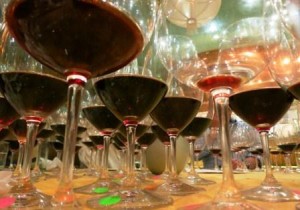 When 7 Blind Men meet for our blind tastings and dinner, all the members of the group know, anything can happen and often does.  The wines are generally pulled from the members cellars and reflect their interests. Generally speaking, more often than not, we enjoy Bordeaux.  But other wines make appearances as well.   For fun and to keep everyone on their toes when tasting blind, group members have been known to add a flight that would not be characteristic of their collection. However, as I was the host of the night and responsible for the evenings wine choices, my surprises were limited to the whites.  I am not sure the group members believed I had any in my cellar. So that allowed things to get off to a good start.
Part of the fun when blind tasting is of course, seeing if you can find the wine.  More importantly, at least to me, did you like the wine? Did you recognize the same qualities when tasting blind, as you did when you knew the wines identity?  If you bought the wine before, were you happy with your purchase? Do you want to buy more?  Or is it sell, Mortimer, sell!
All that and more was answered when we met at Chionis in Santa Monica. I included a list of the courses served and paired with the wines. I realize that perhaps, these were not the best pairings. But over the years, I've become less worried about the pairings than the wines I'm tasting and people I am sharing the wines with. While this is heresy to many people, the best wine and food pairings are when you're drinking wines you like, with food you like. I know it's simple, but that's how I see it. Wine and food pairing is not about the art, or science. It's about the pleasure.
To get the evening started off, we quickly went through a Champagne and white wine flight, before jumping into the reds.
1996 Dom Perignon is a mineral driven, Champagne with complicated notes of bread, citrus peel, lemon, floral and nut aromas.  Rich, creamy and soft, the wine is more open, offering a lot more pleasure than it did, just a few years ago. 96 Pts
Flight #1  – White Burgundy
Tempura ahi tuna sashimi with fresh uni sauce
Sizzling calamari and rock shrimp salad served in a won ton cup
2002 Raveneau Butteaux – Squeeze fresh, ripe, Meyer lemon juice over rocks, add cold steel with a liberal dose of acidity and you get an idea of what this, concentrated, youthful vintage of Raveneau is like. 93 Pts
2002 Louis Latour Chassange Montrachet Les Caillerts offers butter, nuts, lemon, apple, pear, stone and floral notes, rich textures and an apple and citrus filled finish.  92 Pts
Flight # 2 … 1964 Graves, with a ringer tossed in for fun.
Halibut with Santa Barbara Prawns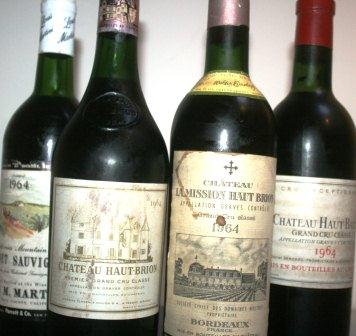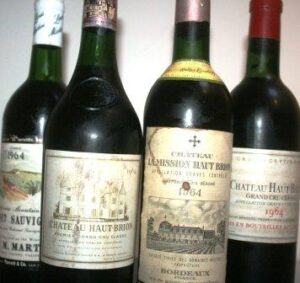 1964 Chateau Haut Brion – Light in color with smoke, tar, earth, tobacco and sweet, red berry nose.  Medium bodied with soft, delicate, spice filled, strawberry and cherry finish.  This is on the downside of life and requires consumption. 90 Pts
1964 Chateau La Mission Haut Brion offers a blend of black cherries, cassis, spice, earth, cigar box and truffle scents.  This old school wine is some rough edges to the texture.  While it shows slightly more depth than the 1964 Haut Brion, the wine is not going to improve. 91 Pts
1964 Chateau Haut Bailly – Light in color and concentration, the wine is dominated by red berries, spice, earth and smoke. Medium bodied and elegant in style, the wine is starting to drop its fruit and is becoming slightly more acidic. 89 Pts
1964 Louis Martini Cabernet Sauvignon was not showing as well as previous bottles.  Shrill, bright and acidic, with a cranberry dominated personality, drink up. 80 Pts
Flight 3 This flight was added at the last minutes because my father, Don Leve was able to join us.  Following the ancient rule, honor thy father, I did, by popping a bottle of Bordeaux from his birth year!
Whole sizzling catfish with ginger and ponzu sauce
1934 Chateau Palmer was a thrill to sniff and sip.  As it rapidly approaches its 80th birthday, it's a chance to taste bottled history. 1934 offers a more personal connection for me, as it's my father's birth year and he was able to enjoy the wine.  Smoke, tobacco, gentle floral scents, cherry, earth, truffle, cigar box and spicy, dark red berries kept you interested in the glass.  With silk and velvet textures and a refined, soft palate feel, the wine ended with sweet, ripe cherries, earth and spice.  The more wines I taste from 1934, the more I think the vintage is underrated. 92 Pts
Flight #4 – Pomerol Goes Vertical
Roasted Cantonese duck with fresh plum sauce and steamed bao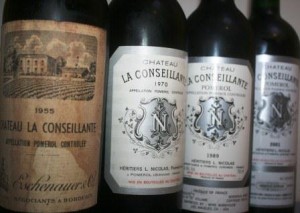 1955 Chateau La Conseillante faded far too fast in the glass.  Medium bodied, plummy, with earth and tobacco aromas, the wine did not have the stuffing to stand up the much air once it was poured.  Drink up. 87 Pts
1970 Chateau La Conseillante – This was my first time tasting this vintage of La Conseillante. If I had more, it would not be last.  It was showing more fruit and freshness than I would have anticipated. Plummy, lush, round, textures, floral aromas with hints of cocoa and a soft, polished, fruit filled finish are found in well stored bottles of this wine. 92 Pts
1989 Chateau La Conseillante was the first Bordeaux wine I purchased by the case. I remember those early days in the mid 1990's, when the wine was stacked from the floor to ceiling and was priced at a whopping $40 per bottle!  While this is close to fully mature, the wine still delivers lush, opulent, sensuous textures, licorice, plum, chocolate and plum fragrances and a finish that offers a beautiful sense of purity, freshness and velvet.  There is no hurry to drink it, but I doubt it's going to improve. 95 Pts
2001 Chateau La Conseillante is not about power, it's about finesse. But La Coinseillante is never about power.  With lush, soft, elegant textures, a nose of chocolate covered plums, black cherries, flowers and truffle, this is drinking perfectly today. 92 Pts
Flight #5 1982 Pauillac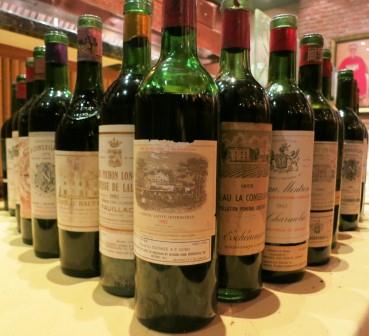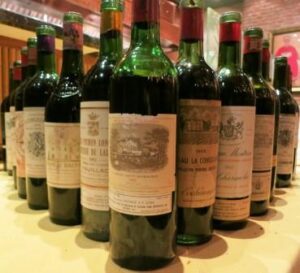 Grilled lamb chops with cilantro vinaigrette warm potato salad
1982 Lafite Rothschild showed better than expected, considering that this wine has never lived up to its potential, based on the early raves from critics.  Still not fully mature, the cassis, cedar wood, cigar box, earth and gravel scents were right where they should be, but fireworks never exploded.  Should rockets have gone off?  For this much money, that is the least that should take place.  Instead, you enjoy a quality, slowly maturing Pauillac with an understated character.  There is no hurry to drink the wine as there is ample structure and ripe tannins to allow for decades more of evolution.  95 Pts
1982 Pichon Lalande remains the most consistent and stunning representative of the vintage.  If you're seeking opulent, sexy, lush, silky textures, complex aromas with truffles, forest floor, cassis, blackberry, olives and cigar box with a finish that lasts close to a minute, this is the wine to buy. From the day this majestic elixir was bottled, some tasters claimed it would not last.  Not only has it lasted, it continues to improve. 98 Pts
1982 Pichon Baron is one of those wines that is all about the bottle. This bottle was better than most with its tobacco, cedar wood, lead pencil and cassis notes that screamed Pauillac.  It was not refined, and there was a touch of austerity in its character, but it offered a lot of charm. Fully mature, further time in the cellar is just pushing your luck. 91 Pts
Flight # 6 Multiple Decades of St. Estephe
Rare Grilled Szechuan beef with spicy shallot cilantro sauce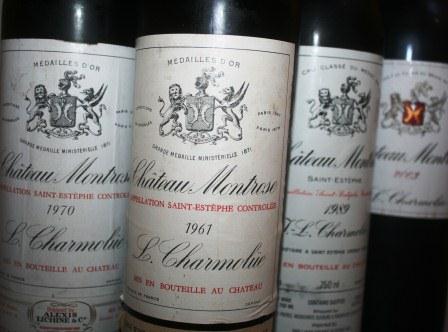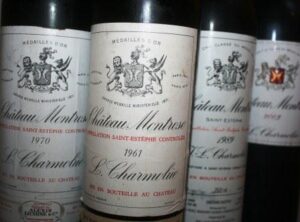 1961 Chateau Montrose must have been a monster when it was bottled because it's still massive, concentrated and tannic. The nose is pure, mature Medoc wine, with its lead pencil, spice, cassis, earth and tobacco personality.  The tannins are a bit rough around the edges, but the wine offers a lot of pleasure and old school Bordeaux style that is hard to find these days.  I'm sure this has at least another 15-20 more years to go. 93 Pts
1970 Chateau Montrose is an austere, lean, hard style of Bordeaux with a tannic, tough, cassis, cedar , forest floor and cigar filled personality. There is no hurry to drink this. But I doubt it's going to improve much from here. This was more interesting in the nose than the palate. 90 Pts
1989 Chateau Montrose is so good, it's close to being off the charts! Not only is this a stunning wine, it's remarkably consistent as well. Licorice, espresso, cassis, jammy blackberry, earth, truffle, smoke, cigar box and stone aromas grab you. But it's the waves of fresh, intense, expansive fruit and spice that remain on your palate for close to 60 seconds that you know, this is what great Bordeaux is all about.  This wine is often compared to the 1990 Montrose.  This is almost as good, or even better if you like, and it sells for a fraction of the price.  This can be enjoyed today or aged for 30 to 50 more years! 98 Pts
2003 Chateau Montrose hooks you with the first sniff of its exotic, liqueur aromas complicated by wet earth, incense, blackberry jam, cassis, cedar wood, tobacco and truffle.  This is so rich, you can drink it or eat it. The ripe tannins are incredibly silky and lush. The expansive, palate coating finish gets better and better as it remains on your palate for over 60 seconds.  This is worth buying today.  While it's not cheap, few wines are this good. 99 Pts
Flight # 7  – You're 50 years old today!
Shanghai lobster with curry sauce and crispy spinach
1962 Chateau Margaux was not the star of the show.  It was of a fading star. Its fruit was fading along with its charm.  Earthy, smoky, tobacco and cranberry were most of what remained.  80 Pts
1962 Chateau Palmer shows that Palmer was clearly on target in the 1960's.  With a nose filled with truffle, tobacco, plum, earth, cedar and spice box scents, there was a nice sense of refined, silky elegance in the wine. More than fully mature, It began to fade in the glass after 10 – 15 minutes.  But it was a very nice 10 to 15 minutes. 90 Pts
1962 Chateau Grand Puy Lacoste offered a rustic, cassis, tobacco and earthy profile.  However, the wine is clearly slowly, fading and requires drinking in the immediate future. 85 Pts
Flight # 8 – Civilized dinners should end with something sweet… Perhaps a Sauternes/Barsac?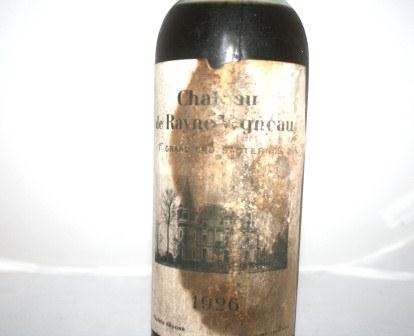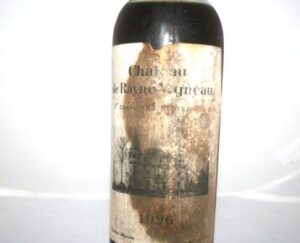 1926 Chateau Rayne-Vigneau was more alive than Julius Caesar, but not by much.  Murky in color, with very little discernible fruit, there was not a lot of pleasure in this overly acidic wine. If this wine was a person, we would have called 911, hoping to revive it before it was too late.  70 Pts
What a great night of wine, food, fun and most importantly, friends. It took me a while to recover.  It also took me a while to write this up.  I guess I was inspired because there is a 7 Blind Men dinner coming up Thursday night!  I cannot believe I have the beginnings of a cold.  However, I am a trooper. There are witnesses to the night I blended a pack of Theraflu with 1985 Dom Perignon. The Dom, Theraflu and I were all a little bit better for it! There are witnesses to other events, but I'll disclose those at a later date…