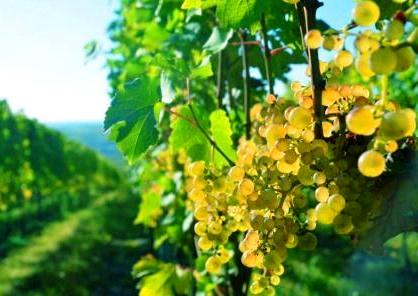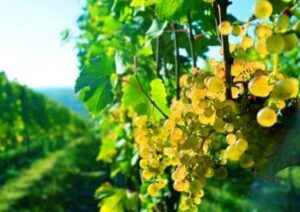 The 2011 German Wine Report was written by Martin Zwick
The 2011 German wine vintage blends quantity and quality. In fact, the 2011 German wine vintage produced wines that are marked by harmony and impeccable balance. The 2011 German wines offer a subtle ripe acidity rather than the electricity-generating acids found in the 2010 vintage and most importantly they are easy to understand and offers huge drinking pleasure. Especially the basic wines will provide truly lovely drinking right from the outset.
"The size of this year's crop was also right on target – sufficient to replenish depleted cellar stocks after the very small harvest in 2010. Given the potential of the new vintage, VDP growers particularly look forward to monitoring the development of their wines from their finest, Erste Lage sites. As in 2010, this year's growing season was subject to capricious weather conditions. Summer-like weather in spring led to an extremely early blossoming, followed by night frost in numerous regions in May, and too much rainfall in July. Nevertheless, grapes ripened quickly and early this year, and preliminary harvesting began earlier than ever. Yet, growers were able to delay their main harvest until well into October thanks to the beautifully warm, sunny weather that set in during September. In all, the erratic weather throughout 2011 led to enormous differences among and within regions, vineyards, and even parcels. Nevertheless, with vintage 2011, VDP growers once again have wines in their cellars that meet their high quality expectations and nicely complement their portfolios.
The harvest has basically ended, and a thoroughly unique vintage of especially high quality is fermenting in the cellars. With few exceptions, the grapes were in very good condition when they were picked. All varieties profited from the magnificent autumn weather – it decisively contributed to the ultimately good outcome of the 2011 harvest. Premature onsets of botrytis and/or other rot could be promptly eliminated through a preliminary harvest. When the harvest first started, growers were quite worried, skeptical, and tense about this year's vintage. Yet, the extended period of good weather and concomitant opportunity for grapes to continue ripening alleviated their fears and restored confidence in being able to produce truly great wines from fully ripened, healthy grapes. Selective harvesting by hand is routine for VDP growers, and was particularly crucial this year to ensure that the crop remained healthy. By doing so, grapes in the finest sites could be picked that are suitable for producing dry as well as lusciously sweet wines. Regardless of region or varietal, Oechsle readings averaged from a very satisfactory 85 to 100+ degrees, and at the end of the harvest, some estates were even able to gather grapes with more than 300 degrees Oechsle for rarities, such as Trockenbeerenauslese.
The dry Indian summer also fostered the development of aroma compounds in all varietals, which captivate with their juicy, spicy, fruity, and harmonious character. At this time,
grape
musts are extremely clear-cut, and show a play of fine fruitiness with rich aromas and mineral notes. This vintage is marked by regional differences in acidity profiles, with some regions registering a harmonious ratio between natural sweetness and acidity right from the start; others, with acidity levels ranging from high to low. However, proficient acidity management techniques, particularly with the early ripening varieties, will bring forth pleasantly light wines with an alcohol content of up to 12 percent by volume.
Not only is the quality of vintage 2011 quite respectable compared with earlier years, but also the volume. Growers are grateful for that. Yields averaged ca. 50 ha/hl, even higher in regions spared from frost and storms, with an overall (preliminary) result of ca. 80% of an average year and considerably more than in 2010. The bottom line: Mother Nature provided the prerequisites needed for a good vintage." VDP
Overview of the 2011 German wine vintage
I had the chance to attend the VDP-GG-Vorpremiere in Wiesbaden at the end of august and VDP presentations beginning of september in Berlin. Based on these tastings I will recommend several favourite Dry Grand Cru Rieslings "Grosses Gewächs" (GG) and in addition some newcomers I discovered during the year. Bottom-line, the region Nahe&Rheinhessen presented the Best Dry Rieslings of the vintage 2011.
"2011 was a vintage where it made much more sense to select for acidity, rather than ripeness, as the grapes were in such beautiful shape, but one had to make sure that one brought in the grapes before the acids started to fall at the end of the season." KP Keller
Year in and year out, the region Nahe presents some of the best dry Rieslings of the vintage. The estate Dönnhoff presented the best dry Rieslings of the estate ever, such elegant&polished. I strongly recommend "Hermannshöhle", Felsenberg "Felsentürmchen" and "Dellchen". The estate Emrich-Schönleber has an outstanding mineral-driven "Halenberg" and a sublime, finesse-driven "Frühlingsplätzchen". The estate Schäfer-Fröhlich and its master of spontenous-fermentation Tim Fröhlich presented for several journalists and Riesling-lovers one of the best Rieslings of the vintage. "Felseneck", Felsenberg" and "Halenberg" are wild&razor-sharp Rieslings with tremendous finesse and minerality. "Felseneck" was also winner of the "Berlin Riesling Cup". The suprise of the region Nahe was the estate Diel, the winemaker Caroline Diel made a huge step forward. Her "Pittermännchen"and "Burgberg" were brilliant. Worth to watch the estate Kruger-Rumpf and the newcomer Andi Schneider from the estate K.H. Schneider.
The same with the region Rheinhessen also every vintage with the most Rieslings in the Top 10. The estate Keller has the Best Dry Riesling of the Vintage in its portfolio with "Abtserde". Abtserde will be released next spring. I was also very impressed by its "Kirchspiel" and "Pettenthal" . As usual the estate Wittmann is a strong contender, "Brunnenhäuschen"was magic and "Morstein" also worth considering. The winemaker HO Spanier responsible for the estates Battenfeld-Spanier and Kühling-Gillot presented with "Schwarzer Hergott" a Top 5 Riesling with impeccable balance&harmony. The "Pettenthal" is quite polarizing, but if you prefer power&alcohol than you have to buy it. In addition a great "Rothenberg". The estate Wagner-Stempel and its "Höllberg" was the surprise of the "Berlin Riesling Cup" with rank 5 and offered huge drinking pleasure. "Heerkretz" will show its true potential in the coming years, no doubt. As a newcomer keep your eyes open for the estate Seehof and its "Morstein" Alte Reben. The winemaker Florian Fauth is the new star on the Rheinhessen sky.
Mosel as the master of sweet Rieslings showed a huge progress with respect to dry Rieslings. The best collection of the vintage comes from the estate Van Volxem. The best ever produced Rieslings with "Altenberg" Alte Reben, Scharzhofberger "P" etc. The Rieslings exceeded the legally defined maximum for "dry" wines therefore cannot bear the designation "Grosses Gewächs". Here we have Rieslings from ERSTE LAGE. Also great success for the estate Heymann-Löwenstein with "Röttgen" ERSTE LAGE, good collection. Surprise of the Mosel region was the estate Reichsgraf von Kesselstatt. The whole collection was tremendous and a clear red line in every wine. Please also buy "Rausch" from Geltz-Ziliken. In addition on your shopping list has to be "Niederberg Helden" and "Juffer-Sonnenuhr" from Schloss Lieser. And I have to mention the newcomers Julian Haart with "Ohligsberg" and Knebel with "Uhlen R" , young winemakers with big future.
My favourite Riesling of the region was "Ganz Horn" by Rebholz. Very pure mineral-driven Riesling and not for wimps. If you´re looking for something new than buy "Langenmorgen" from the estate von Winning. Ranked 3rd place at the Berlin Riesling Cup and with its touch of wood quite special. I like it! For drinking pleasure on high level worth considering "Gaisböhl" by Bürklin-Wolf. All-time classic is "Idig" by Christmann. I also enjoyed "Pechstein" by Bassermann-Jordan. In the shadow is the estate Achim-Magin with its "Pechstein". Newcomers are the estate Karl Schaefer and Kranz with its "Kalmit".
The region presented solid Rieslings and great Silvaner. Very pure Riesling "Centgrafenberg" by Fürst. Also well-made Riesling "Lump" by Sauer. The best Silvaner was "Mönchshof" by Bickel-Stumpf. The first vintage of Melanie&Matthias Stumpf and what a start. Of course also very good Silvaner by the usual suspects Sauer, Fürst Löwenstein, Juliusspital.
Unfortunately a bit disappointing based on the fact that they were presented several "Erstes Gewächs" which shouldn´t be labeled EG by its weak quality. Good EGs by Künstler "Hölle", Weil "Gräfenberg", Schloss Johannisberg "Johannisberger" and "Walkenberg" by Toni Jost. If you´re looking for something wild or beyond the mainstream than grab a bottle of "Rottland" by the estate Balthasar-Ress. Also worth considering is the "Landgeflecht" by the estate J.P. Kühn.
Note: The Dry Grand Cru Rieslings in the region Rheingau are called "Erstes Gewächs", but it is the same like "Grosses Gewächs".
Big surprise, but I enjoyed "Hahn" from the estate Toni Jost-Hahnenhof very much.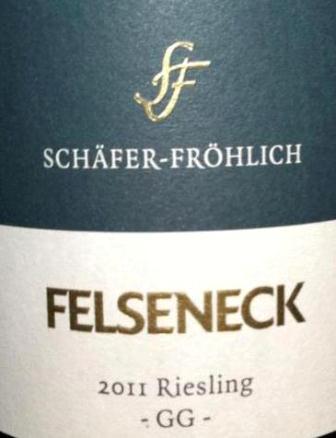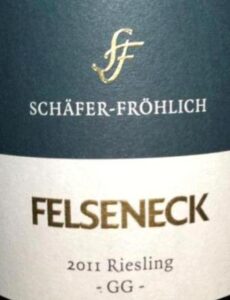 At the beginning of october I organized and hosted the ""Berlin Riesling Cup". I served blind 40 Top-Rieslings of the vintage 2011 to a group of sommeliers, wine-dealers, journalists and Riesling-lovers. Winner was 2011 Schäfer-Fröhlich "Felseneck" GG
1 Schäfer Fröhlich Felseneck 95,22
2 Schäfer Fröhlich Felsenberg 94,56
3 Von Winning Langenmorgen 94,00
4 Battenfeld Spanier Am schwarzen Herrgott 93,89
5 Wagner Stempel Höllberg 93,78
6 Wittmann Brunnenhäuschen 93,44
7 Keller Abtserde 93,33
8 Dönnhoff Felsenberg 93,33
9 Diel Pittermännchen 93,22
10 Christmann IDIG 93,22
11 Emrich Schönleber Halenberg 93,11
12 Keller Pettenthal 93,00
13 Diel Burgberg 92,67
14 Van Volxem Scharzhofberger P 92,67
15 Kühn Landgeflecht 92,44
16 Kühling-Gillot Rothenberg 92,11
17 Emrich Schönleber Frühlingsplätzchen 92,11
18 Rebholz Kastanienbusch 92,11
19 Battenfeld Spanier Frauenberg 92,00
20 Rebholz Im Sonnenschein "Ganzhorn" 91,89
21 Dönnhoff Hermannshöhle 91,63
22 Künstler Hölle EG GK 91,44
23 Van Volxem Gottesfuß 91,33
24 Schloss Johannisberg Johannisberg 91,33
25 Breuer Nonnenberg 91,33
26 BW Pechstein 91,11
27 Wittmann Morstein 91,11
28 Bürklin Wolf Kirchenstück 90,89
29 Fürst Centgrafenberg 90,78
30 Van Volxem Alterberg AR 90,78
31 Künstler Hölle EG 90,67
32 Kühling Gillot Pettenthal 90,56
33 Bürklin Wolf Gaisböhl 90,56
34 Keller Morstein 90,22
35 Schloss Schönborn Marcobrunn 90,11
36 Bassermann Jordan Pechstein 90,00
37 Keller Kirchspiel 89,67
38 Horst Sauer Eschendorfer Lump 89,33
39 Dönnhoff Dellchen 88,56
40 Ress Rottland 87,67
41 Breuer Schlossberg off-bottle/cork

I have been receiving promising reports about the 2012 German vintage over the past few weeks. We have Indian-summer in Germany with temperatures at close to 22 degrees Celsius. Everything is looking great for the next vintage. Lastly, I'd like to share a hot tip about a new star in the Rheinhessen sky that prodces great German wine that offers the perfect mix of quality and fair prices. Look out for wines from Seehof! Remember, you read it first in The Wine Cellar Insider. It's a good time be a German wine lover. 
To learn more about Martin Zwick http://berlinkitchen.posterous.com/