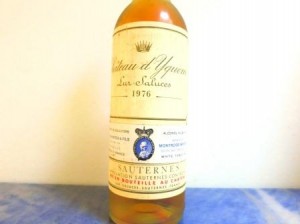 1976 Bordeaux Wine Vintage Summary with harvest information, vintage characteristics, buying tips and links. If you are seeking more in-depth information on anything and everything related to the Bordeaux wine region please see the: All About Bordeaux Wine Guide
1976 Bordeaux wine is the product of a very hot, sunny year with severe drought conditions. Only 1947 and 1949 were hotter by that time! Most of Europe was suffering from drought conditions. It was hot all the in Bordeaux. The vines suffered and grapes wilted on the vine. Much of the fruit did not reach maturity, as the grapes had shut down their growing cycle.
As harvest time arrived for the 1975 Bordeaux vintage, it began raining almost non stop from September 11 to September 15. But that was too late in the season to cure its deficiencies. With a start date for the picking set for September 13, this did not help the quality of the grapes. They were unripe and bloated from the rain. September 13 marked the earliest start to a harvest in the entire decade of the 1970's.
Several 1976 Bordeaux wines were reported to be good in their youth, but today, most are dead or dying and dried out, except for Sauternes. Chateau d'Yquem and other sweet wine producers made some very strong wines. Many of those are still showing well today. In fact, Chateau d'Yquem is the 1976 Bordeaux wine of the vintage.
Today, the pickings are slim for quality 1976 Bordeaux wine. If you are seeking a gift to celebrate a birthday or anniversary, look for well stored bottles of California Cabernet Sauvignon. If you are wealthy, or have very rich friends, find a bottle of Guigal La Mouline or Grange Hermitage.
To read about other Bordeaux vintages from 1945 to today: Bordeaux Year to Year Detailed Vintage Reports & Guide 1945 to Today