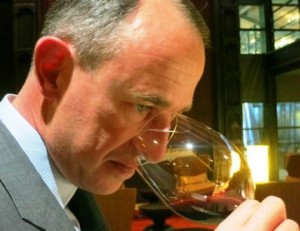 Jean Guillaume Prats, the young, brash and accomplished head and face of Chateau Cos d'Estournel is leaving the famous property that he is quite connected with. Before Jean Guillaume Prats began to manage the historic, St. Estephe chateau, it was owned by his father, Bruno Prats.  After his family sold the estate, some people wondered if Jean Guillaume Prats would remain at the property when it was purchased in 2000 by Michel Reybier. After all, Prats did not need to work at Cos.  For Jean-Guillaume, it was an opportunity to manage one of the best wineries in the world with one of the top terroirs in Bordeaux. There are very few opportunities like that available. Prats called it a privilege to manage Cos d'Estournel.
What many people will find perhaps even more surprising is, on Friday, October 19, Jean Guillaume Prats let people know he was not only leaving Chateau Cos d'Estournel, but he was also leaving Bordeaux!  His new position is at LVMH! In an announcement, Prats said;
"I am joining with enthusiasm the LVMH group and more precisely I will hold the position of CEO of Maison Estates and Wines starting in February 2013. I will also be a member of the Moet Hennessy operational Comity".
A comity can be considered as similar to a board of directors. In this case, it's the Moet Hennessy board of directors that supervises the entire lineup of wine and spirits that is owned by LVMH. Jean Guillaume Prats will replace the Xavier Ybargüengoitia as the CEO.
LVMH owns several of the world's most famous luxury brands that will fall under the purview of Jean Guillaume Prats including: Chateau Cheval Blanc, Chateau d'Yquem, Dom Perigon and Krug. LVMH also owns wineries in Australia, Argentina, Spain and California. Cheval des Andes, Numanthia, Cloudy Bay, Cape Mentelle, Newton Vineyard and Chandon are just a small part of the large portfolio of wines that Jean Guillaume Prats will now be responsible for. These new global responsibilities will cause Prats to be based in Paris, instead of Bordeaux.
It was announced November 21 that Jean Guillaume Prats will be replaced by Aymeric de Gironde. Aymeric de Gironde was most recently working as the sales and marketing managing director for AXA Millesimes. Prior to that position, in an ironic twist, de Gironde was previously employed or 15 years at LVMH.
Since Jean Guillaume Prats began managing Chateau Cos d'Estournel, starting with the 2001 vintage, he changed the estate from what was thought of as a very good Bordeaux, wine to a wine that could compete with the First Growth wines! While controversial to some tasters, the 2009 Cos d'Estournel is for me, a contender for the wine of the vintage from the Medoc. Along with the rapid rise in quality was the meteoric rise in price as well. While this did not please older buyers of Chateau Cos d'Estournel, it never bothered Jean Guillaume Prats or Michel Reybier, the owner of Chateau Cos d'Estournel. It was the job of Prats to produce the best wine possible and to sell it for as much as the market was willing to pay. Clearly, he accomplished both of those tasks. Prats also manages Goulee for the Reybier organization as well as Marbuzet.
To help make the vision of Prats at Cos d'Estournel a reality, he built the most modern, all gravity cellars not just in the Medoc, but in all of Bordeaux. According to Jean Guillaume Prats, the gleaming, new facilities allowed him to make a very precise vinification at Cos, which made all the difference. Everything in wine making is in degrees. That slight degree allowed Prats to make a wine I am sure will be called a legend in Bordeaux in the years to come, the 2009 Cos d'Estournel. Although 2003 and 2005 are not far behind.
All this changed Monday, October 15, at the end of the day in Bordeaux, when the shocking news that Jean Guillaume Prats was leaving Chateau Cos d'Estournel was released. Make no mistake about this, it was the choice of Jean Guillaume to leave Cos. It's going to be difficult for the next director to fill Prats shoes at Cos, as he left big footprints. It's thought that Christophe Ranger from the Reybier organization might be tapped to manage Cos.
Jean Guillaume Prats will remain at Cos d'Estournel until the end of January, 2013 before taking his new position. With the 2012 harvest just completed, it's going to be interesting to see what Prats is able to produce at Cos from what is turning out to be one of the most difficult vintages in the last 20 years.
If you have comments or questions on Cos or this post, feel free to post and share.