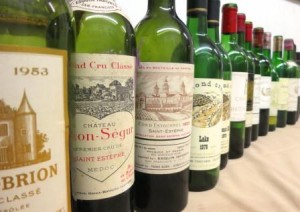 It's been far too long since I've had the chance to write about recent 7 Blind Men tastings.  Fortunately, this isn't my full time job. If it was, I'd fire me for being late.  Truthfully, I've been busy with work related projects which did not allow me free time to write.
I also put in a lot of hours working on developing the back end of The Wine Cellar Insider.  The Wine Cellar Insider is now reasonably fast. It's easier to search and navigate.  Hundreds of photos have been added along with an equally large amount of new, wine tasting notes on Bordeaux wine, wine from the Rhone valley and California wine as well.  At this moment, while typing this article up, I'm on a plane headed to Rome, Italy for a much needed vacation.  It's the perfect time to put together these types of articles. What else are you going to do while stuck on a plane for 11 hours?
Each of our 7 Blind Men dinners offers us something to remember as well.  Because we are a group with rotating host duties, you never know what wines are going to be poured.  7 Blind Men is devoted to tasting wines double blind, hopefully in peer groups.  We gathered at Wolfgang Puck's Chinois in Santa Monica with no idea what we were in store for.
The Whites
All wines served at 7 Blind Men dinners are the sole choice of the host. Some of us focus more on whites than others. Some members skip an opening flight of white wine and dive right in to the reds.
1985 Haut Brion Blanc was deep yellow in color, with some gold.  Lemon wax, floral, rocks, spice and a hint of honeysuckle appear in the perfume.  More medium than full bodied, with a mineral driven, citrus finish, this bottle lacked the depth and concentration found in the best bottles. 90 Pts
1985 Laville Haut Brion Blanc offered a beautiful, complex perfume filled with honey, floral, mineral, vanilla, citrus rind and lemon. Round, voluptuous and plush, this fully mature, white Bordeaux wine ends with a fresh, zesty, lemon finish.  93 Pts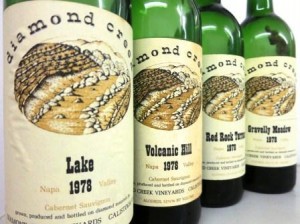 Flight #2 Diamonds are Forever
1978 Diamond Creek Lake grabbed your attention as soon as your nose met the glass.  The complex aromas of scorched earth, smoke, tobacco, cassis, blackberry, caramel, black cherry and charcoal let you know this was a stunning wine.  In the mouth, its concentrated, full bodied, rich, deep and packed with flavor. The long, pure finish was filled with endless layers of cassis, earth and spice. This is probably the best bottle of mature California Cabernet Sauvignon I've had the privilege of tasting. Needless to say, I was blown away when the bottle was revealed.  1978 marked the debut vintage for Diamond Creek Lake vineyard bottling.  Very little of this wine was made and only a handful of bottles remain. It was a wine I thought I'd never see. 99 Pts
1978 Diamond Creek Red Rock Terrace offered earth, smoke, caramel, blackberry and tobacco scents led to a structured, powerful, full bodied Cabernet Sauvignon with a fresh, ripe finish. 96 Pts
1978 Diamond Creek Volcanic Hill announced its presence with cedar wood, cassis, tobacco, truffle, earth, smoke and forest floor aromatics. Full bodied with layers of cassis, spice and blackberry, this mineral driven expression of Cabernet Sauvignon would more than hold its own in a blind tasting against the First Growths. 97 Pts
1978 Diamond Creek Gravelly Meadow – Cigar box, tobacco, cassis, cedar wood, smoke and caramel scents create a complex set of aromatics. The wine is plush, fat and dense, ending with a blast of pure, ripe Cabernet Sauvignon. 96 Pts
Flight # 3 1985 Bordeaux with a Ringer
1985 Chateau Margaux – Earth, smoke, tobacco, cassis, herbs, truffle, tobacco and an odd sense of tomato created the aromatics.  The wine is sweet, soft and round, but there was a bit of roughness to the tannins with a minor touch of green in the cassis and blackberry dominated finish. 94 Pts
1985 Chateau Cheval Blanc – Truffle, tobacco, plum, flowers, cherry, earth and spice scents opened to a plush, opulent, sensuous, medium/full bodied Cheval Blanc that is drinking beautifully today. 95 Pts
1985  Stags Leap Cask 23 – Whoa Mr. Ed. My first whiff had enough barnyard aromas to choke a horse, or at least to stable one.  Add incense, earth, truffle, smoke, dirt and black cherry to an idea of where this wine is coming from. There was a touch of dryness in the cassis, cranberry and cherry filled finish.  I've had better bottles of this in the past. I think this wine has started to drop its fruit and requires consumption. 93 Pts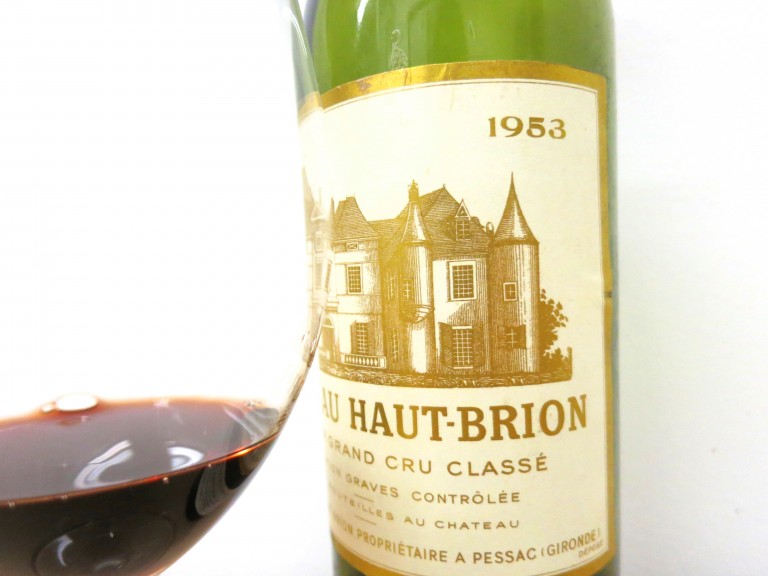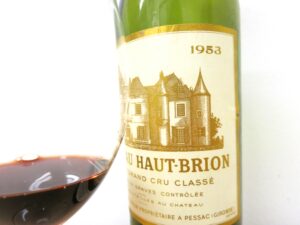 Flight #4 Blast from the Past
1953 Chateau Calon Segur – Truffle, smoke, Asian spice, Cuban cigar, earth, cassis, cherry and stone scents are easy to spot. In the mouth, the wine is soft, elegant, and almost exotic. Slightly past fully mature years ago, I imagine this was sublime about a decade ago.
Calon Segur is not a wine I have been fond of over the years. After tasting two fully mature examples this year, I need to rethink my opinion on the wine.  93 Pts
1953 Chateau Haut Brion  – Smoke, tar, tobacco, hot bricks, cassis, black cherry, cigar box and ash are easy to find.  In the mouth, the wine is soft, refined, elegant and sophisticated with a silky red and black, smoky, spice filled finish.  95 Pts
1953 Chateau Cos d'Estournel – Spice, tobacco, forest floor, leaf and sweet cherry aromas open to a medium/bodied, soft, red berry and spice finish. This wine requires drinking. 89 Pts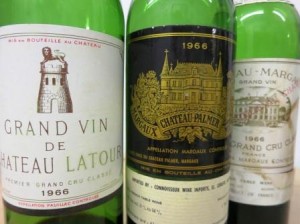 Flight # 5 A Run of Bad Luck
1966 Chateau Palmer – With a beautiful nose filled with violets, spice box, cherry pipe tobacco, smoke, truffle, earth, blackberry and forest floor, the wine is pure silk and velvet on the palate. However, this bottle was more than showing its age, and while stylish, it lacked the richness, concentration and opulence found in fresher examples.  Other recent bottles have scored much higher. 93 Pts
1966 Chateau Margaux – Maderized.
1966 Chateau Latour – Corked, such a shame.  This one really hurt.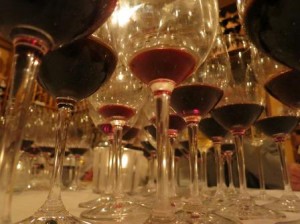 Flight # 6 And now for something completely different.
1996 Pingus A potent concoction of black and blue fruit, truffle, earth, espresso and smoke let everyone know, Dorothy, "We're not in Kansas anymore." Massive, powerful, intense and packed with layers of ripe berries, while this is not delicate in its personality, there is a fresh, clean, pure quality to the fruit that is not tiring, even with its size. 94 Pts
2001 Pingus – Coffee, cherry, caramel, licorice, blueberry, mineral, truffle, chocolate and jam scents work well with the wall of concentrated, ripe, rich, intense fruit. This is a very hedonistic style of wine that leaves an impression of black cherry and blackberry liqueur on the palate. 96 Pts
2004 Pingus – Inky black in color, this is as close to opaque as a wine can get. Crazy non-stop aromas of coffee bean, licorice, blackberry, blueberry, chocolate, black cherry jam, truffle, spice and smoke pop with little effort. This is huge, yet perfectly balanced and in harmony. There is not a hair out of place.  On the palate, the wine coats your palate, mouth, teeth and gums with the essence of pure, rich, extremely, ripe fruit.  2004 Pingus demands your attention.  I am not sure I want to drink an entire bottle. But if anyone grabbed my unfinished glass without asking, there would be trouble. I wish I owned this wine to see how it ages and evolves over the next few decades.  98 Pts
Dessert Flight
1942 Chateau Doisy Daene was deep copper with orange in the color.  The nose offered caramel, coffee, orange, floral, cocoa and apricot scents.  Better in the nose than on the palate, the wine was light, short and acidic in the mouth. Still, it is always fascinating to taste war year wines.  It allows time for reflection knowing World War 2 was taking place and someone left behind was forced to produce the wine.  82 Pts
I'd like to thank all the members of 7 Blind Men for their generosity. It's a great group of people who share a passion for life and wine.   This dinner hosted by Steve Matthesen who raised the bar once again.    The next 7 Blind Men dinner takes place in August. It's my turn to host and already I'm working on what wines to pull for the dinner.  If you have any suggestions, please feel free to post.