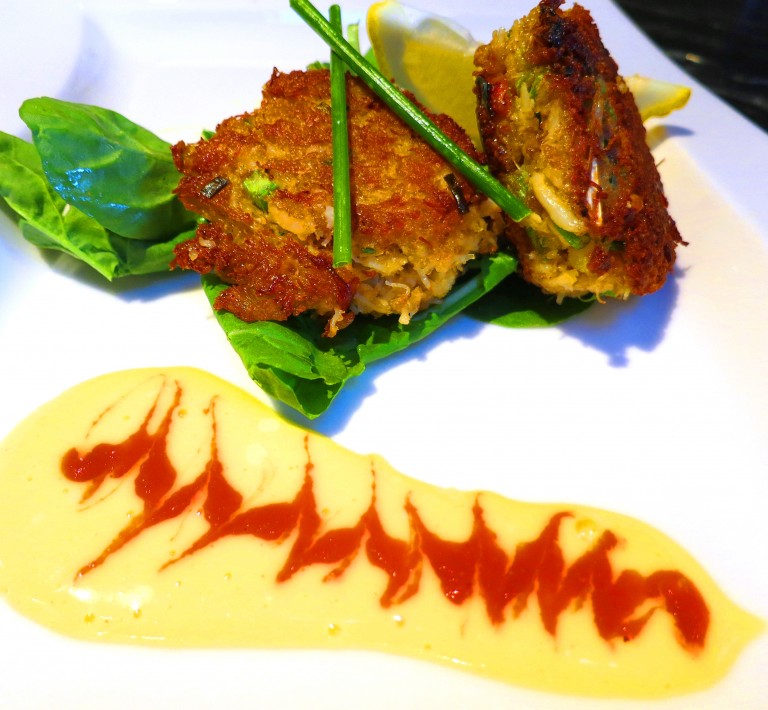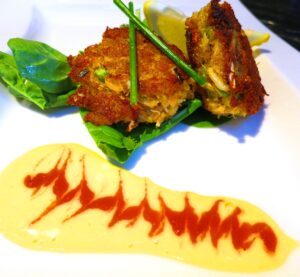 Summer is one of my favorite times of year to cook and explore. The incredible variety of fresh produce and fruit at the Santa Monica Farmers Market is all the inspiration a home chef needs to get their creative juices flowing.
At our house, much of the summer is spent grilling in the backyard. But when fresh Dungeness crab is available, the call for crab cakes is often overwhelming.  The crunchy exterior and sweet interior, with the right amount of heat and fresh squeezed lemon is one of the best and easiest dishes in my summer repertoire.
The key to crab cakes is no different than any other great dish.  Find fresh Dugeness crab.  If you're getting ready to put your cakes together, feel free to grab a bite or two of the crab when no one is looking. It's fun, builds your appetite and gets you in the mood to create.
Start off with at least a pound of fresh Dungeness crab meat.  In a large mixing bowl, add an egg, diced red, yellow or orange bell peppers, green onions, chives, bread crumbs and garlic aioli. Mix by hand.   Don't add too many vegetables  or bread crumbs as you do not want to dilute the crab. Remember, you're only trying to add flavor, color and a binder. At that point, let the mixture rest and come together in the refrigerator.
After 30 minutes to an hour, heat a non-stick pan, lightly dredge the cakes and drop a few in at a time.  They'll cook quickly so have your plates ready. Place the crab cakes on a bed of arugula, squeeze fresh lemon, add salt, pepper and you're set.  All you need is the wine.
Crab cakes are versatile. They pair well with a myriad of wines, both red and white.  For this meal, we shared 2007 Aubert Reuling Chardonnay. One of the top producers of California Chardonnay.
2007 Aubert Reuling opens with a powerful display of floral, apple, vanilla, citrus, honey and pear scents.  Rich, full bodied and packed with sweet, ripe, fruits, the wine ends with a long, tropical, citrus and vanilla tinged finish. 95 Pts