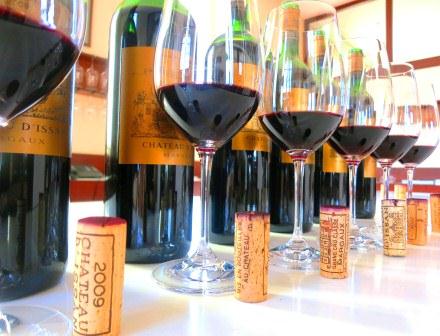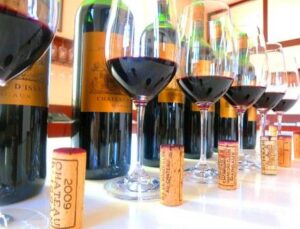 Chateau d'Issan Vertical Tasting with Emmanuel Cruse, Marie Helene Dussech
Chateau d'Issan in Margaux continues its hot streak.  Starting with the millennium vintage, the wine continues getting better and better.  This sudden spike in quality is clearly due to the team in charge of managing Chateau d'Issan, Emmanuel Cruse and Marie Helene Dussech.
Emmanuel Cruse took over management of Chateau d'Issan in 1998 and has not looked back.  While the wines of Chateau d'Issan remain traditional, Cruse set a path to modernize the estate.  Since he took over, the estate upgraded their facilities and most recently added new sorting tables and increased the amount of new oak to 50%.
Perhaps the most important factor in the sudden rise in quality is the increased selection. Much more of the harvest is now relegated to their second wine, Blason d'Issan.
For Emmanuel Cruse, the best vintage of Chateau d'Issan produced yet is their 2009.  We agree, although the 2010 is close to the same level of quality, but in a different style. Cruse is not the shy type. If there is something you want to know, ask him. He was straight forward in his assessment of their recent 2011 Bordeaux wine. He saw it as slightly better than 2008, but not close to the same level of quality found in 2005, 2009 or 2010.
According to Emmanuel Cruse, at Chateau d'Issan they are trying to stay on top of the technological curve that's continually taking place in Bordeaux.
Emmanule Cruse "We experimented with new, infrared destemmers for the 2011 Bordeaux vintage. We were very happy with the results. For 2011 d'Issan, we only used it in one of their grape reception areas. Next year, both reception areas will be equipped with this new technology. We also added a bought a new de-stemmer. This helped us with the drastic sorting we had to do".
Another positive attribute found in the wines of Chateau d'Issan is the price. For a classified growth at this level of quality, Chateau d'Issan remains fairly priced.  If you're not familiar with what is taking place at Chateau d'Issan, their wines are worth tasting.
The following wine tasting notes came from a tasting with Emmanuel Cruse and Marie-Helene Dussech in April, 2012 at Chateau d'Issan in Margaux.
2000 d'Issan – This charming, elegant Margaux opens with floral, cassis, earth, stone, black plum and tobacco notes.  Refined in personality with gentle tannins and polished textures, the finish ends with fresh, pure, blackberry and dark cherry.  This is already starting to drink well and will continue to improve over the next 10-20 years. 93 Pts
2001 d'Issan   – Using 68% Cabernet Sauvignon and 32% Merlot, the wine reached 12.7% alcohol. The wine looks mature, as it has taken on degrees of lightening in the ruby color. In the nose, forest floor, earth, leaf, cedar-chest, gravel and cassis scents are present. Medium bodied and soft in texture, this charming Margaux wine ends with light, cherry and cassis.  I'd opt for drinking this sooner than later as it might not improve much from here. 89 Pts
2002 d'Issan  –  From a blend of 78% Cabernet Sauvignon and 22% Merlot, the wine reached 12.6 alcohol. Leafy green aromas with forest floor, earth and cassis are easy to find. Close to mature at 10 years of age, the wine finishes with sweet cherries. 88 Pts
2003 d'Issan  – From an assemblage of 69% Cabernet Sauvignon and 31% Merlot, the wine reached 12.9% alcohol. Earth, tobacco, smoke, truffle and cassis notes lead to a medium bodied, soft, silky, round, wine that is already offering a lot of pleasure today. The wine finishes with supple textured cherries and spice. 2003 d'Issan is not a vintage for long aging.  I'd drink it over the next decade.  91 Pts
2004 d'Issan  – 60% Cabernet Sauvignon and 40% Merlot produced a wine filled with tobacco, green leaves, strawberry and cassis notes.  Elegant and refined, there is a lot to like in the spicy, open, round, red berry dominated finish. This is already starting to open up. I'd prefer to drink this on the young side, as it's probably not going to make old bones. 90 Pts
2005 d'Issan – From 60% Cabernet Sauvignon and 40% Merlot, the wine was aged in 55% new oak.  Still deep in color, the wine opens with floral, black cherry, forest floor, cassis, tobacco and spicy aromas.  With supple, refined textures, concentration of fruit and a long, elegant, blackberry finish, this continues to develop perfectly.  Give it a few more years and enjoy it over the next 15-25 years. 2005 d'Issan remains well priced for consumers looking for value and quality in Bordeaux. 94 Pts
2006 d'Issan  – Deep ruby in color, coffee bean, tobacco, earth, smoke, cassis and truffle scents are found in this blend of 61% Cabernet Sauvignon and 39% Merlot. The wine reached 13.6% alcohol.  With silky tannins and a delicate, fresh, spicy, cherry finish, this Margaux is already drinking surprisingly well at this stage, give it a few more years to develop additional levels of complexity. 92 Pts
2008 d'Issan Blending 62% Cabernet Sauvignon and 38% Merlot produced a wine with floral, blackberry, plum, earth and spice aromas that easily waft from the glass. With round textures, full body and soft tannins, the wine ends with sweet boysenberry and black cherry. Give it a few more years to fill out. 92 Pts
2009 d'Issan  – From an assemblage of 60% Cabernet Sauvignon and 40% Merlot, the wine reached 13.9% alcohol. Aged in 50% new oak, the wine was produced from yields of 35 hectoliters per hectare. Deep ruby in color, espresso bean, truffle, minerality, black cherry and tobacco scents open to a sensuous, rich, opulent wine of pleasure.  With silky tannins, flesh and freshness, the wine ends with sweet, ripe, spicy, pure cherry and blackberry. Under the watch of Emmanuel Cruse, Chateau d'Issan continues improving. The good news for consumers is, prices have not yet caught up with the current level of quality! 94 Pts
2011 – d'Issan – From a blend of 61% Cabernet Sauvignon and 39% Merlot, which represents 57% of the harvest with yields of 36 hectoliters per hectare, the wine reached 13.23% alcohol and will be aged in 50% new oak. In the nose, earth, coffee, licorice, blackberry and truffle scents. Soft, round and filled with fresh black and red fruits, this is a charming style of d'Issan. 91-93 Pts