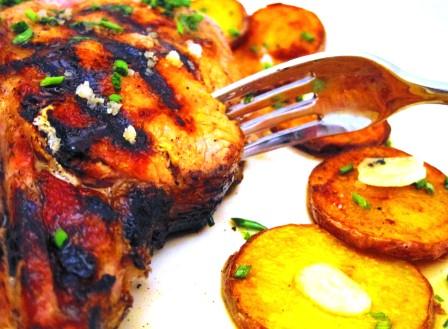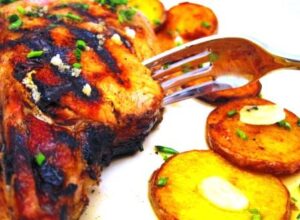 The summer, with its warmth, bright sunshine and long days seems to demand you spend more time outdoors. In much of America, we're experiencing a month long heat wave.  This is the perfect time for cooking outdoors.
Although, the truth is, I'm an unapologetic fan of grilling, so any reason to fire up the grill works, regardless of the time of year.  Grilling is clean, healthy and insures that no pots or pans will be used, making cleanup a pleasure instead of the unwanted chore, the morning after. It's bad enough to be faced with an array of wine glasses.  Right?
Plus, grilling is about as foolproof a method of cooking as you can get.  The only way you can mess up, is by overcooking your food, due to not having a true understanding of how hot your grill is.  For some odd reason, each season is a little different on a grill.  The shifting, outdoor temperatures exacerbates the heat variances.   It takes a few trial runs before you get each season's timing right.  That fear aside, grilled veal chops, roasted potatoes, garlic and Chateauneuf du Pape is a perfect summer meal and a great wine and food pairing.
There is very little to grilling perfect veal chops.   Let your chops come to room temperature.  Finely chop fresh garlic and let the garlic marinate in olive oil.  Salt and pepper your chops and place them on a hot grill.  If you want grill marks, after 2 -3 minutes, turn them at about a 90 degree angel.  Once your done cooking, drizzle your garlic infused olive oil and if you like, add some finely chopped, rosemary, parsley or thyme.
For the wine, we went with a Southern Rhone. 2001 Chateauneuf du Pape and started with one of my favorite producers, Pegau.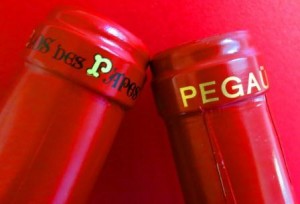 2001 Pegau – With its wild scents of kirsch, garrigue, strawberry jam, pepper and fresh herbal scents, full bodied, rich, luscious, lusty mouth feel and fresh, black raspberry, cherry tinged finish, it made the perfect pairing with the veal chops. 94 Pts
If one is good, two is even better.  So we opened another 2001 Chateauneuf du Pape.
2001 Clos des Papes is a lush, sensuous expression of Chateauneuf du Pape, filled with spicy, earthy, jammy red fruits, licorice, black cherry, pepper and raspberry scents.  Silky, rich and lush on the palate, this blend of 65% Grenache, 20% Mourvedre, 10% Syrah, and 5% Counoise is open for prime time drinking today. The wine ends with layers of fresh, sweet, pure, spicy, ripe, juicy, red fruits. 95 Pts
What have you been cooking and opening lately?