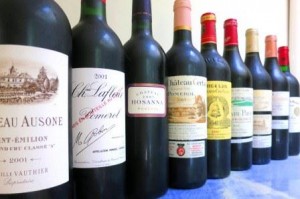 2001 Bordeaux Wine Vintage Summary with harvest information, vintage characteristics, buying tips and links. If you are seeking more in-depth information on anything and everything related to the Bordeaux wine region please see the: All About Bordeaux Wine Guide
2001 Bordeaux wine from the Right Bank from both Pomerol and St. Emilion continues to improve. In fact, with time, some 2001 Bordeaux wine has believe it or not,  turned out better than their 2000!  How did this happen?  April shifted from cool to cold, which does not promote a strong growing season. By May, things were starting to turn around and improve, thanks to an unexpected, but much appreciated heat wave. July was wet. August was dry. The see-saw of warm and cold temperatures continued until September. September turned out to be one of the driest Septembers in Bordeaux  history. This turned things around for the 2001 Bordeaux vintage, especially in the Right Bank which harvested under picture perfect conditions. 2001 Bordeaux wine from the Left Bank would not fare as well. At about the same time, the Medoc was experiencing unwanted rain.  Those rains gave many of the wines from Pauillac, St. Julien, St. Estephe, Margaux and Pessac Leognan a diluted character.
2001 Bordeaux wine from Pomerol and St. Emilion continue improving. The wines are rich, suave, elegant, fresh and round. They taste and feel good. They are rich, soft, silky and with their forward style, they are on a path to a continued positive evolution. The majority of the best 2001 Bordeaux wine remain fairly priced for their quality.
The star appellation  for 2001 Bordeaux wine is Sauternes.  In fact, 2001 started off the longest run of successful vintages for sweet, white Bordeaux wine in history!  A total of 6 vintages from the decade produced stunning wines from Sauternes.  However, 2001 is not only the first vintage of that incredible run, it's probably the best as well.  Everything was picture perfect with exact conditions of moisture, warmth and mist filled morning to aid in the development of botrytis.
2001 Sauternes are rich, racy and filled with enough acidity to give their sweet, character lift and vivacity. The wine of the vintage is clearly Chateau d'Yquem! It's as good as any of the legendary years for Yquem, 1975, 1967, 1937 or even 1921.  While Chateau d'Yquem is a very expensive wine, when compared with the prices being asked for younger vintages, that are not close to the same level of quality, if you have the money to purchase  Chateau d'Yquem, 2001 is the vintage to buy.
Because 2001 Bordeaux wine had the misfortune, or is that fortune to follow the legendary 2000 Bordeaux vintage, the wines have always sold at fair prices. As the better Pomerol and St. Emilion wines continue developing well, 2001 Bordeaux wine is a vintage worth taking a long look at. Pomerol has the edge over St. Emilion  Plus, because Pomerol is always an expensive Bordeaux appellation, it gives consumers the chance to try some the famous names like: Vieux Chateau Certan, L'Eglise Clinet, La Conseillante and Hosanna. In St. Emilion, Angelus, Pavie, Troplong Mondot, Pavie Decesse, Bellevue Mondotte and others are well worth owning.
The following wines offer the highest degree of quality and price. They are not always the top scoring wines, but they deliver the best wine for the money. 2001 Best Bordeaux wine for the money today
To read about other Bordeaux vintages from 1945 to today: Bordeaux Year to Year Detailed Vintage Reports & Guide 1945 to Today