La Clotte St. Emilion, Home of the Troglodytes and belching beef!
 Friday June 27
If you want the most out of your visits to any wine country, you really need to get to know the people living there and check out places and wines that are new to you. It is fun visiting the big, famous names, and it is imperative to see the wineries you are the most passionate. One of my favorite pleasures on these trips is discovering chateaus I am not familiar with. Parker has tasted every wine I can think of. But like most people there are several I never see or taste in the States.
La Clotte is owned by three female cousins. Nelly Mouliérac, one of the cousins, who could not be more fun or live life any better manages the property. Nelly shared the stories behind the chateau's interesting history. At one time, people known as Troglodytes lived in the ancient limestone caves or grotto.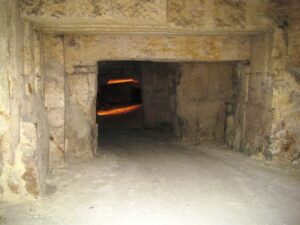 In fact, the name La Clotte is a local variation on the French word for Grotto. Well-preserved remains of a stone sink in the rough hewn kitchen and sink hand that were carved out the solid limestone walls. The ancient hovelsih remains now holds bottles and assorted Bordeaux wine making tools.
True, while the name La Clotte might not be attractive to Americans, the wine is! I really think part of the reason the wine flies under the radar is the name. The tiny 10 acre vineyard with only 7.4 acres for production allows for give or take 1,200 cases of wine. I have tasted the wine. Trust me on this, it is the real deal! After trying the wine I asked around and found the Chateau is considered a local treasure. Located in a great terroir mixing limestone on the plateau above the cellar with clay and sand on the slopes.
The vineyards say"hello" to Pavie-Macquin located almost next door. The 40-year old vines mix 80% Merlot, 15% Cabernet Franc and 5% Cabernet Sauvignon producing what I consider to be possibly the best value in St. Emilion today! When I asked Jean-Luc Thunevin and Michel Puzio, the owner of Croix Labrie, about the wine at dinner last night, both smiled and remarked how much they loved the Chateau and the terroir. And if that was not enough, when I ran into Alain Vauthier from Ausone, I asked him about the property and he liked it as well. Great wines at truly affordable prices. This is a Bordeaux wine worth seeking out.
Nelly popped and poured, sharing stories about the Chateau while Jeffrey Davies and I tasted the following wines:
06 La Clotte is a deep, ruby color. A tight nose, as the wine was bottled last month sported aromas of jammy black fruits, a plush entry and a tannic finish. Large styled for the property.
05 La Clotte is the wine that blew me away! Wow! If you are seeking a flashy, fleshy, rich texture that flows from the glass like lava from a volcano, you came to the right place. While offering great concentration and a decadent mouthfeel, the wine is not ponderous or heavy. Everything is in perfect balance. The oak, mineral, coffee and blackberry infused aromatics make the wine a pleasure to sniff, swirl and sip. The best thing is, this wine sells for a song in America. This is a Bordeaux wine that is well worth buying by the case. 94 Pts
99 La Clotte was opened for me to get an idea of how the wine ages. 99 Right Banks seem to be developing at a fast pace . 99 La Clotte is fully mature and should be drunk up. 89 Pts
La Clotte is not going to make old bones. It is a unique wine of pleasure that is best tasted on average by the time the wine is 12. But, it will develop complexity and offer a great tasting experience for those 12 years. And the best part is, they remains a bargain in today's world. A wine of pleasure at a great price. What more could you ask?
Tertre Roteboeuf means hill of the belching beef in French. With its perfect hillside exposure allowst his small estate produces some of the finest wines emanating from St. Emilion. Their old year old Merlot vines with 15% of Cabernet Franc added in allow for a unique raspberry signature. Interestingly, the first 2005 I tasted, back in the winter of 2005 was Tertre Roteboeuf. It had almost finished malolactic and was shown to me just for fun.
I bought 05 Tertre Roteboeuf as a future the moment it was offered. That was not much of a gamble. The terroir, located near Larcis Ducasse, Troplong Mondot and  Pavie is outstanding. They've been on an amazing run making great wine year after year since 1988.
Arriving at the Chateau, located at the end of a long, winding, gravel laden street, I eased the car to the curb, making my down the new steps that look like they have been there since Roman times. 
.
06 Tertre Roteboeuf was still resting in the barrel. The wine will be bottled in August. Typical, dark, ruby color which announces its presence with the tell tale black raspberry and kirsch signature with faint hints of overripe red fruit. Good concentration and sweet tannins. The palate is thrilled when the lush chocolate covered plums and ripe fruit dribble over your taste meters. Very stylish in a kinky, exotic way. This is a strong effort in any vintage, but it's a very good wine for 06.
05 Tertre Roteboeuf is deep ruby in color. Not always the deepest colored St. Emilion, but this is darker than most vintages. Perfume seems to waft from the freshly popped bottle with scents of spicy, jammy, black raspberry, plums and overripe cherries. Your palate is transfixed by the luxurious quality of the fruit that flows into your mouth. This is very sweet and concentrated and ends in a lingering black cherry note. 97 Pts
06 Roc des Cambes Cotes de Bourg is still in tank. The wine will be fined and bottled at the end of July. Chocolate, blackberry perfume is made better by a soft entry with a hint of dryness in the tannins.
07 L'Aurage Cotes de Castillon… Starting in 2007, Francois Mitjavile is producing a new wine from Cotes de Castillon, L'Aurage. 80% Merlot blended with 20% Cabernet Franc is a nice, polished wine with some character and soft tannins. This is the first effort for the Mitjavile in the Cotes de Castillon. Cotes de Castillon has turned into a hot area. This is going to be a wine to watch for in future vintages.