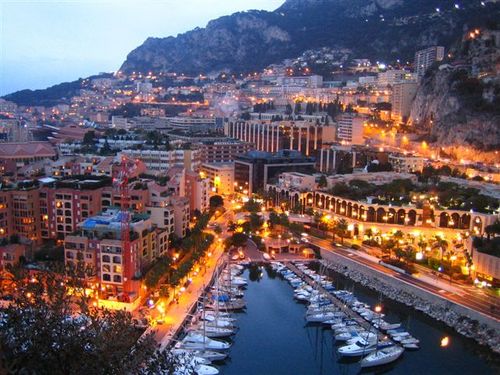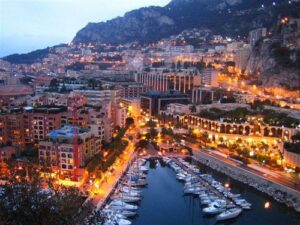 On a break in the Riveria and we ain't talking about convertible sofa's.
From Bordeaux to Monaco, The French Rivera, you either fly in a private jet, (I seem to have left mine at home,) or you fly Air France. It's a quick and easy flight. I ran into Mathieu Culvier from Cos Fourtet on the flight. He was on his way to St. Tropez for a wedding.
From Nice to Monaco, you can take a taxi or a helicopter. Never having flown in a helicopter, there is a first time for everything and it was time I lost my chopper virginity!  I don't mind heights. It's the instant vertigo sensation from looking down that is the issue.
Like they say, falling is not a problem. Until you hit the ground. Until then, everything is fine. I admit, I had trepidations about taking the helicopter. But I wanted the experience. So intrepid soul that I am, off I went.
The first few minutes were strange. The view from the glass bubble was unsettling when you begin lift off.  I feared the ride would find every air current possible and I'd feel like Gilligan and the skipper on the Minnow before it went ashore.  After landing safely, I can honestly say, the flight was as smooth and seamless as a great aged Bordeaux.  I loved the view. As an added bonus, the flight includes a ride to your hotel.
Monaco is a beautiful, clean city. There is so much money here. It is amazing. The last time I saw this many Ferraris and Rolls Royce cars in the same street was, never. One after the other, they were casually parked all over the city. Each machine was perfectly cleaned without a scratch or speck of dust. If anyone is wondering where all the First Growths are probably being sold to, it is here. In fact, at the airport, I saw a car being loaded up with several cases of Latour!
This is my first trip to the Riviera. Before today, the closest I have even been is a convertible Riviera sofa. It is amazingly beautiful. The deep blue waters filled with multi-million dollar yachts scattered around like toys in a child's bedroom is a sight to see. I am glad I am at the beach because hot does not begin to describe the furnace like heat. This is the type of heat the witch must have in the "Wizard of OZ" before melting.
Following an afternoon of strolling through the city, I returned to the hotel to discover a convention was taking place honoring female chefs. Sipping on an ice, cold Badoit, I noticed a good looking, petite, early 30′ woman with blonde shoulder length air also enjoying a drink. Her perfect, olive skin was offset by deep, round eyes, French tipped nails and a light, short taupe dress that perfectly draped over her athletic figure. The light fabric was perfect for this time. It would easily be caught in the breeze, lifting up just enough to show her tan, muscular legs, but not so much that you did not need your imagination.
We smiled and nodded hello. A few minutes later, after a sip of liquid courage I put one foot in front of the other and in my best French, (which isn't very good) introduced myself. In her soft, French accent, she returned the greeting. Keep in mind, there was a convention of female chefs at the hotel the night before. I asked her if she was here for the convention. She replied "Yes." Adding in a sultry manner that she was here for work. When I asked what she did, she looked me up and down like a cat about to eat a mouse and in an incredibly, sexy, seductive manner replied, she'd do me if I could afford it.
 I broke into a smile and tried to laugh it off.  I politely excused myself and left wondering how much it was. Not that I would or could afford it, but it was funny discovering I was a bumpkin.
It is about an hour by train from Monaco to Cannes. The first part of the journey from Monaco to Nice seemed like an eternity. The train was crammed tighter than any can of sardines I had ever seen. There was no way I wanted to get to know most of my fellow passengers as well as I did during that 60 minute ride from hell. Or was that smell? Most people departed at Nice.  From that point on, the ride and view, were picture perfect. The train is the perfect way to travel as you can see Antibes, Ezes and other stunning cities along the way.
Cannes is a beautiful seaside town. It is easy to see how this extremely, French, picturesque, seaside resort became the home of the world's most famous film festival. The countless yachts moored in the harbor are easily viewed from the historic boardwalk. Calling some of these yachts boats is similar to saying Moby Dick was a fish! To say these ships are huge is an understatement. They can easily be compared to floating cities.
Countless bars, hotels, shops and places to eat line the boardwalk like soldiers in a parade, each ready to do battle hoping to gain a customer's favor. Once off the boardwalk, Cannes offers an endless array of great side streets filled with character that anyone with a soul and an interest can have a great time exploring while getting lost. The streets offer more twists and turns than the best Agatha Christie novels.
After getting semi-lost, it was time to eat. With a seemingly endless array of choices, I took Steve Elzer's advice. Close to the end of the boardwalk is a place he loves, Le Pizze, or something like that. When traveling, I prefer eating fresh, local products. Bu, I already had fish for lunch and as Elzer raved about the thin crust, wood fired pizza, I was game. It's a good thing I did. It was perfect in its simplicity. Keeping on food for a moment, I was surprised to taste so much fennel and so little saffron in the fish soup.  The amount of mustard in the aioli was also interesting as I use very little I mine. But it really all came together, especially looking at the sea where the fish was just caught.
Monaco is one of those cities that come alive at night. The town does not begin to breathe or dispel its essence until the wealthy come out to play. It could easily be mistaken for the world's largest enclave of wealthy vampires. After dark, the city really has a vibrating rhythm in a primal way. If you desire and you're willing to stay out all night, this is the place to do it. The difference between Monaco and Cannes is, Monaco is a place for players while Cannes is a city to play in. I'd return to Cannes in a heartbeat.